This healthy Greek Turkey Burger is topped with a homemade tzatziki sauce recipe and is absolutely delicious! This easy turkey burger is can be grilled, cooked on the stove, or broiled in the oven!
Looking for more recipes with Greek flavor? Try putting the homemade tzatziki sauce on these Tuna Cakes or use with this Chicken Souvlaki Gyros With Tzatziki recipe.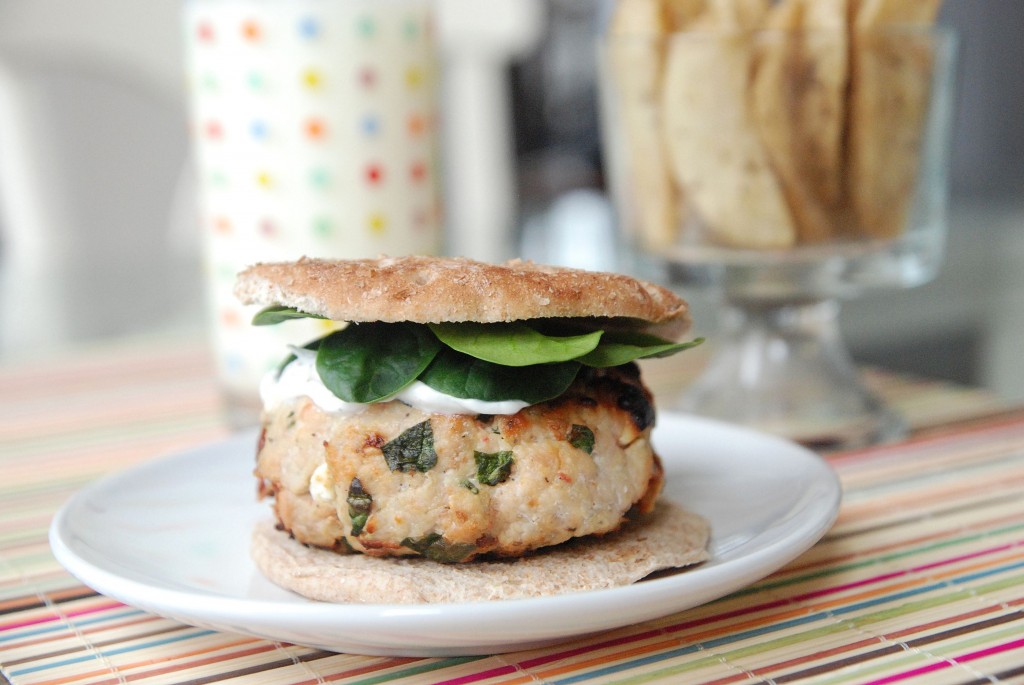 Healthy Greek Turkey Burger
I am so lucky to be married. No, please don't leave! This isn't one of those times when a married girl rubs it in your face that she is married and feels bad for single people or any of that crap. Actually it's the one where I confess how weird I am now. I was pretty young when the cradle robber Jorge and I got married and I hadn't settled into all the weird things that people start doing as they get older. Today I had one of those moments where I thought, Thank God I am married…because if I was single now I don't think anyone would be buying the cow…wait milk? Err whatever, either way I am thankful that I didn't start settling into my own kind of freak until after I became legally entitled to half of the assets married.
You see, I found myself in our giant roman tub (LOVE IT) filled to the top with scalding hot water. I like it so hot that my skin is all red and it's almost like giving yourself a steam session. Anyways so super hot water…and I was eating a popsicle. Now if that wasn't weird enough, I also was watching Big Love. Yup, that's right. I was in a scalding hot bath, eating my favorite Caramel Truffle Skinny Cow popsicle, watching a show about polygamists, at 2 in the afternoon. Don't even try to understand, because even I don't.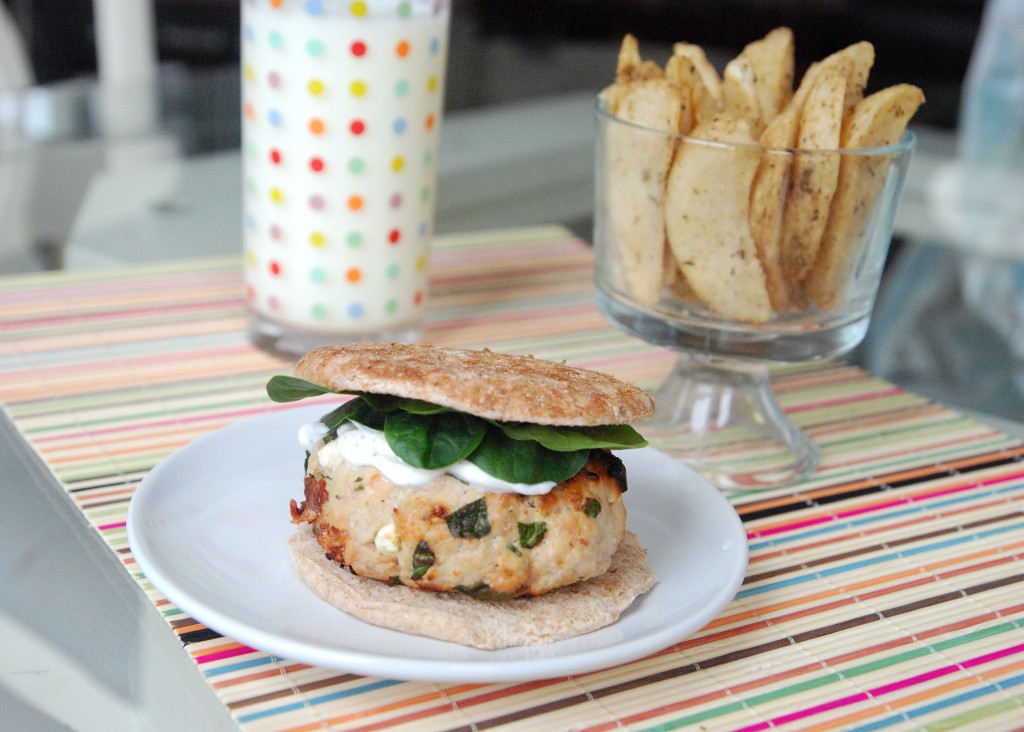 I Made Some Delicious Changes To This Greek Turkey Burger Recipe
But if that were the only thing I do, it probably wouldn't be that bad. But…I also tend to babytalk to my animals, eat sour cream straight out of the tub, and have never learned to leave well enough alone. That last one can get me in trouble…a lot. I recently ran across this recipe for burgers that I had bookmarked for quite a while. They seem like perfectly delicious burgers…but my brain couldn't just leave them like they were.
You'll Love The Homemade Tzatziki On This Turkey Burger
First I figured they needed some oregano mixed in. And then instead of not topping them with anything like Erin suggested…I wanted to top them with tzatziki! Because really, when is something not better with tzatziki? And whether my problem with leaving well enough alone is a good or bad thing…in this case it was an awesome thing. Topping these burgers with a dollop of tzatziki was a perfect combination. And of course to keep them ass friendly we used those new sandwich rounds instead of regular buns! 🙂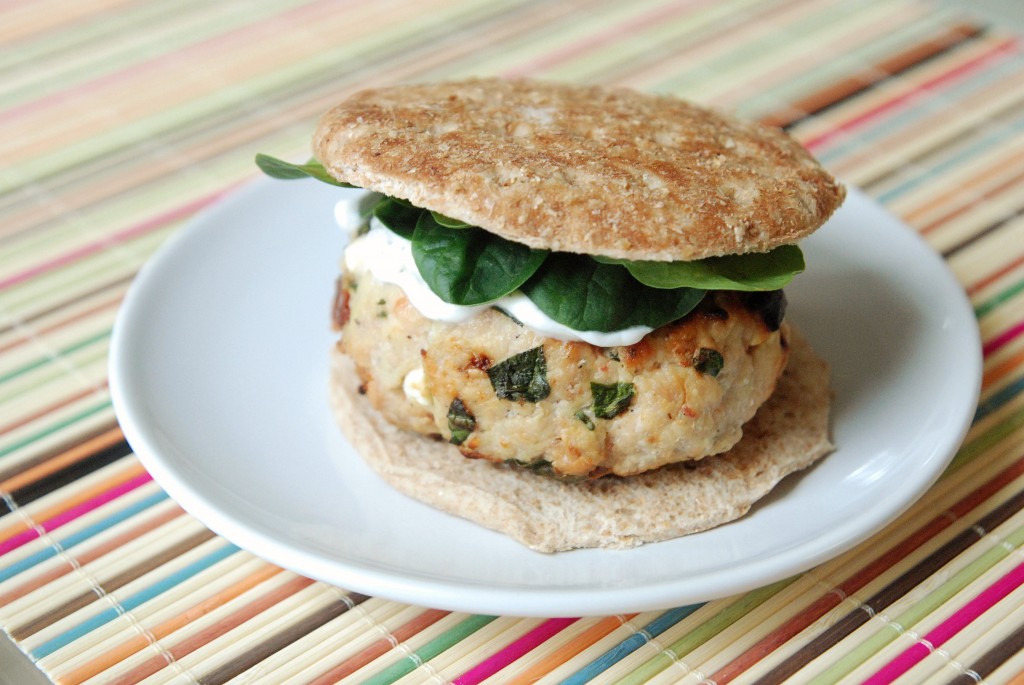 Yield: 4 burgers
Greek Turkey Burger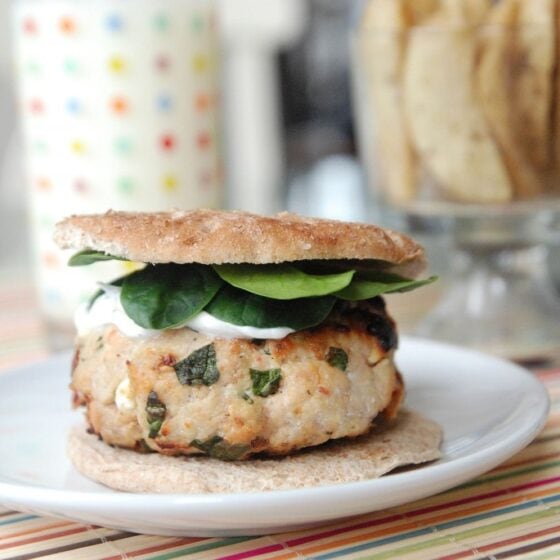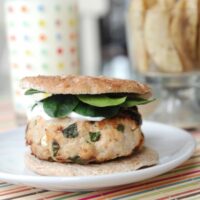 These healthy Greek Turkey Burgers are topped with a delicious homemade tzatziki sauce. This easy turkey burger recipe can be grilled, cooked on the stove, or broiled in the oven!
Total Time
1 hour
18 minutes
Ingredients
For Greek Turkey Burgers:
1 lb ground turkey
1/2 cup crumbled feta cheese
1/4 cup chopped sun-dried tomatoes**
1/2 cup fresh baby spinach leaves, chopped
2 teaspoons Greek Seasoning
4 hamburger buns
Optional Toppings
Red Onions
Cucumbers
Tomatoes
Lettuce
Instructions
In a large bowl, combine turkey, feta, sun dried tomato, spinach and seasonings into a mixing bowl. Mix until just combined.
Form patties and place onto a cookie sheet. Once all patties are formed, cook immediately or refirdgerate for up to 24 hours before cooking.
GRILL: Over a hot grill heated to 400°F, grill burgers for 3 to 4 minutes, per side, until cooked through, with an internal temperature of 165°F.
SKILLET: In a large skillet over medium-high heat, add 1 tablespoon of olive oil. Add the turkey patties and let them cook for about 4-5 minutes per side, until golden brown and cooked through, with an internal temperature of 165°F.
Immediately after cooking, wrap turkey burgers in foil and let them rest for 5 minutes. This will make them extra juicy.
Serve turkey burgers on buns with desired toppings.
Notes
**If you buy the sundried tomatoes in the jar, make sure and squeeze out the excess oil using a paper towel.
Nutrition Information:
Yield:
4
Serving Size:
1
Amount Per Serving:
Calories:

511
Total Fat:

26g
Saturated Fat:

8g
Trans Fat:

0g
Unsaturated Fat:

14g
Cholesterol:

137mg
Sodium:

523mg
Carbohydrates:

33g
Fiber:

3g
Sugar:

8g
Protein:

38g
This post may contain affiliate links. Read my disclosure policy.