My favorite Chopped Salad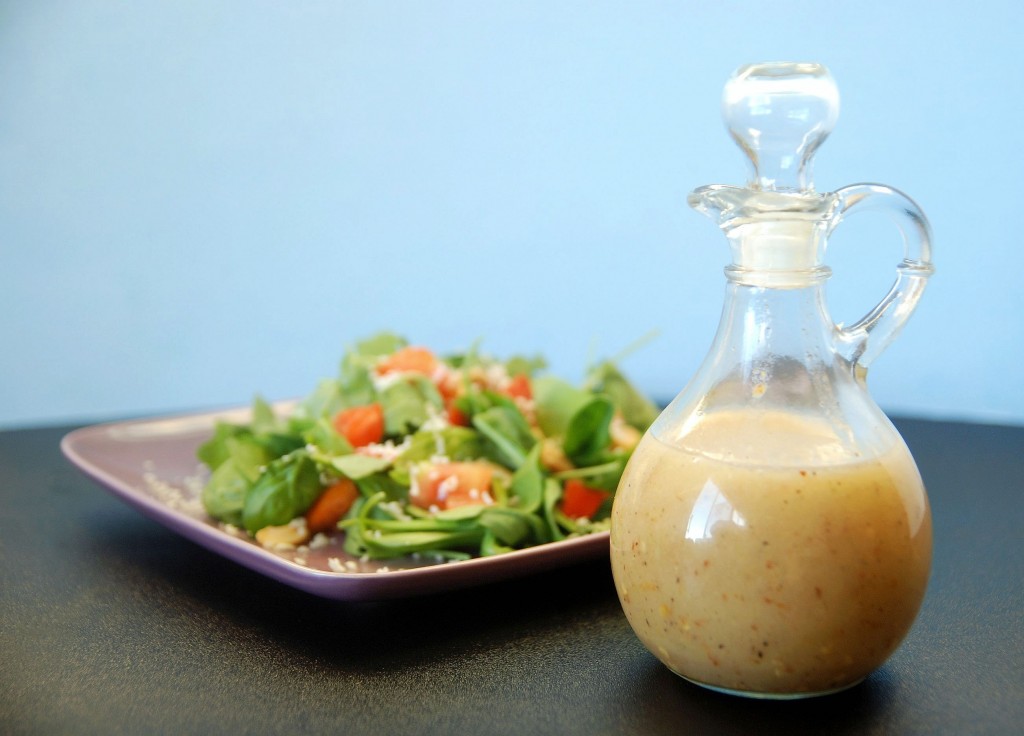 When you and your significant other move in together, it brings you to a whole new level of crazy. You have to learn their patterns and you have to adapt to each other. You have ridiculous screaming fights about the proper way to use a tube of toothpaste or about leaving a cup in the sink. Or at least, Jorge and I did. But through all of it, you either grow closer or figure out that you aren't going to work out. Luckily for Jorge and I, we grew closer.
Then if you are insane, and really want to see how crazy things can get…you both are home, together, in a two bedroom townhouse…24 hours a day. It didn't start out this way. Actually it started with us both having 8-5 jobs and me having school afterward. Then it turned into me being laid off and deciding to pursue school full time. And then I found that I much preferred taking online classes to being stuck in class with a boring professor that goes on and on and 18 year old kids talking about how wasted they were last night. So I am now home all day…and then recently Jorge got a new consulting job…which includes working from home for the next 4 months. And it is now that we are truly learning every thing you wouldn't want to know about the other person. There is no place to hide things anymore. He is home ALL DAY. And I am home ALL DAY. And while we might be doing other things…he is still in the house…and has a tendency to come in to rooms unannounced. Like yesterday, when I was making dinner. He was off doing something…and appeared just in time to see me do my funky feel good dance to Toxic (by Miss B Spears of course). You know that dance you do when you think NO ONE is watching? Where you also use a hairbrush, or in this case spoon, as your imaginary microphone? Ya, it was one of those dances. And earlier in the week he discovered how I like to read my cooking magazines in the bath. I know it's weird and totally backwards…but it works for me. He also found out that I like to spy on the neighbors and am totally wrapped up in the drama I think is going on next door with a cheating fiance. Oh and he discovered I occasionally talk Gangsta to the cats. And now that he is home, I can't hide these weird things I do. Fingers crossed we make it through the next 4 months.
My Favorite Chopped Salad
Ingredients:
8 ounces chopped iceberg lettuce, in 1/2-inch dice
2 ounce diced plum tomatoes, in 1/2-inch dice
1 ounce sliced scallion, in 1/8-inch slivers
2 ounces crumbled Danish blue cheese
1/2 ounce crispy prosciutto, pan fried and chopped
3 ounces dressing (recipe follows)
Garnish
1/4 avocado
1 teaspoon crispy prosciutto
Dressing
1 ounce Coleman's dry mustard
1/3 cup granulated sugar
3/4 cup water
1 ounce garlic, finely chopped
1/4 cup red vinegar
1 cup white vinegar
Salt, to taste
1 quart corn oil or canola oil
1 cup virgin olive oil
2 teaspoons crushed red pepper
2 teaspoons whole black pepper, fresh ground
1 teaspoon fresh oregano
Directions:
Combine mustard, sugar, water, garlic, red and white vinegar and salt in food processor. Mix until smooth. Slowly drizzle in the oils, continue to blend. Add remaining ingredients and stir with wire whisk. Store in sealed containers in refrigerator. This makes 2 quarts of dressing.
Place lettuce in large mixing bowl Add all the ingredients except garnish and mix well. Add dressing and mix well.
Serve, topping each portion with garnish.