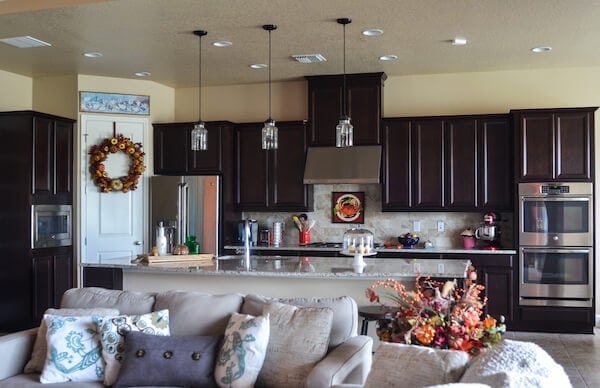 I am so excited to finally show y'all my kitchen in our new house. We moved in back in May, but with the arrival of Ellie & Lyla…well everything got put on the back burner for a while.
Today I am only showing the kitchen, because I am still working on the fun gallery wall for my dining area. I have been finding so much inspiration for my gallery wall on pinterest that it just keeps growing and I'm not quite finished with it.
Just so you have a "lay of the land", the kitchen overlooks the living room. To the right of the kitchen is the dining room and to the left is a french door leading into my office. It is SO wonderful to finally not have to carry my food far to photograph it. It truly makes my life 100X easier compared to our previous house. My office used to be on the second floor, so I had to carry my food upstairs to get pictures. You have no idea how many times I dropped cookies on the ground only to have them gobbled up by Brody!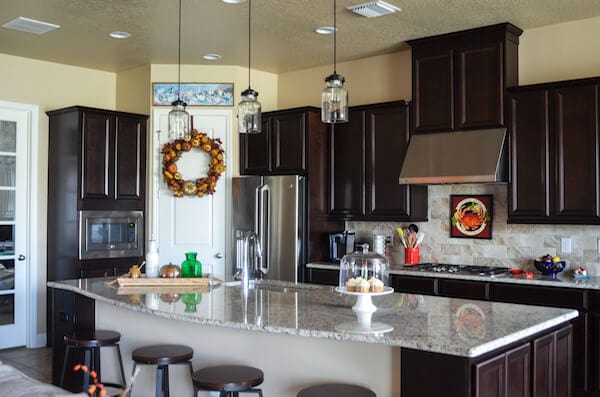 I fell in love with this kitchen layout the moment I saw it in the model home. There are so many cabinets and I was instantly sold with the giant sized island. Once we added the double ovens and gas rang, I was sold.
The kitchen came pretty much as pictured. We bought all our GE appliances through the builder, except for the refrigerator. The biggest changes we made to the kitchen were paint and the pendant lights. I found the pendant lights on Etsy and I was lucky that my parents helped out with the painting since I was 8 months pregnant at the time. The color on the walls is called Dapper Tan.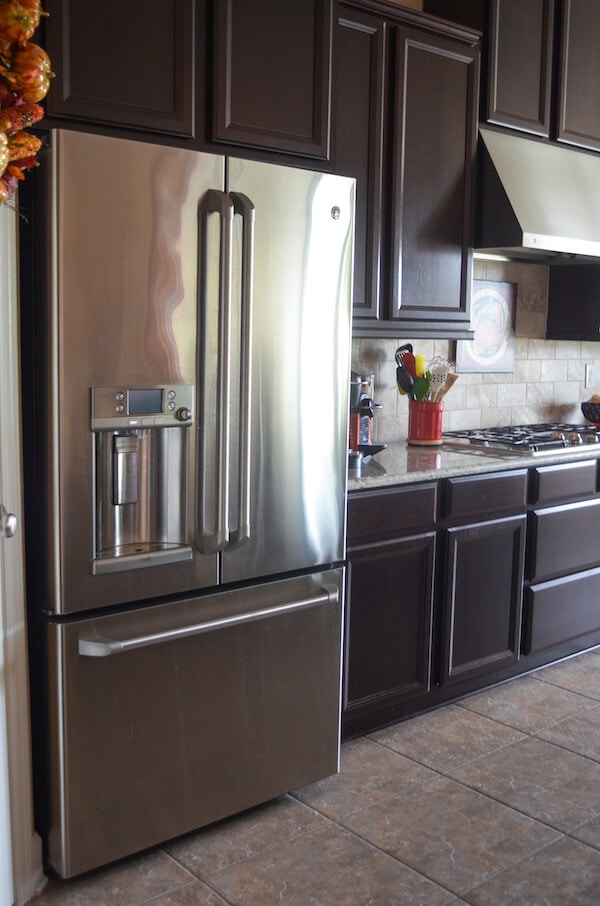 When it came time for us to pick out our refrigerator, I knew I wanted to stick with a GE fridge since all our other appliances were already GE and we are loving them (especially the double ovens!!!). I went back and forth on which refrigerator would be best for us. We liked that the GE Profile Refrigerator did hands free water. Meaning you set down your cup and push a button and it measures your cup and fills it up. I mean…come on, that's cool.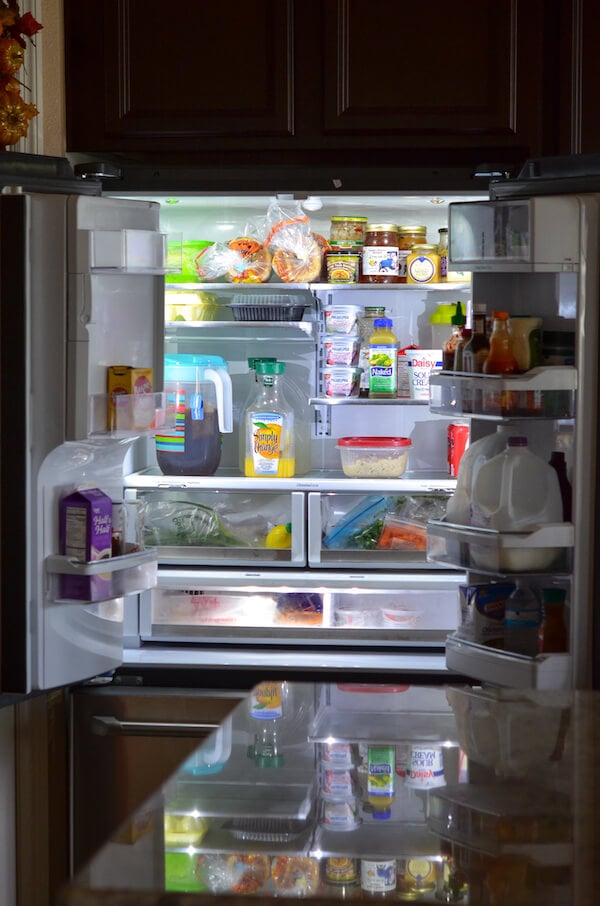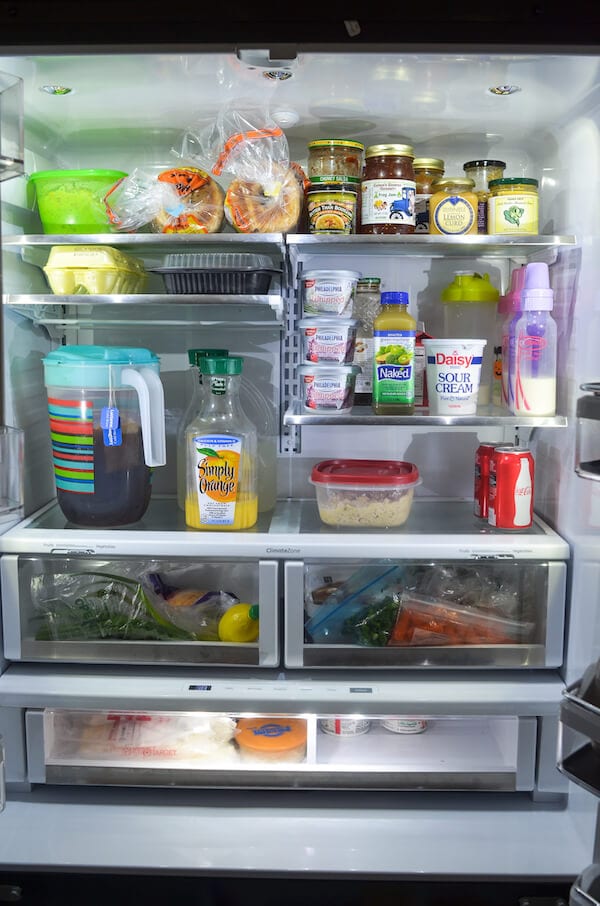 However, we ended up going with the GE Cafe Refrigerator instead. While it doesn't measure your cup, it does hot water (any temperature you want) directly from the fridge. I also preferred the look of the hard lines of the GE Cafe Refrigerator, when compared to the rounded edges of the GE Profile Refrigerator. They were the exact same price, so it really came down to which features and style I thought we would like better.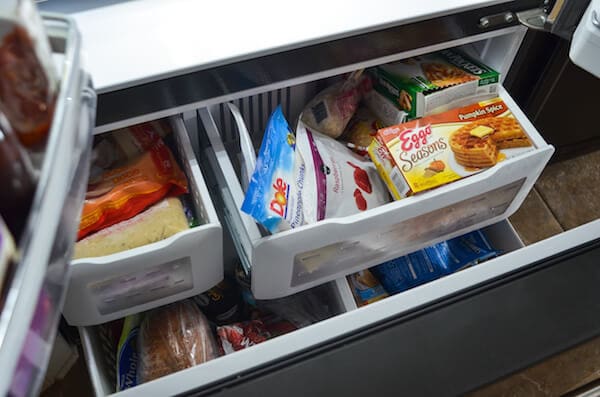 I was a little nervous about downsizing to a counter depth refrigerator, but the layout of the GE Cafe Refrigerator really has helped me not miss those extra inches. In both the fridge and freezer, they do an awesome job of maximizing all of the possible space.
And yes, those are my Pumpkin Spice Eggos you see in the freezer. Don't judge me.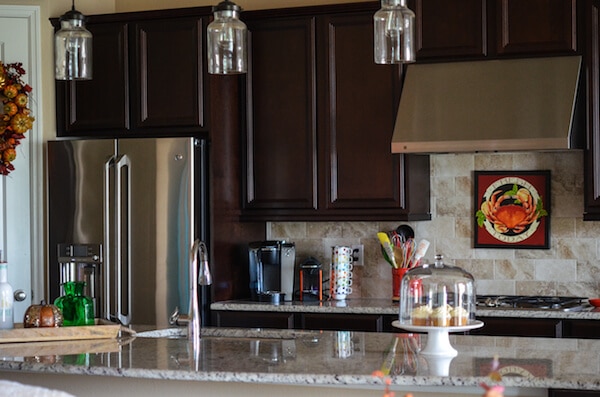 And that's all for now! Maybe one day I will be brave enough to open my pantry and show you the horrors that live in there…but for now, let's just concentrate on that tray of Pecan Praline Cupcakes. :-) Recipe coming later this week!
Disclosure: I received a GE Cafe Refrigerator from GE Appliances, however all opinions are always my own.
This post may contain affiliate links. Read my disclosure policy.