Bacon Balsamic Deviled Eggs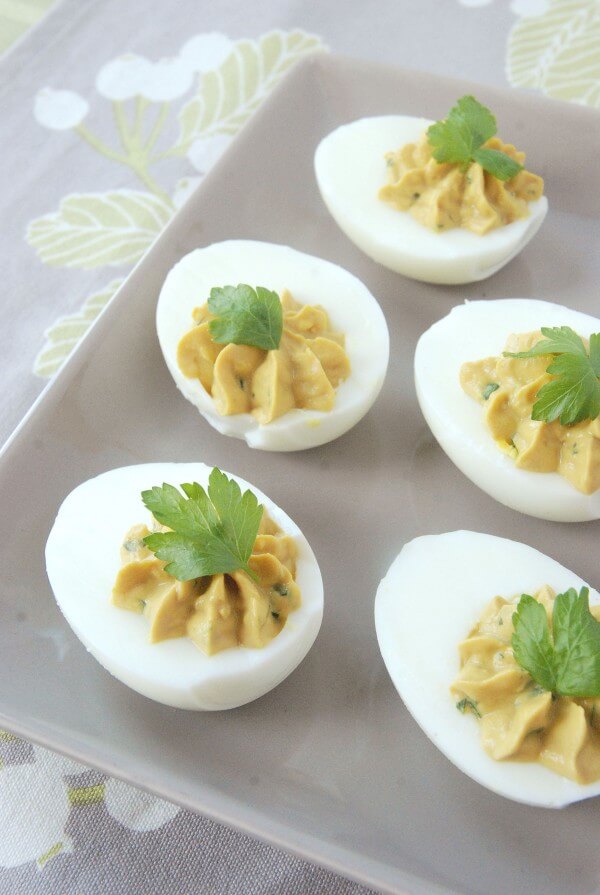 Deviled Eggs have been showing up at Easter's around the country since…well for like forever (you can tell I did all my research for this post). But they have always been the same mayo filled little bites of tasty egg. Were they the best thing I have ever eaten? No. But they were a staple. Like Turkey at Thanksgiving or sheet cake on my birthday. These things are tradition and I am slowly changing them. I am not getting rid of them completely, or making them unrecognizable…I am just making them better. I brined our Turkey this year for Thanksgiving and it was proclaimed to be the best Turkey we have ever had at the big family dinner. And now with Easter coming, I had to remake the classic Deviled Eggs.
And to say they are new and improved is a huge understatement. Gone is the mayo and layer of Paprika. Instead we have bacon and balsamic glaze! That's right, Bacon Balsamic Deviled Eggs! They are phenomenal and I am definitely not exaggerating! I switched out the mayo for fat free Greek yogurt and you can not even tell the difference. Which means that these are a great healthy, delicious option for your Easter feast in a couple weeks!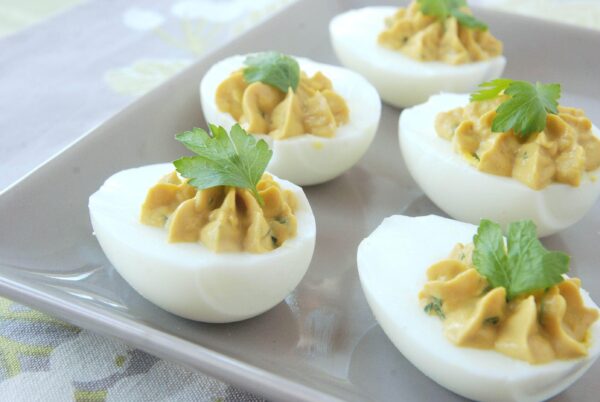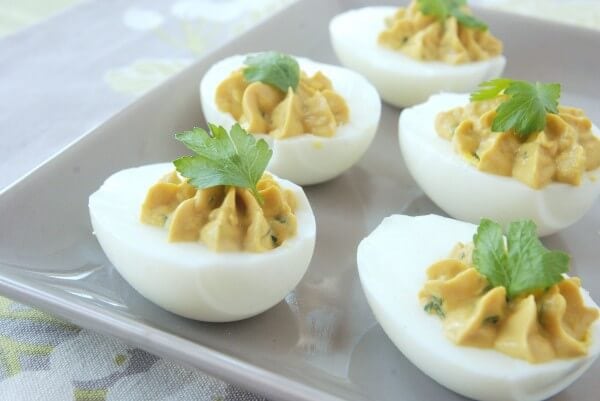 Bacon Balsamic Deviled Eggs
Recipe Note: You will not miss the Mayo in these and the Greek Yogurt is so much healthier for you! I promise if you don't tell, no one will know the difference. Also Balsamic Glaze can be found next to Balsamic Vinegar at the grocery store. It is thicker and more potent then regular Balsamic Vinegar.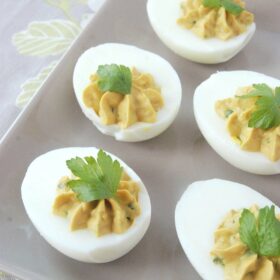 Ingredients:
12 hard boiled eggs, peeled
1/2 cup fat free plain Greek yogurt
2 teaspoons sugar
2 teaspoons balsamic glaze
1/4 teaspoon celery salt
1/4 teaspoon freshly ground black pepper
4 slices turkey bacon, cooked and minced
1/4 cup minced red onion
1/4 cup chopped fresh parsley, plus more for garnish
Directions:
Halve eggs lengthwise and separate the yolks from the whites. Place yolks in a bowl and arrange the egg whites with the rounded side down onto a serving platter.
Mash the yolks with a fork. Add the Greek yogurt, sugar, balsamic glaze, celery salt, and ground black pepper and cream together. Once thoroughly combined, with no lumps, stir in bacon, red onion, and parsley. Pipe into egg whites and garnish each with a sprig of parsley.
Refrigerate until ready to serve. Allow to come to room temperature for 15 minutes before serving.
This post may contain affiliate links. Read my disclosure policy.