This Nutella Crescent Ring only need 5 easy ingredients to create this gorgeous braided crescent ring stuffed with Nutella and chopped hazelnuts! Serve warm with a big glass of milk!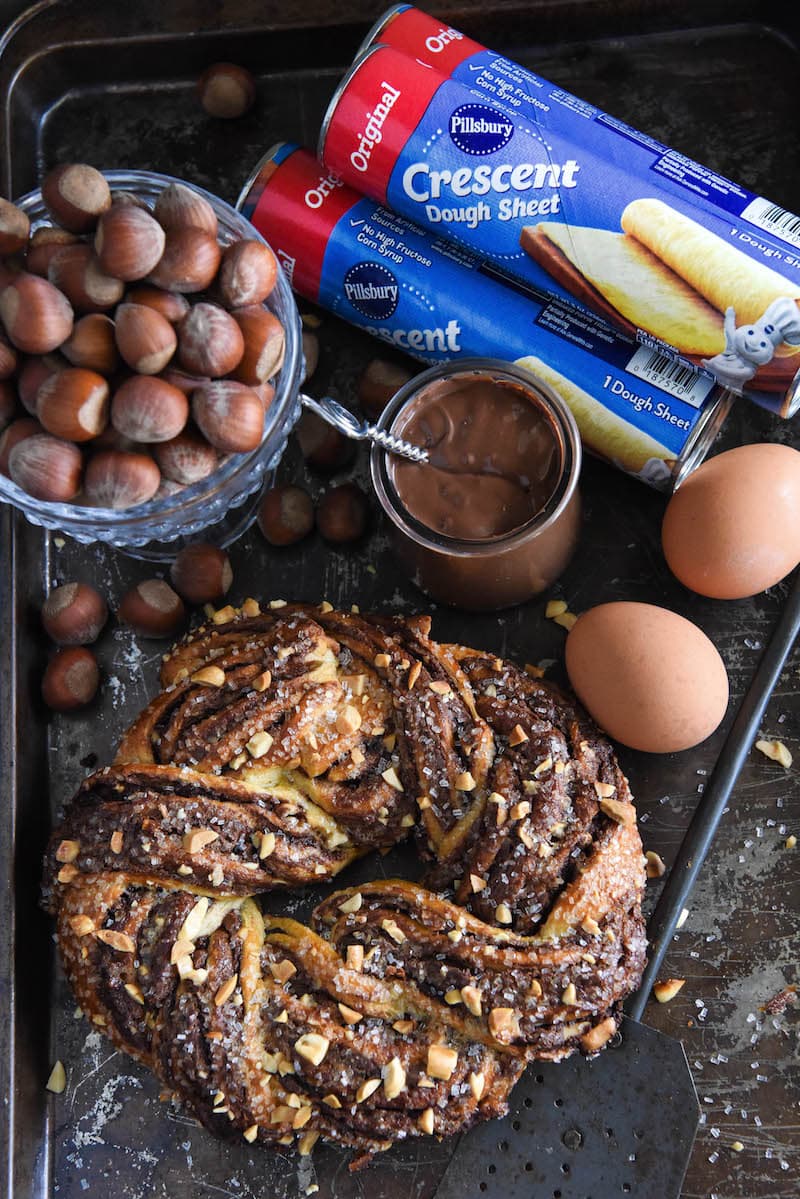 Every Sunday morning, our little family of four makes brunch together. Between all our other responsibilities during the hectic week, we all look forward to that special time we spend together as a family on Sunday mornings.
Ellie and Lyla love helping me make breakfast. It has become our routine to make a recipe together every Sunday. I hope they look back one day with lots of good memories of helping Mom in the kitchen.
I like to keep the recipes we make together as simple as possible, since three year olds tend to not have the best attention span!
Pillsbury™ is the main component of our Sunday morning success. We use their crescent rolls/sheet and cinnamon rolls, in so many different ways, to make our family brunch much less stressful and instead more memorable.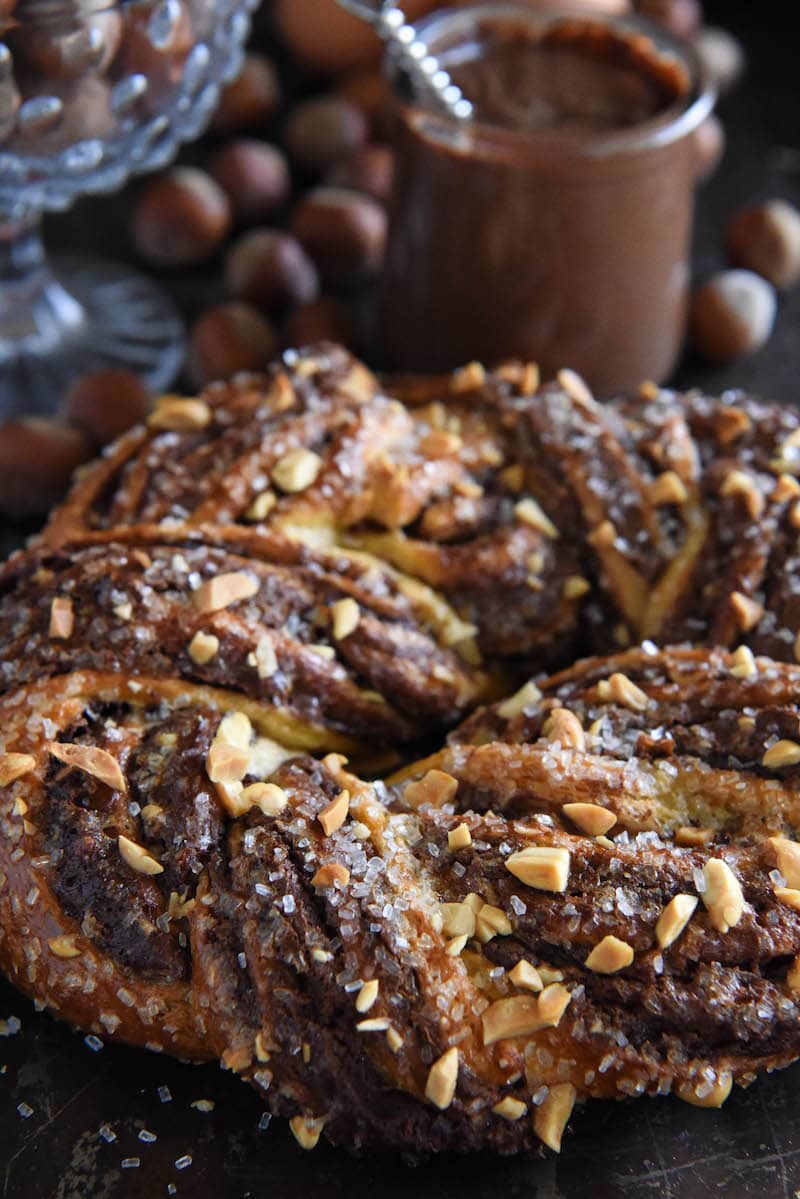 We have so many awesome breakfast recipes featuring Pillsbury already: Cinnamon Roll Waffles, Bacon, Egg & Cheese Rollups and Pumpkin Cinnamon Rolls.
I love getting to sleep in, with the rest of the family, knowing I don't need to worry about making my own dough! It's ready to go in the fridge whenever we are!
Out of all the recipes we already have, we did not have one that was filled with chocolate and nuts, which is Miss Lyla's favorite combination. So off I went to search for a new great recipe idea.
When I came across this Nutella Crescent Ring, I knew it was the one! It only called for 5 ingredients and I already had them all on hand. #MomWin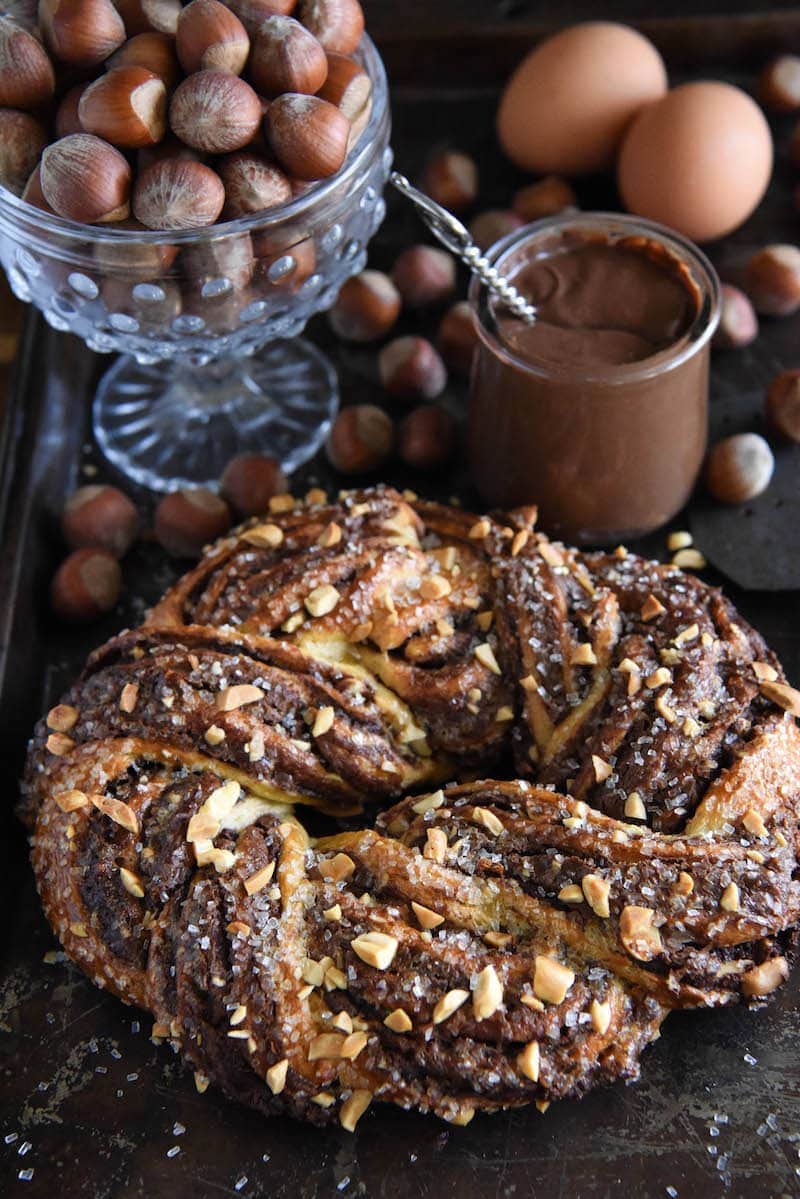 The girls loved helping make this Nutella Crescent Ring! First, they both got to spread the chocolate hazelnut spread everywhere and make quite the delicious mess. They thought that was amazing.
I microwaved the nutella for a few seconds to make it easier to spread and it really helped not to tear our Pillsbury refrigerated crescent dough sheet. Then we added some chopped hazelnuts and formed the braid.
Into the oven it went and we got everything ready and set the table for our family brunch. The girls and I all had big glasses of milk ready and we made Jorge a big cup of coffee.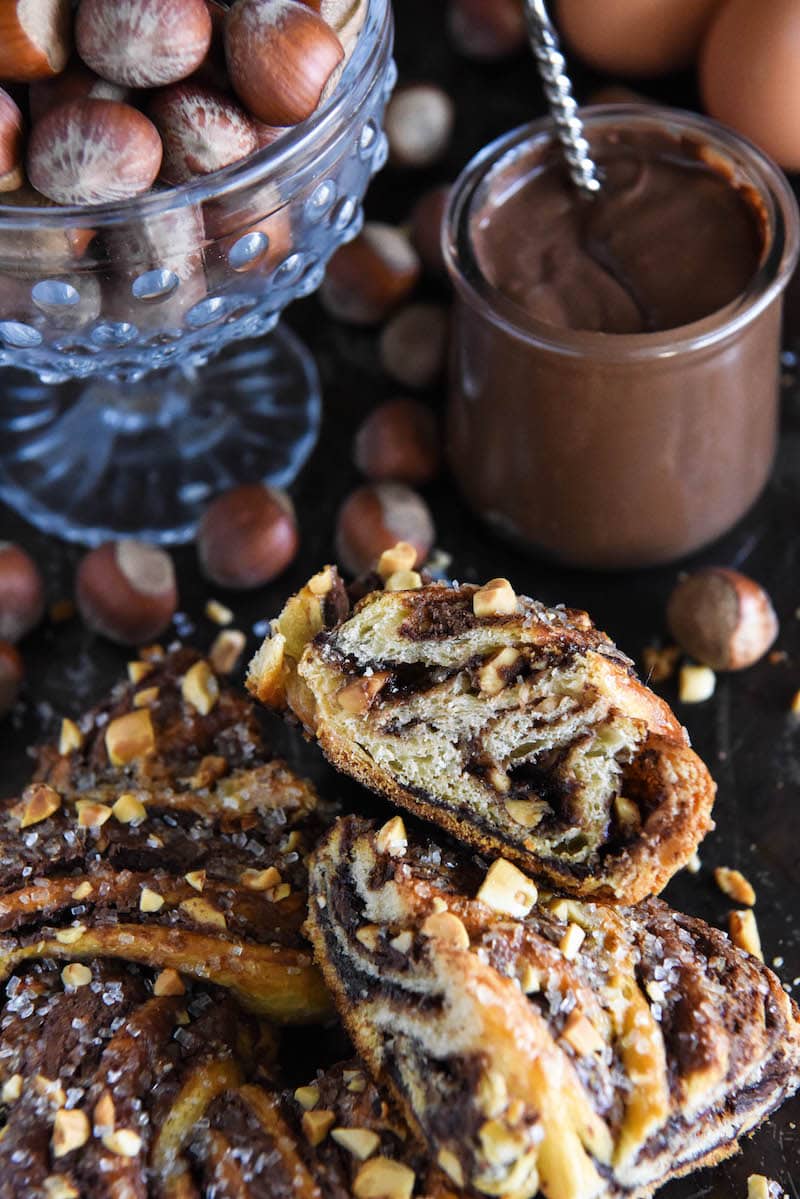 We served this Nutella Crescent Ring warm out of the oven and it was gloriously delicious. The buttery crescent dough combined perfectly with the chocolate and hazelnuts to create the perfectly easy, but impressive, braided ring.
This recipe will absolutely be added to our Sunday morning breakfast rotation. However, next time I think I will add some sliced banana or strawberries! I also want to try making it with my Homemade Nutella!
Yield: 8 servings
Nutella Crescent Ring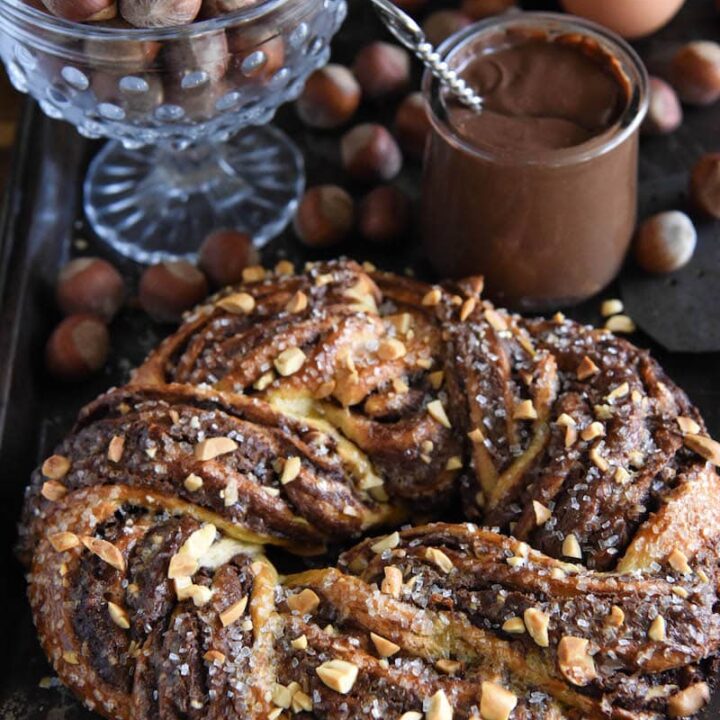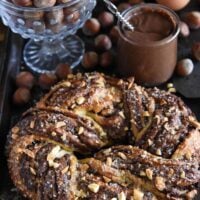 This Nutella Crescent Ring only need 5 easy ingredients to create this gorgeous braided crescent ring stuffed with Nutella and chopped hazelnuts! Serve warm with a big glass of milk!
Ingredients
1 can (8 oz) refrigerated crescent dough sheet
1/2 cup Nutella (or Homemade Nutella)
1/2 cup finely chopped hazelnuts, if desired
1 egg, beaten
1 teaspoon coarse sugar or decorator sugar crystals
Instructions
Heat oven to 375°F. Line a large cookie sheet with parchment paper; set aside. Microwave nutella for about 3o seconds and stir well, set aside.

Unroll dough on work surface. Press into 13×8-inch rectangle. Spread hazelnut spread evenly over dough to within 1/4 inch of edges. Sprinkle with hazelnuts, reserving 1 tablespoon for topping.
Roll up dough starting at longest side; pinch to seal. Place seam side down lengthwise in middle of cookie sheet.
Using sharp knife, slice dough lengthwise to form 2 halves.Twist halves together with cut sides of dough facing up. Shape into circle; gently pinch ends together. Brush with beaten egg; sprinkle with sugar and reserved hazelnuts.
Bake 20 to 22 minutes or until golden brown. Serve warm.
Nutrition Information:
Yield:
8
Serving Size:
1
Amount Per Serving:
Calories:

149
Total Fat:

10g
Saturated Fat:

5g
Trans Fat:

0g
Unsaturated Fat:

5g
Cholesterol:

25mg
Sodium:

29mg
Carbohydrates:

13g
Fiber:

2g
Sugar:

9g
Protein:

3g
Categories
This post may contain affiliate links. Read my disclosure policy.