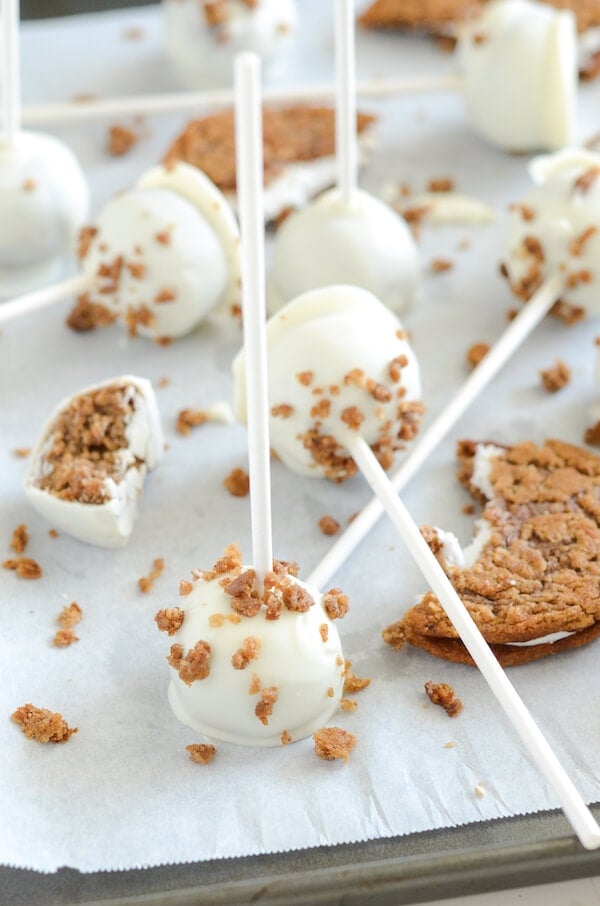 Going to the grocery store hungry is NEVER a good idea. I ran in for two items and left with 10. One of the things I left with were some Oatmeal Cream Pies. You know, the classic Little Debbie ones that your mom used to put in your lunch box? Yup, those.
I normally am more of a Swiss Cake Roll girl, to be honest, but these were on an end cap and were a major impulse buy. I honestly had forgotten how good they were! I ate one as soon as I got into the car and had to force myself to not grab a second one.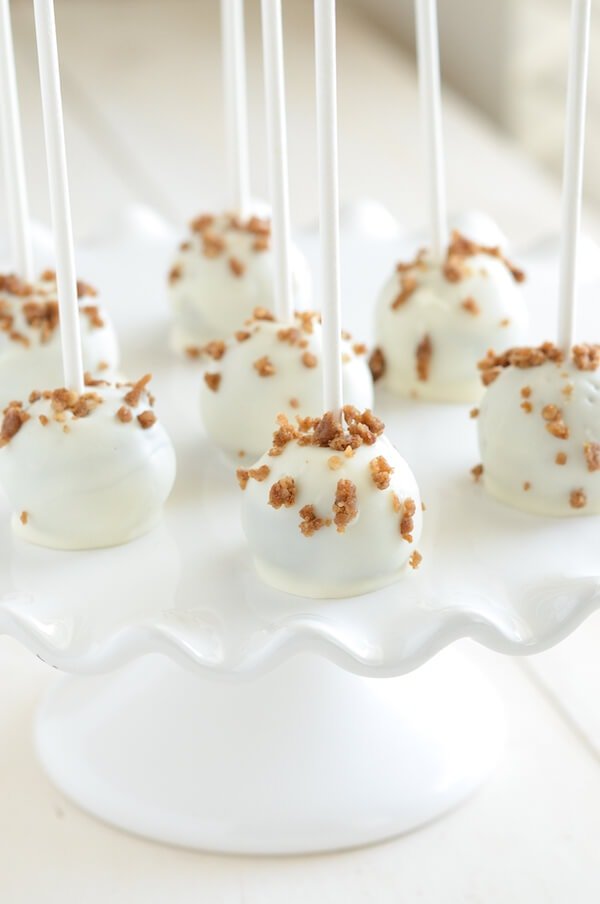 And on the longest 1 mile drive home from the grocery store (yes, I seriously live 1 mile from the grocery store and I drove — Florida's 100° heat is no joke) I had a sudden idea to use them to make cake pops. I figured someone probably already did it…I mean, they would be so easy! Just two ingredients! Oatmeal Cream Pies already have filling…so you would just have to crumble them up, form them and then dip them!
As soon as I pulled into my driveway, I hit up pinterest and searched for Oatmeal Cream Pie Cake Pops. Hot damn, I'm the first one to think of it! That almost never happens!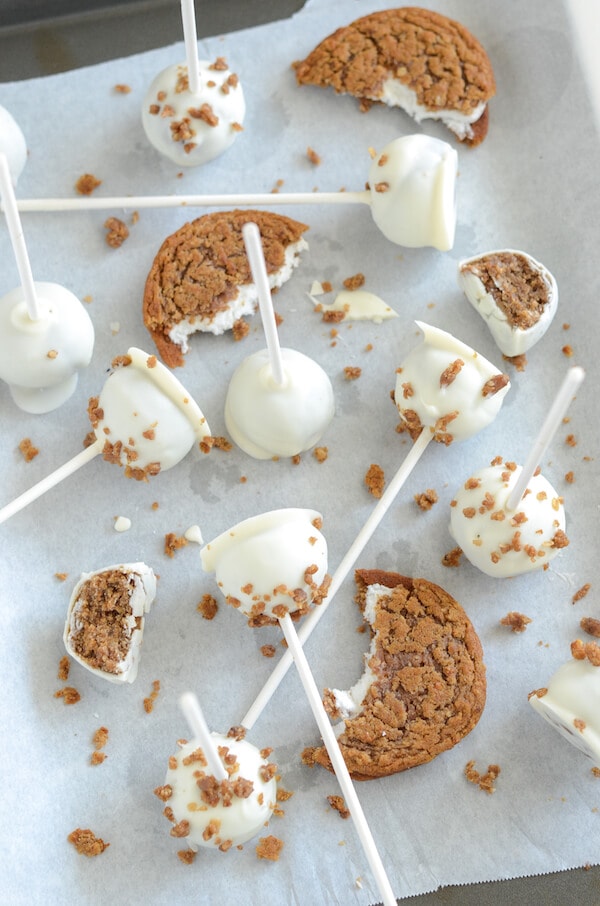 These are as easy as cake pops come. You only need a couple of ingredients and they are ready to go! And just in case you weren't sure, yes they still taste exactly the same…except they are so much cuter. ;-)
Quick tips: There are two items you might find helpful when making these. First, lollipop sticks if you want them to be served on sticks. Second, I found this silicone cookie scoop to be super helpful making these. It was given to me as a gift and I do not like it for traditional cookies (I much prefer my regular cookie scoop!), however it was perfect for these! I packed in the crumbs and then they were really easy to pop out. Then I just molded the half moon shapes into balls. Super easy!
Oatmeal Cream Pie Cake Pops
These sweet cake pops are made with just 2 simple ingredients: Little Debbie's Oatmeal Cream Pies and white chocolate. These easy pops make a great fun and quick dessert!
Ingredients
1

box little debbies oatmeal cream pies

,

12 cream pies

8

oz

white chocolate

,

or white candy melts

cakepop/lollipop sticks

,

optional
Instructions
Line a baking sheet with parchment or wax paper and set aside.

Place all 12 cream pies in the bowl of a stand mixer with the paddle attachment or in a food processor. Start slow and increase the speed to medium, processing until the pies become small crumbs – about 2 minutes. You can also do this by hand, however it is harder to create the smaller crumbs.

Set aside 1/4 cup of crumbs for decorating the tops of the cake pops.

Using 1 tablespoon packed crumbs, roll into a tight ball. Place on prepared baking sheet. (As I mentioned above, I found the silicone cookie scoop to make this much easier. It is exactly 1 tablespoon in size and let me pack the crumbs tightly into a half circle and then easily pop them out. I then gently pressed the half moon shape into a ball.) Continue until all crumbs have been used.

Refrigerate cake balls for 10 minutes. This is optional, however I find it makes the coating harden much faster.

Melt chocolate according to package directions in a bowl.

If using cake pop sticks: Poke holes in the cake pops using the stick. Dip the stick into the chocolate and then back into the hole you created. Let the chocolate harden (about 5 minutes) before moving on to the next step. This helps keep the sticks stuck into the cake pops. 

Moving quickly, coat cake pops with chocolate and return to the parchment paper covered baking sheet. Sprinkle with the extra crumbled cream pies for decoration.

Let coating harden completely (you can speed up the hardening by placing them in the fridge for about 5 minutes). Serve immediately or store in an airtight container for up to 5 days.
This post may contain affiliate links. Read my disclosure policy.