Homemade Orange Cranberry Cinnamon Rolls are soft, delicious and perfect for breakfast or dessert! Made with fresh orange and cranberries, this recipe will become your new favorite for cinnamon rolls.
Love cinnamon rolls? Also check out my Pumpkin Cinnamon Rolls and Halloween Spider Cinnamon Rolls.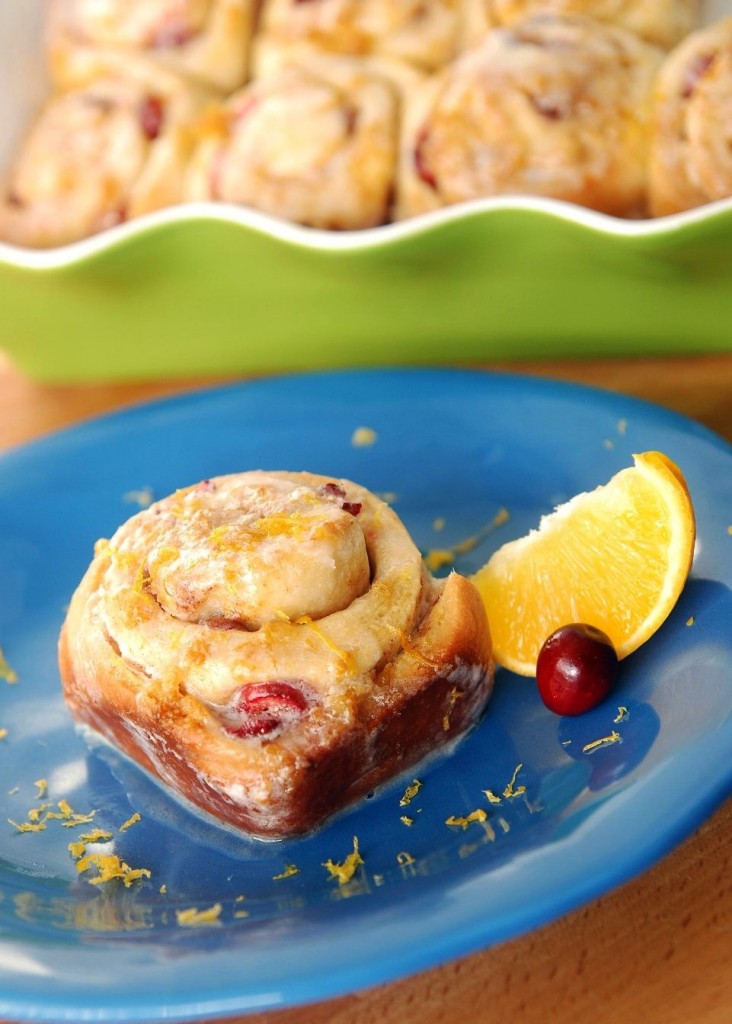 Homemade Orange Cranberry Cinnamon Rolls
If I haven't mentioned it before, one of the best things about having this blog is the amazing interaction I get with readers. Yes sometimes I get frustrated…you know like when I get rude emails or questions that are actually answered right in the post. But overall I get great emails with challenging questions or if I am lucky enough something amazing happens…like a video! This past weekend, some amazing e-friends, Catherine (@Orangegirlnz) and Craig (@storminwalker), made my veggie spring rolls!
I mean how cool is this! First off, dude it's me on the laptop! I'm in New Zealand! Ok, maybe I am not actually there, but it is probably the closest I am getting and I think it's pretty amazing. Next, look at how cool their kitchen is! And when you watch their video, check out their kitchen a little more. I am in love with the clean/modern look they have going on! And also, when you watch the video, make sure and memorize/perfect their accents…because the next time I see any of you, I expect you to be able to sound just like Craig and Catherine! I wish I could bottle that accent and get rid of my lame American one.
Can These Homemade Cinnamon Rolls Be Frozen?
I wasn't sure how to thank Catherine and Craig for this video…I don't think cupcakes or whoopie pies would travel that well from Florida to New Zealand. But I know Catherine loves orange everything, so I thought I would make something specially for her! And Craig may not love orange, but who doesn't love cinnamon rolls? These cinnamon rolls were delicious. Seriously, delicious! I made a enough that I was able to freeze some and am going to serve them for Thanksgiving breakfast! I think these may be my new favorite cinnamon rolls (yes, even better then crack Cinnabon).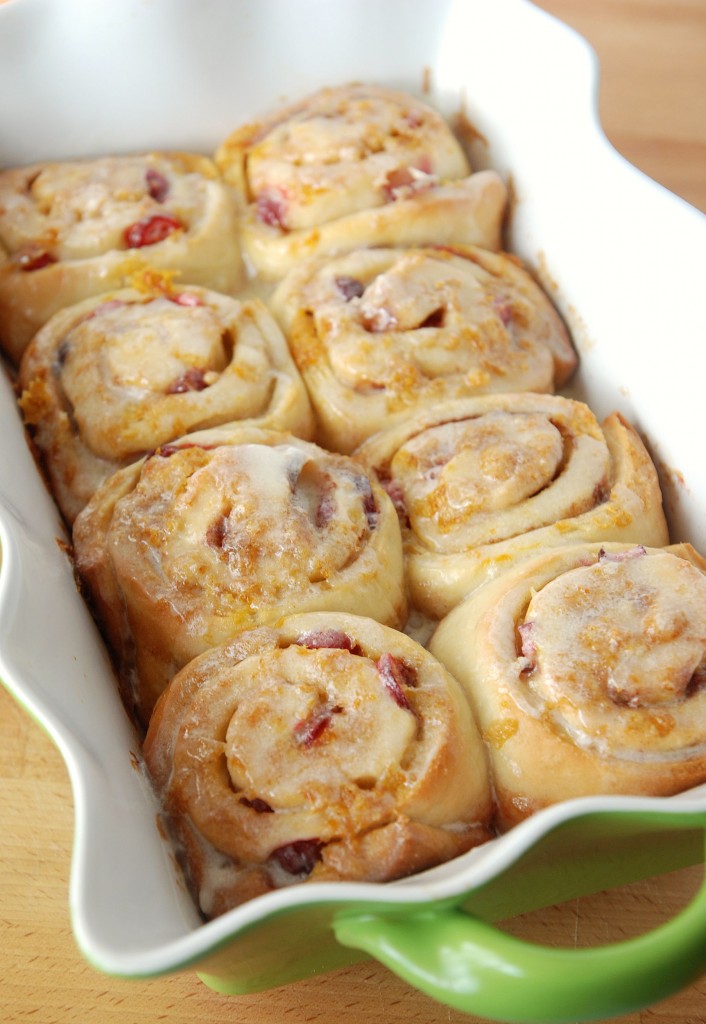 Yield: 24 Cinnamon Rolls
Orange Cranberry Cinnamon Rolls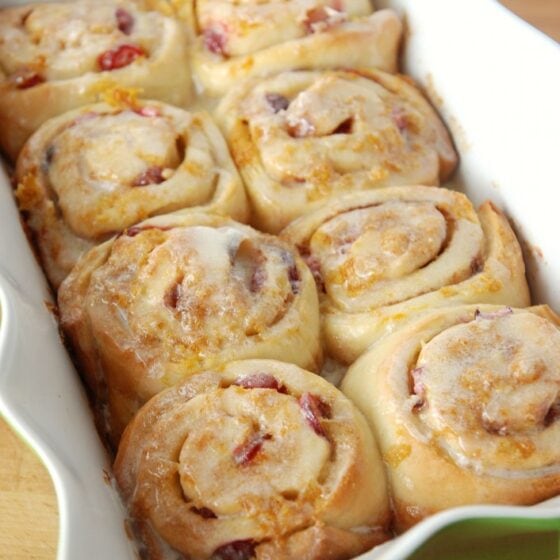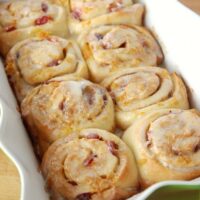 Homemade Orange Cranberry Cinnamon Rolls are soft and delicious. Made with fresh oranges and cranberries, they're perfect for breakfast or dessert!
Prep Time
1 hour
30 minutes
Total Time
1 hour
46 minutes
Ingredients
2 packages active dry yeast
2 cups warm water
6 tablespoons butter, room temperature
1 cup granulated sugar
7 1/2 cups all purpose flour (plus extra for kneading)
2 large eggs
1 tablespoon salt
8 tablespoons (1 stick) butter, room temperature
1 1/2 cup light brown sugar
8 oz fresh cranberries, chopped
2 tablespoons ground cinnamon
Zest of 3 large oranges
1/2 cup brown sugar
4 tablespoons butter, room temperature
2 cups powdered sugar
2 tablespoons milk
2 tablespoons fresh orange juice
Orange zest for garnish
Instructions
Add yeast to 2 cups warm water. Stir and set aside for about five minutes.
In a bowl of a stand mixer, with the paddle attachment, beat butter, sugar, and salt until combined. Add eggs, one at a time, beat until combined. Slowly add yeast mixture and mix until well combined.
Gradually add 7 1/2 cups flour. When you begin adding flour, you want the paddle attachment to remain on. But once the dough starts to come together, switch to the dough hook. Once all the flour has been added, knead the dough on medium high speed for about 3 minutes. Then remove dough from bowl and place on a lightly floured counter. Knead dough by hand, adding a little flour if the dough is still sticky. Knead dough until it feels smooth.
Place dough in a well greased bowl and cover with a towel. Place in a warm area and allow to rise for 30 minutes or until the dough has doubled in size.
Remove dough from bowl and place on a ligthtly floured counter. Divide dough in half. With a rolling pin, roll one half of the dough into a rectangular shape. Spread dough evenly with 4 tablespoons butter. Sprinkle dough with 3/4 cup brown sugar, half of the chopped cranberries, and 1 tablespoon cinnamon. Lastly you want to sprinkle the orange zest, I did this by actually zesting the orange over the dough with my microplane.
Gently roll dough into one long roll. Cut rolls, using a piece of dental floss or thread, about two inches thick. In a small bowl, combine the zest of one orange and 1/2 cup brown sugar. Dip and twist the tops of the cinnamon rolls in the orange/sugar mixture. Place rolls in two greased 9X13 baking pans. Now repeat the same steps for the other half of the dough.
At this point you can either freeze your cinnamon rolls for a later date or eat them immediately.
To freeze: Wrap rolls/baking pans tightly in saran wrap, followed by a tight layer of foil. They will stay good in your freezer for up to one month (probably longer, but I have never made it past 1 month). When you are ready to make them, allow the cinnamon rolls to thaw overnight, or until completely thawed. Once thawed, remove all foil/saran wrap, and follow the directions for baking immediately.
To bake immediately: Cover with a towel and place in a warm area and allow to rise for 30 minutes, or until the rolls have almost doubled in size. Once they have risen, bake at 425 degrees for 10 minutes and then drop the temperature down to 350 and allow to cook for an additional 6-8 minutes or until golden brown. Remove pans from oven and let cool on a wire rack for 5 minutes.
To make the frosting-in a medium bowl combine, butter, powdered sugar, milk and orange juice. Whisk until smooth. Frost the cranberry orange rolls generously with frosting. Garnish with orange zest. Serve warm. (To reheat, heat in microwave for 15 seconds)
Nutrition Information:
Yield:
24
Serving Size:
1
Amount Per Serving:
Calories:

336
Total Fat:

6g
Saturated Fat:

3g
Trans Fat:

0g
Unsaturated Fat:

2g
Cholesterol:

28mg
Sodium:

316mg
Carbohydrates:

67g
Fiber:

2g
Sugar:

35g
Protein:

5g
Want to Save This Recipe?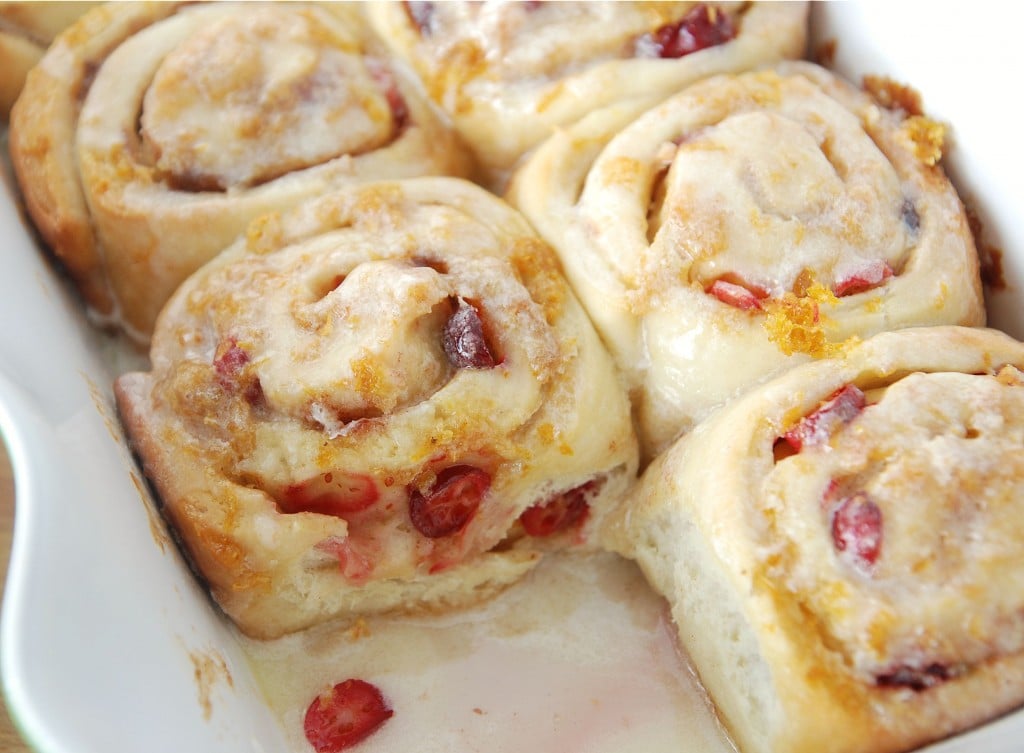 This post may contain affiliate links. Read my disclosure policy.