Tomato, Basil, and Mozzarella Pasta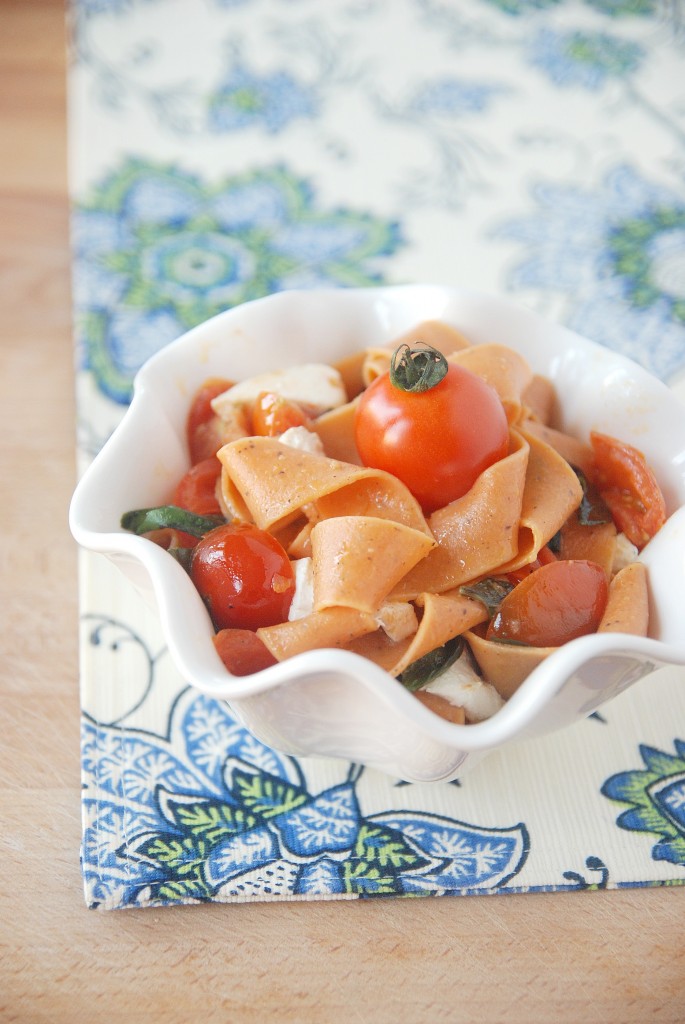 Summer is coming and I am dreading it. Yes I love the beach. And of course I love a good reason to drink margaritas and wear a sundress…but my electricity bill just arrived and it was $37. I can't remember that ever happening before! But since we have moved to Jacksonville we have turned on our heater all of 3 times and the air conditioning once. It has been 60's low and 80's high for the past couple of months and I am dreading saying goodbye to spring. I know many of you up north are just now getting spring…but in a few weeks, here in Florida, summer will be in full force.
So to keep the feeling of spring going I wanted to make a quick dish that requires little energy and lots of fresh ingredients. And when I came across this ass friendly recipe on Cooking Light, I knew it was meant to be. A delicious fresh pasta in under 10 minutes? I couldn't have asked for more! I plan on making this long after spring has passed and the hot summer months have spiked my electric bill back up to $200 a month.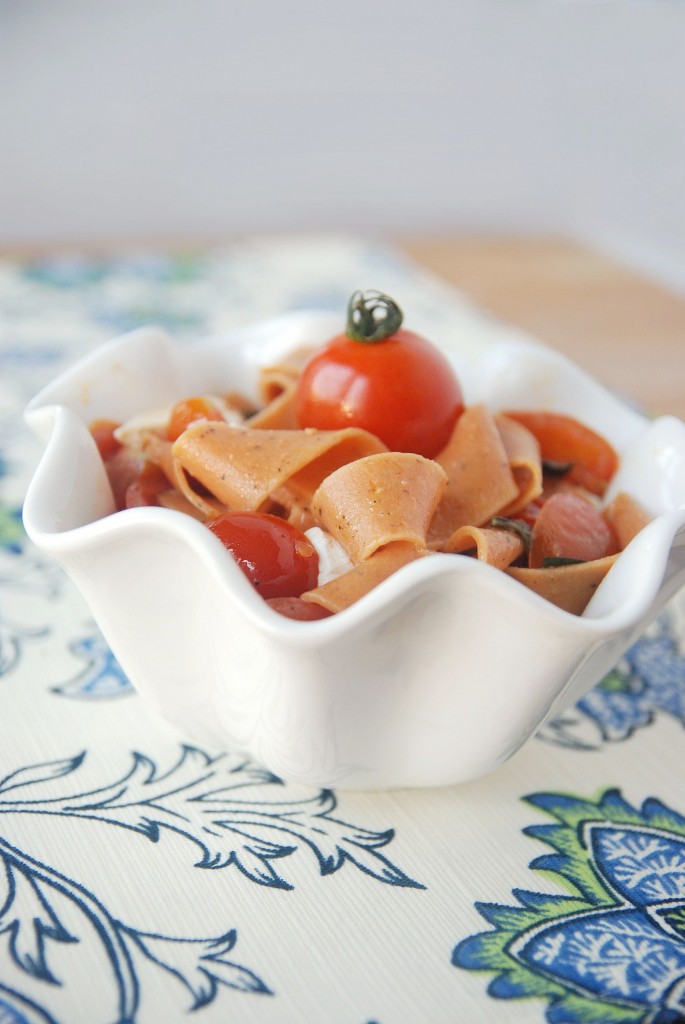 Tomato, Basil, and Mozzarella Pasta
Recipe Note: I used a delicious Pappardelle pasta that I picked up at my local farmers market. Feel free to use any of your favorite pastas in place of the recommended fettuccine.
Ingredients:
You will need:
1 (9-ounce) package refrigerated fresh fettuccine
3 tablespoons olive oil
3 garlic cloves, minced
4 cups cherry tomatoes, halved
1/2 teaspoon salt
1 cup fresh basil leaves, torn
1/2 teaspoon freshly cracked black pepper
4 ounces fresh mozzarella, chopped
Directions:
Cook pasta according to package directions, omitting salt and fat. Drain; place pasta in a large bowl.
While pasta cooks, heat oil in a medium saucepan over medium heat. Add garlic to pan; cook 1 minute, stirring frequently. Add tomatoes and salt; cover and cook 3 minutes. Remove from heat; stir in basil and pepper. Add tomato mixture to pasta; toss well to combine. Top with cheese.