Peach BBQ Slow Cooker Pork with Cilantro Citrus Slaw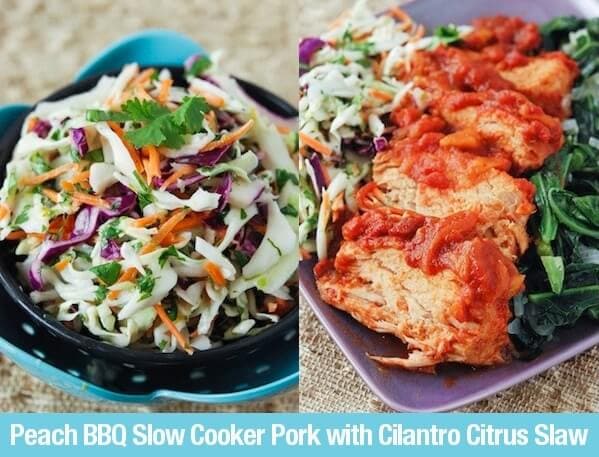 The older I get, the more ok I get with certain vegetables. Sure I always ate things like broccoli, carrots, squash and what not…but put some cabbage in front of me and I was out of there. There is still no way you will get me to eat slimy okra, but I am slowly coming around to the idea of cabbage.
I think my aversion to cabbage for all these years was it's typical dressing of coagulated mayo. ::gag:: Or that my mother loved to boil it…you know, when it makes the whole house smell like something died in the wall and you can't find it. — I know, I paint such pretty pictures in your mind, right?? — But the more and more that I have it on top of my blackened fish tacos, I started to think maybe I should give cabbage (and slaw) another chance.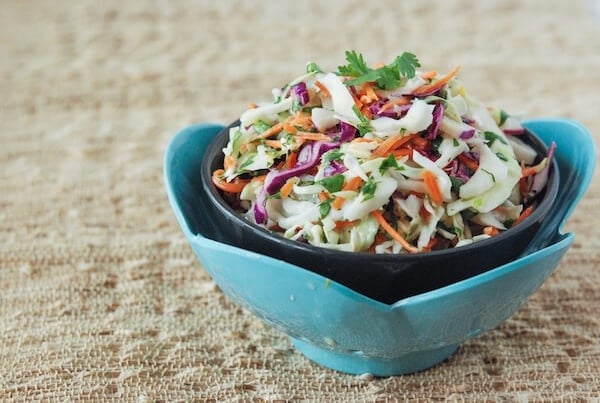 So I had that thought, no seriously I actually think about these things, and then moved on and ate a cookie the size of my head. Weeks later I was thumbing through some back issues of Clean Eating Magazine and came across this recipe idea. I changed it up some to make it a little easier and to fit my tastes, but the pork was divine and Jorge is already asking for it again.
As for the slaw, ::drumroll please:: it was so perfectly fresh and flavorful that I can't wait to eat the leftovers for lunch tomorrow! Instead of mayo, it uses some fat free greek yogurt. For flavor, you use both an orange and a lime and a healthy dose of cilantro. With the heat of August still suffocating us down here in Florida, you couldn't ask for a better side dish!
Peach BBQ Slow Cooker Pork with Cilantro Citrus Slaw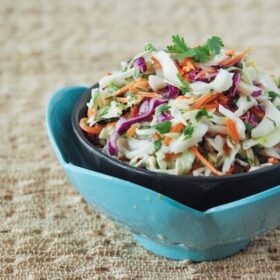 Ingredients:
2 tablespoons olive oil
1 medium yellow onion, chopped
4 garlic cloves, minced
1 large peach, peeled and chopped
15 oz can diced tomatoes
6 oz can tomato paste
2 tablespoons apple cider vinegar
2 tablespoons worcestershire sauce
1 tablespoon pure maple syrup
pinch of salt and pepper
1 lb pork tenderloin, trimmed of visible fat
4 cups fresh bagged coleslaw (the one with carrots, red & green cabbage)
1/2 cup chopped cilantro
1 teaspoon zest and juice from 1 large orange
zest and juice from 1 lime
3 tablespoons fat free plain greek yogurt
pinch of salt and pepper
Directions:
Peach BBQ Slow Cooker Pork:
In a large sauce pan, heave olive oil over medium-high heat. Add onion and saute, stirring occasionally, until translucent, about 5 minutes. Reduce heat to medium and add garlic and peach. Cook for 3 minutes.
Stir in tomatoes, tomato paste, vinegar, worcestershire sauce, maple syrup and salt/pepper. Cook, stirring occasionally, for 15 minutes.
Pour 3/4 cup of sauce into the bottom of slow cooker. Lay pork tenderloin on top of sauce. Coat the top of the pork with the remaining sauce.
Cook for 4 hours on high or 8 hours on low, or until an instant-read thermometer registers 145°F when inserted in the center of the pork. Slice pork into 8 slices and serve with Cilantro Citrus Slaw.
Cilantro Citrus Slaw:
In a large bowl toss together coleslaw and cilantro. Set aside.
In a small bowl, whisk together zest and juice form both the lime and orange, greek yogurt and salt/pepper. Pour over coleslaw mix and toss to coat. Cover and refrigerate for at least one hour.
inspired by Clean Eating Magazine July 2012