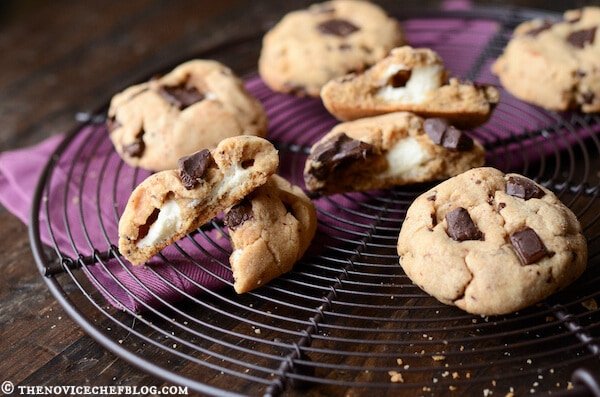 I am having surgery on Wednesday. To say that I am a little angsty about it, would be like saying Lindsay Lohan just needs a long nap. Now to be fair, this isn't some super scary surgery — I am having my wisdom teeth removed. I have all 4 and they are impacted…because instead of getting them out like I should have at 15, I pretended like they didn't exist.
I know most normal people have these out in their teens and it's not a huge deal. I get that. But I am BIG baby and am so not good with pain. Also, I have never had to have any kind of surgery in my life. I broke my arm when I was super young and don't remember it all. So for me, this is freak out worthy and I probably won't sleep a wink before Wednesday.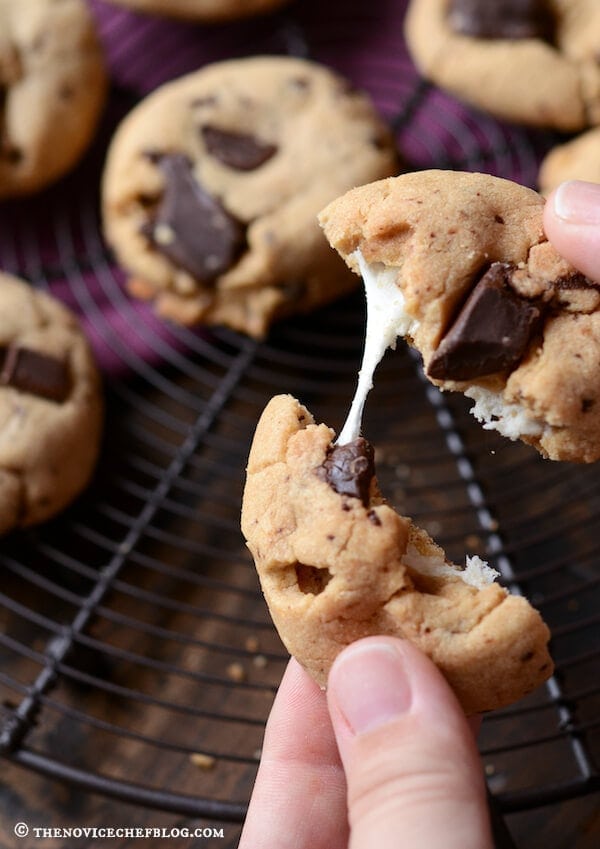 I have successfully avoided having this surgery for 10 years, but apparently my luck has run out. In hindsight, I really should have done it when my Mom was paying the bill instead of me. 😉
They are also going to do a few other little things while they are in there, but they were tossing out big words with scary sounding drills. All I know is I have to show up on Wednesday morning with no make up, no nail polish and in tennis shoes. I won't be able to eat real food for days and apparently my cheeks are going to swell up like a chipmunk.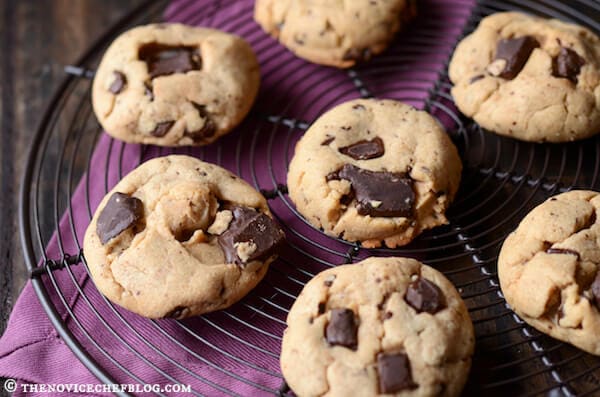 So in preparation, I have been eating everything in sight. I figure I will do like a bear and load up now, that way I won't be hangry (hungry + angry) for the next 3-5 days after the surgery. And what better way to carb-o-load than cookies??
These cookies are a twist on the Reese's Peanut Butter Cup Cookies. It's the same base (since that peanut butter cookie is da bomb diggity), but with dark chocolate chunks and marshmallow centers. They are melt in your mouth perfect when they are warm and the marshmallow centers are melted!
Yield: 18 large cookies
Peanut Butter Chocolate Chunk Cookies with a Marshmallow Center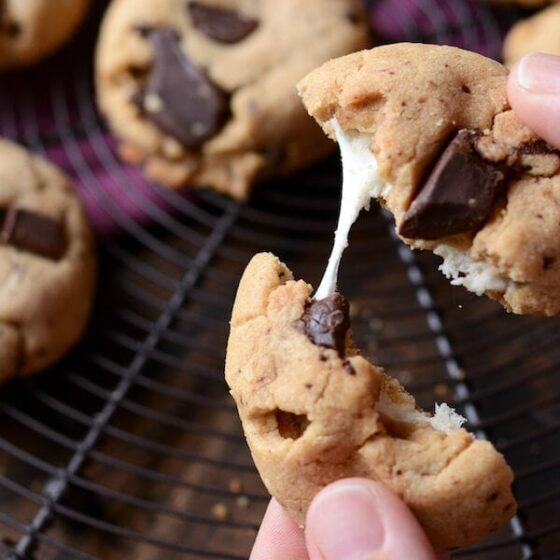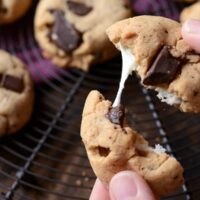 Peanut Butter Chocolate Chunk Cookies with a Marshmallow Center are the ultimate peanut butter cookie recipe. Don't even try to resist these chocolate chunk cookies with gooey marshmallow filling!
Additional Time
5 minutes
Ingredients
1 3/4 cups all-purpose flour
3/4 teaspoon baking soda
1/2 teaspoon salt
1/2 cup (1 stick) unsalted butter, softened
3/4 cup peanut butter
1/2 cup white sugar
1/2 cup packed brown sugar
1 egg
1 teaspoon vanilla extract
8 oz dark chocolate bar, chopped into chunks
54 mini marshmallows
Instructions
Preheat oven to 350°F. Line two baking sheets with parchment paper.
Combine the flour, baking soda and salt in a medium bowl. Set aside.
In the bowl of a stand mixer, beat the butter, peanut butter and sugars, until light and fluffy. Add in the egg and vanilla.
Gradually add in the flour mixture on low speed. Stir until dough forms. Then stir in chocolate chunks by hand.
Using your hands, form balls of dough with 2 heaping tablespoons of dough. Flatten cookie dough (to form a disk shape) and place 3 mini marshmallows in the center. Fold back up the cookie into ball so the marshmallows are surrounded by cookie. Place cookie on baking sheet and then gently press down the cookie dough into a disk shape. (The cookies do not spread very much, so if you leave them in a ball – you will have ball shaped cookie blobs.)
Bake for 9 minutes and remove from oven. Let cool for 5 minutes before transferring cookies to a wire rack to cool. Once cool, store in an airtight container for up to 5 days.
Notes
Note: Cookies will not spread much at all and will look like they are not done baking. But I promise they are! Once they finish cooling, the cookie and chocolate will become firm and you will have a magically soft and crumbly cookie!
Nutrition Information:
Yield:
18
Serving Size:
1
Amount Per Serving:
Calories:

293
Total Fat:

10g
Saturated Fat:

4g
Trans Fat:

0g
Unsaturated Fat:

5g
Cholesterol:

12mg
Sodium:

191mg
Carbohydrates:

48g
Fiber:

2g
Sugar:

30g
Protein:

5g
Want to Save This Recipe?
This post may contain affiliate links. Read my disclosure policy.