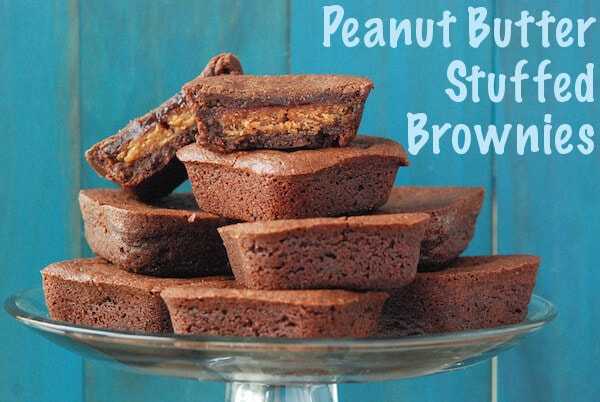 Last year Jorge turned 29 and I made him Reece's Pieces Cupcakes. Today is his 30th birthday and big surprise, he requested something with chocolate and peanut butter. In the past, we have had Chocolate Peanut Butter Pretzel Bites, Mini Peanut Butter Oreo Pies, Peanut Butter Stuffed Chocolate Cookies, Dark Chocolate Peanut Butter Banana Bites and Fluffernutter Cookies. To say the least, I was totally out of peanut butter & chocolate ideas. Well besides cake, but big layered cakes with gobs of frosting is much more my thing — not his.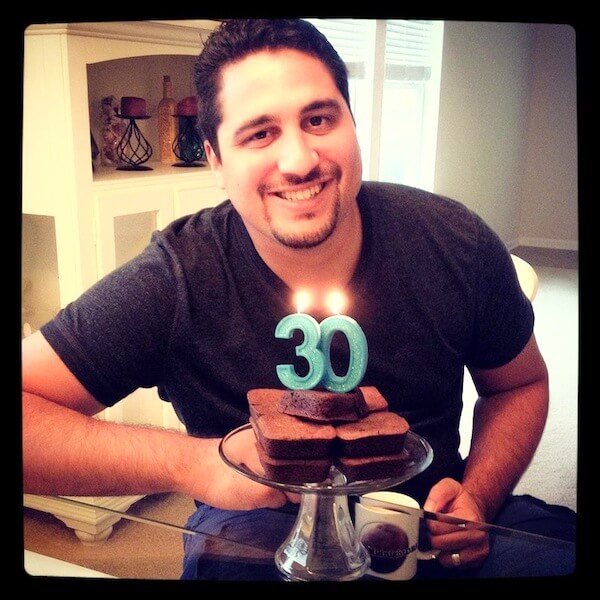 So last week he came home from a bakery with a brownie the size of his head and it came to me. Peanut Butter Stuffed Brownies. That will totally rock his chocolate & peanut butter lovin' world.
I made these babes in my individual square cake pan. They cook twice as fast and are easier to stack into a faux-cake to put candles on top of. 😉 …but really I did it because I am convinced the individual square brownies are just cuter.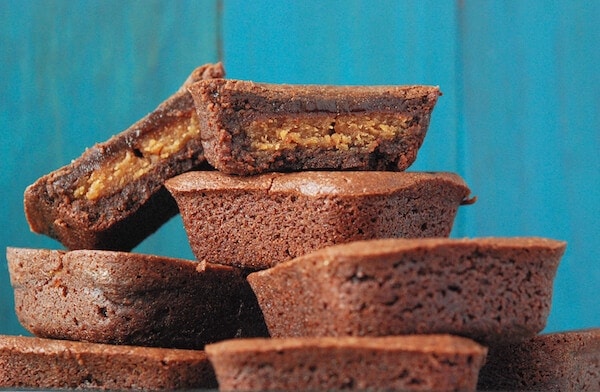 Because of the peanut butter in the middle, these stay very moist and fudgey. I thought about adding chocolate chips to the batter, but I am so glad I didn't. Because that would have been WAY too rich…even for the girl who has a sweet tooth the size of Texas.
Yield: 16 brownies
Peanut Butter Stuffed Brownies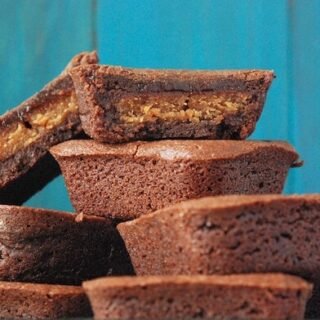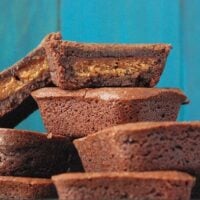 Peanut Butter Stuffed Brownies are a classic dessert combination of chocolate and peanut butter. If you like Reese's Peanut Butter Cups, you'll love these chocolate peanut butter brownies!
Ingredients
1 cup flour
2 tablespoons double dutch cocoa powder
1 teaspoon instant espresso
2 sticks butter
6 oz (2 bars) scharffen berger extra dark 82% chocolate, chopped
4 large eggs
1 1/2 cups granulated sugar
1/2 cup packed light brown sugar
2 teaspoons vanilla extract
1/2 teaspoon salt
3/4 cups peanut butter
1 cup powdered sugar
1 teaspoon vanilla extract
2 tablespoons milk
Instructions
Preheat oven to 325°F. Grease individual square cake pan (or pan of choice).
In a small bowl, mix together flour, cocoa powder and instant espresso. Set aside.
In a double boiler, melt the butter and chopped chocolate. Let it melt over medium heat, stirring frequently until it is completely melted. Remove from heat and set aside for about 10 minutes to cool.
While chocolate is cooling, beat together peanut butter, powdered sugar, vanilla extract and milk in a stand mixer. Roll 1 tablespoon worth of peanut butter mixture into balls and flatten with hands into a 2 inch disk. Set aside.
In a large bowl, whisk the eggs, both sugars, vanilla and salt until smooth. Whisk in the cooled chocolate into the egg mixture, until combined. Beat in the flour in two additions, stirring until there are no large lumps left.
Fill each square half way with batter. Place a peanut butter disk in the center and cover the top with a little additional batter. Do not fill past 3/4 full.
Bake for 25-28 minutes, or until centers are set. Let cool for 15 minutes and then transfer to a cookie tray to cool completely. Store in an airtight container for up to 3 days.
Nutrition Information:
Yield:
16
Serving Size:
1
Amount Per Serving:
Calories:

348
Total Fat:

19g
Saturated Fat:

9g
Trans Fat:

0g
Unsaturated Fat:

8g
Cholesterol:

77mg
Sodium:

236mg
Carbohydrates:

41g
Fiber:

1g
Sugar:

32g
Protein:

5g
Want to Save This Recipe?
This post may contain affiliate links. Read my disclosure policy.