These Homemade Marshmallow Peeps taste just like store bought only so much fresher! The homemade marshmallow melts in your mouth and you can color them however you want!
Try these homemade peeps on my Oreo Easter Egg Cups instead of marshmallow bunnies!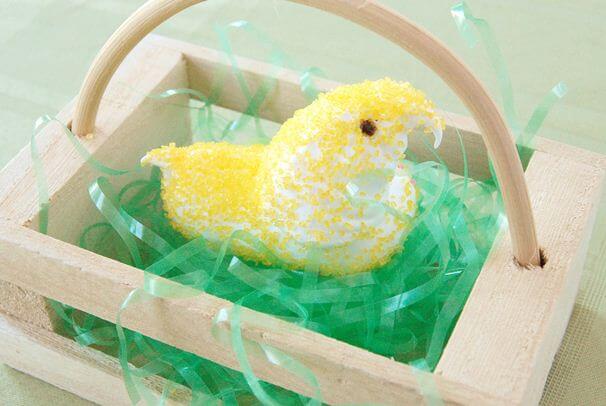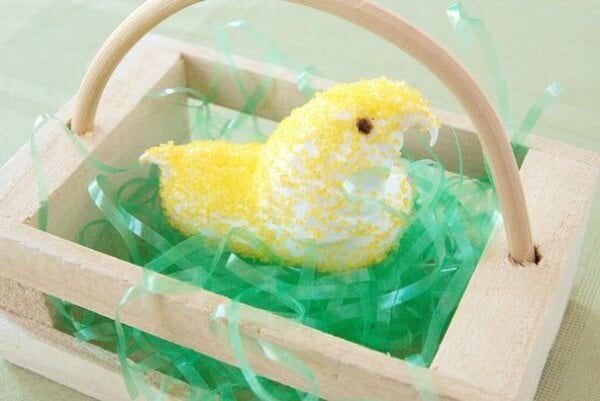 Homemade Marshmallow Peeps Are My Favorite Easter Candy
I secretly love Peeps. LOVE. But I guess it's no longer a secret.
I actually would rather have a Peep then ::gasp:: any chocolate Easter candies. I have no idea why, because generally I will take chocolate every time! But something about the crunchy sugar on the outside and the soft marshmallow inside always lures me in. Plus, growing up, one of my favorite Easter activities was putting a Peep in the microwave and watching it grow to 3 times it's size yelling PEEPZILLA!
But those days have passed and I haven't done that in years…well…I hadn't until this week. When I decided to make my own Peeps, I knew the true test would be the microwave test. And boy did they pass. They grew probably close to 4 times their size! By the way, yes I know how irrational and childish this all sounds…but you have to realize I have been alone for a week with only the dog and cats to keep me company. So exploding a Peep sounded like the best idea I had come up with in days.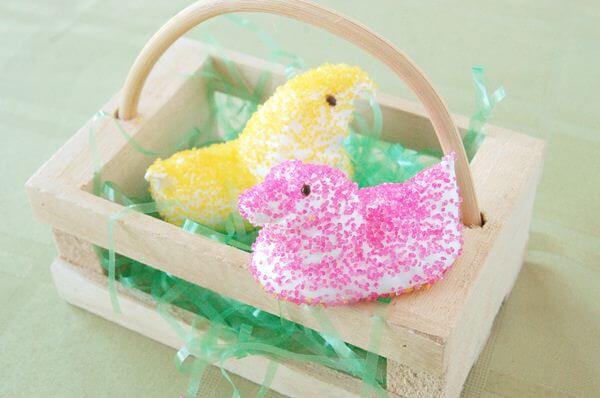 These Marshmallow Peeps Will Melt In Your Mouth
As for the actual flavor and consistency, these were very comparable to the Peeps you buy. The only difference? They are so incredibly fresh and soft that they melt in your mouth. They are a bit of a pain to get the correct shaping at first. I tried multiple different tips and size bags and found that my best Peeps came from the use of a ziplock freezer bag. If you want to use your piping bag, my best suggestion would be to use a very large round tip…but really, just use the ziplock bag! No cleanup! And my favorite part of making my own Peeps? They don't have to be yellow!
Yield: 12 Peeps
Homemade Marshmallow Peeps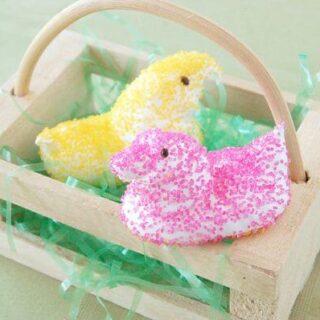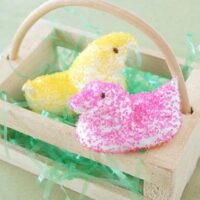 These Homemade Marshmallow Peeps taste just like store bought only fresher! The marshmallow melts in your mouth and you can color them however you want!
Ingredients
1 packet unflavored gelatin (2 1/2 teaspoons)
1/3 cup cold water, for gelatin, plus 1/4 cup for syrup
1 cup sugar
Sprinkle Sugar (I used Wilton)
1 block of dark chocolate
Instructions
In the bowl of an electric mixer, sprinkle gelatin over 1/3 cup cold water. Allow gelatin to soften, about 5 minutes.
In a small saucepan, combine 1/4 cup water and sugar, and stir over medium-high heat until sugar is dissolved. Stop stirring, and place a candy thermometer into sugar water; wipe sides of pan with a wet brush if sugar crystals have splattered up. Boil sugar until temperature reaches the soft-ball stage (238 degrees).
Remove syrup from heat; add to softened gelatin. Using the whisk attachment of an electric mixer, hand-stir the mixture a few minutes to cool; place bowl on the mixer stand. Beat on medium high with the whisk attachment until soft peaks form and the marshmallow mixture holds shape, 8 to 10 minutes.
Transfer marshmallow mixture to a large zip lock bag and cut off one tip to form a circle (about the size of a nickle), and use immediately.
Chick How-To
Pipe an oval shape onto sugar, about 1 inch wide, tapering the end and pulling upward to finish with the tail.
For the head, pipe a mound on the end opposite the tail, about the width of the body, pushing toward the tail and up. Pull away from the head to form the beak.
Immediately sprinkle sugar over the entire surface of the chick. Allow about 10 minutes for the marshmallow to cool and hold it's shape. Lift peep and ten dip in sprinkle sugar to ensure bottom is coated as well.
Make eyes with melted dark chocolate and a toothpick.
Store in airtight container until ready to eat.
Nutrition Information:
Yield:
12
Serving Size:
2
Amount Per Serving:
Calories:

101
Total Fat:

1g
Saturated Fat:

0g
Trans Fat:

0g
Unsaturated Fat:

0g
Cholesterol:

0mg
Sodium:

7mg
Carbohydrates:

23g
Fiber:

0g
Sugar:

21g
Protein:

1g
Want to Save This Recipe?
This post may contain affiliate links. Read my disclosure policy.