This Peppermint Patty Martini is easy to make and tastes absolutely delicious! It's the perfect chocolate peppermint cocktail for the holidays.
If you enjoy this martini recipe you should also try my Cake Batter Martini or my KINKY Blow Pop Martini!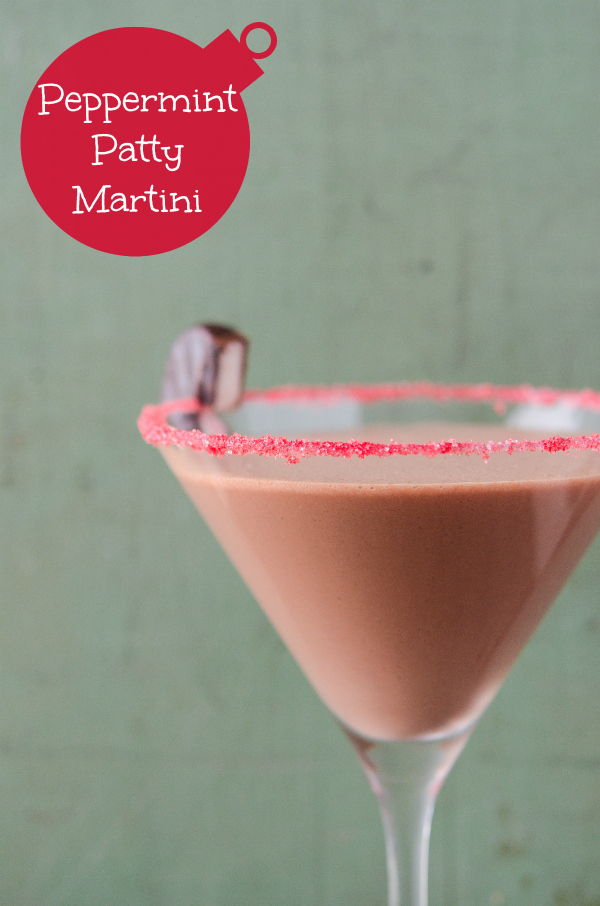 Peppermint Patty Martini
I sat down last night to look at my calendar for the next few weeks and I wanted to go hide in the closet with a bucket of cookies. 9 days until Thanksgiving? 36 days until Christmas? Not only do I have regular holiday type stress (gifts and travel), but my work calendar is bursting at the seams!
There are so many fun things coming up in December (like um, a major appliance giveaway!!), but I'm just not ready for the Holidays to be here yet. I mean, I am SO ready for the food, family time and days off. However, I am not prepared yet! A girlfriend announced she is already done with her Christmas shopping and I wanted to smack her. Who's that prepared?? Ugh, obviously not me.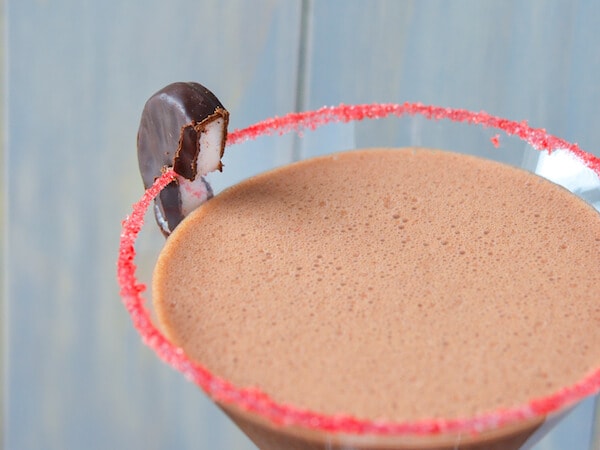 Does This Martini Use Vodka Or Gin?
So this weekend I figured what better way to ignore my to do list, than with a Peppermint Patty Martini?? Now, I'm gonna level with ya…this is a "Martini" but it's not made with gin or vodka. Thankfully the restrictions on martinis these days are a lot less stringent — I am just not a vodka or gin type of girl. (Give me rum or tequila any day!)
This Peppermint Patty Martini is made with peppermint schnapps, crème de cacao, cream and the secret ingredient — hot chocolate! Since I was only making these for two people, I bought the mini bottles of liquor instead of full size bottles. That means each Martini ended up costing me about $3 since I had the other ingredients already! Way better than the $12 martinis at our local bars. 😉
Yield: 1 Martini
Peppermint Patty Martini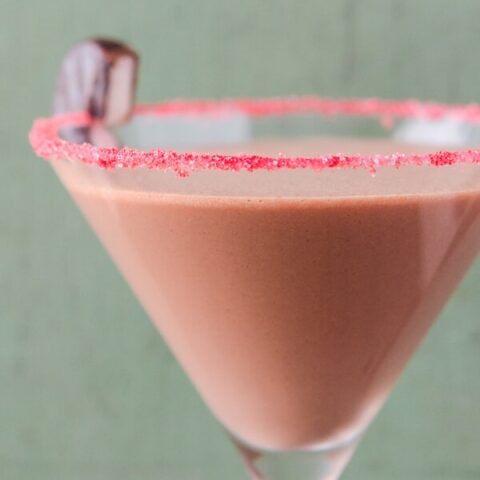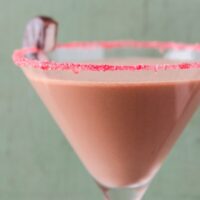 This Peppermint Patty Martini is easy to make and tastes absolutely delicious! It's the perfect chocolate peppermint cocktail for the holidays.
Ingredients
2 teaspoons hot chocolate mix (the powdered stuff)
1 oz peppermint schnapps
1 oz dark crème de cacao
2 oz heavy cream
ice
red sugar sprinkles, for rim
York Peppermint Patties, for garnish
Instructions
Add hot chocolate mix to a cocktail shaker. Add just a little of the heavy cream (like a teaspoonful) and stir to make a paste. Then slowly add more cream, stirring as you go, until all cream is added.
Add about 1 cup of ice, peppermint schnapps and dark crème de cacao.
Now, place the lid of the cocktail shaker on tightly and shake it good. Strain martini into a chilled martini glass. Garnish with a York Peppermint Patty and serve!
To rim glass: Place red sugar sprinkles on a shallow plate that is a little larger than the mouth of your martini glass. Using a finger, lightly smear corn syrup on the edge of your glass. Dip glass into sprinkles to coat the edges. (You can also dampen the edges with water instead. However, I have found that sticky corn syrup holds much better!)
Notes
You can use clear crème de cacao if you already have it on hand, it will have the same flavor - just be clear colored.
Nutrition Information:
Yield:
1
Serving Size:
1
Amount Per Serving:
Calories:

539
Total Fat:

24g
Saturated Fat:

15g
Trans Fat:

1g
Unsaturated Fat:

8g
Cholesterol:

67mg
Sodium:

115mg
Carbohydrates:

53g
Fiber:

1g
Sugar:

47g
Protein:

3g
Want to Save This Recipe?
Save
Save
SaveSave
This post may contain affiliate links. Read my disclosure policy.