Peppermint Patty Martini
I sat down last night to look at my calendar for the next few weeks and I wanted to go hide in the closet with a bucket of cookies. 9 days until Thanksgiving? 36 days until Christmas? Not only do I have regular holiday type stress (gifts and travel), but my work calendar is bursting at the seams!
There are so many fun things coming up in December (like um, a major appliance giveaway!!), but I'm just not ready for the Holidays to be here yet. I mean, I am SO ready for the food, family time and days off. However, I am not prepared yet! A girlfriend announced she is already done with her Christmas shopping and I wanted to smack her. Who's that prepared?? Ugh, obviously not me.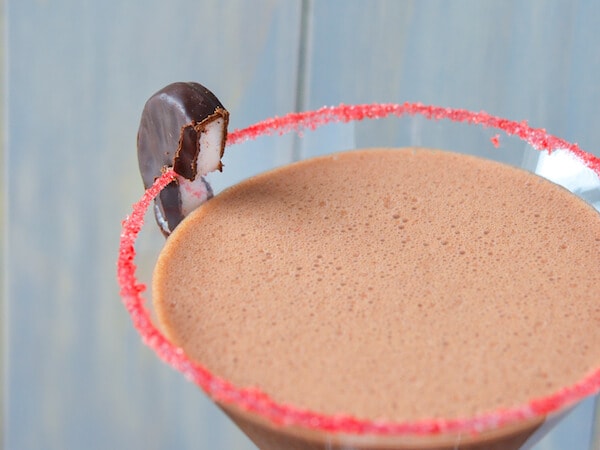 So this weekend I figured what better way to ignore my to do list, than with a Peppermint Patty Martini?? Now, I'm gonna level with ya…this is a "Martini" but it's not made with gin or vodka. Thankfully the restrictions on martinis these days are a lot less stringent — I am just not a vodka or gin type of girl. (Give me rum or tequila any day!)
This Peppermint Patty Martini is made with peppermint schnapps, crème de cacao, cream and the secret ingredient — hot chocolate! Since I was only making these for two people, I bought the mini bottles of liquor instead of full size bottles. That means each Martini ended up costing me about $3 since I had the other ingredients already! Way better than the $12 martinis at our local bars. 😉
I started my holiday shopping online last night…and to spread the love I am giving away an Amazon gift card on Facebook! It ends Tuesday night, so enter soon!
Peppermint Patty Martini
Recipe note: You can use clear crème de cacao if you already have it on hand, it will have the same flavor – just be clear colored.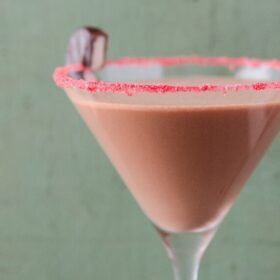 Ingredients:
2 teaspoons hot chocolate mix (the powdered stuff)
1 oz peppermint schnapps
1 oz dark crème de cacao
2 oz heavy cream
ice
red sugar sprinkles, for rim
York Peppermint Patties, for garnish
Directions:
Add hot chocolate mix to a cocktail shaker. Add just a little of the heavy cream (like a teaspoonful) and stir to make a paste. Then slowly add more cream, stirring as you go, until all cream is added.
Add about 1 cup of ice, peppermint schnapps and dark crème de cacao.
Now, place the lid of the cocktail shaker on tightly and shake it good. Strain martini into a chilled martini glass. Garnish with a York Peppermint Patty and serve!
To rim glass: Place red sugar sprinkles on a shallow plate that is a little larger than the mouth of your martini glass. Using a finger, lightly smear corn syrup on the edge of your glass. Dip glass into sprinkles to coat the edges. (You can also dampen the edges with water instead. However, I have found that sticky corn syrup holds much better!)
SaveSave
SaveSave