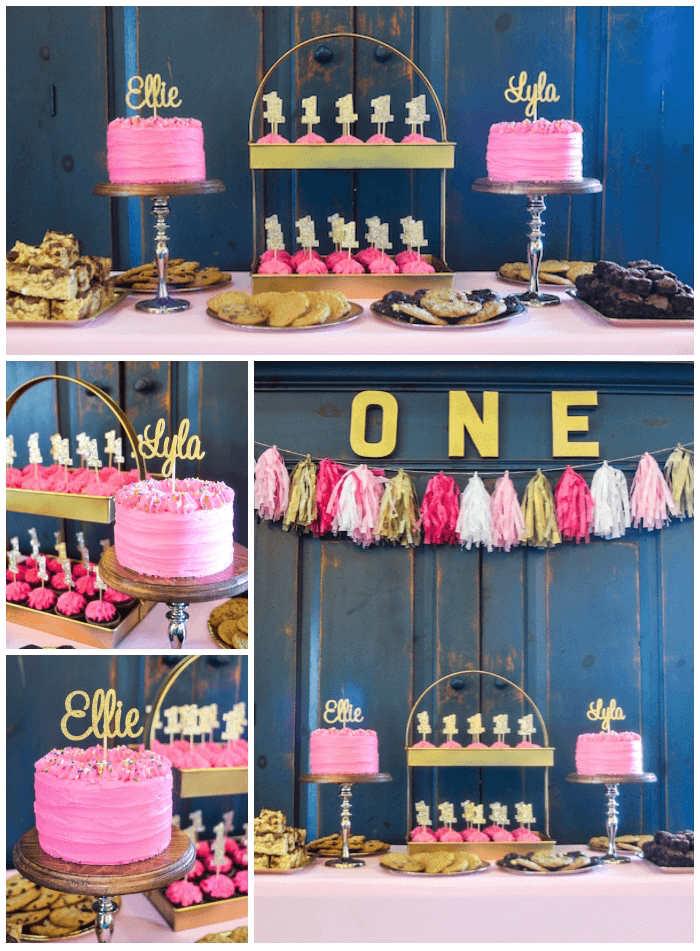 Ellie & Lyla turned ONE last month! It was a whirlwind of a weekend and I can't believe how fast that first year went. I'm so thankful I had the birthday party to focus on…otherwise I would have been crying into a bottle of wine that my tiny babies are not babies anymore!
I'm going to be honest, my photos aren't the best. I spent SO much more time focusing on what was happening that I forgot to take photos like I should. Also, my camera was hooked up to the photo booth (more on that below!)…so a lot of these photos were sent to me from friends and families phone cameras! Thank god for iPhones! ;-)
P.S. I made that tissue garland above! It cost me almost nothing and only took about an hour of my time…while I was watching tv in bed. Directions here!
I decided I wanted to keep the theme simple and really focus on just having fun, so we went with the Pink & Gold theme. The girl's outfits — which every one loved! — were from Etsy and we already had the bows and sandals.
I loved these outfits so much that I am saving them in hopes we have another baby girl one day. ;-)
I wanted to focus my efforts on the dessert bar and decorating, so we ordered the lunch portion from Publix. However, I did make all the desserts myself — including the girl's smash cakes.
What I served:
Chocolate Cupcakes (this recipe made into cupcakes with vanilla buttercream)
The Best White Chocolate Macadamia Nut Cookies
Chocolate Caramel Stuffed Cookies
Reese's Peanut Butter Cup Cookies
For the adult party favor I made S'mores Snack Mix and packaged it up in mason jars for everyone to take home. I added a square of fabric (I only needed a scrap piece of fabric I got a Joanne's for $2.00) to each jar to dress it up.
For the kids at the party, I gave them a squirt gun, play dough, bubbles and mini m&ms. You know all the parents were loving me later that night.
I made the girls smash cakes and was really proud of how they turned out! I bought the gold letter names from Etsy and am so glad I did. They turned out adorable.
I cut out the gold #1's with a punch form Michaels and glued them to wood sticks for the cupcakes.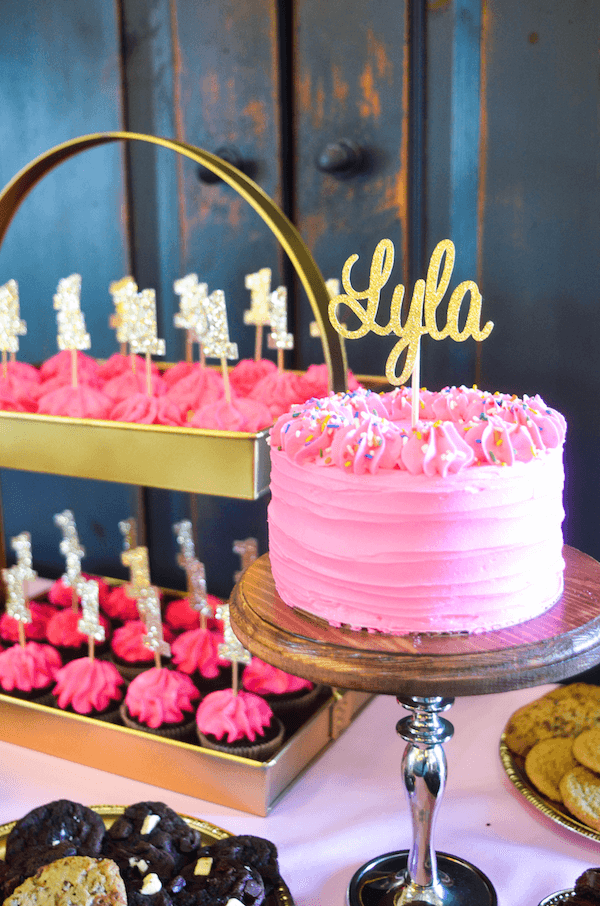 I also made the cake stands for the girl's smash cakes. Cake stands are so expensive and I wanted to find smaller 8 inch cake stands for their 6 inch cakes.
So, I found two matching metal candlesticks at Pier One that were on clearance and glued them to 8 inch wood plaques I bought at Michael's. I sanded them and stained them with a dark wood stain. Let them rest for 48 hours and they looked great!
We stuck with the pink & gold theme for the tables and balloons as well. I made the confetti balloons (directions here) and bought the pink and gold balloons from Target.
I had a hard time finding the clear balloons for confetti in stores, so I ended up ordering them for cheap from Amazon. The gold party hats are from Target as well.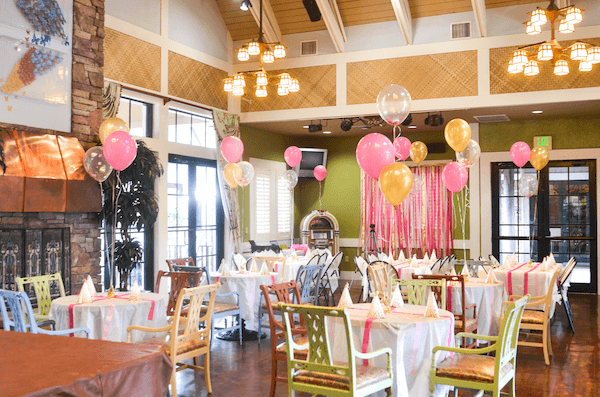 From this angle you can also look on the far wall and see my photo booth set up. Scroll down to the bottom to see a couple of fun shots from the photo booth! I sadly didn't get an up close shot of my set up, but I will share what I did.
I bought this awesome program DSLR PhotoBooth for $50. I followed the directions and played around with it before the party to make sure it worked for what I wanted. Then on the day of the party, I placed my camera on a tripod, hooked it up to my laptop and let it go. We had our printer there set up with photo paper, that way people could send the pictures to themselves electronically or print them out. It was an absolute blast!
I sadly didn't get a ton of good photos of the girls doing their smash cakes. I'm telling you — pictures are my biggest regret of the party! However, I will say, it was adorable in person and I am so glad I was there in the moment with them!
I made their highchair tutus following these no sew directions and bought my tulle from amazon: pink & gold. It only took me about an hour to make both tutus! So easy!
My best advice for the young kids – bring something they will want to play with! My parent's happened to bring the girls wagon along to help carry decorations and gifts back and forth from the building we rented.
However, it ended up being the hit of the party with the younger kiddos! They rode in it all afternoon!
Jorge's sister snapped this picture on her phone and sent it to me. We didn't get a single family photo of the four of us (ugh, where was my brain???) — so I am extra thankful to have this shot of the three of them!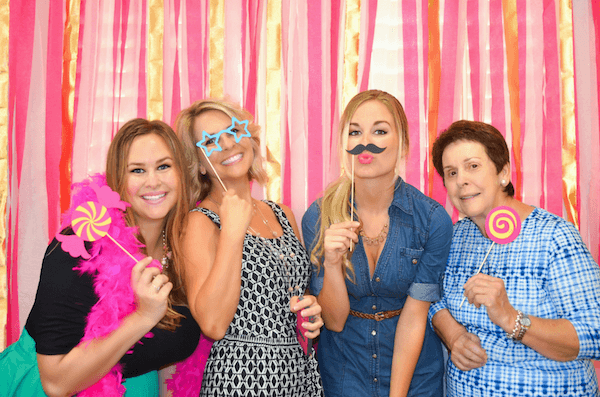 On to a few of the photobooth shots! Like I said, this was a HUGE hit! Everyone loved going over and jumping in. I loved that it was so easy to use and all they had to do was click one button and it started taking photos!
This shot is of me, my mom, my sister and granny. This was pre-party when the babies were napping or they would have been included too, of course! ;-)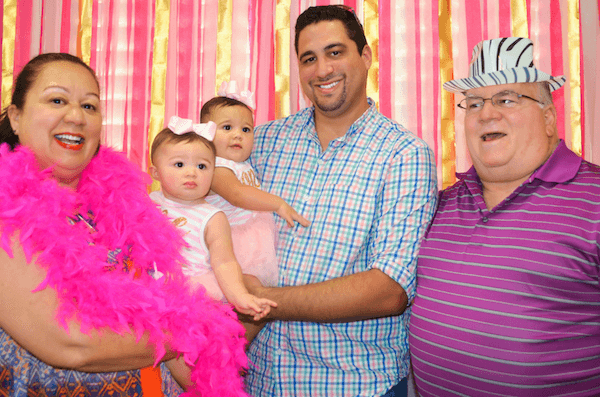 Some of Jorge's family got in on the action too! And this time, the girls were awake!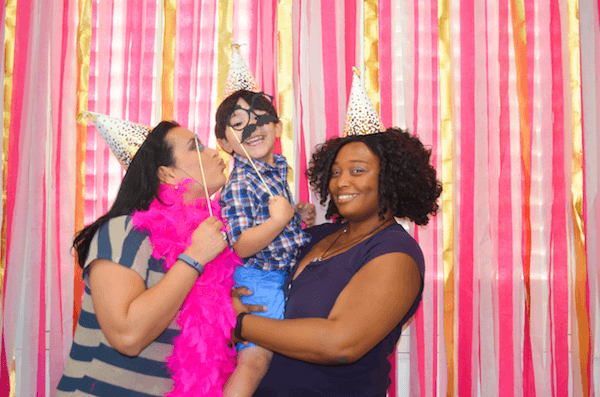 I made the background following these directions with streamers. It worked out extremely well! The pink, dark pink and white streamers were from Target. The gold streamers came from amazon because it was the only true gold streamer I could find.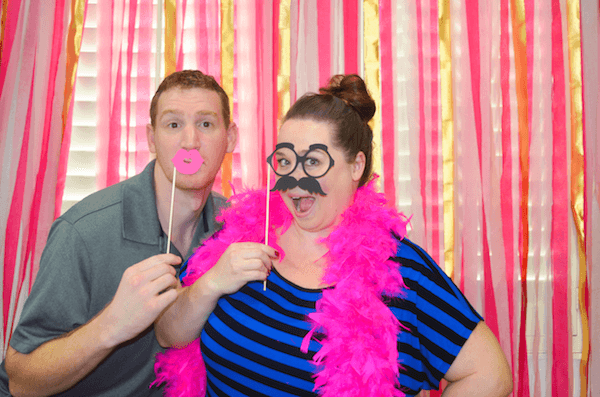 And the adorable photo props are from Target. I added in a couple of things myself like some goofy hats and boas. But all of the fun stick props were bought there.
In the end, I think Ellie & Lyla's first birthday was a great success! Everyone seemed to have a great time and the girls definitely enjoyed themselves and their smash cakes. ;-)
I do wish I had someone in charge of photos…or at least remembered to get a photo of just us four. If I have one piece of advice — that would be it! Get a family photo!
This post may contain affiliate links. Read my disclosure policy.