Pistachio Encrusted Cannoli
(Samarie and I)
I spent this past weekend celebrating one of my best friends, Samarie's, wedding! We had an absolute blast!
(From left to right: Samaire, Me, Mi'a, and Christina)
The day before her wedding we went and had a wonderful girls lunch at
Timpanos
!
We ate and drank way too much! But I think that is how it is supposed to be! And best of all we laughed, a lot!
I wish I had photos from the wedding to share, but since it was just this past weekend I do not have the photos from their photographer yet! You will just have to believe me that we had a wonderful time and the wedding was beautiful! The bride, Samaire, was simply stunning and she married a wonderful man!
The following night, Sunday, we had a lovely dinner with a small group of us to celebrate and Christina made a delicious traditional Puerto Rican dinner! Since she was making dinner, I offered to bring these delicious things: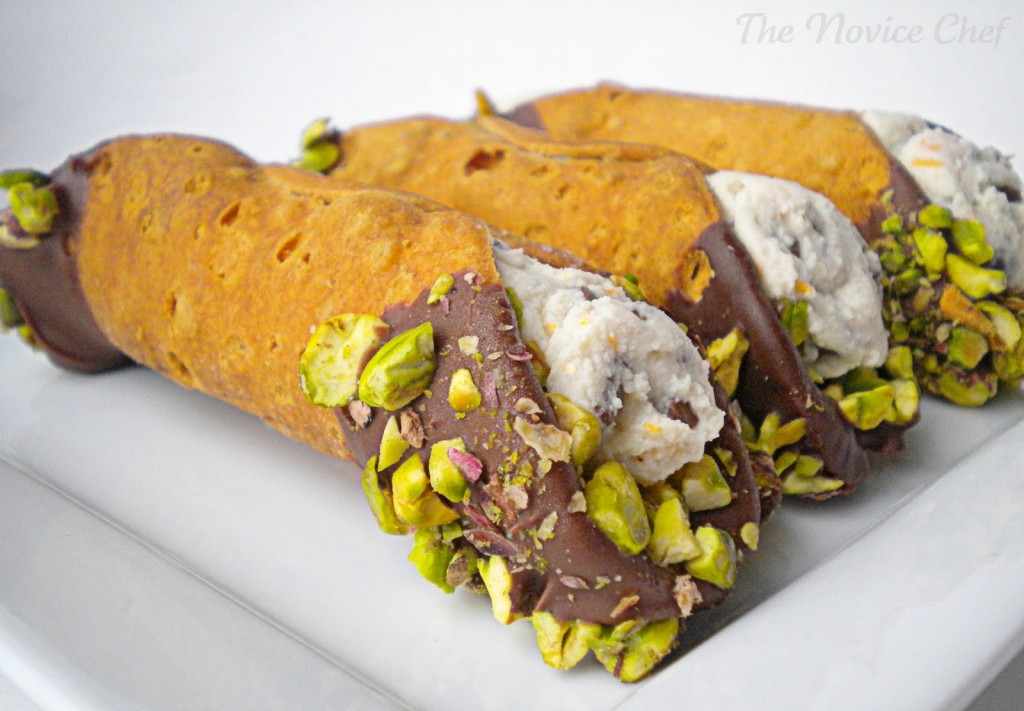 Please wipe the drool off your keyboard so you can scroll down and see the rest.
These Pistachio Encrusted Cannoli were delicious! The filling was perfect! I loved the freshness the orange provided the filling, and I think it was the perfect amount of chocolate inside. And the pistachio ends? HEAVEN! If  chocolate covered pistachios are not already produced yet, I think I have found a gold mine! They provided the perfect salty-sweet combo! These honestly are going to be my new "want to impress" dessert! This time I made my own cannoli shells, but I think next time I will just buy them. They were quite time consuming to make, and honestly I doubt anyone will truly notice if I do not make them homemade. But in case you are one of those "from scratch" people I will share the full recipe!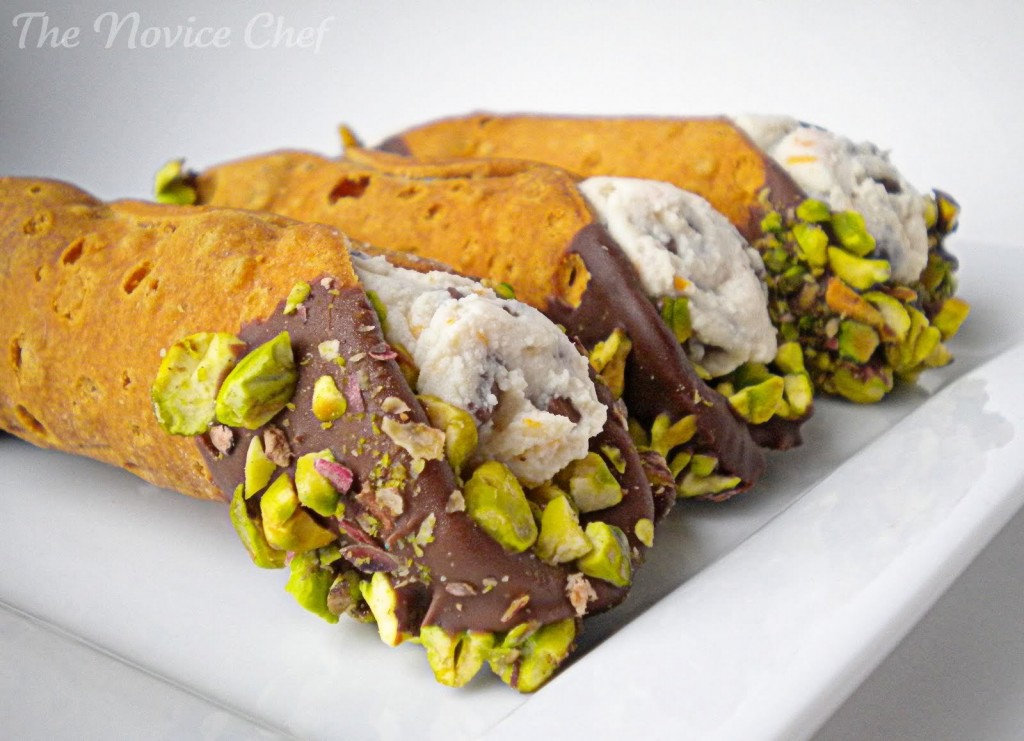 Pistachio Encrusted Cannoli
-For the shells-
You will need:
1 lb. cake flour
1/4 cup granulated sugar
2 ounces vegetable shortening
2egg yolks
¾ – 1 cups wine (enough to make the dough easy to roll and handle)
Mix all ingredients together and allow to rest at least 4 hours before frying. Tear off a chunk of dough about the size of a walnut and roll into a circle about 1/8-inch thick. Wrap the dough around a cannoli form, overlapping dough and press to seal together. Heat vegetable oil to around 375°F (the best temperature for deep frying) and, a few at a time (or however many fit in your frying vessel without crowding), place the prepared forms into the oil. Fry until light golden brown, about 3-4 minutes. Remove the forms from the fryer and set on paper towels to drain. Allow to cool until able to handle and slide the shell off of the form. Cool completely before filling.
-For the dipped ends-
You will need:
1 cup chocolate chips
Chopped Pistachios
Parchment Paper
Heat the chocolate chips in a double boiler (or microwave if you would prefer). Once the chocolate is tempered (or melted in microwave) dip ends of cannoli at an angle into the chocolate. Shake slightly to remove excess chocolate and then dip into chopped pistachios. Place on a parchment paper covered cookie sheet and pop into fridge to harden. Once hardened fill with the filling.
-For the filling-
You will need:
1 & 1/2 pounds ricotta cheese
1 c mini chocolate chips
1/2 c powdered sugar
1 & 1/2 tsp vanilla
Zest of one large Orange
Combine all ingredients and place into a large piping bag fitted with a large tip. You will need a very large tip to allow
the filling to flow freely (the chocolate chips get in the way of a smaller tip). Fill the cannoli shells and place back into the refrigerator until you are ready to serve them! Enjoy!