This Homemade Cannoli recipe is made with a sweet chocolate orange filling and chocolate and pistachio dipped ends!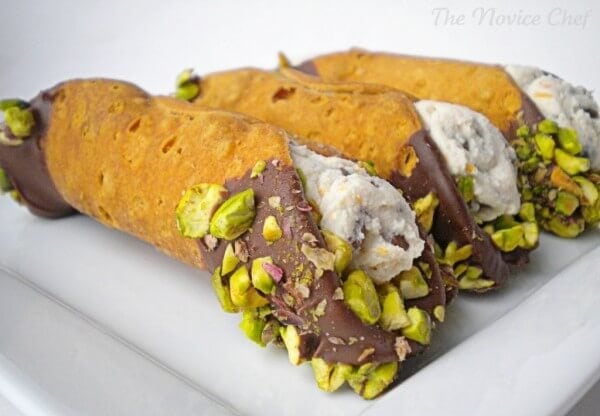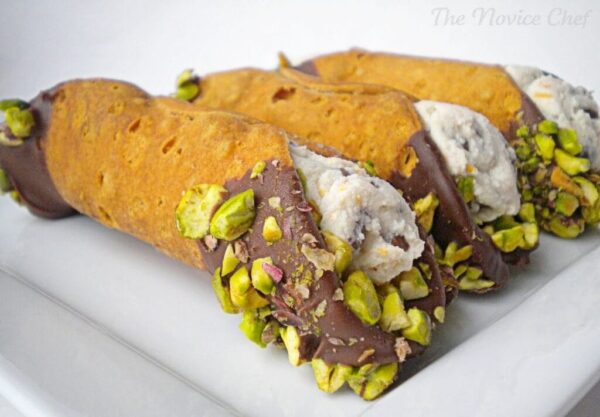 These Pistachio Encrusted Cannoli were delicious! The filling was perfect! I loved the freshness the orange provided the filling, and I think it was the perfect amount of chocolate inside. And the pistachio ends? HEAVEN! If chocolate covered pistachios are not already produced yet, I think I have found a gold mine! They provided the perfect salty-sweet combo!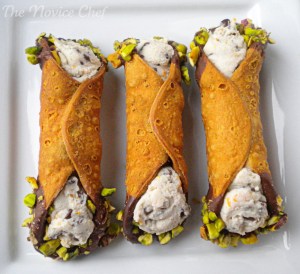 These honestly are going to be my new "want to impress" dessert! This time I made my own cannoli shells, but I think next time I will just buy them. They were quite time consuming to make, and honestly I doubt anyone will truly notice if I do not make them homemade. But in case you are one of those "from scratch" people I will share the full recipe!
Cannoli
This Homemade Cannoli recipe is made with a sweet chocolate orange filling and chocolate and pistachio dipped ends!
Ingredients
Shells:
16

oz

cake flour

¼

cup

granulated sugar

5

tablespoons

vegetable shortening

2

large egg yolks

6 to 8

oz

white wine

Vegetable or canola oil

,

for frying
Dipped Ends:
1

cup

chocolate chips

Chopped Pistachios
Filling:
24

oz

ricotta cheese

1

cup

mini chocolate chips

½

cup

powdered sugar

2

teaspoons

vanilla extract

Zest of one large orange
Instructions
SHELLS: In a large bowl, whisk together flour and sugar. Using a pastry blender or a food processor, cut shortening into flour until it resembles a coarse meal. Add the egg yoks and stir with a wooden spoon until combined (dough will not be smooth).

Add 6 oz of white wine and combine using wooden spoon. The goal is for the dough to be the texture of pie dough. If it is still too dry, add more wine, one tablespoon at a time , until desired consistency. You want the dough to to hold together when pinched between your fingers, like pie dough.

Cover the bowl with plastic wrap or foil and allow to rest at room temperature for 4 hours.

Using 1 tablespoon worth of dough at a time, roll into circles/ovals until you reach 1/8 inch thickness. Wrap the dough aroudn a caonnoli form, overlapping dough and pressing to seel to create a tube. Repeat with the rest of the dough.

Line a few large frying pans with paper towels, set aside. In a large and deep pan, like a dutch oven, heat oil to 375°F. Use a candy or frying thermometer to prevent burning. Place a few cannoli a time (or however many fit in your pan without crowding), into the oil.

Fry until light golden brown, about 3-4 minutes. Remove the forms from the fryer and set on paper towels to drain. Allow to cool until able to handle and slide the shell off of the form. Cool completely before filling.

DIPPED ENDS: Line a baking sheet or counter top with parhcmen paper. Heat the chocolate chips in a double boiler (or microwave if you would prefer). Once the chocolate is tempered (or melted in microwave) dip ends of cannoli at an angle into the chocolate.

Shake slightly to remove excess chocolate and then dip into chopped pistachios, if desired. Place on a parchment paper covered cookie sheet and pop into fridge to harden. Once hardened fill with the filling.

FILLING: In a medium bowl, combine all ingredients until smooth and place into a large piping bag fitted with a large tip. You will need a very large tip to allow the filling to flow freely (the chocolate chips get in the way of a smaller tip).

Fill the cannoli shells and place back into the refrigerator until you are ready to serve them! Dust with powdered sugar, if desired!
Notes
Store bought shells: If you are not up for makign your own shells, you can purchase store bought shells in most grocery stores. You can also often find them in the bakery if you ask the bakery - they will usually sell unfilled cannoli shells!
Nutrition
Serving:
1
,
Calories:
212
kcal
,
Carbohydrates:
23
g
,
Protein:
5
g
,
Fat:
9
g
,
Saturated Fat:
4
g
,
Polyunsaturated Fat:
5
g
,
Cholesterol:
22
mg
,
Sodium:
43
mg
,
Fiber:
1
g
,
Sugar:
10
g
This post may contain affiliate links. Read my disclosure policy.