Pizza! Pizza!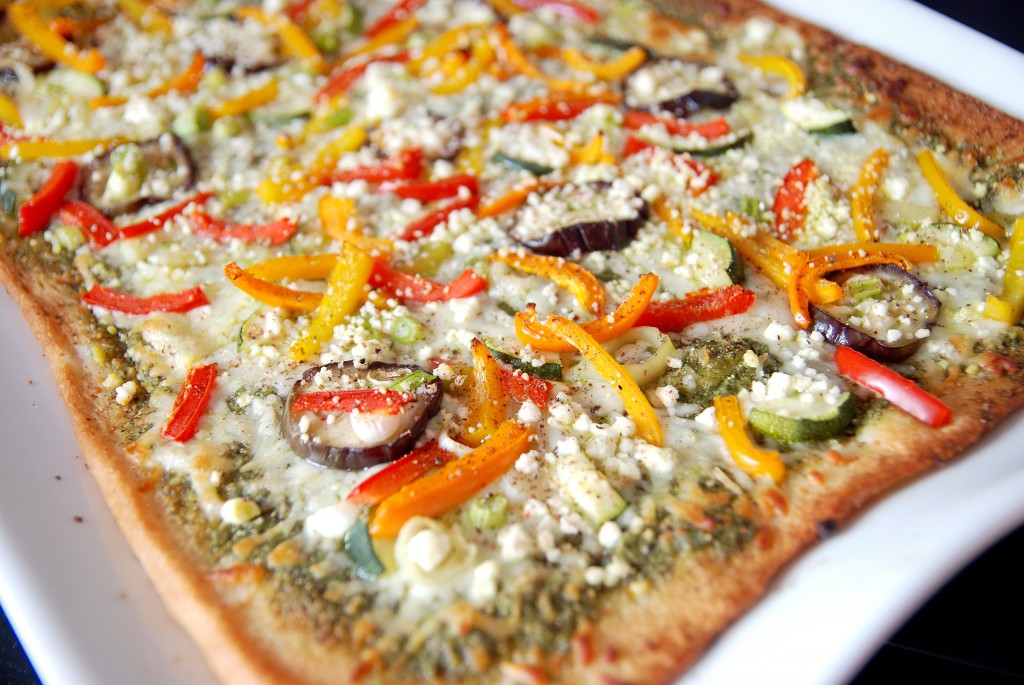 So as some of you know, I am trying to watch what I eat and that means not a lot of carbs…which means not a lot of carb-o-licious pizza…which is pretty crappy if you ask me. Pizza should be diet food…or at least diet friendly. But big surprise, it's not. So to make myself feel better about this pizza, I loaded it up with tons of veggies, and made sure the pizza crust was a thinner crust. I also used half white and half whole wheat flour.
I am only sharing the pizza dough recipe. But if you wish to make this entire pizza just add these same things..First, I made it a pesto pizza by adding this pesto (which I think is the best pesto ever!) as a sauce. And topped it with some fresh shredded mozzarella cheese, orange/yellow/red bell peppers, onion, zucchini, leeks, and eggplant. When you make this pizza add all of your favorite veggies! Load it up! You can never have enough veggies. Or as my Mom says, "You have never heard of someone getting fat from eating to many vegetables"! So stick with the thin crust, add a thin layer of pesto, a little cheese, and finish it with all of the veggies you can fit!
Thin Crust Pizza Dough
Ingredients:
.25 oz. pkt. active dry yeast
1/4 tsp. granulated sugar
3/4 cup 110 degree water
3/4 cup all-purpose flour
1 cup whole wheat flour
1/2 tsp. salt
Directions:
Dissolve yeast and sugar in water; allow to rest for 8 minutes. In a separate bowl, combine both flours and salt. Pour yeast mixture over flour mixture and mix well with a heavy spoon. Turn dough onto a floured surface and knead for 2 minutes. Working from the edges to the center, press dough into a 12" circle, or rectangle.
Place dough on a lightly greased pizza pan and stretch dough to edges. Spread whatever sauce you have chosen over crust and top with cheese and desired toppings. Bake in a 500 degree oven for 8-12 minutes, or until edges are golden.