Pork Tenderloin Sliders with Spicy Mango Coleslaw are so easy to make using leftover pork. These pork sliders with spicy coleslaw is so good and are perfect for a quick lunch or dinner.
If you love this easy slider recipe, you might also like my Cheesy Turkey Sliders and these Baked Mustard, Ham & Cheese Sliders.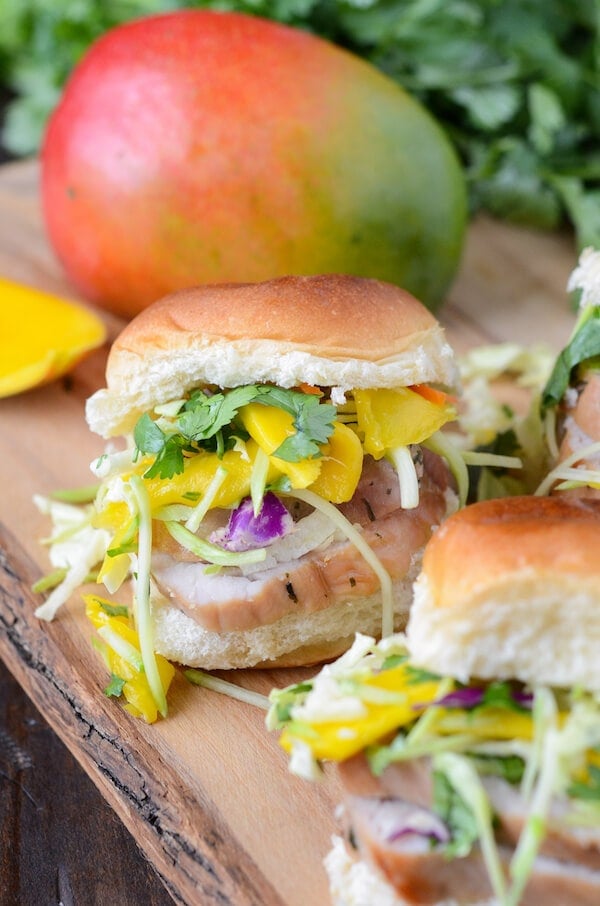 Pork Tenderloin Sliders with Spicy Mango Coleslaw
So since we bought the house, Jorge and I come up with new things we are excited about every day. I'm excited to get out of our rental house kitchen and into the gourmet gas kitchen. I swear I say it a hundred times a day.
Not to mention all my little quips while I'm cooking/baking… "This pan will heat up in half the time!" "My new ovens will bake my cookies so much more evenly!" "Jorge! We will have a dishwasher that actually — gasp — washes dishes!"
We do this about other places too. Like the new shower (with two shower heads!!), instead of our tiny shower now. Or that I won't have to take food upstairs to photograph it anymore, because my office will finally be located right off the kitchen. Yahoo!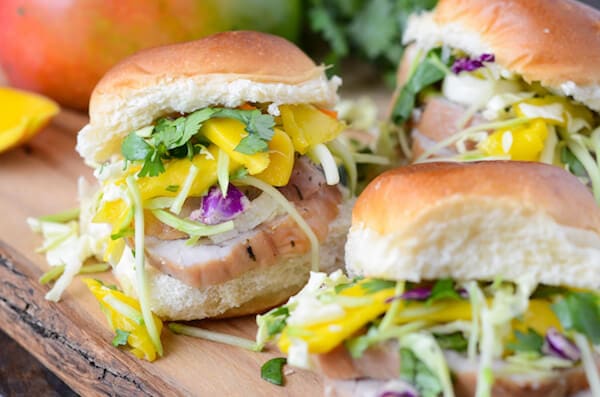 These Pork Sliders Are So Easy To Make With Leftover Pork
It is going to be a very long 2 – 3 months until we are in the new house. So to distract myself, I have been trying out some new recipes to use up leftovers. Whenever Jorge and I eat a Pork Tenderloin we always end up with leftover pork — not that it's a bad thing, but I do like to dress up our leftovers when possible.
My Husband Loved The Homemade Spicy Coleslaw
Last night we had a Smithfield Pork Tenderloin (Teriyaki flavor) for dinner with mashed potatoes and broccoli. It was delicious and so easy to just pop into the oven. But when it came to the leftovers, I was kind of stumped. I started thinking of flavors that would go with Teriyaki and thought of mango coleslaw.
Perfection! Jorge took his first bite said "It's like a tropical pork fiesta in my mouth!". The man is totally cheesy — it's one of the main reasons I married him. ;-)
Yield: 8 pork sliders
Pork Tenderloin Sliders with Spicy Mango Coleslaw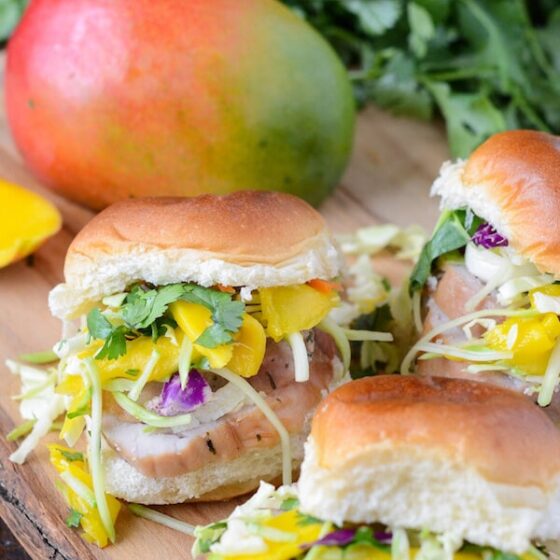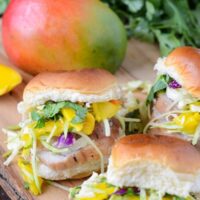 Pork Tenderloin Sliders with Spicy Mango Coleslaw are so easy to make. These sliders with spicy coleslaw are perfect for a quick lunch or dinner.
Ingredients
1 Smithfield Teriyaki pork tenderloin, prepared according to package directions and sliced
2 cups shredded cabbage
1 mango, thinly sliced
1/2 cup chopped cilantro
2 tablespoons olive oil
juice of 1 lime
sriracha to taste (I used about 2 teaspoons)
pinch of salt
8 slider buns
Instructions
In a medium sized bowl, toss together cabbage, mango and cilantro.
In a small bowl, whisk together olive oil, lime juice, sriracha and salt. Pour over cabbage mixture and toss to coat.
To assemble the sandwiches, halve the rolls then top with a few rounds of pork and a heap of the spicy mango slaw.
Nutrition Information:
Yield:
4
Serving Size:
2
Amount Per Serving:
Calories:

324
Total Fat:

10g
Saturated Fat:

2g
Trans Fat:

0g
Unsaturated Fat:

8g
Cholesterol:

16mg
Sodium:

366mg
Carbohydrates:

46g
Fiber:

5g
Sugar:

18g
Protein:

14g
Categories
This post is sponsored by Smithfield Foods. However as always, all opinions are my own.
This post may contain affiliate links. Read my disclosure policy.