Sweet Potato Black Bean Burritos are stuffed with creamy black beans and delicious sweet potato, and topped with a homemade chipotle crème fraiche! It's a great easy recipe for a healthy lunch.
For more healthy lunch ideas check out this Salsa Chicken Burrito Bowl recipe or Sweet Potato Coconut Curry Soup.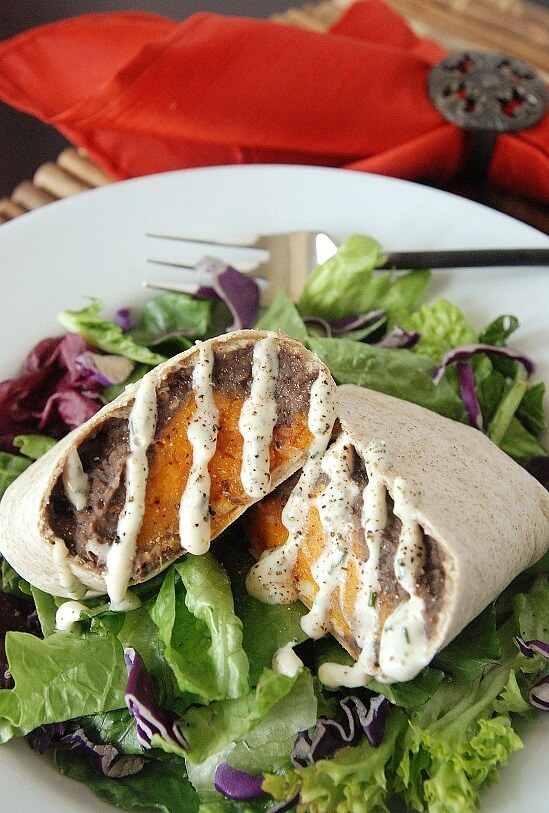 Sweet Potato Black Bean Burritos
So all that Rapture business didn't end up happening. And to be honest, I was really counting on it happening. Not that I really wanted to die or anything, but I sure was counting on not being held accountable for everything I ate and drank this past weekend at BlogHer Food in Atlanta. It didn't help matters that I was rooming with some of the most amazing girls, Lindsay of Love & Olive Oil and Erin of Erin's Food Files.
We had a blast trying out just about any restaurant that was within walking distance of our hotel…which is never a good idea when you are in downtown and within walking distance of hundreds of restaurants! But we were smart and tended to wear dresses so we wouldn't have any of those tight jean issues. 😉 But as Saturday night was approaching and we were drowning away our inhibitions in Pom Martinis and cupcakes I knew that the rapture might not be too bad of an idea.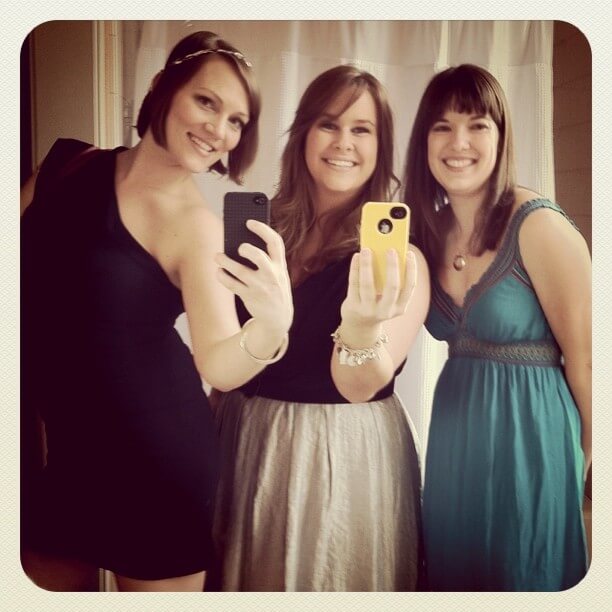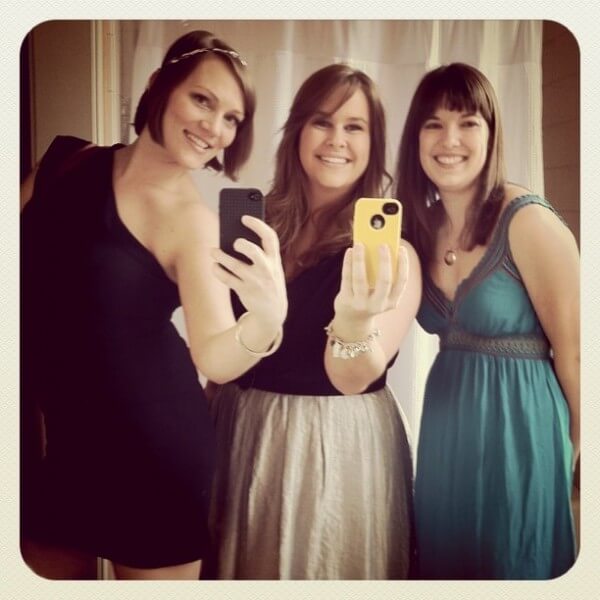 Sunday morning when I opened my eyes I knew that only two options could have occurred. Either I wasn't saved (completely possible) or the rapture didn't happen. So I sat up and made sure Lindsay was in the room. Because if anyone was going to be saved out of us three…it would have been the beautiful Lindsay. But luckily or is it unluckily? she was there…which meant for better, or worse, I had to be accountable for the past weekend.
These Sweet Potato Burritos Are Perfect For A Healthy Lunch
So here we are with one of my favorite healthy lunches. Sweet Potato Black Bean Burritos with Chipotle Crème Fraiche! They are vegetarian and packed full of vitamins and nutrients. The black beans and sweet potatoes make up 90% of the burrito so it truly is a tasty, ass friendly, meal. And the best part is that they freeze incredibly well! I don't always want to make myself lunch, but being able just to pull one of these out of the freezer is so helpful. So in penance for all the fun I had last week and to prepare for my second trip this weekend back to Atlanta for Memorial Day Weekend, I plan on having these for lunch this week!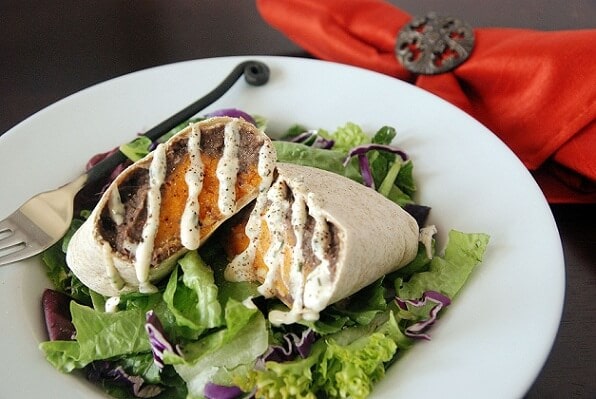 Yield: 4 Servings
Sweet Potato Black Bean Burritos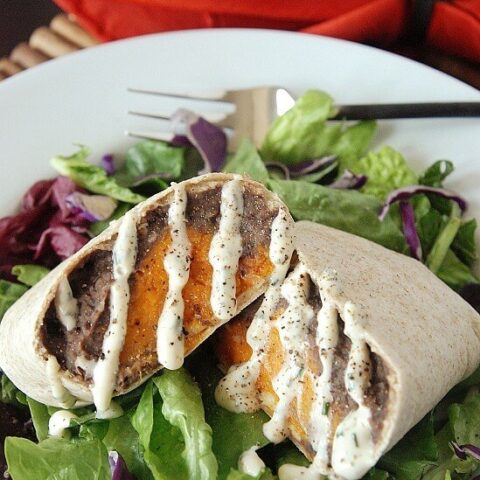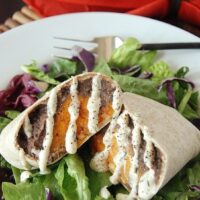 Sweet Potato Black Bean Burritos are stuffed with creamy black beans and sweet potato, and topped with a chipotle crème fraiche! Great for a healthy lunch!
Ingredients
For the burrito:
1 teaspoon olive oil
2 cups chopped onion (about 1 large onion)
2 large garlic cloves, minced
3 teaspoons coriander
2 teaspoons cumin
1 teaspoon white pepper
1 teaspoon salt
2 15.25 oz cans black beans, drained and rinsed
3 cups mashed, baked sweet potatoes
8 (10 inch) wheat flour tortillas
Chipotle Crème Fraiche:
1/2 cup Creme Fraiche
1 chipotle pepper in Adobo sauce (or half if you don't like it hot)
2 teaspoons lemon juice
2 tablespoons minced chives
2 tablespoons minced cilantro
Instructions
For the burrito: Preheat oven to 400 degrees.
Heat olive oil in a non stick skillet over medium heat. Add onions and garlic, sautéing until slightly browned and staring to become translucent, about 4-6 minutes. Then mix in the coriander, cumin, white pepper, and salt. Cook for 1 more minute and remove from heat.
In a food processor, pulse black beans and onion mixture until smooth. Finally fill each tortilla with about 1/3rd cup of both the bean mixture and the mashed sweet potatoes. Roll tortillas into burritos. Place on a cookie sheet sprayed with olive oil (or Pam). Bake for 15 minutes. Serve immediately with a healthy sized drizzle of Chipotle Creme Fraiche.
TO FREEZE: Right after rolling the burritos, wrap each burrito in a tight layer of saran wrap followed by a layer of foil. Freeze up to 3 months. When ready, unwrap completely and bake at 400 degrees for 30 minutes.
For Chipotle Crème Fraiche: Puree all ingredients in food processor. Then for proper drizzle consistency pop in the microwave for about 10 seconds.
Notes
Sweet Potato Black Bean Burritos adapted from Branny Boils Over, originally from Moosewood recipeChipotle Crème Fraiche adapted from Raptor Rubs
Nutrition Information:
Yield:
4
Serving Size:
1
Amount Per Serving:
Calories:

526
Total Fat:

16g
Saturated Fat:

9g
Trans Fat:

0g
Unsaturated Fat:

6g
Cholesterol:

37mg
Sodium:

702mg
Carbohydrates:

82g
Fiber:

19g
Sugar:

16g
Protein:

18g
Want to Save This Recipe?
This post may contain affiliate links. Read my disclosure policy.