Pretzel S'mores Bites
Since summer started I have been craving a good S'more. I know that S'mores are usually campfire food, but no one in their right mind would sit around a campfire in June in Florida. Well, unless they wanted to die from a heat stroke or literally melt away. So I whipped up a batch of these Pretzel S'mores Bites as a salty/sweet way to have my S'more without dying.
So when I saw this S'mores Bite while checking out at Publix, I turned around my cart and went and picked up the ingredients for homemade marshmallows. I knew I could make it myself, but way better.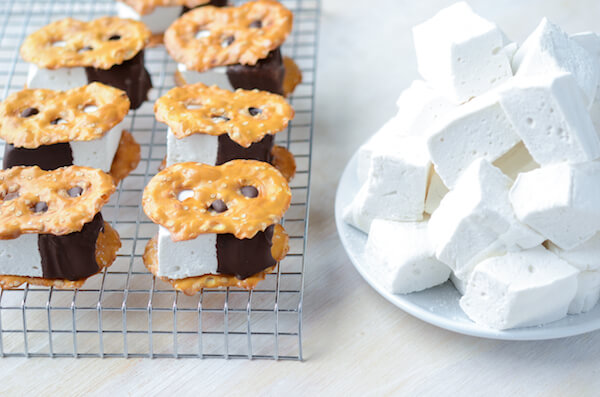 First I started with homemade marshmallows — I used Alton Brown's recipe of course. They are at the top of the list for things worth making yourself. Yes you can buy them for a couple dollars at the grocery store, but they truly do not taste the same as fresh homemade marshmallows. Like fresh homemade bread, they might be a pain to make but it's so worth it for that first delicious bite!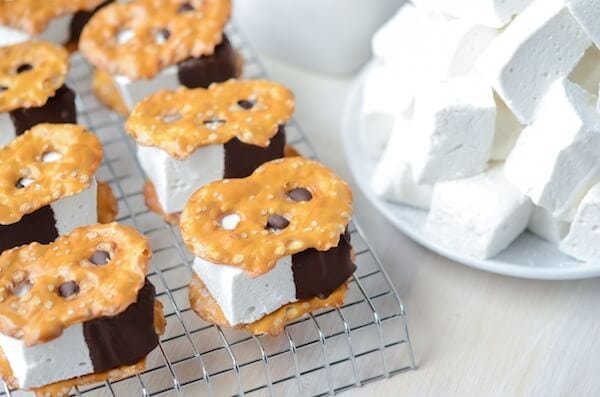 Then I dipped those marshmallows in some delectable dark chocolate and sandwiched them between two Pretzels (I used Pretzel Crisp pretzels because they are flat and work perfectly…plus they provide pretzel in every bite!). I wanted to use pretzels, instead of traditional graham crackers, because I love combo of salty and sweet! These really filled my craving and I could not stop munching on them. It got so bad that I had to give them away to the neighbors because I could not stop myself!
If it's not 100 degrees where you live, or you can stand the heat of a fire, this would also make a wonderful twist on the traditional s'more! Just toast the marshmallow like normal, slap on a couple squares of dark chocolate and sandwich it up with some pretzels!
Pretzel S'more Bites
Recipe Note: The only thing I do differently (to Alton Browns recipe for Homemade Marshmallows) is double the vanilla or add a vanilla bean. Otherwise it's perfect!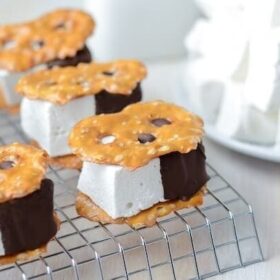 Directions:
Line a baking sheet or counter top with parchment paper.
In a small bowl, microwave dark chocolate in 30 second intervals, stirring each time, until smooth.
Dip half (or whole!) marshmallow in melted dark chocolate and immediately sandwich between two pretzels.
Eat immediately for a melted chocolate snack or place on parchment paper to let harden. Store in an airtight container for up to 3 days.