A Girl's Picnic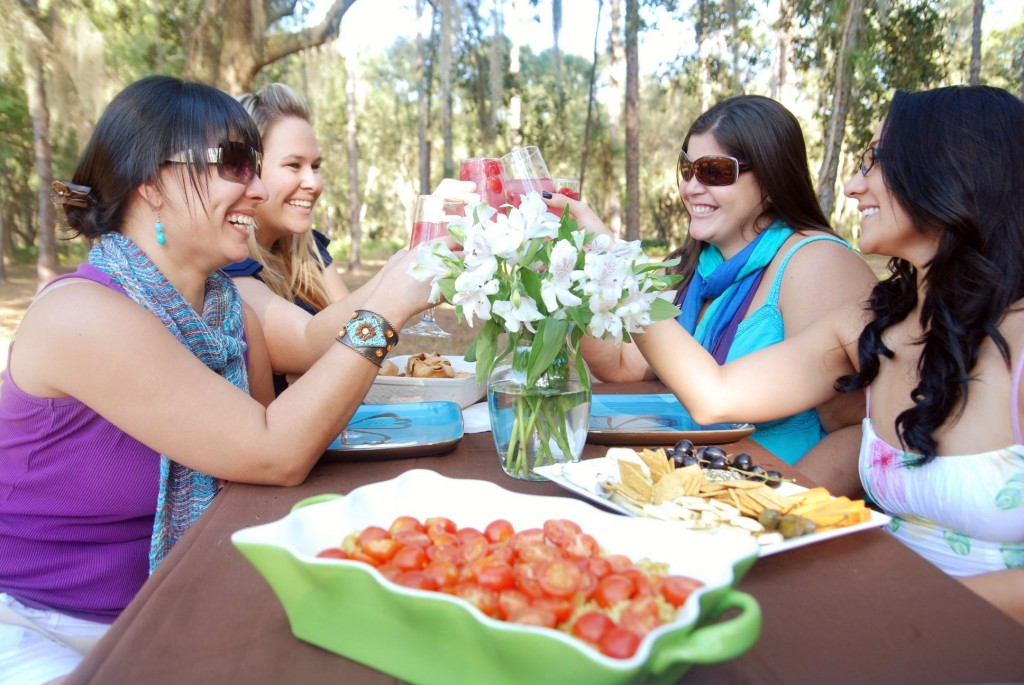 What do you do when you are incredibly surprised to have made it to the next round of Project Food Blog and you have to create "a delicious meal that will travel well and still look great"? You call your three best friends of course!
And you tell them, I MADE IT! And they squeal with delight with you and then they immediately start helping you plan…which I could not be more thankful for! I was so nervous this round for some reason…I think because we are getting closer and closer and have passed the half way point.
Every time I make it, I do a crazy happy dance…and then the nervousness immediately sets in. But this round was different, because this round I had three amazing, beautiful foodie ladies there to support me and be my sous chefs!
This round I think was my favorite round yet! I loved coming up with recipes that will travel well…which for me meant we went vegetarian.
Traveling with meat always makes me nervous and the last thing I would want, would be to make someone sick. So I looked for recipes that could go all day long in a cooler (like my adorable new cooler, in the pictures, from Project Food Blog) and still be delicious.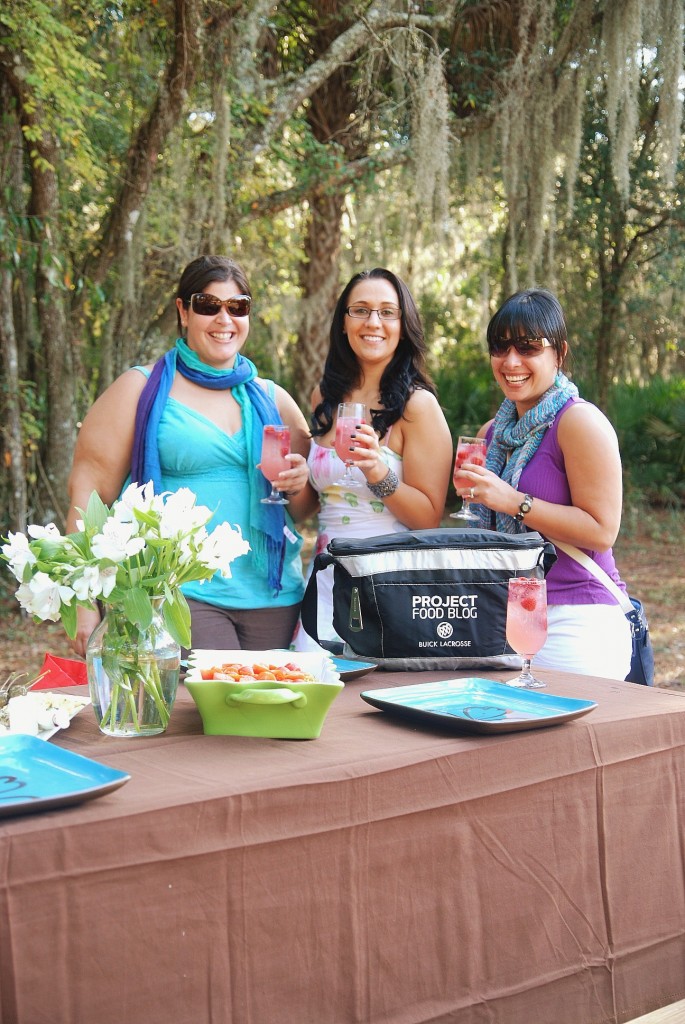 We decided to head down to Lettuce Lake Park in Tampa for our picnic. It was a beautiful, sunny, 85 degrees day! We were so lucky to have such wonderful weather!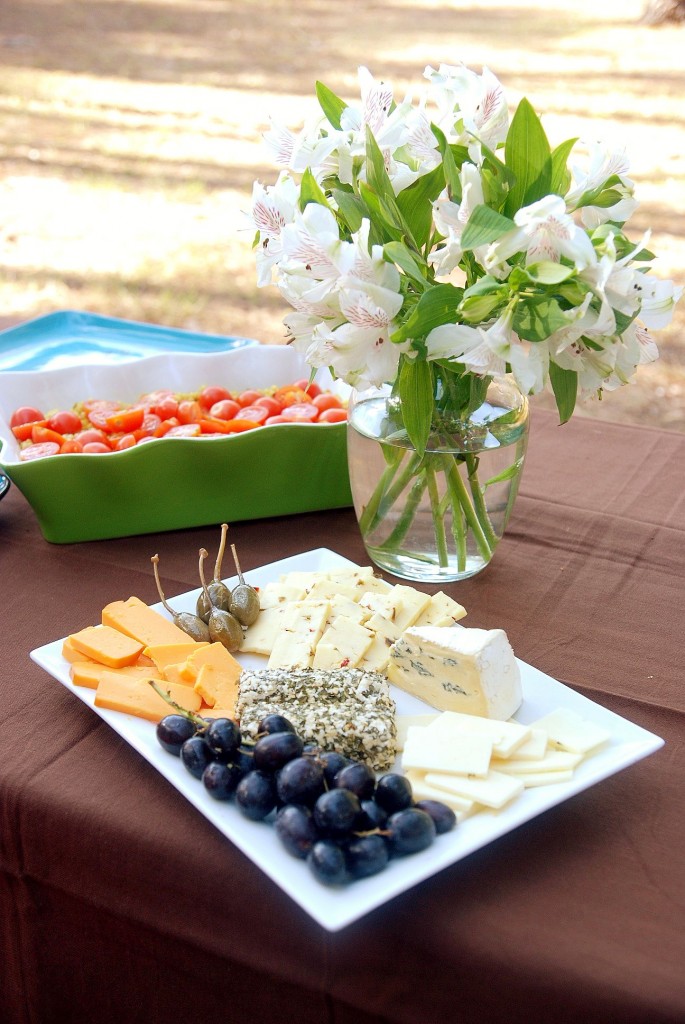 We started our picnic with my favorite thing in the whole world…CHEESE! We had smoked cheddar, jalapeno pepper cheese, parmesan, goat cheese covered in herbs and garlic, bleu cheese, grapes, caper berries, and olives stuffed with garlic!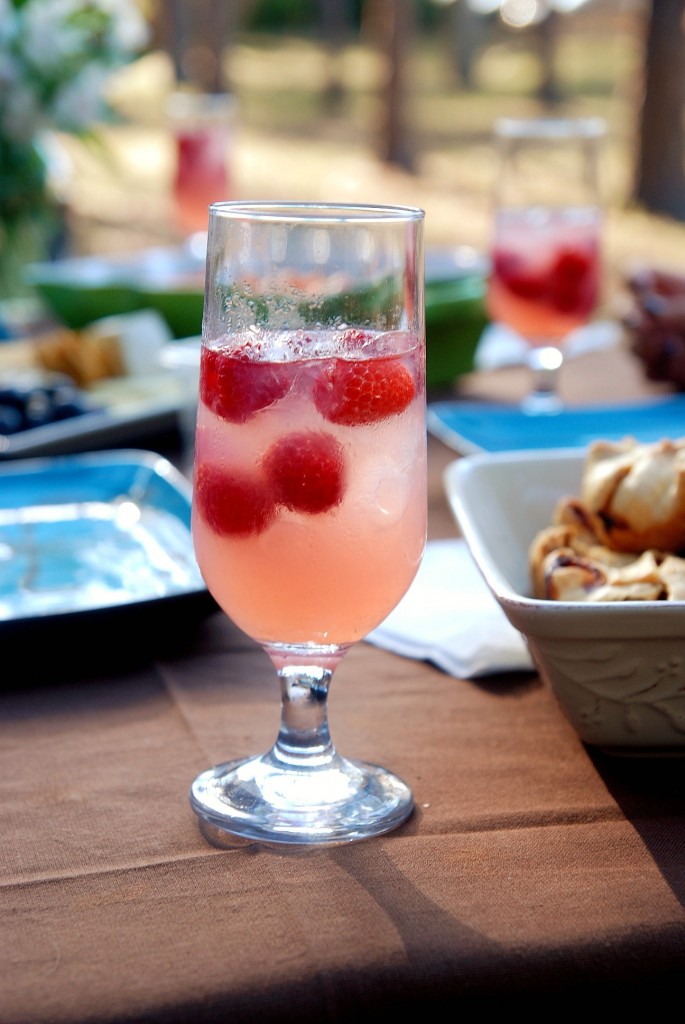 Then we broke out the Spiked Raspberry Lemonade! HOLY YUM! This stuff rocks!
Raspberry Vodka, fresh squeezed lemonade, and raspberry puree makes for one dangerous delicious cocktail! I will be sharing the exact recipe later on this week…and trust me, you want to make it as soon as possible.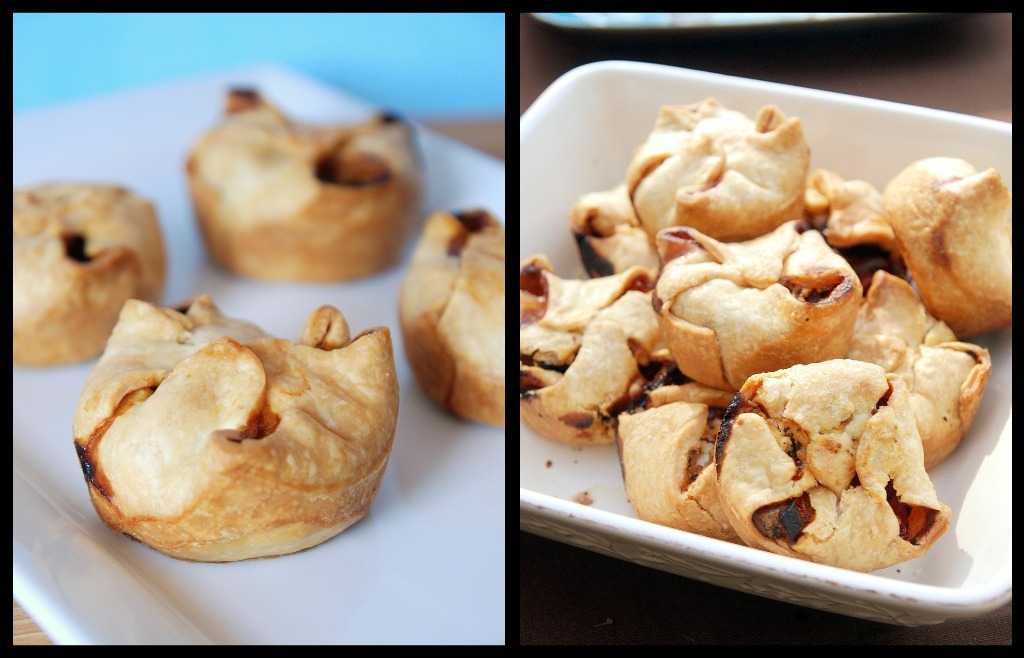 For our main entree we had hand pies! I had never heard of, nor had a hand pie before…but now am in serious, hard core love! Almost anything wrapped up in pie crust is delicious, but the combination of tomatoes, red onion, zucchini, and goat cheese in these…is simply divine.
You serve them room temperature, which made them perfect for a picnic or to take on a road trip. Just wrap them up and they can go 24 hours without having to be refrigerated! Check the end of this post for the recipe!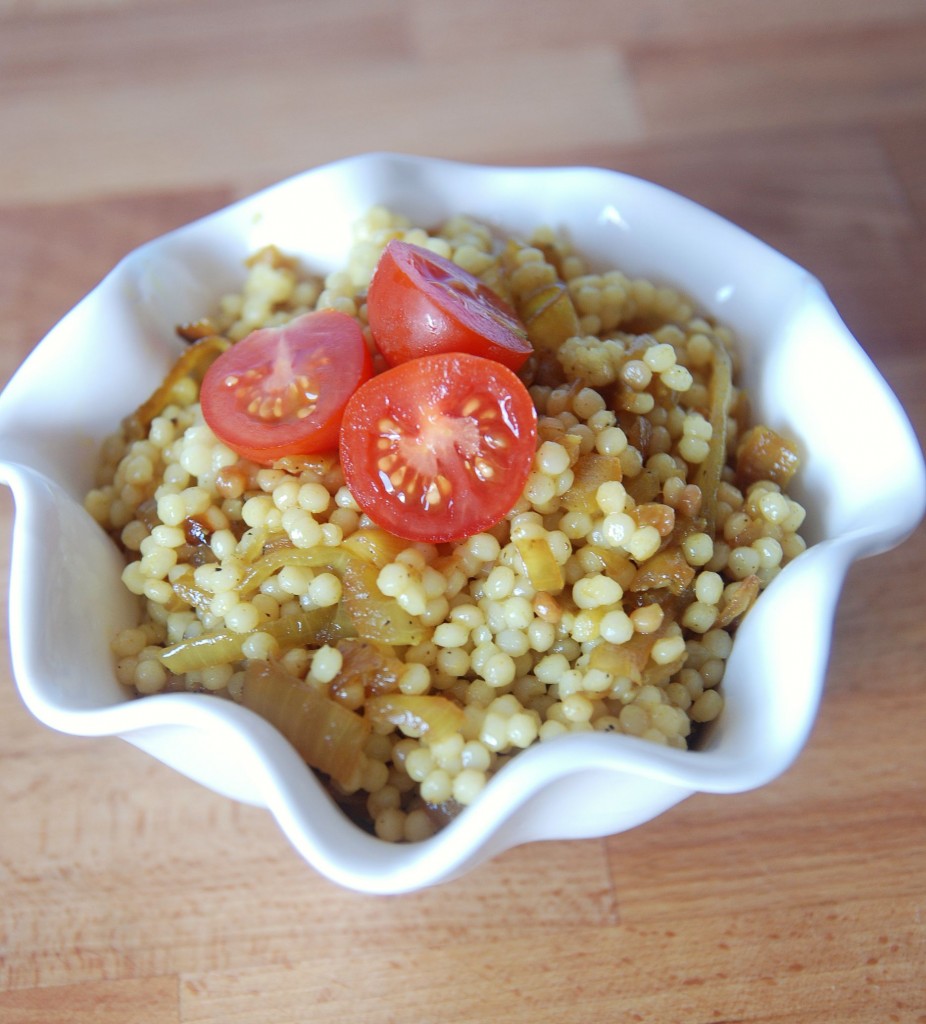 And as our side dish we had Israeli Couscous Salad, food so nice they named it twice! Israeli Couscous is very different from normal couscous.
As you can see in the photo, the actual granule is much larger then normal…and in my opinion, much tastier. This salad was made with caramelized onions, balsamic vinegar, brown sugar, and turmeric.
You can serve it hot or at room temperature, but honestly I tried it both ways and found I preferred it served at room temperature. This recipe also travels very well and since it is actually vegan can go for quite a while without refrigeration! The recipe, in full, will also be posted later this week.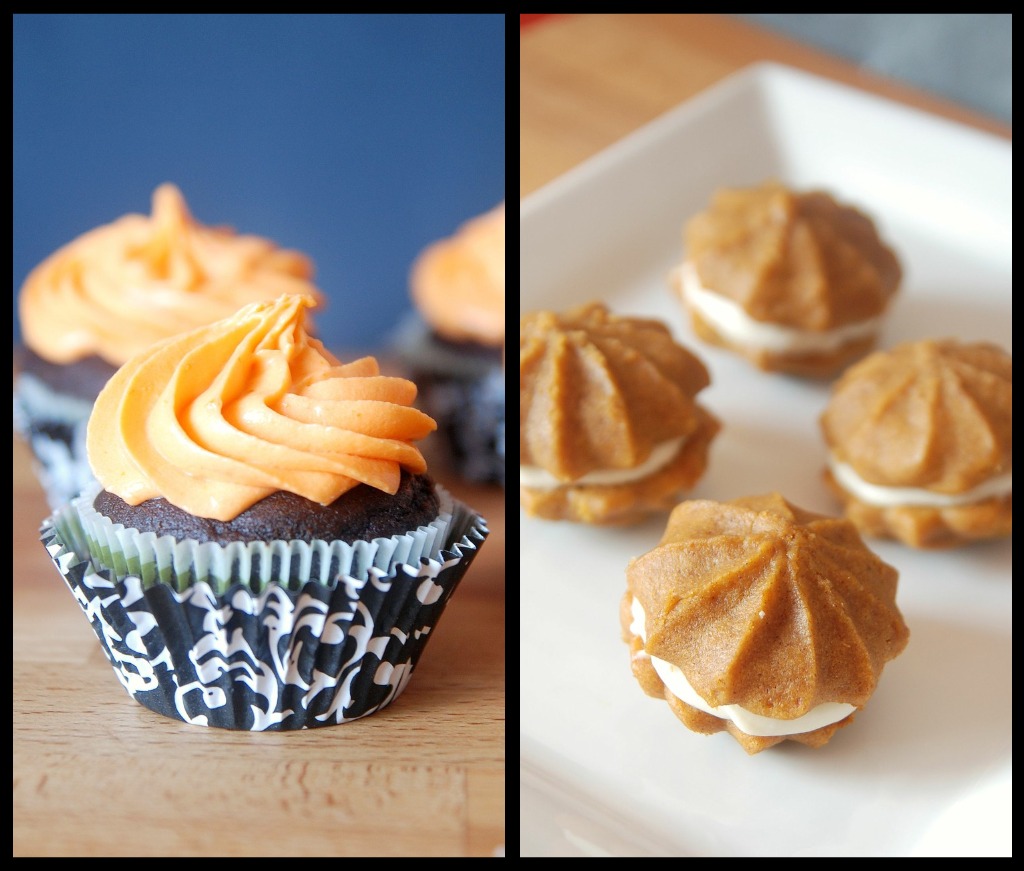 And lastly, DESSERT! My second favorite part of any meal! We had Pumpkin Whoopie Pies with Cream Cheese Maple filling and Chocolate Cupcakes with Clementine Frosting.
These were both so delicious that we even had uninvited guests munching away on them….ANTS! The girls told me not to place the desserts on the ground…but being stubborn I didn't listen and honestly who knew ants moved so fast!
Luckily they did not get into all of the cupcakes and whoopie pies and we were still able to enjoy them! Both of these recipes will also be posted later this week.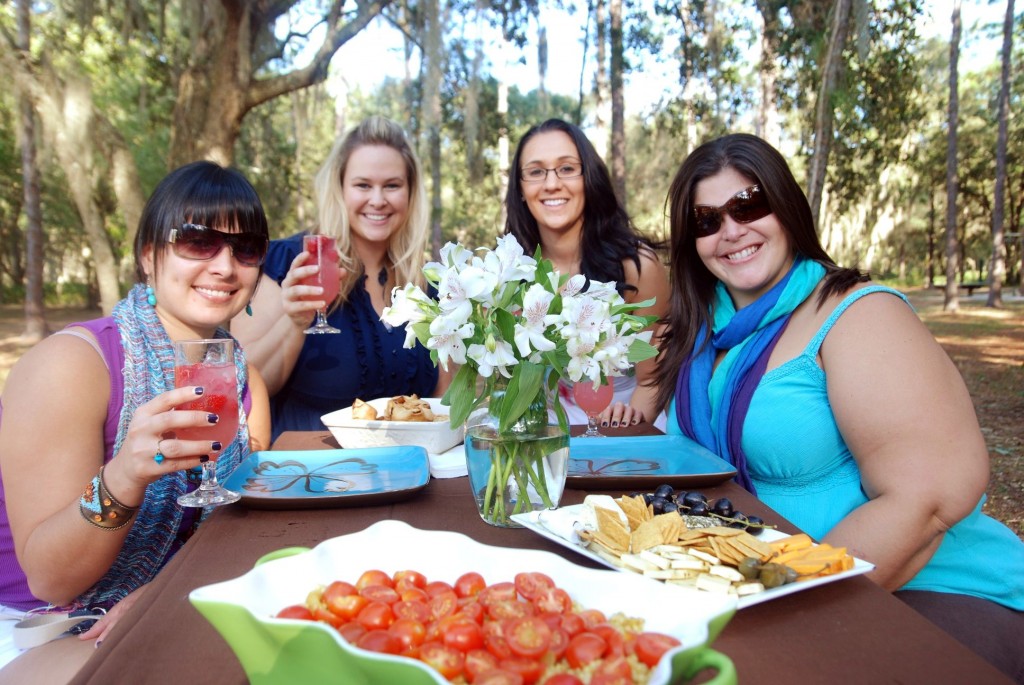 This honestly was my favorite challenge yet. Between the great food, amazing company, great weather and flowing Spiked Raspberry Lemonade…nothing could have been better.
I actually think I may start a traditional Girl's Picnic in October thanks to this! So thank you ladies for joining me! And thank you Foodbuzz! And thank you Park Ranger for pointing us towards the perfect picnic table spot in the shade!
Tomato and Zucchini Hand Pies
Ingredients:
1 box pie crust (or homemade if you have the time)
4-5 large, ripe tomatoes cut into 1/2″ slices
1/2 purple onion, thickly sliced
1 medium zucchini cut into quarters
1 Tbsp extra virgin olive oil
1 Tbsp balsamic vinegar
Salt and pepper to taste
2 Tbsp finely chopped, fresh oregano
1/2 C crumbled goat or feta cheese
1 large egg white beaten
Directions:
Preheat oven to 400 degrees.
Lightly grease a muffin tin.
On a lightly floured surface, roll out pie crust to 1/8″ thick. Cut into 4″ squares. Press each square into the cup of your muffin tin leaving an overhang. Chill for another 30 minutes.
Meanwhile, place tomatoes, onion, and zucchini on a rimmed baking sheet. Drizzle with olive oil, balsamic vinegar and salt and pepper. Roast about 30 minutes or until tomatoes begin to shrivel. Let cool slightly then transfer to a bowl. Chop any large pieces to about 1/2″.
Divide half the oregano and cheese among the 12 dough lined muffin cups. Top with the tomato-zucchini mixture. Sprinkle with remaining cheese and oregano. Fold corners of dough towards the center and brush with egg wash.
Reduce oven heat to 375. Bake pies until crusts are golden brown about 50-60 minutes.
Let pies cool completely in the muffin tin on a wire wrack.
If not eating the same day, pies store well in the muffin tin in the fridge for about 24 hours. Bring to room temperature before serving.