Indian Pizza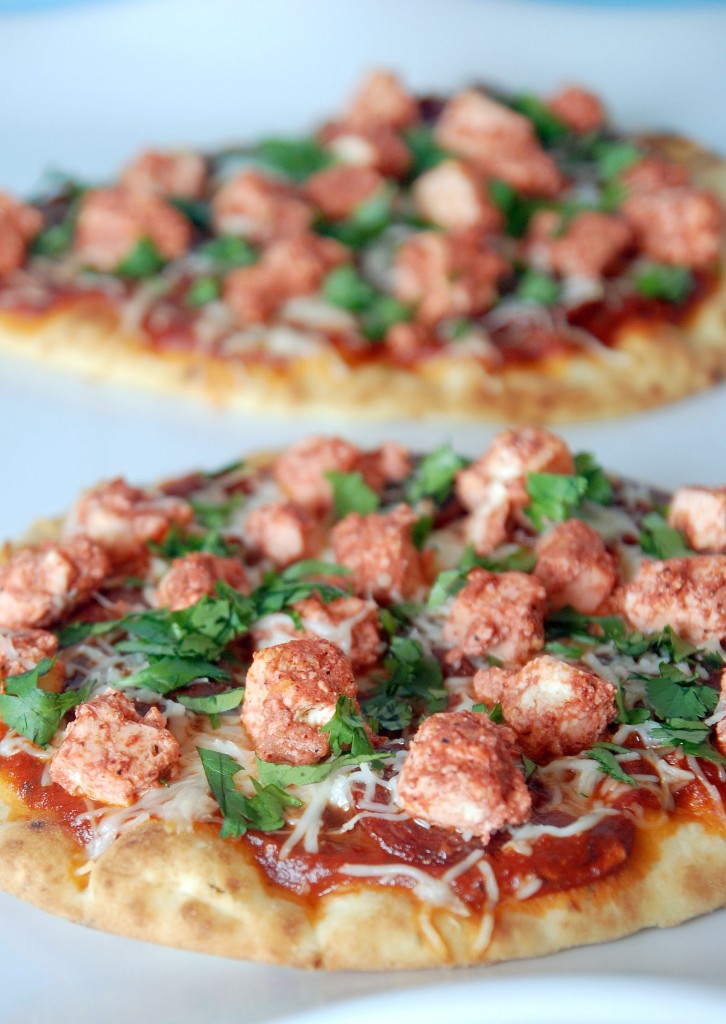 I can't believe it! I made it to the next round of Project Food Blog! I was walking around downtown Savannah when I found out…and I am pretty sure I embarrassed my family with my happy dance!
I was really worried about making it into this round, because 4 other people also made ravioli! But, thanks to you and the awesome judges…I did!
This round is titled Recipe Remix and we were all assigned with Pizza. I had given it some thought during the week…and knew that since I was on vacation I needed to do something that I could start and complete on Sunday.
My Mom suggested doing pizza on the grill, which is delicious…but I was worried about not being original enough. And then I actually dreamed about doing an Indian Pizza and after some research…here we are!
I found a great recipe from Aarti Sequeira (from before she won Next Food Network Star) and knew it would be a winner. So Saturday night when I got home from vacation, I wrote down all the ingredients I would need to pick up at the store on Sunday.
This morning I woke up and headed off to the grocery store. I found everything I needed except for Paneer, which is Indian cheese. I know you can make it, but I was very limited on time…and most recipes for Paneer take up to 6 hours. So I started calling around…
Target: no idea what it was.
Publix: no idea what it was.
The Fresh Market: Nope.
Amy's Natural Food: Nope, but they do have it in an already prepared frozen meal.
Whole Foods: No, but they can order it for me…and it will be in next week.
And right about now I started sweating. What am I going to do? I have less then 5 hours to make my homemade naan, make the pizza, photograph the pizza, and  then blog the pizza…and I can't find the stupid cheese!
Do I scratch the idea and make some uninspired pizza? Make my old stand by, Pesto Chicken Pizza? Do I cut up tofu and make it look like Paneer and then not actually eat the pizza? By now I was really starting to get myself worked up, a little more sweaty, and I was only loosing time.
I was seriously considering opening one of the cold beers I just bought. I mean…does the open container law really apply when you are sitting in your car at the grocery store? I'm not actually driving. And this parking lot is owned by the grocery store…so I am not on a real road.
Honestly, who would blame me for having  five one beer during this stressful time. Maybe I could hide it and make it look like I was drinking something else. I wonder if someone would report me if they saw me. And then if they did report me, would I be arrested? I wouldn't do well in jail and  I would also never get this pizza made.  Aww crap. I realized I was just wasting MORE time thinking about beer.
So I started googleing…
Paneer
Paneer Tampa
Where to buy Paneer
And then I see it. My saving grace, Indian Food Market. I could have kicked myself! I go all the time to the Asian Market and the Spanish Market. Why did I not even consider the Indian Market!
So I google my zip code and Indian Market and find one only 30 minutes away! So I raced drove to the Indian Market, picked up a big hunk of Paneer, and headed home to make my pizza!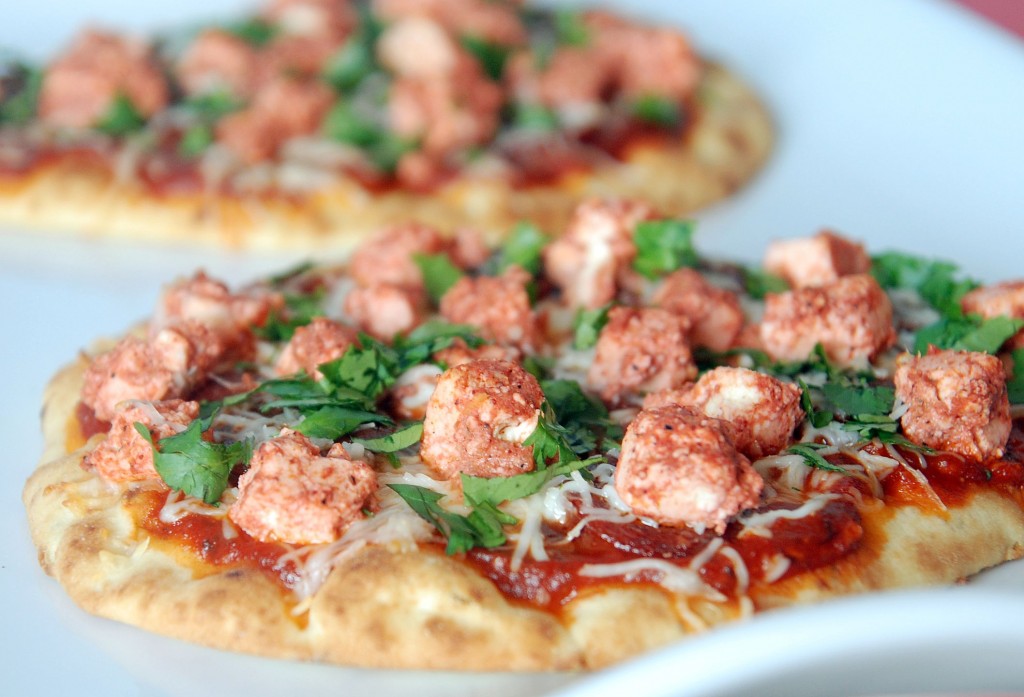 This pizza was divine. Seriously! The combination of the homemade naan, the pizza sauce with mango, and the topping of the Paneer….was perfect! So many layers of flavor that all complimented each other so nicely!
After taking his first bite, Jorge let out a loud "MMMMMMMMMMMM" followed by a "This chicken is awesome!".  Little did he know, that it is actually a vegetarian pizza…and there is no chicken on it! He thought the Paneer was chicken! Crazy boy…
Indian Pizza
Ingredients:
1 cup Paneer cheese, diced
6 oz fat free Greek yogurt
1 tsp tandoori paste
2 cloves garlic, minced
2 tsp ginger, minced
1/2 lime, juiced
salt and pepper to taste
1/2 cup pizza sauce
1/4 cup mango chutney (Major Grey's brand is great)
4 homemade naans
1 cup mozzarella, shredded
handful cilantro, chopped
Directions:
Combine yogurt, tandoori paste, garlic, ginger, lime juice, and salt and pepper. Mix well. Toss with Panner cheese. Cover with plastic wrap and let marinate in fridge for 2 hours.
Preheat oven to 400 degrees.
Combine pizza sauce and mango chutney and spread generously on top of naan. Top naan with mozzarella.
Remove Paneer mixture from fridge, and saute on medium-high heat until most liquid is gone. Sprinkle Paneer on top of pizzas.
Cook pizzas in oven for 8-10 minutes, or until mozzarella has melted (the Paneer will not melt).
Sprinkle pizzas with cilantro and serve immediately.