Homemade Ravioli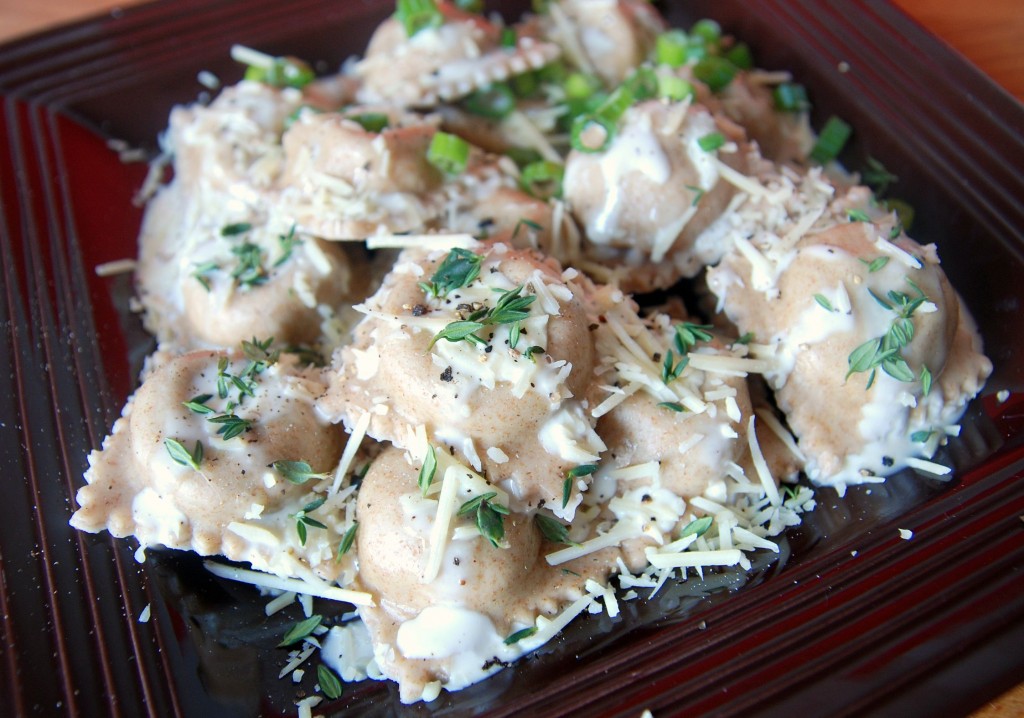 I am so excited to tell you that…I made it to Round 4 of Project Food Blog! I have all of you to thank for your votes….so THANK YOU! Wish I could send you all Cupcakes or something! 🙂
Round 4 of Project Food Blog I think has been one of the hardest yet! Showing how to make something by pictures has never been my thing. I am just too scatterbrained for it! I kept having to remind myself to take photos of each step of making the ravioli! And my biggest challenge this round was lighting. Sadly my kitchen has one window and a large tree in front of it…which means barely any natural light filters in. But I worked with what I had and I am pretty proud of how it all turned out!
I chose ravioli because yesterday my amazing friends and family threw me a surprise birthday party and with all the celebration…I may or may not have had a hangover this morning. And what better way to recover from a hangover than on your feet for 4 hours making Ravioli by eating a bunch of alcohol absorbing carbs? I made two kinds of ravioli. A Portobello Mushroom Ravioli and a Lobster Ravioli. Both were served in an incredibly fattening, insanely delicious cream sauce. The fillings are very simple and easy to follow, so I decided to use all of my efforts towards photographing the actual ravioli process. You can find all recipes at the end of this post.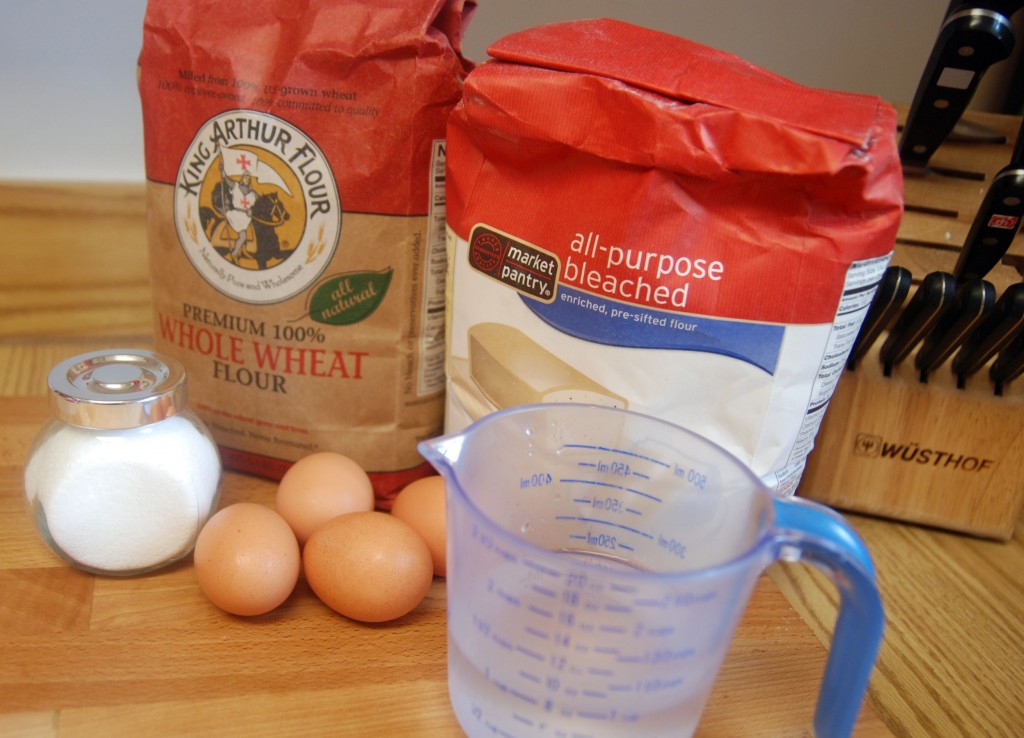 You will need:
5 cups flour, all purpose/whole wheat or a mix (plus extra for dusting)
1 to 1 1/4 cup warm water
4 eggs
1 teaspoon salt
Equipment:
Rolling Pin
Pasta Machine
Ravioli Press
Cookie Sheet
Baker's Joy spray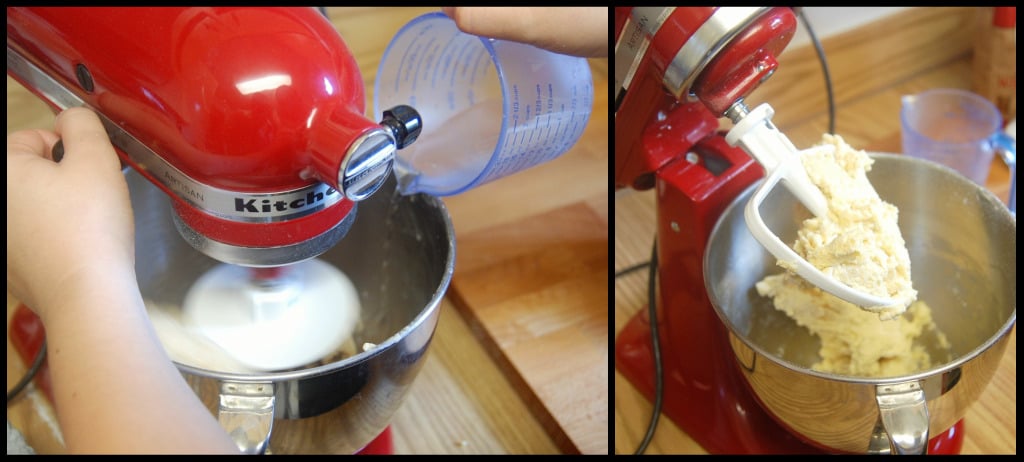 Starting with the paddle attachment in your stand mixer add salt and eggs, 1 at a time, and mix. Then add flour 1 cup at a time, alternating with water. Once the dough begins to form into a ball, switch to the dough hook attachment and allow to knead on medium for 5 minutes.
Remove dough from stand mixer, and form into a ball. Wrap in plastic wrap and allow dough to rest for 30 minutes. Or dough can be refrigerated up to 24 hours.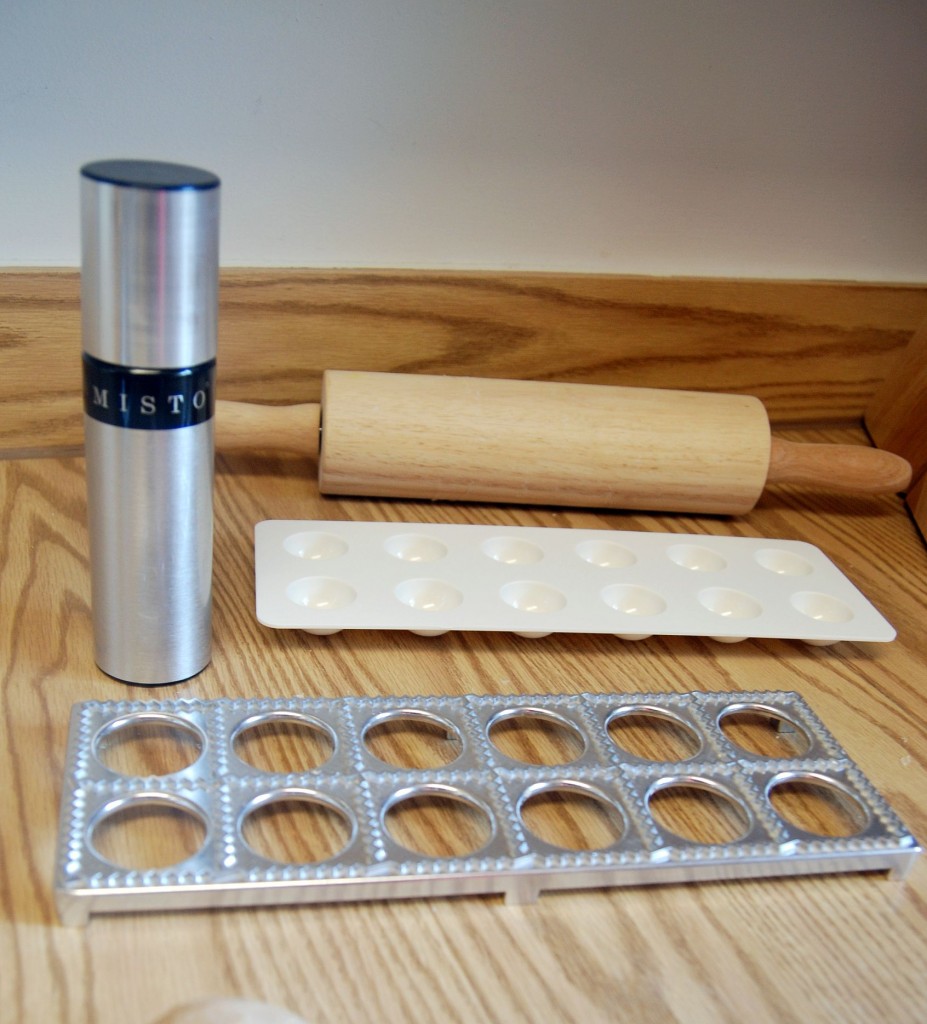 Spray ravioli maker with Baker's Joy or with your Misto filled with Olive Oil if you have one.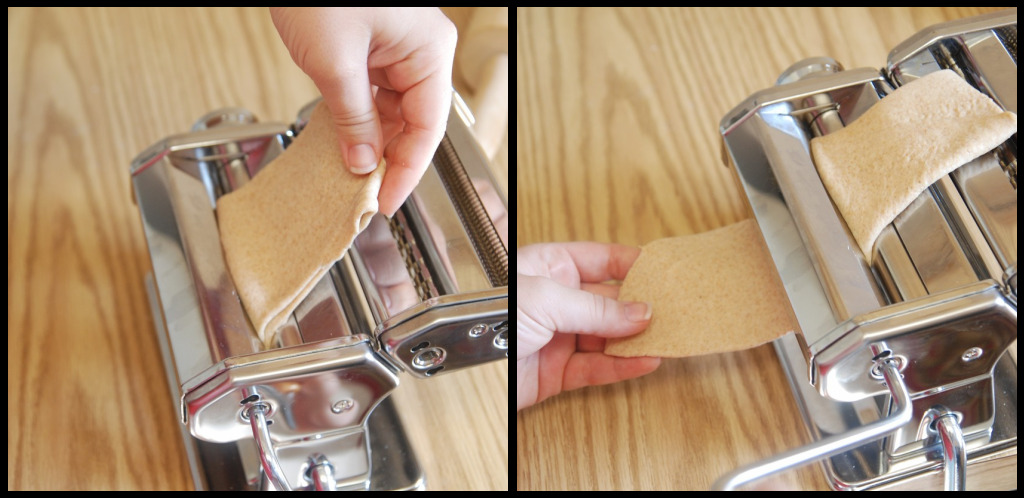 Once dough has rested, divide into 8 sections. Keep any dough you are not currently using covered in plastic wrap or it will dry out. Using your pasta machine, roll out 1 section of dough.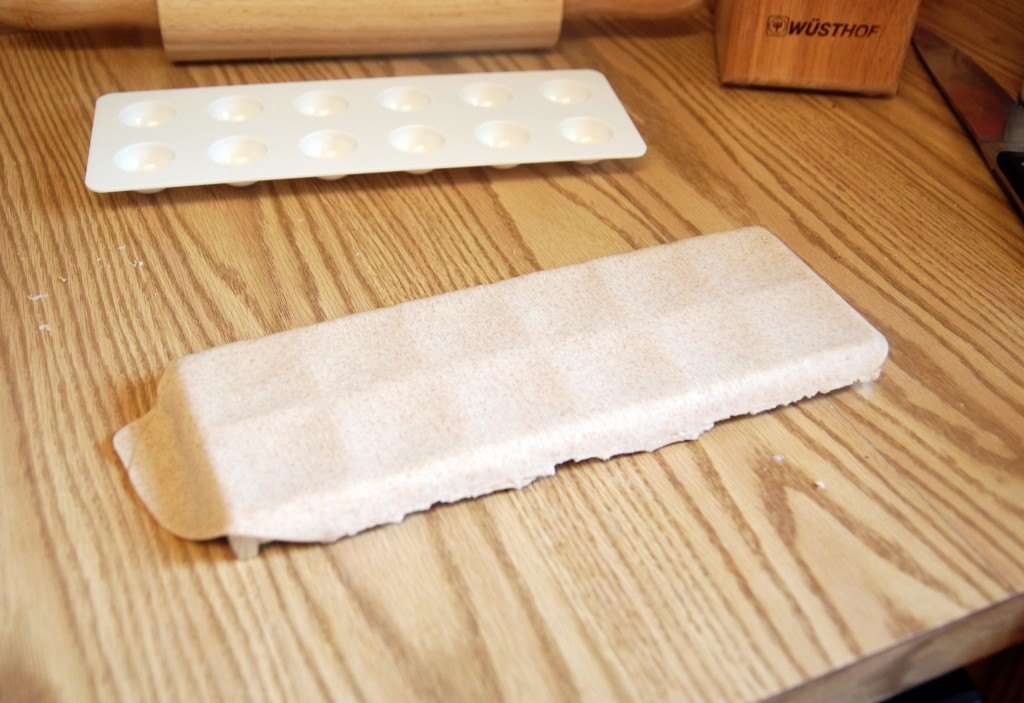 Place first sheet of rolled dough over ravioli maker and dust with flour.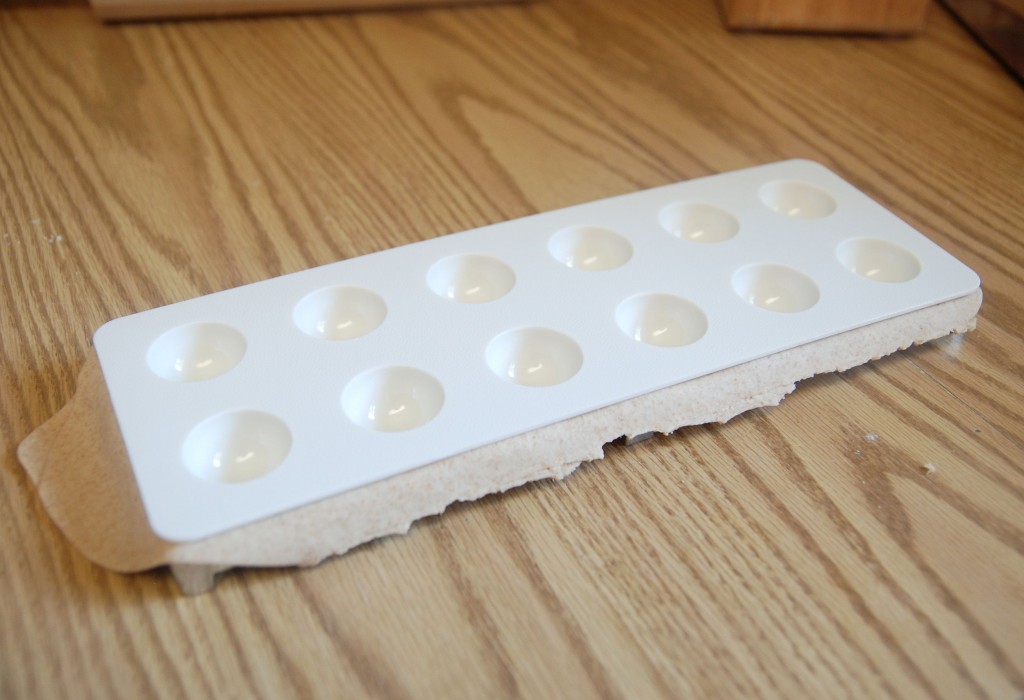 Place ravioli press on top of dough, and press gently to create indentions.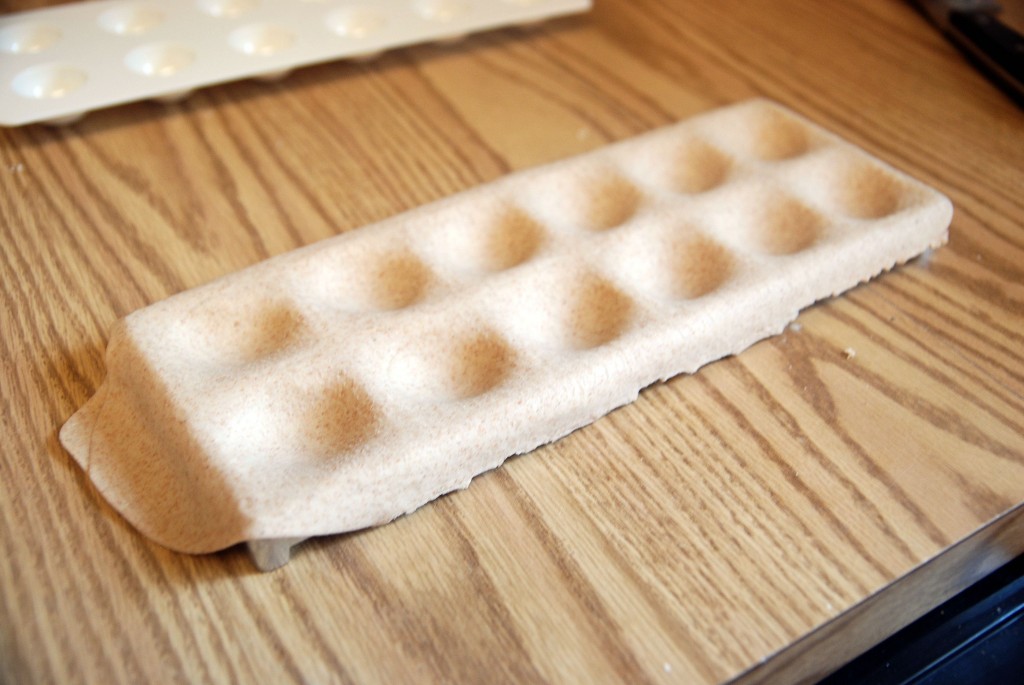 Remove carefully.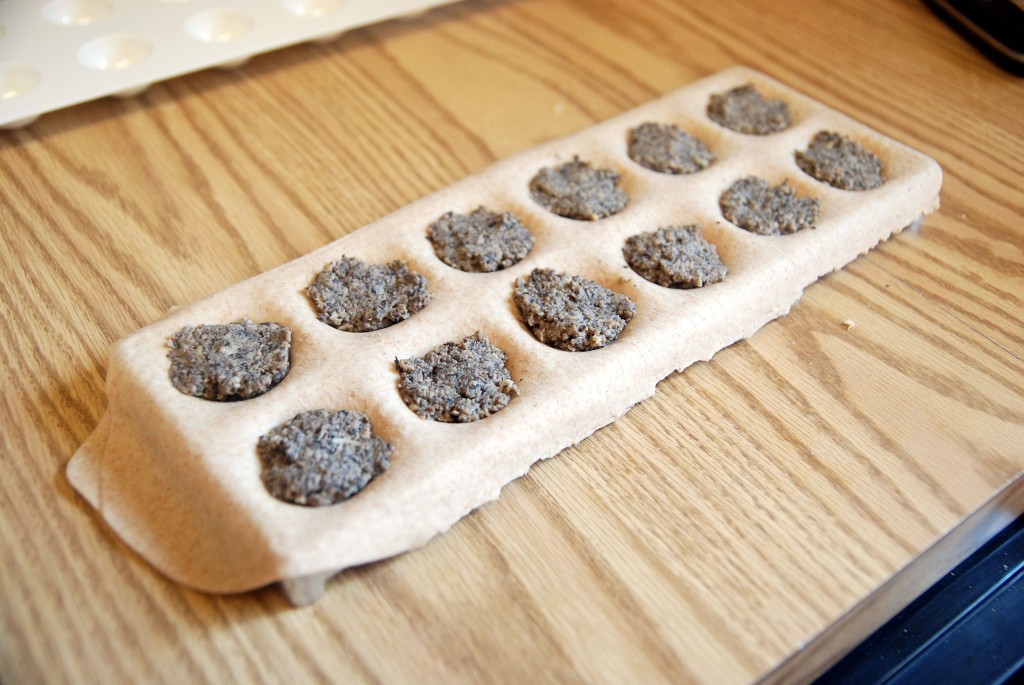 Fill with your choice of filling!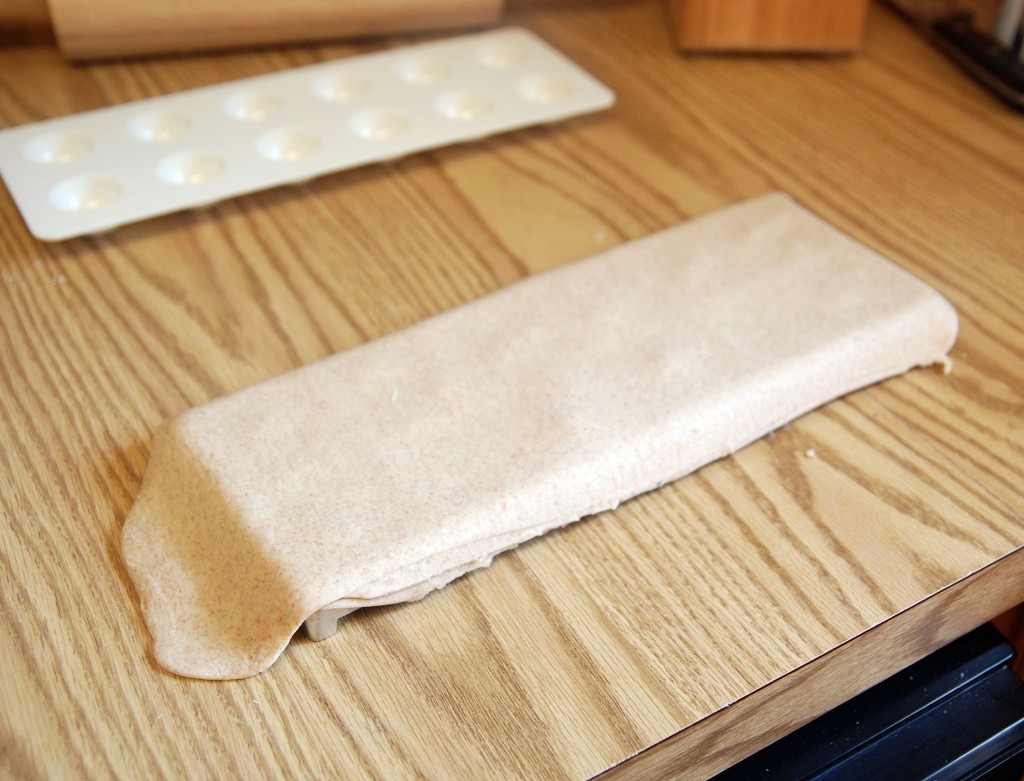 Roll out a second section of dough and lay on top. Use your fingers to press out any air pockets.

Using a rolling pin, roll on top of the metal ravioli maker until you can clearly see the metal.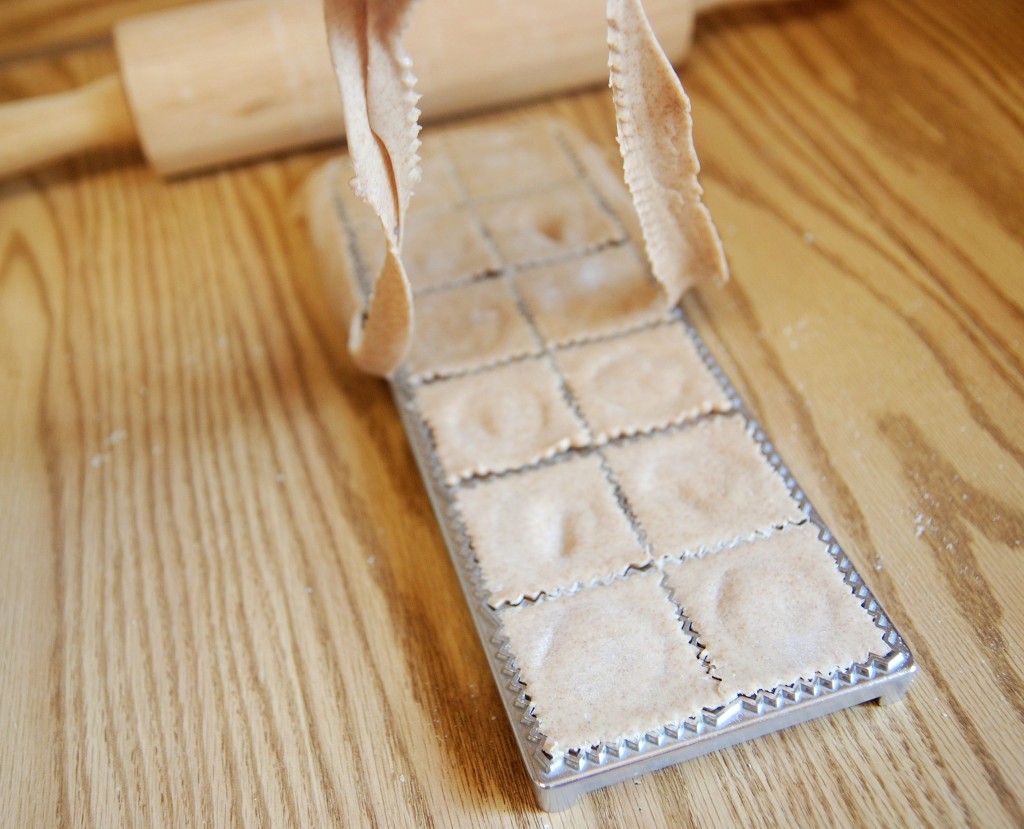 Remove excess dough, and set aside to use in your next set of ravioli.

Flip ravioli maker over and pop out ravioli!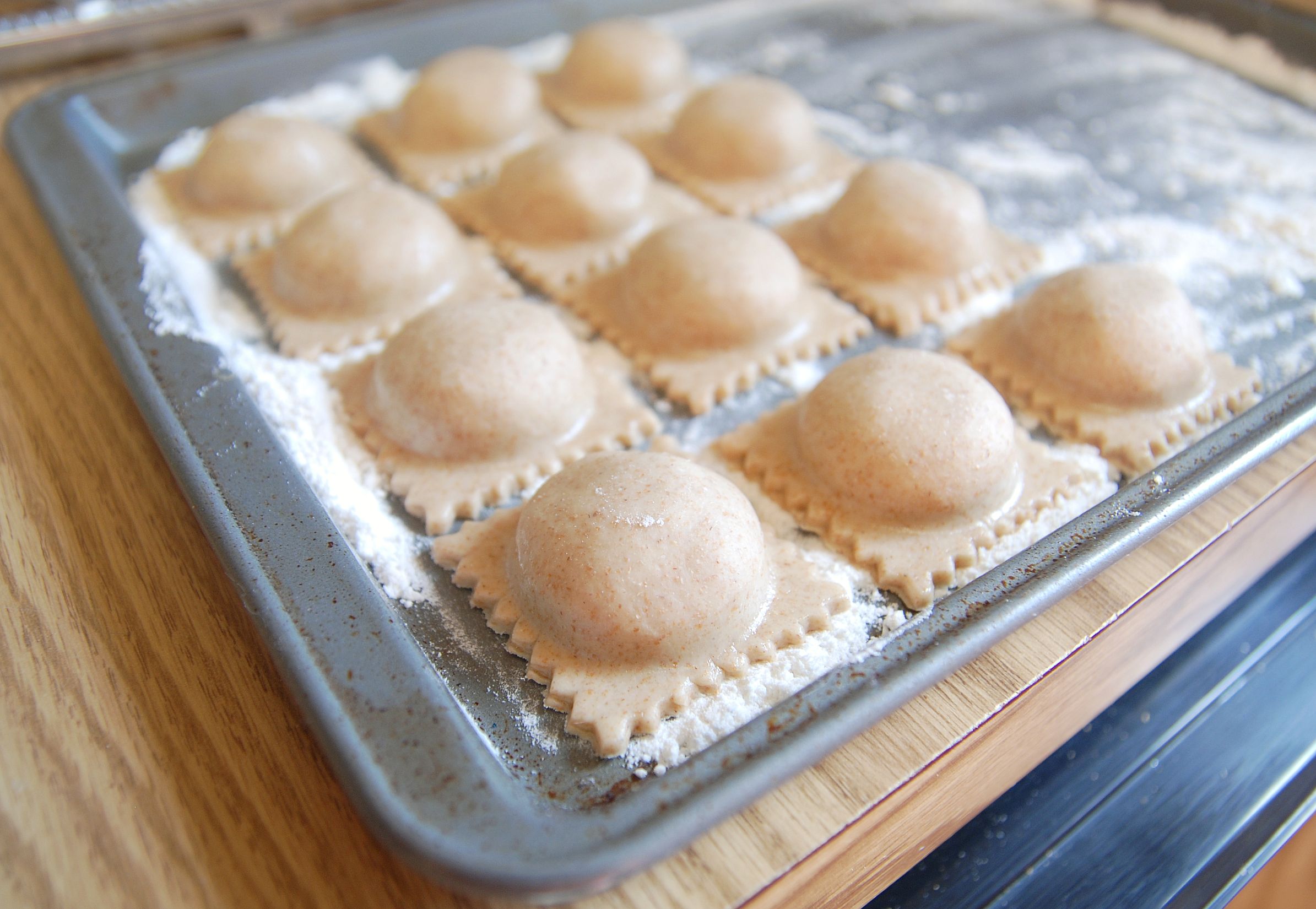 Place ravioli on well floured cookie sheet and allow to sit for 1 hour.  After the first hour, flip ravioli onto the other side and allow to sit for an additional hour. Then the ravioli can either be prepared right away or frozen for later use.
Yields 60 ravioli.
To prepare ravioli, bring a large pot of salted water to a boil. Boil for about 10 minutes, in batches, pushing the ravioli back down into the boiling water with a wooden spoon as it floats to the top.  Drain the ravioli and toss in your favorite sauce! Serve immediately!
Ravioli dough recipe adapted from My Kitchen Addiciton.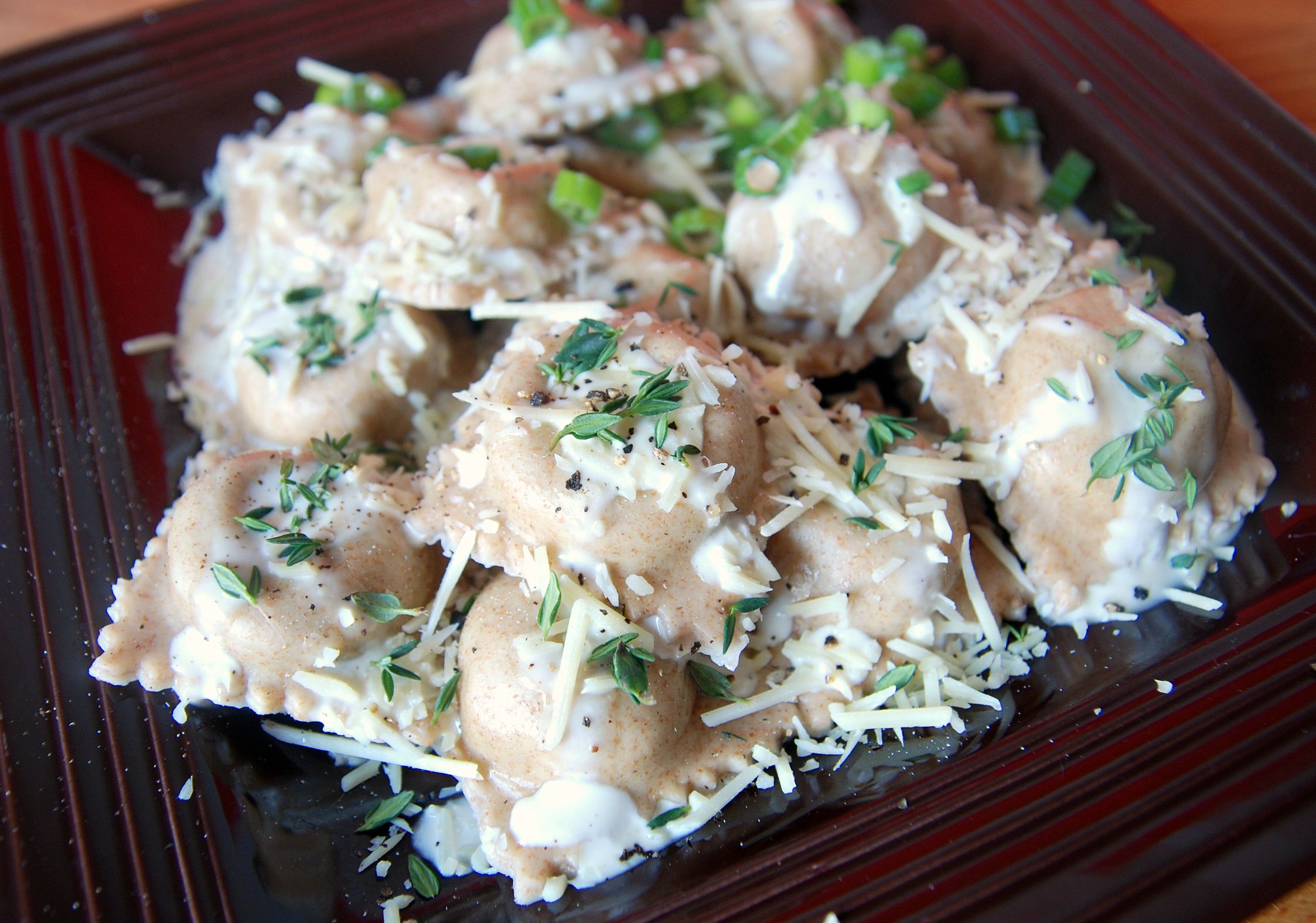 As for my fillings and sauce, I chose three different recipes. Each were absolutely delicious, but I was very partial to the Portobello Mushroom Ravioli! They were absolutely amazing!