Puerto Rican Chicken and Rice is a savory and filling dish that is perfect for dinner. This flavorful Puerto Rican arroz con pollo recipe will easily become a favorite!
For another delicious Puerto Rican recipe, try this The Best Coquito Recipe – Puerto Rican Eggnog.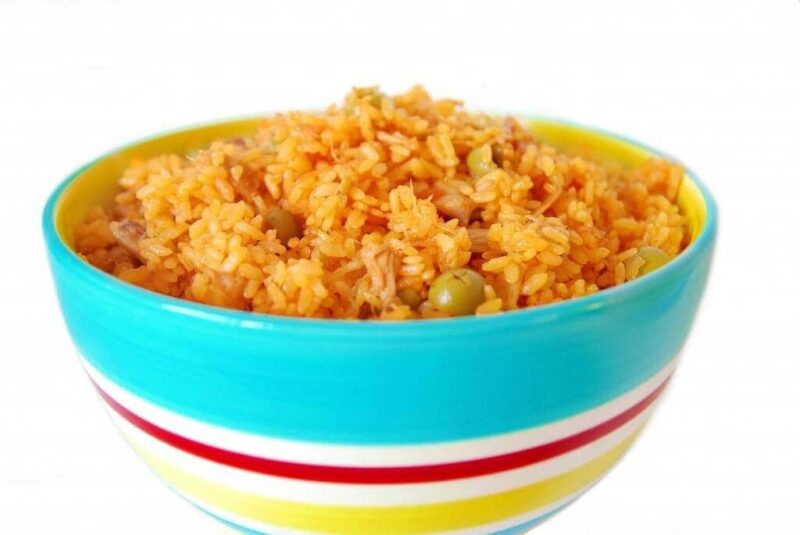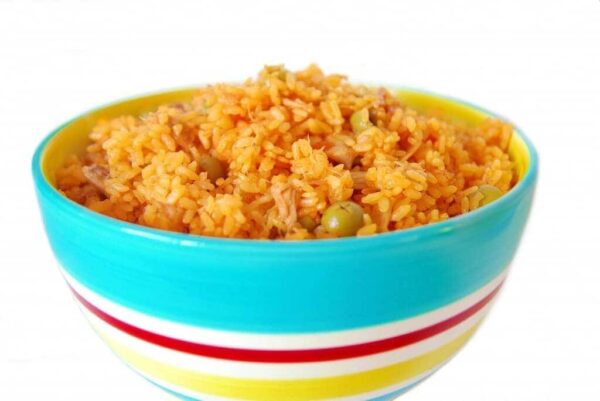 Puerto Rican Chicken and Rice
My husband is leaving me.
Ok, he is, but I am being a little more dramatic then need be (I know Mom, Drama Queen, you don't have to say it). He is leaving me for 3 to 9 months for a job and will be 4 hours away from me…so to remind him of how great he has it here at home, I decided I would take on what he has asked for me to make forever…Puerto Rican Chicken and Rice and beans. Now, notice you do not see beans here today. That's because I ruined them. Don't even begin to ask me how I ruined them…but they turned out bitter and just…funky. But now the rice? I totally rocked it! It was SOOO good! When I finally opened the pot and tried a bite, I did the happy dance! Getting rice right might seem silly and easy, but between all the special flavors and over cooking the rice, I was quite nervous!
This Chicken And Rice Recipe Is Perfect For Dinner
So when I decided to try and conquer this…I skipped the internet and went straight to the island. I called one of my best friends, and greatest cooks, Christina. And this was one of those recipes where she said a pinch of this, a handful of that, boil until it looks right, and don't mess it up. Umm…great. But in all honesty, my darling Xtina called me while I was shopping, while I was prepping, during the final taste test, and after to make sure it went ok. You couldn't ask for a better friend! And now she promised that when she comes to visit in a few weeks she is going to make beans with me so I can learn how to get those right too! Either way, with or with out the beans, this was delicious and really thrilled Jorge. He was so excited that I made this for him and that it was so dang tasty! So don't be scared, it's not as scary as I thought it was!
Yield: 4 servings
Puerto Rican Chicken and Rice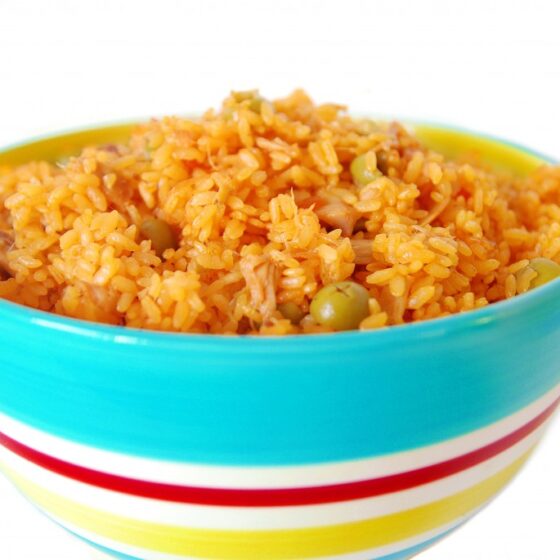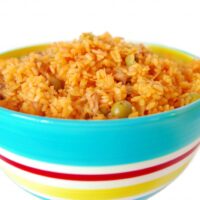 Puerto Rican Chicken and Rice is a savory and filling dish that is perfect for dinner. This flavorful Puerto Rican recipe will easily become a favorite!
Ingredients
1 cup roughly chopped chicken (breast or dark meat, which ever you prefer)
3 cups white medium grain rice
3 cups hot water
3/4 cup sofrito
1/2 cup sliced olives with pimentos
1 chicken bouillon cube
2 packages Sazon: Con Culantro Y Achiote
Adobo for seasoning chicken
Olive oil
Instructions
Season chicken with Adobo and set aside. In a large stock pot, over medium high heat, drizzle about 3 tablespoons olive oil, and add sofrito, olives, and chicken bouillon. Mix together well, and then add in chicken. Lightly brown chicken, but do not cook throughout. Chicken will finish cooking with the rice.
Next sprinkle Sazron and mix in well. Add hot water, and bring to a boil. Once boiling, add rice and stir again. Wait until it has come to a boil again, then turn it down to medium low heat, and stir one last time really well. Put on the lid and let sit, without opening or stirring for 25 minutes (I know it's hard, but do it). Then stir one last time and serve with beans.
Nutrition Information:
Yield:
4
Serving Size:
1
Amount Per Serving:
Calories:

418
Total Fat:

20g
Saturated Fat:

3g
Trans Fat:

0g
Unsaturated Fat:

9g
Cholesterol:

52mg
Sodium:

828mg
Carbohydrates:

37g
Fiber:

2g
Sugar:

0g
Protein:

22g
Want to Save This Recipe?
This post may contain affiliate links. Read my disclosure policy.