Pumpkin Fritters with Cinnamon Glaze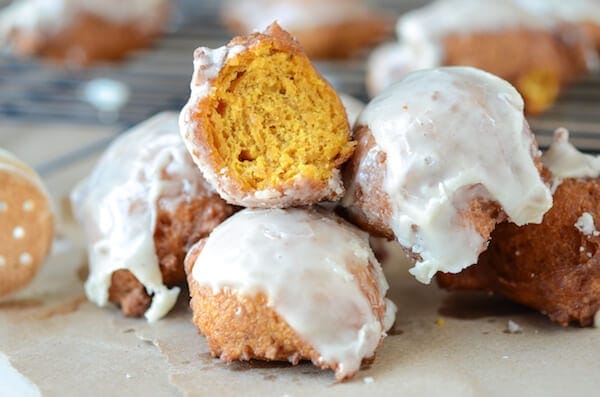 Jorge and I had two big goals this weekend: I wanted a pumpkin fritter and we needed a new bed. I have been wanting pumpkin fritters since the start of October, but haven't seen them anywhere this year. As for the bed, we are currently sleeping on a queen bed. Between Jorge (who is 6'4) and our dog (yes Brody sleeps at our feet – we are those people), we just needed a bigger bed.
Not to mention that the footboard on our current bed was in really bad shape…and the frame was cracked in two places. We had been putting it off for a while, but it is way past time we upgraded our own bed. I figured it would be a pretty easy change to go from a queen to a king…but one visit to the mattress store and you realize how fast it is all going to add up.
Not only did we need a new mattress (and mattress foundation since we got a memory foam mattress), but we needed a new actual bed (frame/headboard) and all new sheets. WHOA does that all add up fast. I'm glad that our mattress has a 20 year warranty, because I don't think we will be ready to do this all again for another 20 years. 😉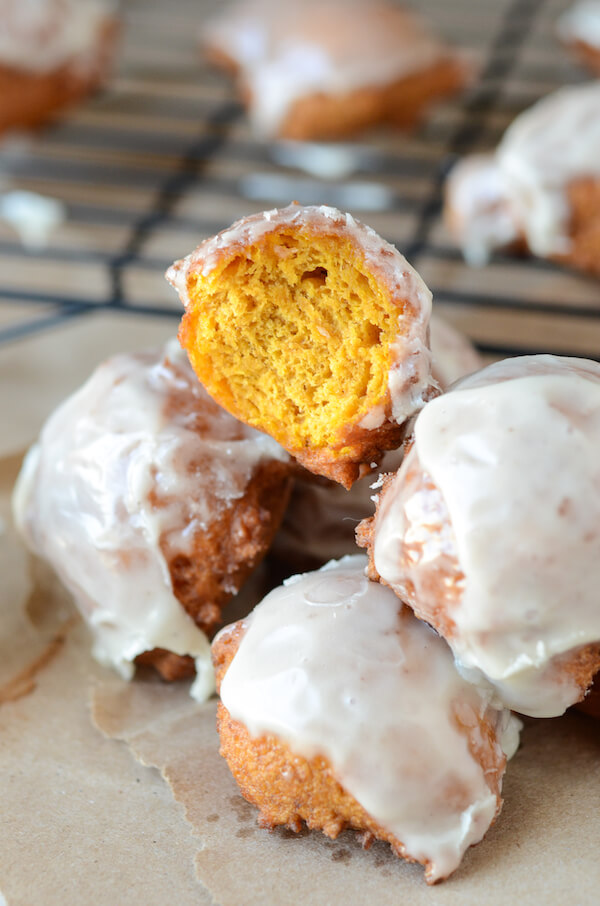 The new bedding doesn't arrive until Wednesday — so while we spent all that money, we don't actually get the satisfaction on sleeping on it just yet. Thankfully my Pumpkin Fritters were instantly gratifying! I got up Saturday morning and within 30 minutes, we had hot glazed fritters in our bellys. You just can't beat that. (Or as my fellow Texans like to say — You can't beat that with a stick.)
This is a spin on my Apple Fritter recipe in my cookbook Mini Donuts. They are full of pumpkin flavor and fry up perfectly orange! If pumpkin isn't your thing, I can also imagine these made with sweet potatoes or maybe even butternut squash!
Pumpkin Fritters with Cinnamon Glaze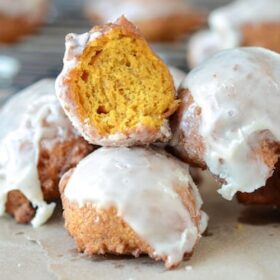 Ingredients:
1 1/3 cup all purpose flour
1 1/2 teaspoons baking powder
1 teaspoon cinnamon
1/2 teaspoon salt
1/4 teaspoon nutmeg
1/4 teaspoon all spice
1 large egg
1/3 cup granulated sugar
1 cup canned/pureed pumpkin
1 teaspoon vanilla extract
Vegetable oil or Peanut oil, for frying
1 – 2 tablespoons whole milk
1 1/2 teaspoon vanilla extract
1/2 teaspoon cinnamon
1 cup powdered sugar
Directions:
Heat oil in a large, deep skillet or deep fryer to 350 degrees. (I use a candy thermometer to make sure my oil stays at the correct temperature.)
In a small bowl, sift together flour, baking powder, cinnamon, salt, nutmeg and all spice. Set aside.
In a medium bowl, whisk together egg and granulated sugar. Then add pumpkin and vanilla extract; mixing until throughly combined. Gently stir in the flour mixture, whisking until there are no lumps.
Once oil is hot, working with 4-6 fritters at a time, carefully drop dough by rounded tablespoons into oil. Fry for 2 to 3 minutes, or until golden brown and flip and fry the other side.
Remove and drain on a paper towel (or newspaper) lined plate. Continue this process until each fritter has been fried.
Place wax paper under a wire rack to collect any drippings for an easy clean up. Then, in a small bowl whisk together 1 tablespoon milk and vanilla extract. Add cinnamon powdered sugar, whisking until smooth. If glaze is still a little too thick, add 1 teaspoon of milk at a time until you reach the desired consistency.
While the donuts are still warm, dip the tops of each fritter into the icing and transfer to a wire rack and let set for 2 minutes. Serve immediately, or fritters can be stored in an airtight container for up to 3 days, but are best served fresh.