These easy homemade Pumpkin Snack Cakes are the perfect sweet dessert to have with a cup of coffee or tea. They are so easy to make and are only 64 calories!
Looking for something a bit more decadent? Try this recipe for The Best Pumpkin Cake.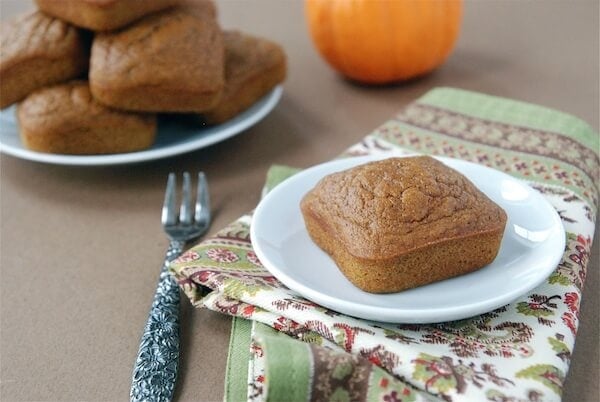 Pumpkin Snack Cake
I got an email recently from a reader asking me why I don't blog every day. And I wrote back that I just don't have that kind of time, that each post takes at least 6 hours from start to finish. Not to mention, y'all don't want to see a photo of my strange array of cereal every morning! She wrote back telling me there is no way it takes me 6 hours for a post. That I must be doing something wrong…a post only takes a little while to write.
So for those of you who may be in the dark about what actually happens behind the scenes…let me run down a typical post for you.
1. Decide what you want to make. Which you would do normally in life anyways…so not that big of a deal.
2. Shop for the ingredients. Hopefully that doesn't require going to multiple stores or a specialty store.
3. Make it! Whatever it may be. And hope that it works out the first time. If you are adapting the recipe from somewhere else, it's safe to bet that you can go ahead and post it without make it again. But, if you developed that recipe yourself, you have to make it again…and tweak and test it…and maybe even make it a third time.
4. Style and take the photograph the food. Hope it's not raining. Pray that you didn't get a piece of cat hair in your food (or maybe that's just me). And hope that your husband doesn't eat that perfect cookie you are trying to photograph.
5. Edit the photographs.
6. Write the post. Or if you are like me, stare at the blank screen and then go play fetch with the dog while eating a Caramel Apple Pop because omg they were B1G1 at Publix this week. Then come back and stare some more.
When I got that email, I realized many of my friends/family make comments or remarks about blogging. They don't get it at all…or they don't get why there isn't a new post every day. And the answer is, because it takes work! Thankfully, it's work that I absolutely love and find extremely satisfying.
I am still shocked that anyone besides my Mom reads my awful tangents and understands my ridiculous sense of humor. And when someone tells me they think I take good pictures, I about pee myself. Photography is hard, yo. But the best part about food blogging, is the sharing aspect. When someone emails me that their husband ate the Roasted Garlic Cauliflower Soup and loved it (and had no idea it had cauliflower in it), I fall in love with blogging all over again. It's the sharing, the community, the food that keeps me coming back. Oh…plus in the end, it's cheaper than therapy.
This Homemade Pumpkin Cake Goes Great With Tea or Coffee
Jorge and I really loved this Pumpkin Snack Cake. It is moist and delicious, but also light and spongey. It perfect next to a hot cup of tea, or in Jorge's case, coffee. And if you can believe it, in each slice there are only 64 calories! Holy ass friendly!
P.S. The recipe below states to make these in a glass 8×8 baking dish, which is how I normally make this recipe. However, for my birthday my Mom got me a mini square cake pan and it worked out great! So feel free to change it up to what you have on hand!
Yield: 9 servings
Pumpkin Snack Cake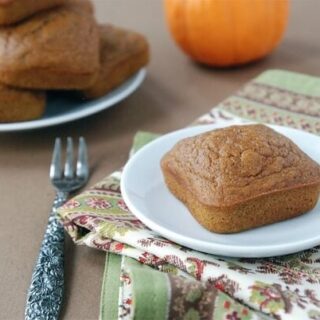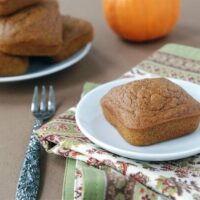 These easy Pumpkin Snack Cakes are the perfect sweet dessert to have with a cup of coffee or tea. They are so easy to make and are only 64 calories!
Ingredients
1/2 cup whole wheat flour
1/2 teaspoon baking powder
1/4 teaspoon baking soda
1 teaspoon cinnamon
1/4 teaspoon salt
pinch of cloves
pinch of cinnamon
1/2 cup pureed pumpkin
1 egg
3 tablespoons amber agave
2 tablespoons brown sugar
1/2 teaspoon vanilla extract
2 tablespoons milk
2 tablespoons canola (or vegetable) oil
Instructions
Preheat oven to 325 degrees. Spray a glass 8x8 baking dish with Baker's Joy.
In a small bowl, mix together first 7 ingredients (all the dry ingredients). Set aside.
In a large bowl, cream together pumpkin, egg, agave, brown sugar, and vanilla extract.
Add half of the dry ingredients to the pumpkin mixture, combine. Add milk, combine.
Add the rest of the dry ingredients to the pumpkin mixture, combine. Add canola oil, combine.
Pour into your prepared baking dish, and bake for 20 to 22 minutes, or until a toothpick inserted in the center comes out clean.
Cool on a cooling rack, and serve at room temperature. Like most snack cakes, I think this was better the next day after it had some time to rest! Store in an airtight container for up to 4 days.
Notes
I know Pumpkin is every.freaking.where these days...but this Pumpkin Snack Cake can easily be turned into a Sweet Potato Snack Cake. Or how about an Apple Snack Cake?? All you have to do is swap the pureed pumpkin for pureed sweet potato or whatever else you may have on hand!
TNCB original
Nutrition Information:
Yield:
9
Serving Size:
1
Amount Per Serving:
Calories:

64
Total Fat:

1g
Saturated Fat:

0g
Trans Fat:

0g
Unsaturated Fat:

0g
Cholesterol:

21mg
Sodium:

132mg
Carbohydrates:

13g
Fiber:

1g
Sugar:

7g
Protein:

2g
Want to Save This Recipe?
UPDATE: an awesome reader, Success Along The Weigh, found a look a like mini cake pan on amazon! Apparently it is called a Square Muffin Pan. Here is the one you can find on amazon and here is a photo I snapped of mine on my iPhone as it was going into the oven. My pan is nonstick, but otherwise looks exactly the same! If you load up on some Baker's Joy spray you shouldn't have any issues!
This post may contain affiliate links. Read my disclosure policy.