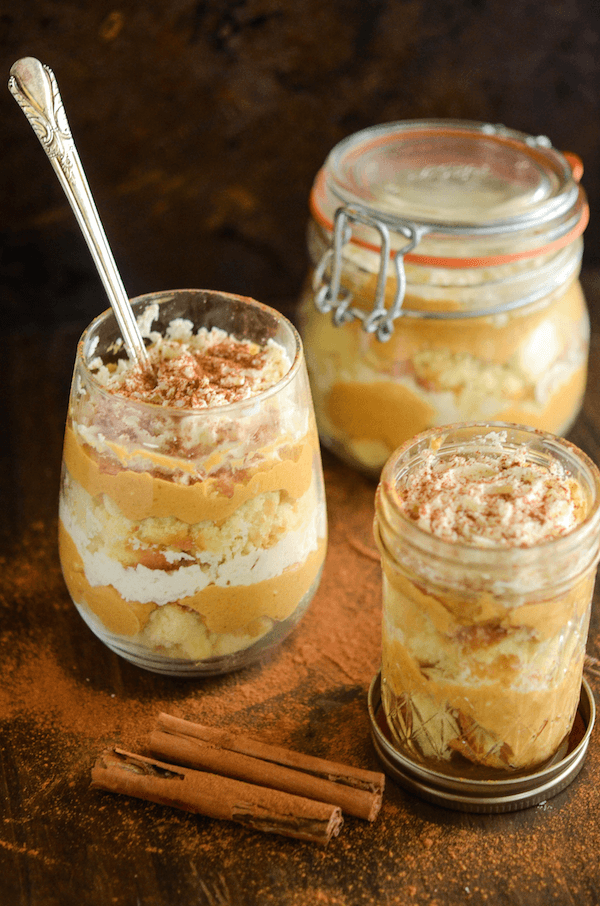 There are two teams…team everything Fall as early as possible and team no Fall until October. I am very obviously team everything Fall as soon as I think I won't be committed for putting out my decorations and eating everything pumpkin.
So when I saw a tower of canned pumpkin at Target, I started shoving cans of it around Ellie who was sitting in my already over filled basket.
Once I made it home and was unloading the car — I realized I may have gotten a little out of control in my pumpkin craze. I bought 8 large cans. EIGHT.
Luckily, the babies and Jorge are all as pumpkin obsessed as I am and will happily chow down on all of my favorites with me. The girls have actually been eating Pumpkin Noosa Yoghurt since July. It's their absolute favorite and the only thing they will always eat when having a bad day. I'm so thankful they are now selling it year round.
With all that pumpkin in the house, and a pound cake just laying around in my freezer, I knew I wanted to make a trifle. You have a layer of classic buttery pound cake, a layer of pumpkin spice cheesecake and then a layer of fresh whipped cream. It's no bake and it comes together really fast…only taking about 15 minutes of total work!
This turned out so amazing, that the four of us ate it in two days! And seriously — the babies probably ate two whole ones all to themselves! They would start grunting at us as soon as they saw it. Oh, those daughters of mine. 😉
I hope you enjoy this as much as we did!
Yield: 4 servings
Pumpkin Spice Cheesecake Trifle
This indulgent Pumpkin Spice Cheesecake Trifle is the ultimate fall treat, with layer upon layer of spongy pound cake, rich and creamy pumpkin cheesecake, and airy whipped cream.
Ingredients
1 block (8 oz) cream cheese, softened
1 cup canned pumpkin puree
1 cup powdered sugar
2 teaspoons pumpkin spice
2 teaspoons vanilla extract
1 cup heavy whipping cream
2 tablespoons powdered sugar
2 teaspoons vanilla extract
1 pound cake, cut into bite size squares
Instructions
In a stand mixer, beat together cream cheese and pumpkin until smooth. Add in powdered sugar, pumpkin spice and vanilla extract, beat until combined. Set aside.
In a separate bowl, whisk cream and powdered sugar until stiff peaks form. Whisk in vanilla extract. Set aside.
In a small trifle dish, or four individual jars, place a layer of pound cake pieces, followed by a layer of pumpkin spice cheesecake and a layer of whipped cream.
Repeat layers until you run out of ingredients – ending with whipped cream. Refrigerate until ready to serve (once the pumpkin spice cream cheese layer is refrigerated – it firms up into more of a cheesecake layer!).
When ready to serve, garnish the top with cinnamon or more pumpkin spice!
Notes
Recipe Note: If you want to make this in a larger trifle dish, double the recipe!
Nutrition Information:
Yield:
4
Serving Size:
1
Amount Per Serving:
Calories:

400
Total Fat:

25g
Saturated Fat:

15g
Trans Fat:

1g
Unsaturated Fat:

7g
Cholesterol:

77mg
Sodium:

80mg
Carbohydrates:

41g
Fiber:

2g
Sugar:

36g
Protein:

4g
Want to Save This Recipe?
More Pumpkin Recipes to Try:
This post may contain affiliate links. Read my disclosure policy.