These seriously soft and flavorful Pumpkin Sugar Cookies are just the best! Rolled in coarse sugar for extra texture and sweetness and baked to chewy perfection. This pumpkin cookie recipe is a definite must-have on your baking list this fall!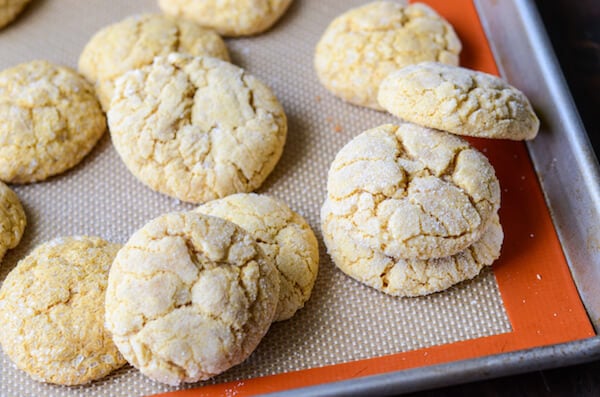 Whenever I'm craving comfort, my go-to is baking. Maybe it just comes with the territory of being a sugar addict, but nothing raises the spirits or satisfies a craving quite like a delicious, freshly baked batch of homemade Brown Butter Sugar Cookies! Or any cookies, for that matter.
Come fall, I especially love making these scrumptious, soft and chewy Pumpkin Sugar Cookies. Rich, savory pumpkin and warm cinnamon revive a classic sugar cookie recipe from my childhood, with the absolute best results! They're incredibly simple to make for autumn get-togethers, and are always met with rave reviews.
These blissful pumpkin cookies are great to share, and just as good to save in the cookie jar (for those times when a sugar craving sneaks up)!
What You'll Need
There's a short list involved in making this spicy pumpkin cookie recipe from scratch. I'd wager a bet that most of these ingredients are present in your pantry already! Here are the key ingredients for these Pumpkin Sugar Cookies:
All Purpose Flour: All purpose flour works best with the extra moisture from the pumpkin puree.
Cream of Tartar: Optional, but an ode to classic Snickerdoodle Cookies and so worth it for the most deliciously chewy sugar cookies! Cream of tartar gives these sugar cookies a distinctive tangy flavor, and also prevents the sugar from crystallizing in the dough. Find it in the spice aisle of most supermarkets.
Baking Powder & Baking Soda: Baking soda combined with cream of tartar means tasty, puffed up cookies! You'll also need baking powder to give both ingredients some extra oomph. Science!
Cinnamon: For that spicy, warm fall flavor; cinnamon is the ultimate fall spice.
Butter: Unsalted and at room temperature.
Sugar: Granulated or light brown sugar (if you prefer a more caramelized flavor). You'll also need extra sugar for rolling out the dough!
Egg: Just a single egg for these beauties. The added pumpkin puree means fewer eggs and less butter (as a bonus this cuts down on extra fats!)
Pumpkin Puree: Make sure you pick up pure canned pumpkin puree from the supermarket, and not pumpkin pie filling.
Vanilla Extract: Only the best for my sugar cookies!
This is honestly the best pumpkin cookie recipe, largely because it's just so darn easy! Simple, thy name is "Sugar Cookie" – and who doesn't love fresh, homemade cookies that are ready in no time? Follow these quick steps to pure pumpkin spice bliss:
Preheat & Prep: Set your oven to preheat at 350°F, then line your baking sheets with parchment paper or silpats and leave them aside.
Combine the Dry Ingredients: Whisk together the flour, cream of tartar, baking powder, cinnamon, baking soda and salt in a medium sized bowl.
Combine the Wet Ingredients: In a separate bowl (either with a whisk or stand mixer if you have one) beat the butter and sugar until the mixture is light and fluffy. Next add the egg, followed by the pumpkin puree and vanilla extract, continuing to mix until everything is well combined.
Combine the Wet and Dry Ingredients: Slowly add the flour mixture into the wet ingredients and mix until a sticky dough forms.
Roll the Cookie Dough: Using a tablespoon for reference, roll the dough into equal-sized balls. Next, coat the balls in sugar and place them evenly spaced on the baking sheet from earlier.
Bake: Bake the cookies until the centers are set, and let your cookies rest on the baking sheet after they've been removed from the oven. After a few minutes you can transfer them to a wire rack to cool completely! Or if you're like me, I like to taste test one or two while they're still warm.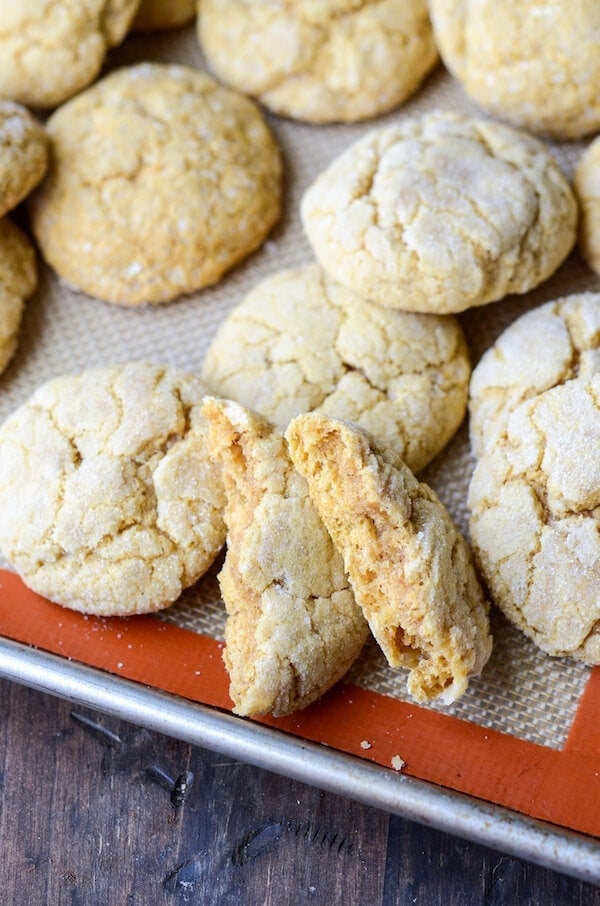 Tips for Success
Did I mention I love these cookies? They frequently come to the rescue whenever myself, hubby, or the kids are looking for a quick and easy dessert, and they never disappoint! Here are some additional tips on how to make the most of these irresistible Pumpkin Sugar Cookies.
If Your Cookies End Up Flat: Tragic! But avoidable, thank goodness – if your ingredients are fresh and your oven is the right temperature, try popping the dough in the fridge for about 15 minutes after rolling. After some trial runs, I've found that putting the rolled dough either immediately into the oven or letting it chill first in the fridge both yield great results for fresh, perky cookies!
Roll the Dough in Cinnamon Sugar: Amp up the Snickerdoodle inspiration and roll the dough in a mixture of cinnamon with brown or granulated sugar. This also boosts the cinnamon flavor!
Save Leftover Pumpkin Puree: Since you'll only use 1/3 of a cup of pumpkin puree, you can save the leftovers for another time. Keep it fresh in the fridge, or frozen in a freezer-safe bag to use in more of the pumpkin recipes found below.
Sugar cookies keep amazingly well! Store them in a resealable bag, airtight container or cookie jar for up to 5 days to enjoy as an easy dessert or snack.
Can I Freeze These?
Save these cookies for later and seal them in a freezer bag, and freeze for up to 2-3 months. Leave them to thaw overnight or microwave them for a few seconds before serving!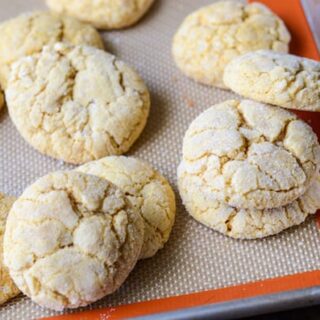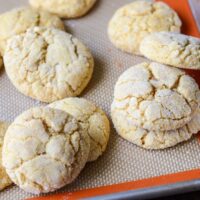 Pumpkin Sugar Cookies are soft, chewy, and super easy to make. This pumpkin cookie recipe is a definite must-have on your baking list this fall!
Additional Time
5 minutes
Ingredients
1 2/3 cups all purpose flour
1 teaspoon cream of tartar
1 teaspoon baking powder
1 teaspoon cinnamon
1/2 teaspoon baking soda
1/4 teaspoon salt
5 tablespoons unsalted butter, room temperature
3/4 cup granulated sugar
1 large egg
1/3 cup pumpkin puree
1 teaspoon vanilla extract
sugar for rolling
Instructions
Preheat oven to 350°F. Line two baking sheets with parchment paper or silpats. Set aside.
In a medium bowl, whisk together flour, cream of tartar, baking powder, cinnamon, baking soda and salt. Set aside.
In a stand mixer, beat butter and sugar until light and fluffy. Add egg, pumpkin and vanilla extract, mixing until combined. Add flour mixture, mixing until completely combined.
Roll one heaping tablespoon of dough into balls (dough will be sticky) and then roll in sugar. Place on prepared baking sheet - leaving about an inch for spreading.
Bake for 8-10 minutes, until the centers are set. Remove from oven and let cookies rest on baking sheet for 5 minutes. Then transfer to a wire rack to cool completely. Store in an airtight container for up to 5 days.
Nutrition Information:
Yield:
18
Serving Size:
1
Amount Per Serving:
Calories:

111
Total Fat:

4g
Saturated Fat:

2g
Trans Fat:

0g
Unsaturated Fat:

1g
Cholesterol:

19mg
Sodium:

96mg
Carbohydrates:

18g
Fiber:

1g
Sugar:

9g
Protein:

2g
Want to Save This Recipe?
This post may contain affiliate links. Read my disclosure policy.