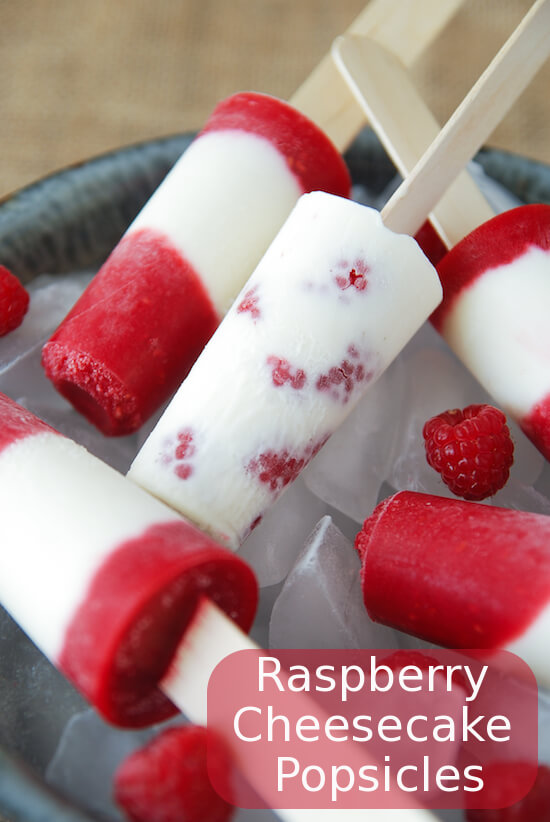 I used to want to be a nurse. Actually, before that I was going to be in Public Relations and rep famous people like Matthew McConaughey . And before that, I was going to be a vet. And before that I was going to be the Ice Cream Truck Driver (free ice cream all the time? Where do I sign??).
But back to the nurse thing…I was so serious about nursing that I actually signed up for summer courses and bought the outrageous $300 books. I thought it was going to be just like Grey's Anatomy. Why wouldn't all the doctors be gorgeous with rock hard abs? And of course they are going to want to take me into the on call room. Obviously that's how real hospitals work, duh.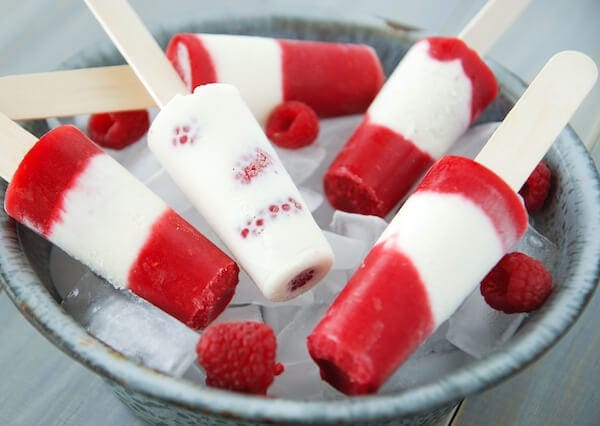 Except hospitals are nothing like Grey's Anatomy and I couldn't find McSteamy and his gorgeous blue eyed, tanned skinned side kick anywhere. I was barely passing my Anatomy lab — who knew body parts were so confusing…why can't we just call things by names that make sense, you know, like upper heart valve thingy? Every night I would come home exhausted and wish I could quit.
So I started cooking. And baking. And eating. I remember making so many versions of these popsicles that summer…the combinations were endless! I had razzleberry cheesecake (blackberry, raspberry and blueberry), pear cheesecake and even pineapple cheesecake. The popsicles kept me going during my late night study sessions and I eventually passed that anatomy class…although I still can't tell you the names of the valves of your heart or the real names for your bones. 🙂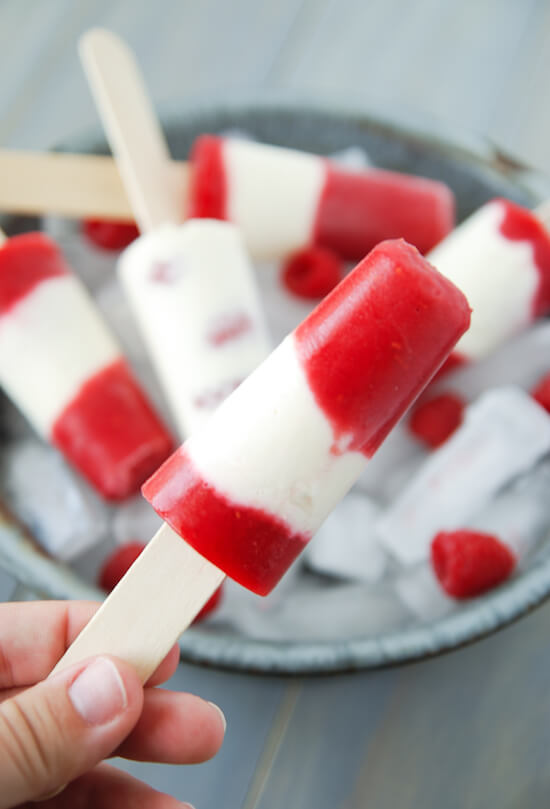 When Jorge and I moved in February, I found my giant old anatomy book. I opened it to see if it was still worth anything and right on the front page I saw a bright red popsicle stain. Turns out the book was worth all of $3.50 on amazon, but the reminder of my favorite popsicles was priceless.
P.S. I know this post was so ridiculous. I am seriously writing a love story about a popsicle. Maybe I ate too many, maybe I'm loosing my mind or maybe they are just that good. But the flavor possibilities are endless, you only need 6 ingredients — with one of them being water — and they ring in at only 93 ass friendly calories. So I am going with the explanation of, they are just that good!
Yield: 6 medium popsicles
Raspberry Cheesecake Popsicles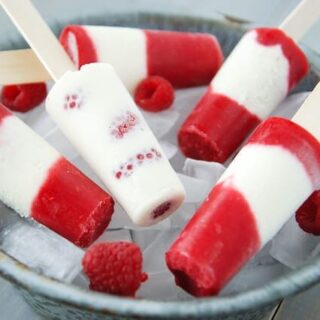 Raspberry Cheesecake Popsicles are the best frozen summer treats to cool off with. These homemade popsicles, made with fresh raspberries, are so much easier to make than a whole cheesecake, too!
Additional Time
2 hours
30 minutes
Total Time
2 hours
45 minutes
Ingredients
8 oz fresh raspberries (or blueberries/blackberries/cherries)
1 tablespoon water
4 oz low fat cream cheese
3 tablespoons fat free milk
1 teaspoon vanilla extract
1/3 cup powdered sugar
Instructions
In a small saucepan over medium heat, cook raspberries and 1 tablespoon of water for 10 minutes or until they are easily broken up with a wooden spoon.
Transfer mixture to a food processor (or strong blender) and puree till there are no lumps left. Refrigerate raspberry puree until cool, about 30 minutes.
Then in food processor, puree cream cheese, milk, vanilla extract and powdered sugar -until smooth.
In popsicle molds, layer raspberry puree and cream cheese mixture. Insert popsicle sticks and freeze for at least 2 hours. Enjoy!
Nutrition Information:
Yield:
6
Serving Size:
1
Amount Per Serving:
Calories:

86
Total Fat:

3g
Saturated Fat:

2g
Trans Fat:

0g
Unsaturated Fat:

1g
Cholesterol:

10mg
Sodium:

72mg
Carbohydrates:

13g
Fiber:

2g
Sugar:

9g
Protein:

2g
Want to Save This Recipe?
This post may contain affiliate links. Read my disclosure policy.