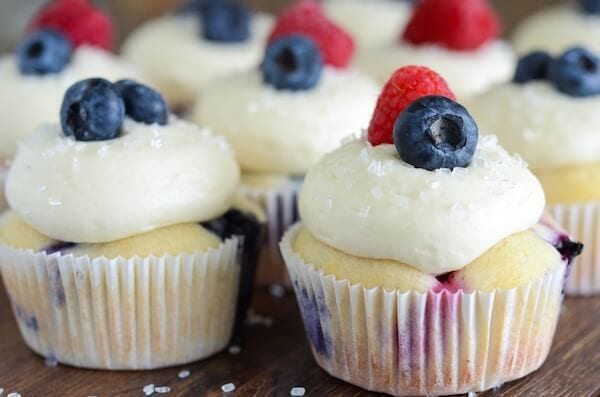 I told Jorge I wanted to make some raspberry & blueberry muffins with cream cheese frosting. He didn't even look up from his phone and replied…so you want to make cupcakes but call them muffins so you can eat them for breakfast?
Why yes, that is exactly what I want to do…it's almost like he knows me or something. I'm so glad I made these Razzleberry Cupcakes — oops, I mean muffins — because they actually did make a delicious breakfast. ;-)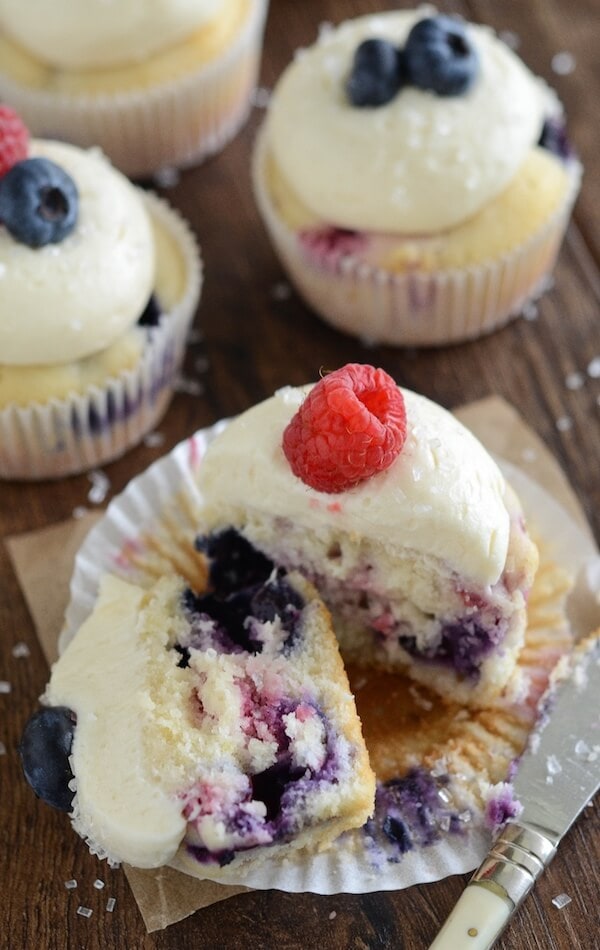 I have been buying copious amounts of fruit for the girls lately and sometimes it is going bad before we get around to eating it all. So when I had a couple pints of fresh berries about to go bad, I knew exactly what I wanted to do with them.
I whipped up a batch of these Razzleberry Cupcakes while the girls were napping. Boy were they excited when I showed them what was for snack! I wish I had grabbed a picture of them inhaling their cupcakes.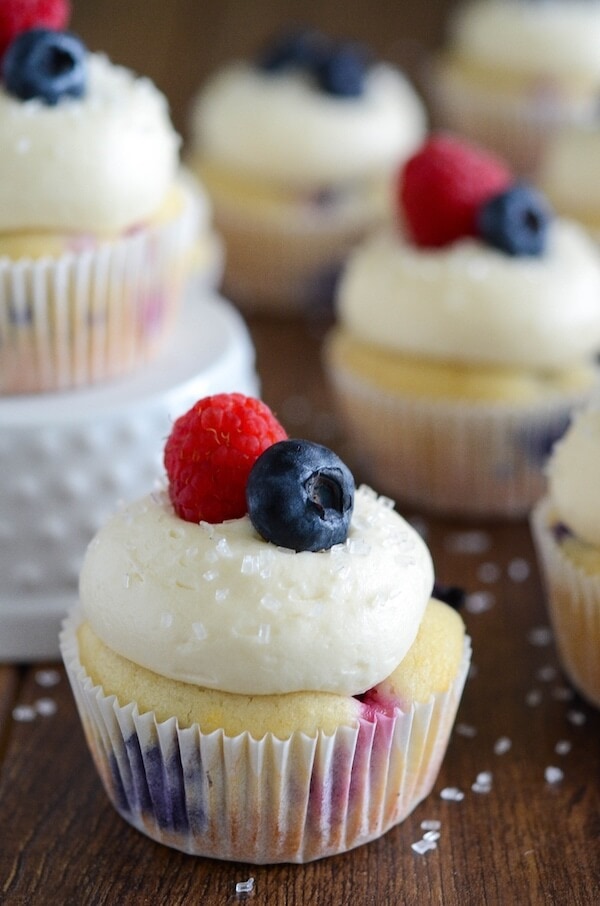 I have to say, Jorge doesn't always lose his mind over all my desserts. Sometimes he does, but most of the time he takes a bite or two…or just one cookie…and doesn't go back for much more.
He is more of a savory person — while I have a sweet tooth the size of my house. However, he ate TWO of these cupcakes at lunch. TWO. That is major for him. The man rarely ever eats multiple desserts.
For fair testing purposes, I also had my neighbor Kerri stop in and she ended up eating two cupcakes and later texted me that these were some of the best cupcakes she had eaten in a long time.
So obviously, I am telling you that you must make these cupcakes ASAP.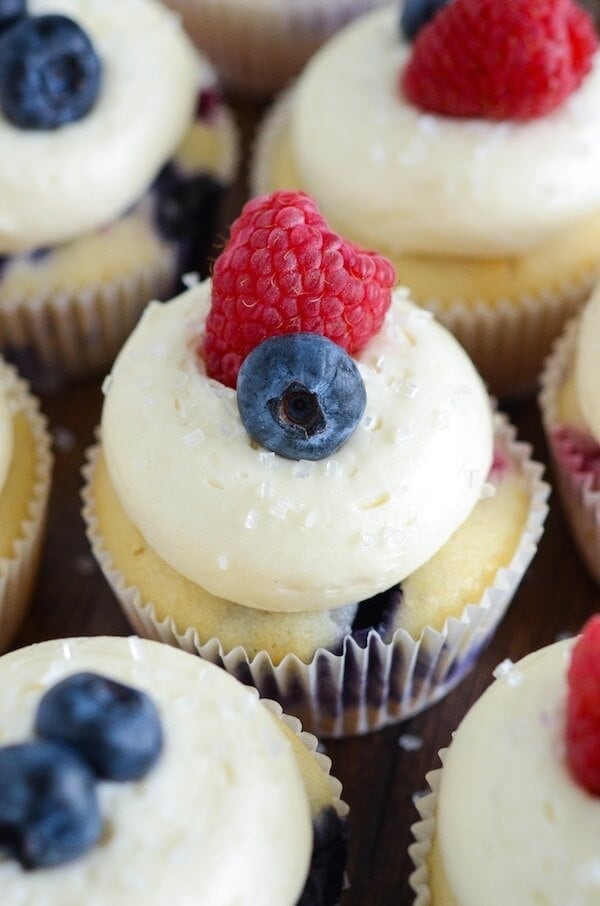 You can do any mix of berries that you happen to have on hand. I love the blueberry and raspberry combination, but they would also be wonderful with blackberries or even cranberries. I sprinkled some of my favorite white sugar sprinkles on top to add a little sparkle. And then I topped them with fresh berries.
They are best fresh, but you can store these cupcakes in an airtight container in the fridge for up to 3 days. Make sure and let the cake warm up a little before you serve them! Hope you try these, we really loved them!
Yield: 18 servings
Razzleberry Cupcakes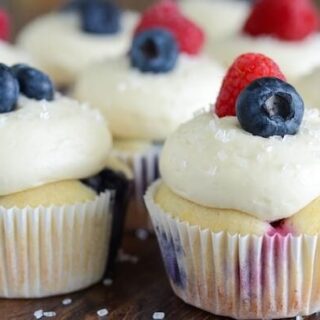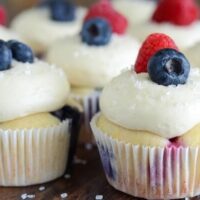 These gorgeous raspberry and blueberry cupcakes are topped with fluffy cream cheese frosting and fresh berries. A perfect summer dessert!
Ingredients
2 cups all-purpose flour
2 teaspoons baking powder
1/2 teaspoon salt
1 stick (1/2 cup) unsalted butter, melted and cooled
3/4 cup granulated sugar
1 large egg
1/3 cup sour cream
1 teaspoon vanilla extract
1/4 teaspoon almond extract
1 cup milk
1 cup fresh blueberries
1 cup fresh raspberries
8 oz cream cheese, softened
1 cup (2 sticks) unsalted butter, softened
1 tablespoon vanilla extract
1/4 teaspoon almond extract
1/2 teaspoon salt
5 cups powdered sugar
Instructions
Preheat oven to 375°F. Place paper baking cups into muffin pan. Set aside.
In a small bowl, whisk together flour, baking powder, and salt. In a large bowl, whisk together melted butter, sugar, egg, sour cream, vanilla extract and almond extract.
Add dry ingredients, alternating with milk, stirring until just combined. Fold in blueberries and raspberries. Spoon batter evenly into prepared muffin pan.
Bake 20-22 minutes or until the tops begin to lightly brown. Let cool completely.
For the frosting: In a large bowl, cream butter and cream cheese until smooth. Beat in powdered sugar, vanilla extract, almond extract and salt on low speed until combined, then on high until frosting is smooth.
Pipe onto cooled cupcakes and top with a fresh raspberry and blueberry for decoration.
Nutrition Information:
Yield:
18
Serving Size:
1
Amount Per Serving:
Calories:

288
Total Fat:

7g
Saturated Fat:

4g
Trans Fat:

0g
Unsaturated Fat:

2g
Cholesterol:

30mg
Sodium:

235mg
Carbohydrates:

53g
Fiber:

1g
Sugar:

40g
Protein:

3g
Categories

This post may contain affiliate links. Read my disclosure policy.