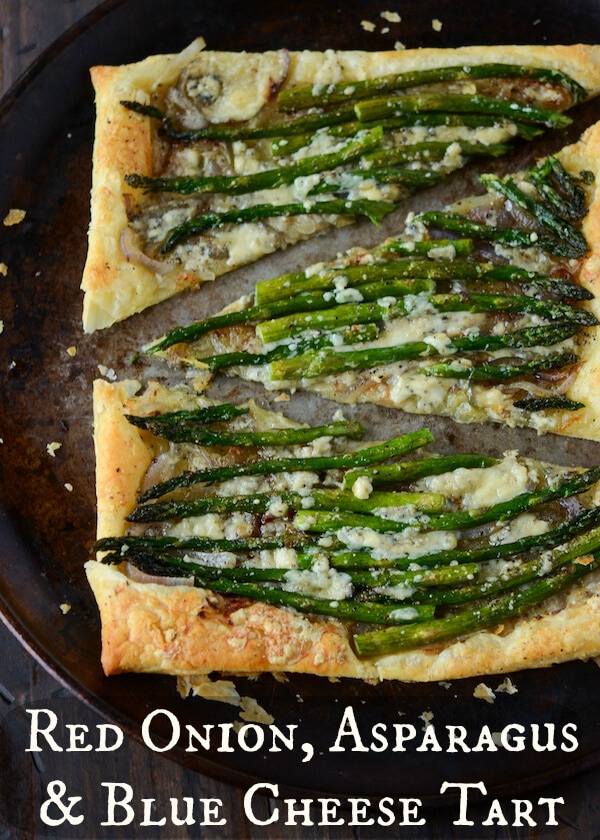 Looks like we somehow all made it through this crazy time of year we call Christmas! My jeans are a little tighter, but my heart is full from getting to see my wonderful family in Texas this year. They are a little bit crazy, but that is what makes the holidays so much fun.
I spent a lot of time visiting, eating, shopping, eating, cooking, eating, baking and eating some more. I made a bunch of pies and cookies for the daily get togethers we had…and of everything I made, I think Reese's Peanut Butter Cup Cookies may have been the overall favorite.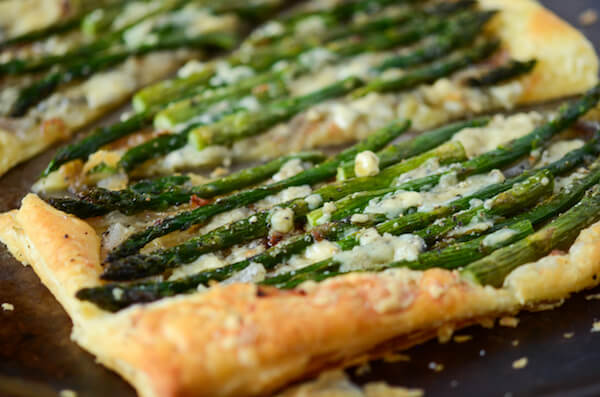 While in Texas, I stuffed my face with all of my favorite Texas things…like Beef Fajitas from Pappasitos, Jalapeño, Sausage & Cheese Kolaches, infamous stuffed chickens from Heberts and a last minute airport feast at Pappadeaux. After all of that, there was only one thing left to do…Come back and make tarts with puff pastry, asparagus and blue cheese! Makes perfect sense, right? 😉
This tart is a perfect appetizer for a NYE party…or just about any party. Or heck, it's even fabulous as dinner with a glass of red wine…not that I would know anything about that…
The combination of asparagus and blue cheese really shines on top of the butter puff pastry crust. With the added flavor of red onion and garlic, this is one of my favorite vegetarian dishes. If you are a total loser and are put off by blue cheese (like Jorge), just sub in some goat cheese instead!
Happy New Years to all my favorite people! 2012 was great and I am thankful to have shared it with all of you. Watch for a fun round up of all my personal favorite recipes for 2012 on Monday the 31st!
Yield: serves 4-6
Red Onion, Asparagus & Blue Cheese Tart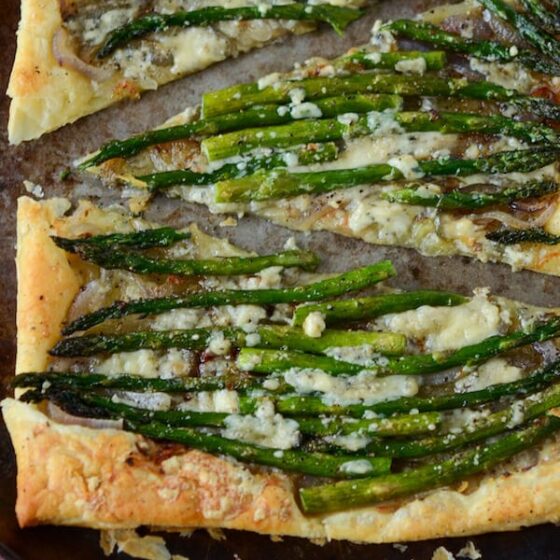 This Red Onion, Asparagus and Blue Cheese Tart makes a wonderful appetizer, and can even double as a light dinner option. Also, if you're looking for vegetarian recipes, this buttery pastry topped with crumbled blue cheese and asparagus definitely counts!
Ingredients
2 tablespoons butter
1 small red onion onion, sliced
1 clove garlic, chopped
1 bunch asparagus
1 sheet puff pastry, thawed as directed on package
1/2 cup blue cheese, crumbled
salt and freshly ground pepper, to taste
Instructions
Preheat oven to 425°F. Line baking sheet with parchment paper, set aside.
Melt the butter in a skillet over medium heat. Add onions and saute until softened, about 10 minutes. Add the garlic and saute until fragrant, about a minute. Add the asparagus, arranging on top of the onions, cover pan and let asparagus steam until just tender, about 5 minutes.
Roll the puff pastry out onto parchment paper. Top with the onions, asparagus, blue cheese and salt and pepper. Bake in a preheated 425F oven until the the puff pastry is golden brown, about 15-18 minutes. Slice and serve immediately.
Nutrition Information:
Yield:
4
Serving Size:
1
Amount Per Serving:
Calories:

169
Total Fat:

13g
Saturated Fat:

7g
Trans Fat:

0g
Unsaturated Fat:

5g
Cholesterol:

28mg
Sodium:

333mg
Carbohydrates:

8g
Fiber:

1g
Sugar:

2g
Protein:

5g
Want to Save This Recipe?
This post may contain affiliate links. Read my disclosure policy.