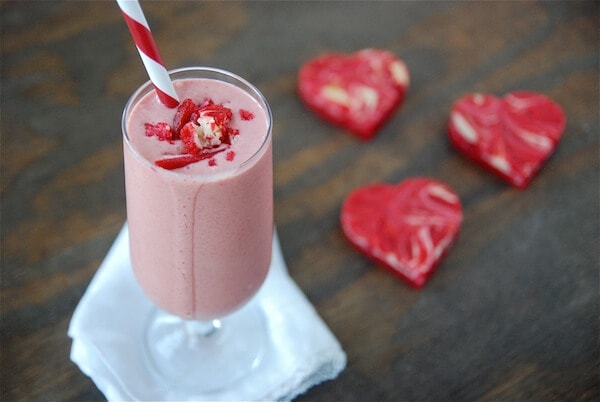 I have now made two Valentine's Day recipes and it's not even February yet. Because of this, Jorge has been having night sweats. No, it's not because he has a fear of everything being red, pink and white. And while we both think a chubby naked guy flying around with a bow and arrow is creepy, that's not what has him all in a tizzy either. The poor guy is actually terrified I am going to make him do something "traditional" for Vday.
Jorge and I have only celebrated Vday, in the normal way, once. We went to a restaurant that was packed, ate off the preselected menu (which drove me crazy — special short menus suck), and we spent over $200 to celebrate a random tuesday night in February. The next year we started a new tradition that, if you know us, makes a lot more sense.
First, we pick a store; last year it was Target. Then we set a price limit, usually $20 per person. And lastly, a time limit…10 minutes till we have to meet back at the car. Then we walk in together, grab baskets, and go Mission Impossible style shopping around the store. You can't let the other one see what you have…which means a lot of jumping around corners and scurrying out of aisles when you see the other one coming. It's incredibly hysterical to sneak around corners and run down aisles while other shoppers stare at you like you have 4 boobs and a curly tail.
After the time is up, we dart back to the car and exchange our gifts right there in the parking lot. Last year I bought Jorge a nerf dart gun and a bottle of wine. He bought me a big bottle of wine (notice a pattern yet?), a bag of Godiva chocolates and a smell good candle. We went home, curled up on the couch, lit my smell good candle and drank both bottles of wine. Then we finished the night with a nerf gun war and the bag of Godiva chocolates.
It is pretty much the best tradition I have ever had. So don't worry honey, I couldn't imagine going back to short/special Valentine's menus, overpriced wine and being surrounded by those annoying, newly in love couples. I will meet you on February 14th, 2012 at Target at 5pm. I will be the one wearing yoga pants so I can stealthily run down the aisles.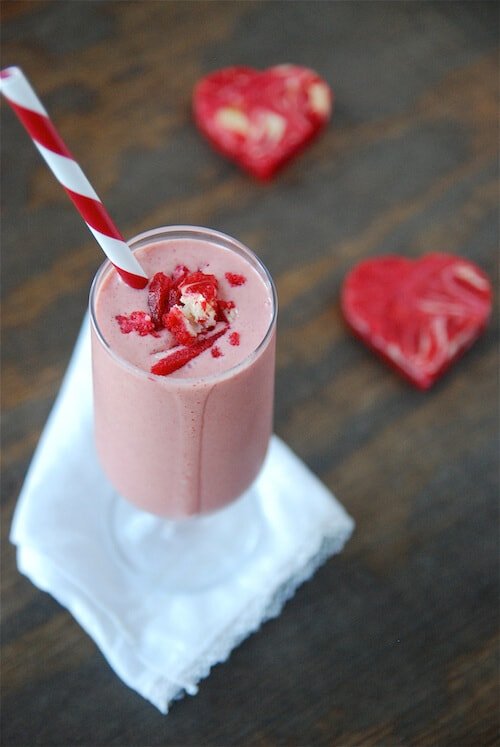 I promised all of you that I had an idea to use up the scraps from the Marbled Red Velvet Cheesecake Brownies. And that promise is the only thing that kept me from eating ALL of the scraps by themselves. Seriously, if it weren't for that promise this milkshake wouldn't be here right now.
I love using leftover desserts to make delicious milkshakes and these were no exception. I really liked the flavor the cheesecake gives to the milkshake…and you just can't beat that fun pink color! The recipe calls for Bluebell ice cream. Sure, you could use another brand…but I am from Texas, which means I think Bluebell is the best.ice.cream.ever. So you should use it…because I said so. 🙂
Yield: 1 milkshake
Red Velvet Cheesecake Milkshake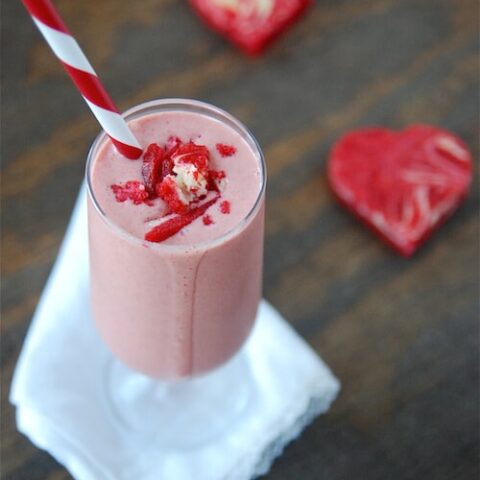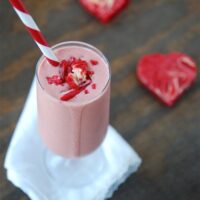 This Red Velvet Cheesecake Milkshake, made with ice cream and red velvet cheesecake brownies, is absolutely delicious. A homemade milkshake like this one tastes even better when enjoyed on Valentine's Day, too!
Ingredients
4 scoops Bluebell Vanilla Ice Cream
a big handful (about 1/2 cup) Red Velvet Cheesecake Brownie scraps
1/4 cup whole milk
Instructions
In a blender, combine ice cream, brownie scraps, and milk. Puree until smooth.
Pour into a frosted glass and garnish with a few more chopped up scraps. Sure, you could also add whip cream if you are into that sort of thing…but I prefer to get right to the good stuff. 🙂
Nutrition Information:
Yield:
1
Serving Size:
1
Amount Per Serving:
Calories:

838
Total Fat:

43g
Saturated Fat:

24g
Trans Fat:

0g
Unsaturated Fat:

16g
Cholesterol:

154mg
Sodium:

416mg
Carbohydrates:

101g
Fiber:

2g
Sugar:

64g
Protein:

14g
Want to Save This Recipe?
This post may contain affiliate links. Read my disclosure policy.