These adorable red, white and blue cupcakes are one of the best 4th of July desserts! Topped with a sparkler, these are made for celebrating!
Being a food blogger can be very strange. You wind up doing things ahead of the holidays so you can share them in time for your readers to make them for that particular upcoming holiday. This leads to Thanksgiving side dishes in October and Christmas cookies in November.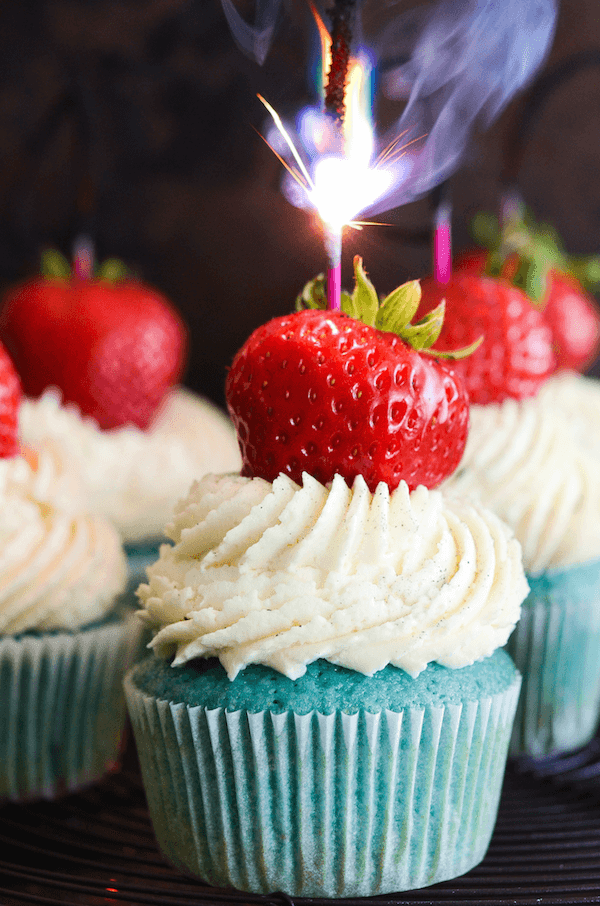 Or, as was the case last week, it means you are hunting down sparklers in June. And then setting off said sparklers in your house — all for a picture — praying the fire alarm doesn't go off and wake the babies taking a nap upstairs.
However, now having done it, I am in LOVE with sparklers in cupcakes! Don't you want one of these for every holiday, birthday, celebration…or heck, on Mondays?
I linked to my favorite cupcake recipe below for the vanilla cupcake base. Then, I shared the recipe for my favorite vanilla frosting recipe. It does include shortening, which I know some of you do not like, but it gives the frosting the best texture and makes it taste like the frosting at many bakeries.
It is still more butter than shortening…and even my shortening hating friend said "Damn, that is amazing frosting!". However, if you still won't trust me, you can substitute it for all butter. 😉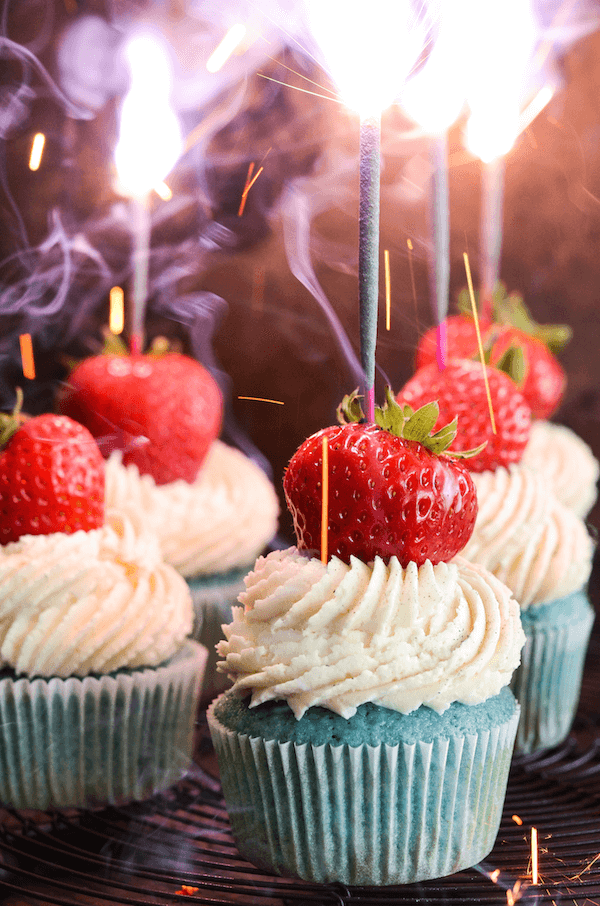 Finally, you top off the cupcakes with a strawberry and head off to your party! Once you are ready to serve these babies, stick in a sparkler and light it! (Sparkler note – use the ones that are not wrapped in paper. They work best.)
Happy early Fourth of July from my family to yours! I hope you all have an amazing holiday and enjoy the fireworks! We will be at home…praying the firework show they are setting off at a massive party at our clubhouse (like…less than a quarter of a mile away) do not wake up the babies. Ugh.
Make sure and scroll down below for the rest of our Fourth of July menu with recipes!
Yield: 24 cupcakes
Red, White & Blue 4th of July Cupcakes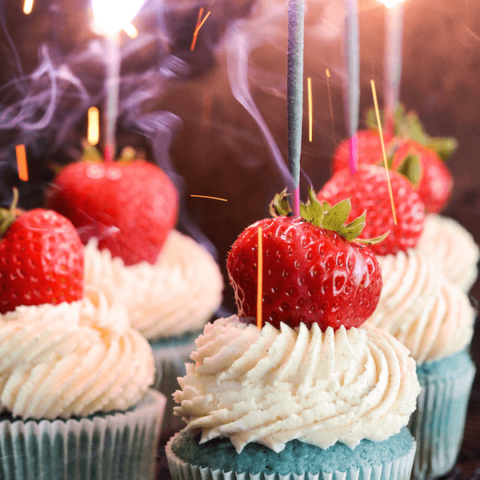 These adorable red, white and blue cupcakes are one of the best 4th of July desserts! Topped with a sparkler, these are made for celebrating!
Ingredients
1 cup (2 sticks) unsalted butter, room temperature
½ cup butter flavored shortening
6 cups powdered sugar
1 teaspoon salt
1 tablespoon vanilla extract
24 Strawberries
24 Sparklers
Instructions
Bake your favorite vanilla cupcakes (colored blue!) and allow to cool. I linked to the recipe I used above.
For Vanilla Frosting:
In a large bowl, cream butter and shortening until smooth. Beat in salt and vanilla.
Add powdered sugar and beat on low speed until combined, then on high until frosting is smooth.
Pipe onto cupcakes with your favorite tip. Top with a strawberry.
Serve with a sparkler (in a well ventilated area)!
Categories
Check out our family menu for the Fourth of July below:
Stovetop Spinach and Artichoke Dip
This post may contain affiliate links. Read my disclosure policy.