Risotto Brunch Bowl: kick off brunch with a 30 minute savory bowl filled with creamy broccolini and mushroom risotto, crispy bacon and a sunny side up egg.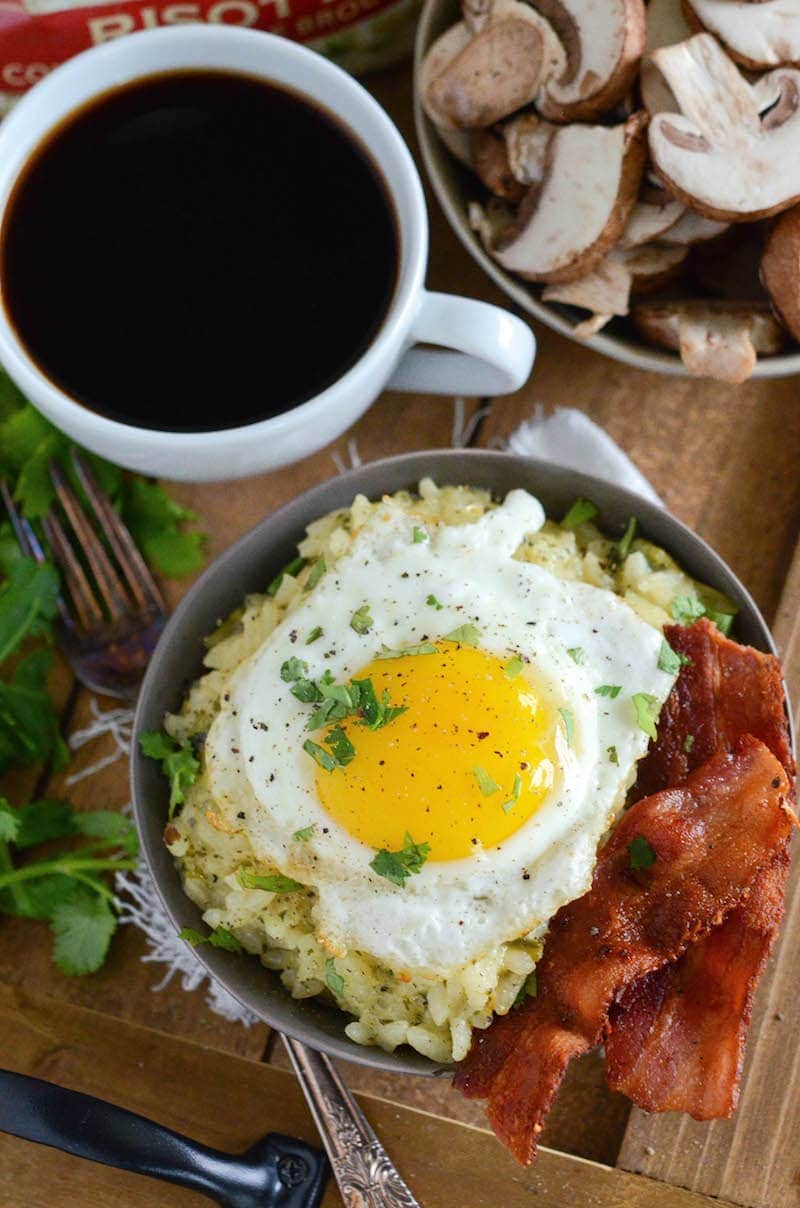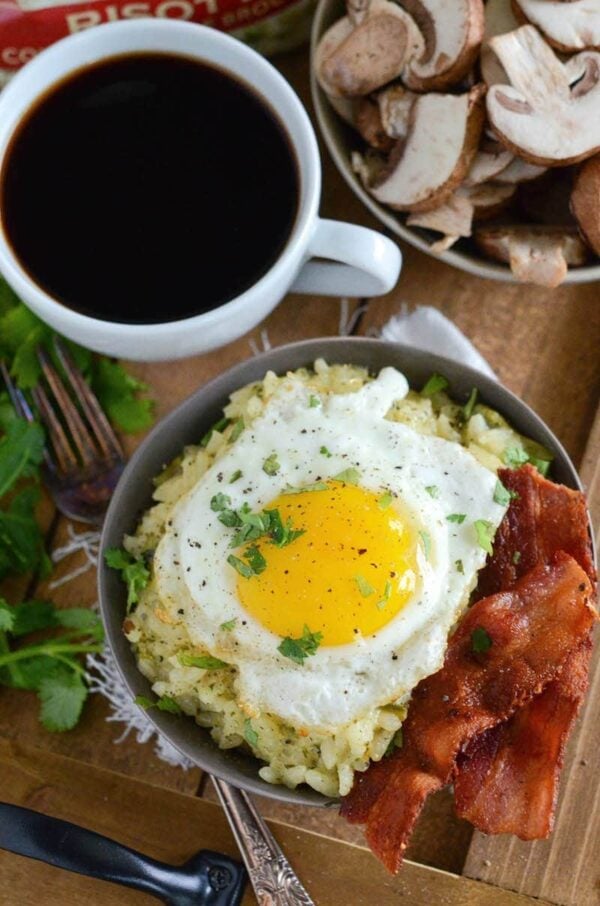 Being the big brunch and risotto lover that I am, this Risotto Brunch Bowl is straight out of my dreams. You don't often see risotto served at brunch, but I would love to be the one to change that.
Whenever Jorge and I go out on a date night, I love to pick restaurants that have risotto on the menu. It's one of my favorite dishes and I always save my leftovers to use for breakfast or brunch the next day.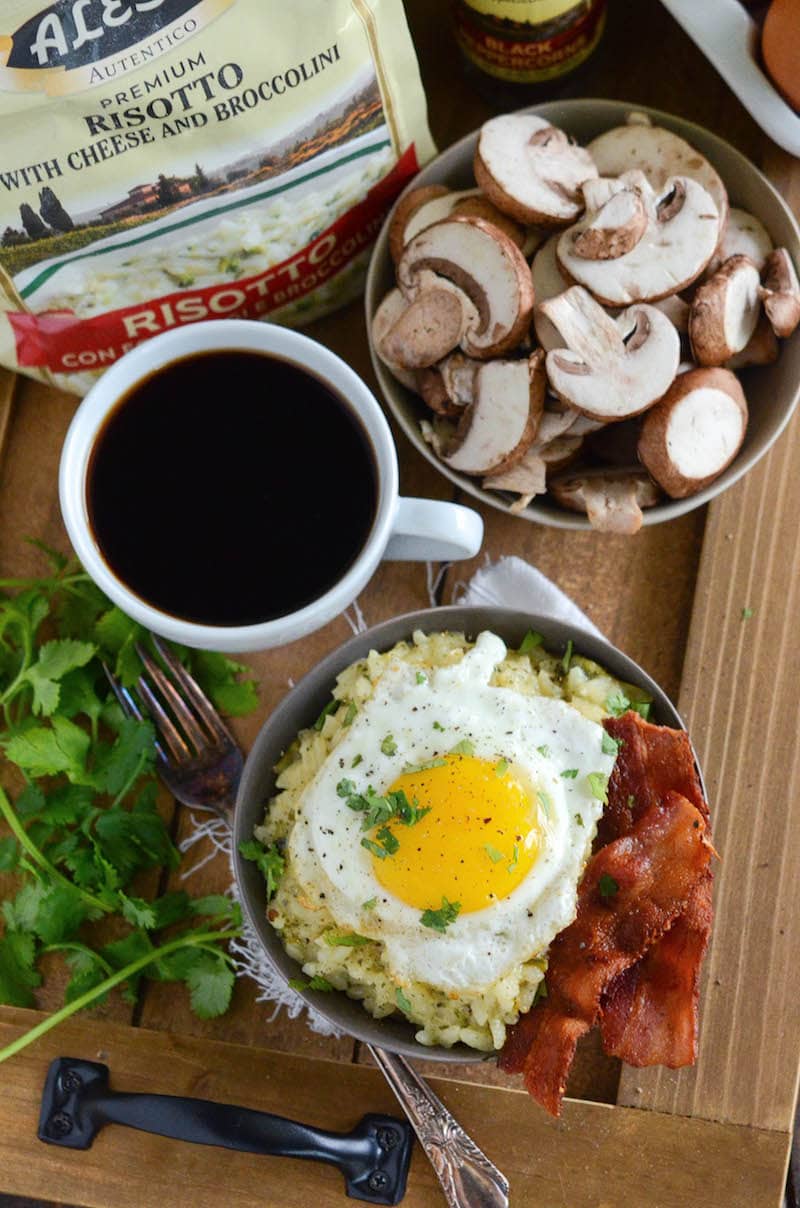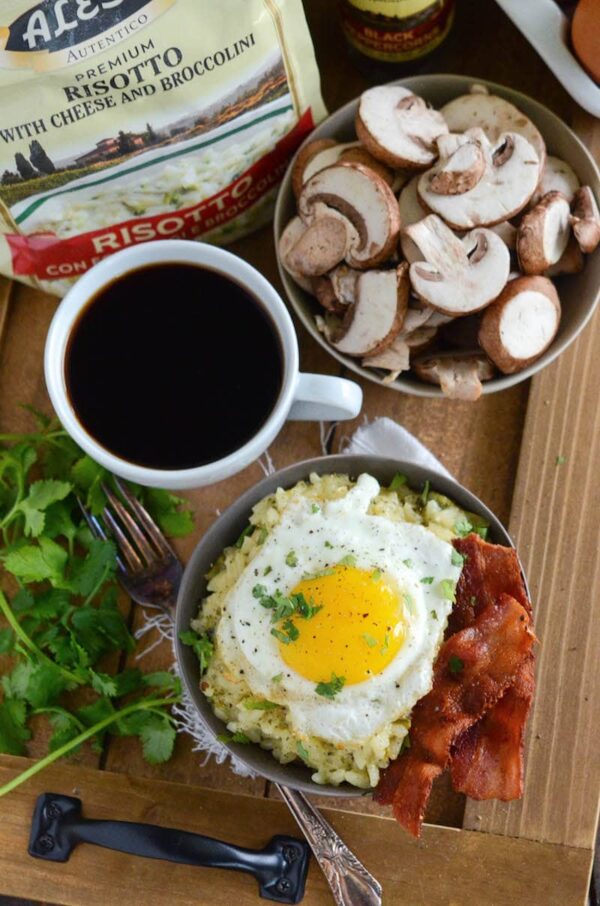 Broccolini risotto topped with a fried egg and served with bacon is the PERFECT weekend brunch. It's savory, filling, and the egg and bacon make it fit perfectly in amongst the pancakes and mimosas.
While I honestly love risotto, it's not a dish I often make for us. With two toddlers running around, I do not have the time to stir and stir and stir risotto like I used to.
Once I discovered Alessi's line of risotto, I was in heaven! You add water and butter…and let it cook unattended for a little under 20 minutes. Now THAT is my type of risotto!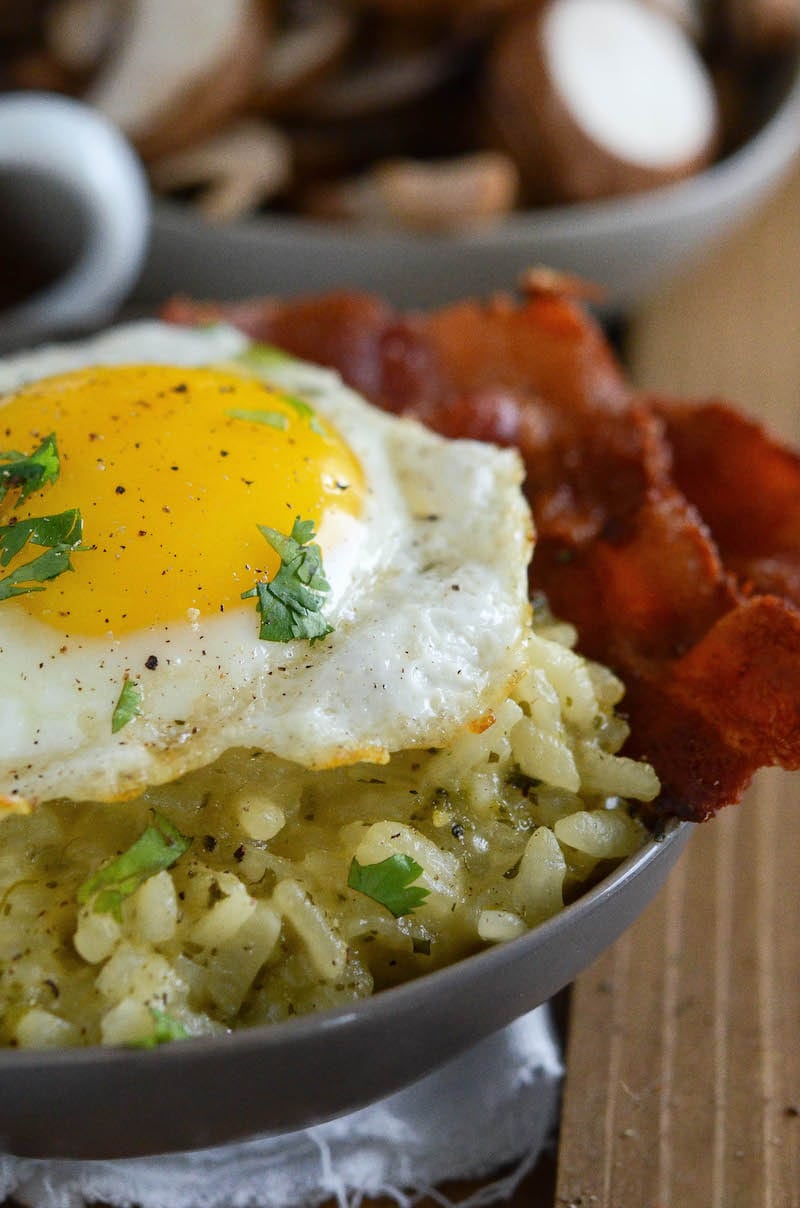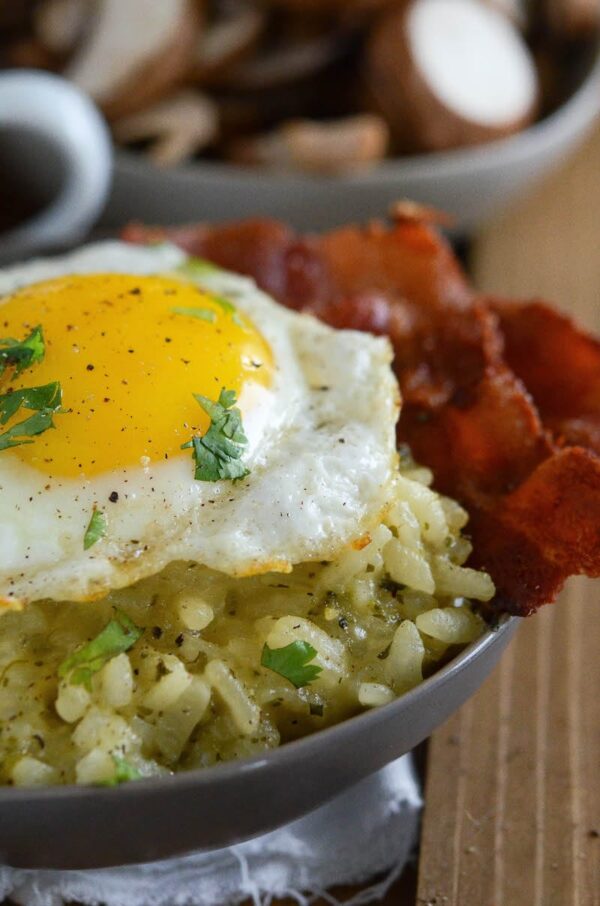 I won't lie, I was a little doubtful about risotto that I did not have to stir. I waited anxiously as it cooked and then I quickly opened the lid and stirred the risotto. It was perfectly cooked, super creamy, and gorgeous broccolini risotto that I did almost zero work for. Mind blowing.
Alessi is a local Tampa brand that I fell in love with when I moved here a little over 10 years ago. I had not heard of them much before growing up in Texas, but started spying their products everywhere when I moved to Tampa. All of their products are wonderful, from their gnocchis to their olive oils, and we use them daily at my house.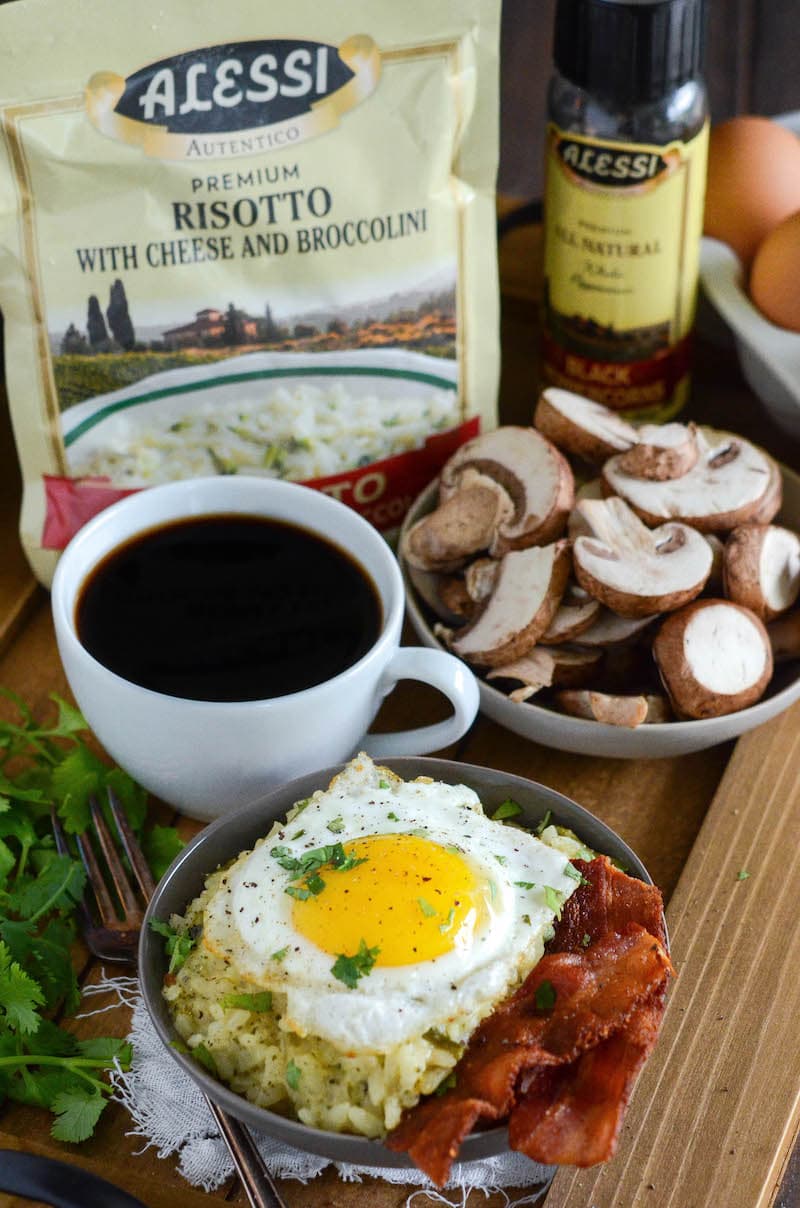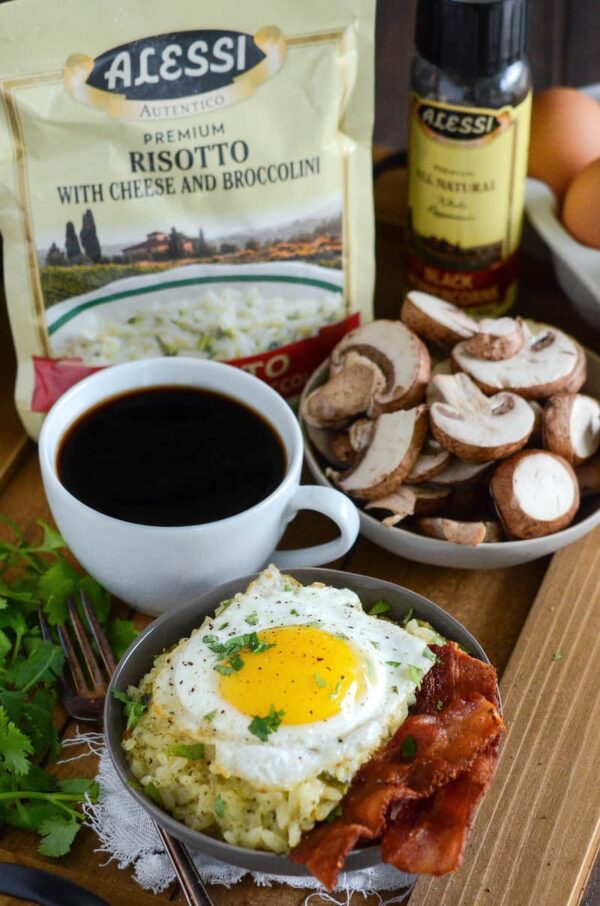 In the early 1900's the Alessi family emigrated from their home in Sicily to America. Soon after that Antonino Alessi opened Vigo Importing Company. From this company came the Alessi foods line, which captures the true flavors of Italian cuisine.
The Alessi family is still very involved in the brand and the quality, innovation, and value of their products are what make them so different. They believe that the quality and value of the food you eat enriches your life and they pride themselves on making products that do just that.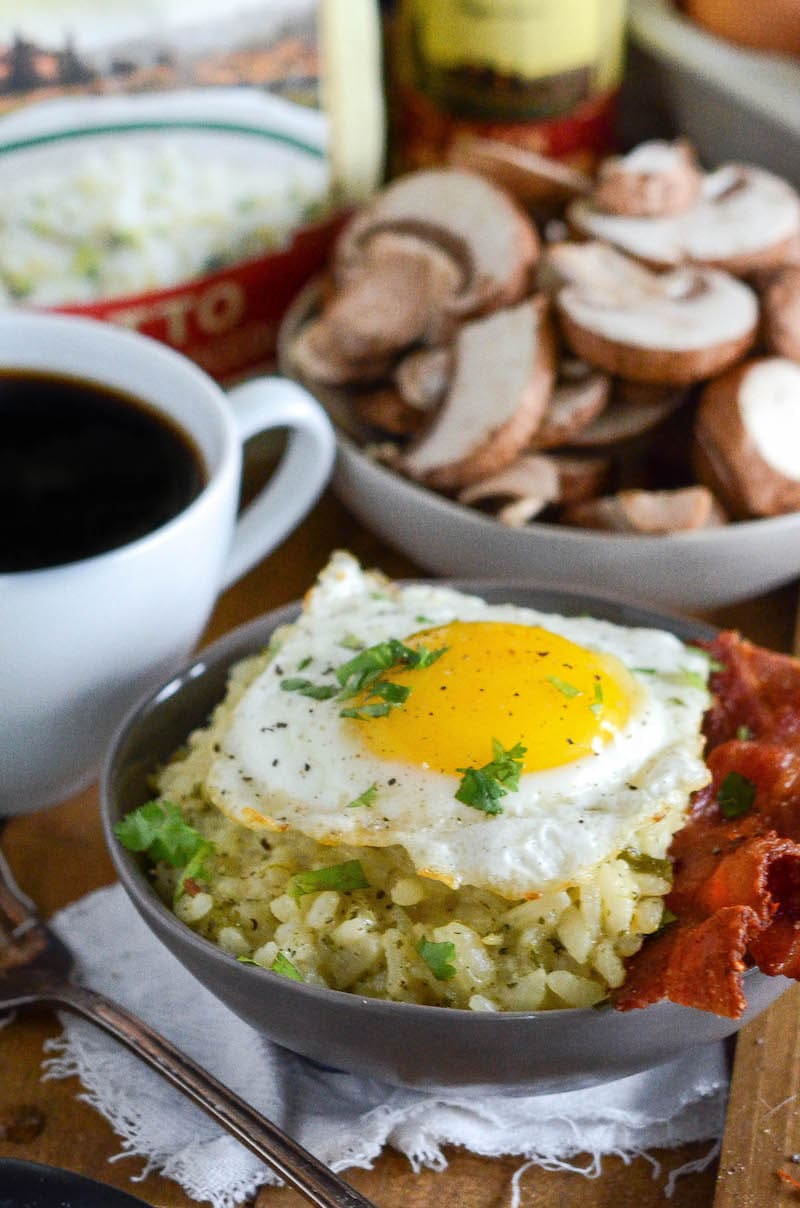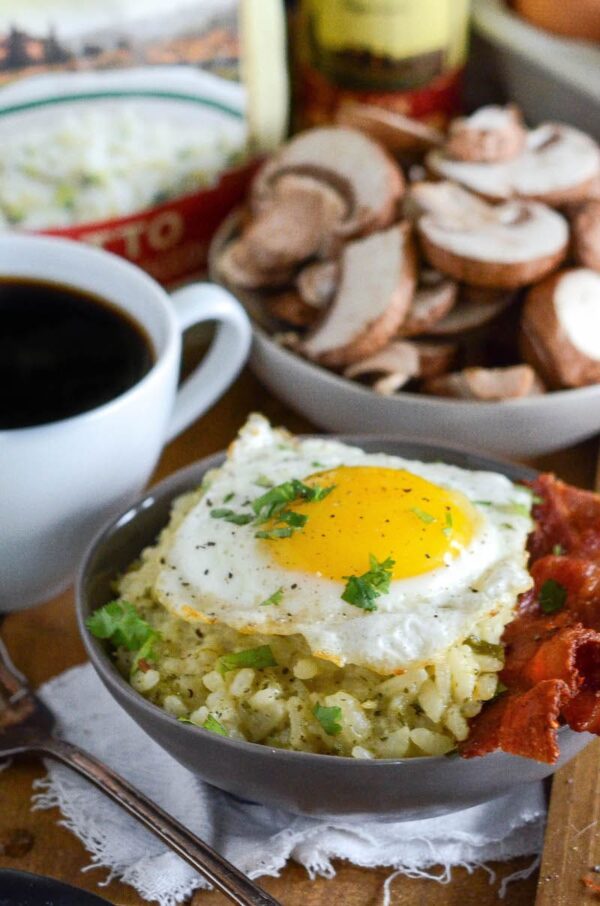 I hope you enjoy this delicious Risotto Brunch Bowl as much as we do. It's bursting with flavor and a breeze to make on a lazy Sunday morning with your family.
You start by frying your bacon, then sauté your mushrooms in the leftover bacon grease. The mushrooms then go into your risotto that cooks in just about 20 minutes. While your risotto cools for a few minutes, you quickly fry up your sunny side up egg to go right on top! It's just that easy!
Yield: 2 servings
Risotto Brunch Bowl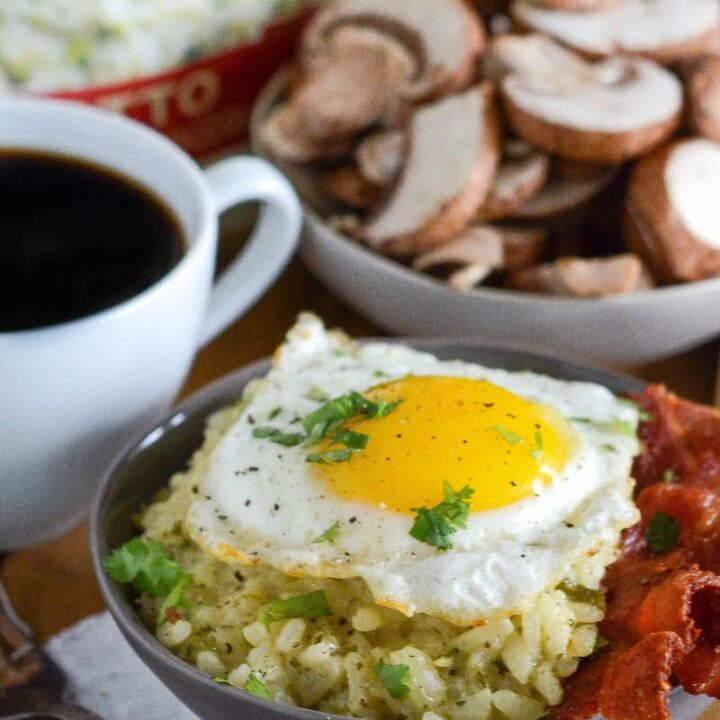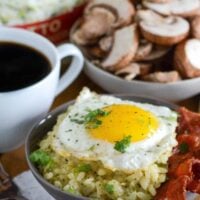 RISOTTO BRUNCH BOWL: KICK OFF BRUNCH WITH A 30 MINUTE SAVORY BOWL FILLED WITH CREAMY BROCCOLINI AND MUSHROOM RISOTTO, CRISPY BACON AND A SUNNY SIDE UP EGG.
Ingredients
6 bacon strips
1/3 cup diced portobello mushrooms
1 (6.5 oz) package Alessi Risotto con Broccolini
2 1/4 cups hot water
1 tablespoon butter
2 large eggs
salt and pepper, to taste
Instructions
In a large skillet over medium-high heat, cook bacon until crispy. Remove and set aside on paper towels to drain grease.
Add mushrooms, cooking over medium heat, until softened. Transfer mushrooms to a medium sized sauce pan and add hot water, bring to a boil. Set large skillet aside, you will use it again to fry the eggs.
Once boiling, add butter and entire package of Alessi Risotto con Broccolini. Stir while boiling for one minute.
Cover saucepan tightly. Reduce heat to simmer and cook undisturbed for 18 minutes. Remove from heat and allow to cool uncovered for 3 minutes.
While the risotto is cooling, heat the skillet to medium heat and add both eggs. Cook until desired doneness.
Divide risotto among two bowls, top each bowl with a fried egg, salt and pepper. Serve with bacon on the side. Enjoy!
Nutrition Information:
Yield:
2
Serving Size:
1
Amount Per Serving:
Calories:

515
Total Fat:

30g
Saturated Fat:

13g
Trans Fat:

0g
Unsaturated Fat:

15g
Cholesterol:

253mg
Sodium:

1601mg
Carbohydrates:

33g
Fiber:

3g
Sugar:

4g
Protein:

27g
Want to Save This Recipe?
This post is sponsored by Alessi. All opinions are, as always, 100% my own. Thank you for supporting the brands that I love!
This post may contain affiliate links. Read my disclosure policy.