Salmon Pinwheels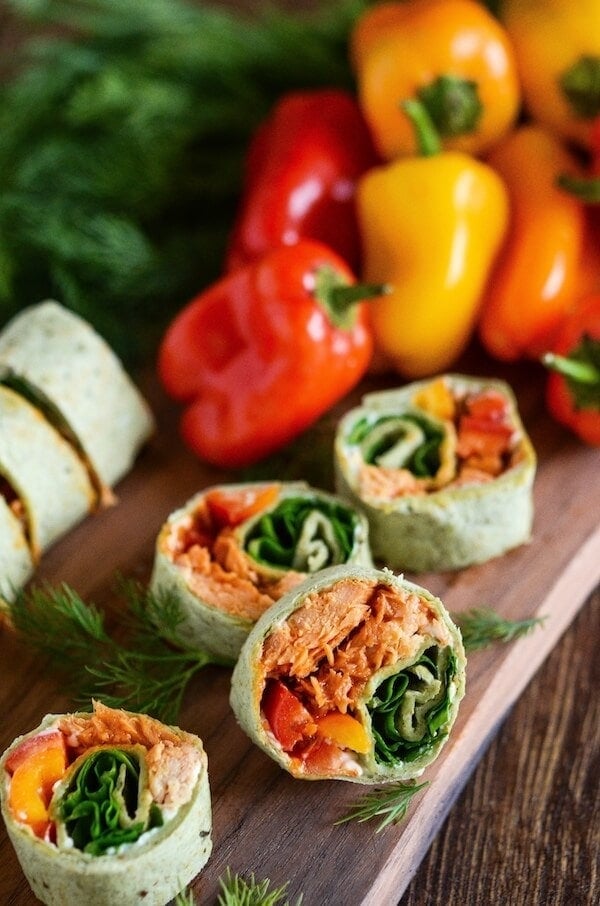 Since we got back from vacation everything has been GO – GO – GO. I feel like I can't catch up or get ahead with anything for work or around the house. My email is a nightmare and the laundry pile is almost taller than my kids.
I also decided that now would be the perfect time to buckle down and try eating healthy again. I obviously have excellent timing. 😉 To survive lunch time and snack time without reaching for something bad, I have been doing a lot of meal prep on Sunday. It is crazy helpful and keeps me on track during the week.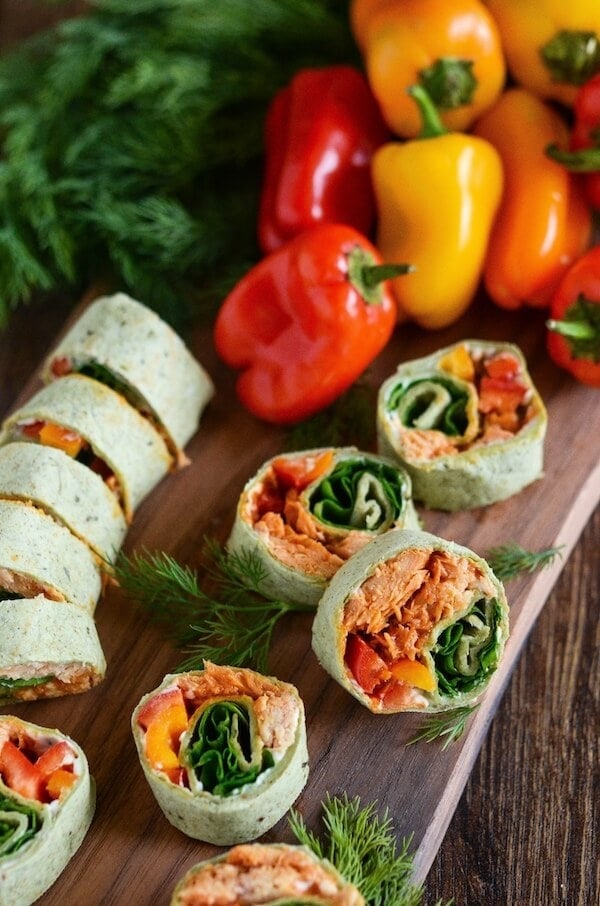 I have been making a ton of pinwheels since they save great and I can also grab them and head to the park with the girls. These Salmon Pinwheels might be my favorite yet! I use a spinach tortilla for the wrap and then fill it with Chicken of the Sea's Sweet & Spicy Flavored Salmon Pouch, cream cheese, sweet bell peppers, fresh spinach and dill.
This is actually my third recipe with Chicken Of The Sea. Earlier this year I made a glorious Spicy Thai Salmon Chopped Salad and some Coconut Curry Fish Tacos that are to die for! I am a huge fan of these ready to go seafood packets made of all different kinds of flavors for easy meals.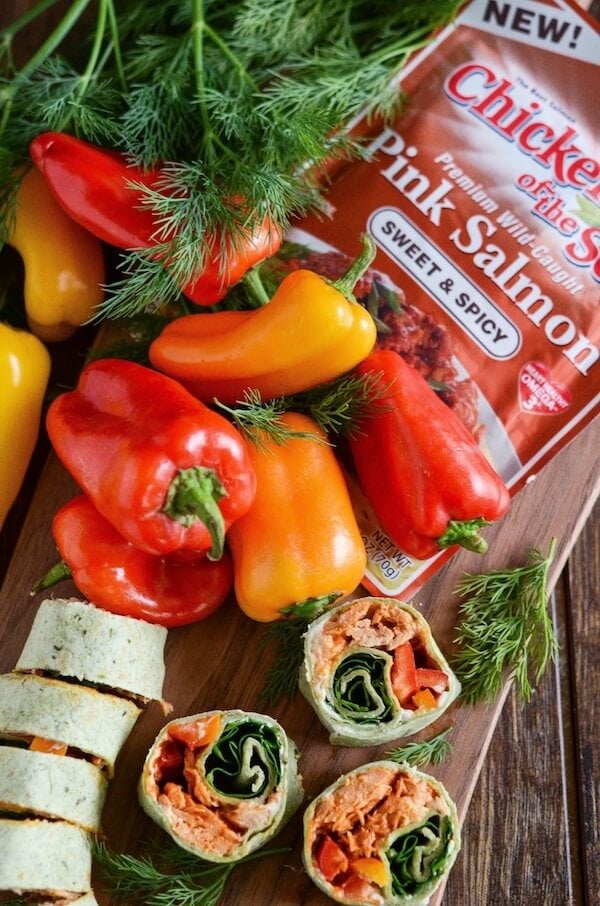 These pinwheels have lots of great fresh flavors that meld together perfectly. They make an awesome after school snack to share with the kids or for a healthy lunch for mom!
Store them in an airtight container in the fridge for up to 3 days and snack on them all week. Perfect on the go food for all us busy mamas out there!
Salmon Pinwheels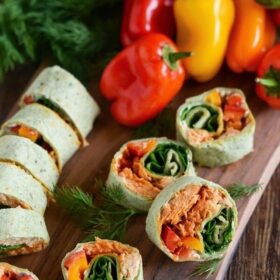 Ingredients:
2 spinach tortilla wraps
4 oz whipped cream cheese, softened
3 cups baby spinach leaves
2 (2.5 oz) Chicken of the Sea's Sweet & Spicy Flavored Salmon Pouch
1 small red/orange bell pepper, sliced
1 tablespoon minced dill
Directions:
Spread 2 oz of cream cheese over entire surface of each tortilla. Top cream cheese with spinach.
Divide Sweet & Spicy Flavored Salmon on top of spinach and arrange bell pepper slices on top. Sprinkle with minced dill.
Tightly roll the tortillas starting at the edge. Once rolled up, lay seam-side down for slicing. Use a serrated knife to gently cut tortillas into 1/2-inch slices.
Serve immediately or refrigerate until ready to serve!
This post is sponsored by Chicken of the Sea. All opinions are, as always, 100% my own. Thank you for supporting the brands that I love!