Salsa Chicken Bowl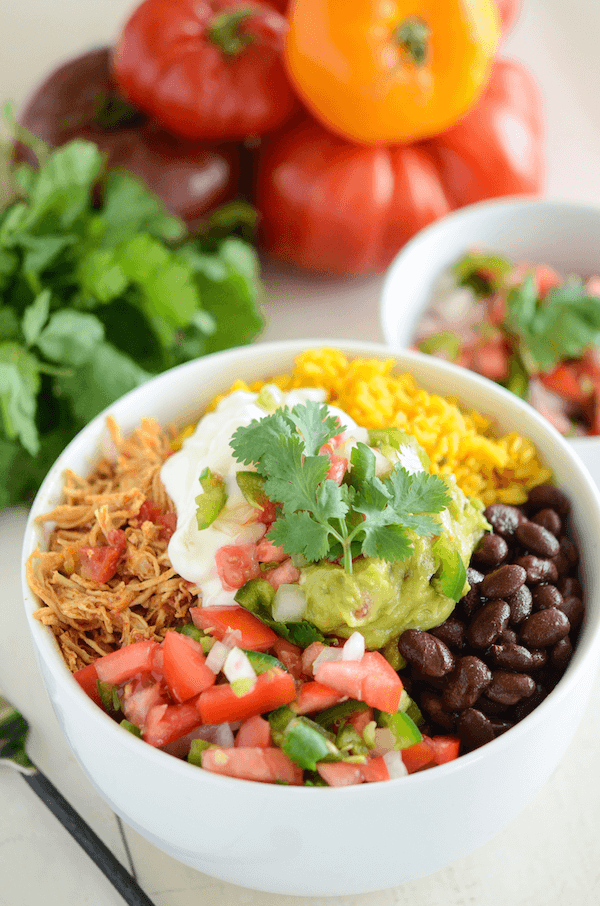 Hands up if you love easy week night dinner recipes that are also delicious! I am totally imaging all of you are sitting there with your hands up. If you didn't raise your hand, I don't think we can be friends anymore.
Nobody has time to make a gourmet meal every night. Not even Ina Garten. I'm sure even she occasionally orders Chinese takeout. (I bet she's a Crab Rangoon kind of girl!)
These days I am always reaching for tried and true recipes that I can put a new spin on to make them fresh for Jorge and I. This Salsa Chicken Bowl is exactly that, a spin on an old tried and true family favorite. My Mom has been making Salsa chicken this way for YEARS and we always gobble it up.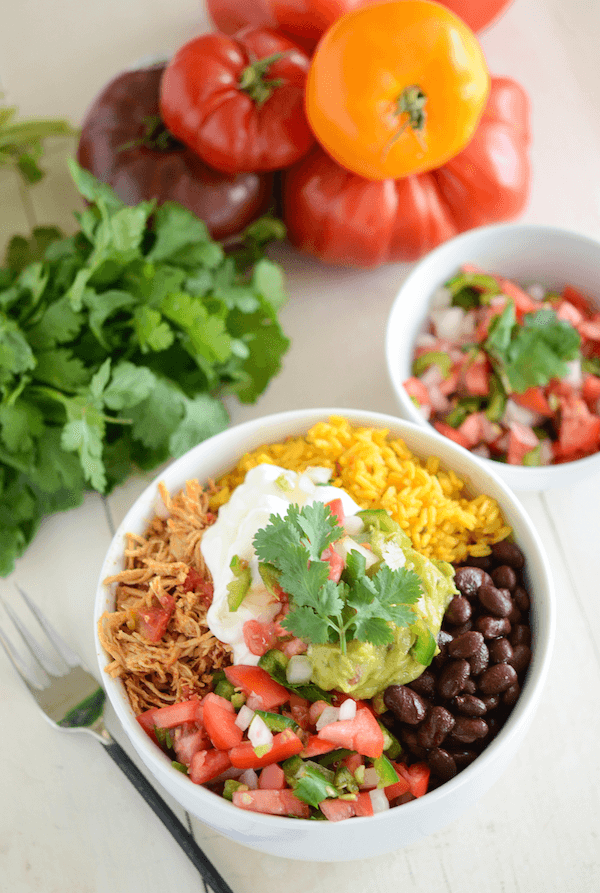 We always serve it as tacos, but last week I had a serious craving for a Chipotle bowl…and our nearest Chipotle is 30 minutes away. Instead of driving an hour round trip, I made our favorite Salsa Chicken and transformed it into a bowl full of fresh ingredients!
Because I had everything already on hand, I made our Pico de Gallo (…just chop up some white onion, roma tomatoes, a little jalapeño and cilantro and toss together.) However, I can almost always find it already chopped up and ready to go in the produce department in a pinch.
Feel free to make this recipe work for what's already in your pantry…I used yellow rice, but white or brown is fine too…or even quinoa or another grain! And while I prefer black beans in a bowl since they mix up well, you could defiantly use refried beans too.
Hope your family enjoys this easy healthy weeknight meal as much as we do!
Salsa Chicken Bowl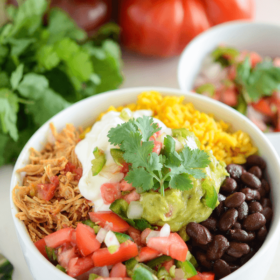 Ingredients:
1 pound boneless skinless chicken breasts
1 package taco seasoning
1 can mild rotel, strain to remove excess juice
juice of 1 lime
Rice (yellow or white)
Beans (black or refried)
Pico de gallo
Guacamole
Sour Cream
Ciltantro, chopped
Lime wedges
Directions:
Grease slowcooker with olive oil. Lay chicken breasts flat in the bottom of the pot.
Sprinkle chicken with taco seasoning and then topp with rotel (spreading to cover all chicken).
Squeeze on top juice of one lime. Cook for 3-4 hours on high or 7-8 hours on low.
Depending on the amount of liquid left in your rotel (and in your chicken breasts!), you may have a lot of standing liquid left after cooking. If you do, just pour out a good porition of it, leaving just a little – about half a cup of liquid.
Shred chicken and serve over rice, beans, pico de gallo, guacamole, sour cream, ciltantro and a twist of lime.