Salted Caramel Ice Cream is a divine mix of salty and sweet, all in one bowl! If you are looking to avoid turning on the oven, try this homemade ice cream recipe to satisfy your sweet tooth!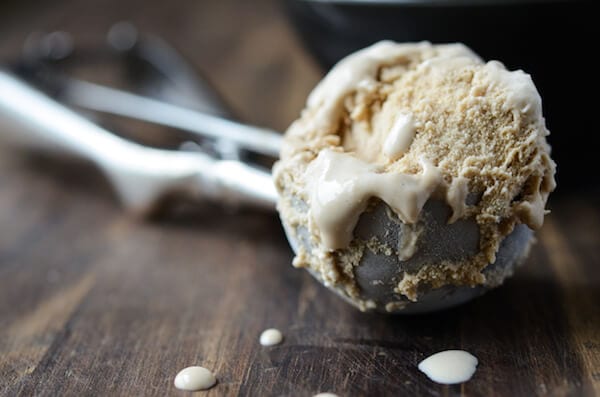 So can I admit something to y'all? I um, don't love ice cream. I like it – a lot, but if you put a cupcake or a bowl of ice cream in front of me…well, the cupcake will win almost every time.
I can only eat ice cream in small doses, before I'm over it. I don't know why, but I just was never that girl to sit down with a big pint of Ben & Jerry's. Sure I'd have a few bites, but never come close to eating the whole thing. However, I will say that I have been known to pick all the good stuff out of ice cream leaving the rest behind…you know like cookie dough or cheesecake pieces. ;-)
This weird ice cream rule I have does NOT apply to soft serve cones from Dairy Queen — I can actually make one of those disappear scarily fast. Like before you have even paid fast. The DQ Cone is the only exception to the rule – and no a McDonalds cone is not the same, no matter what your friends say.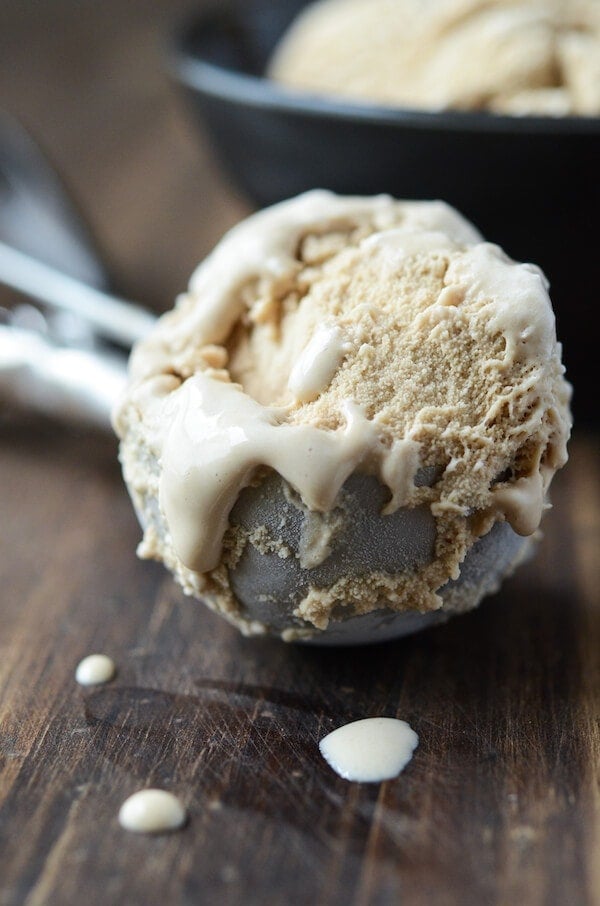 And while you may no longer trust my judgement, I am head over heels in love with this ice cream. It's been so hot lately…I just dread turning on my oven. Don't get me wrong – I will still do it and I'm sure I will be baking something up for next week, but I am trying not to.
This recipe comes from the cookbook from BiRite Creamery out in San Francisco. Jorge and I went to San Fran back in 2011 and were super sad to have not made it over the BiRite. So instead I thought I would create a little bit of that magic back here in Florida.
It's salty and it's sweet…and those 5 large egg yolks keep it creamy. It takes some time to make, but it's worth it for that first bite! And if you are feeling adventurous, I think it would also be delicious to add in some mix-ins like chocolate covered pretzels…or maybe serve it up in waffle cones!
Yield: about 1 quart of ice cream
Salted Caramel Ice Cream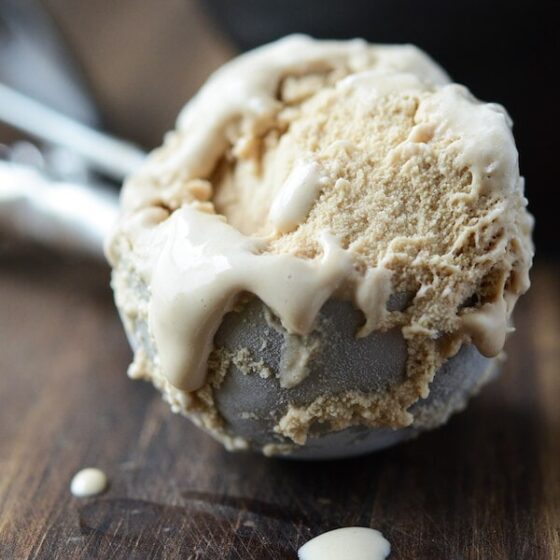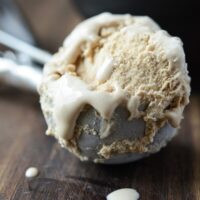 Salted Caramel Ice Cream is a divine mix of salty and sweet, all in one bowl! If you are looking to avoid turning on the oven, try this homemade ice cream recipe to satisfy your sweet tooth!
Total Time
2 hours
32 minutes
Ingredients
1 3/4 cups heavy cream, at room temperature
3/4 cup Dixie Crystals Granulated Sugar
3/4 cup 2% milk
1 teaspoon fluer de sel (or kosher salt)
5 large egg yolks
Instructions
Put 2 tablespoons of the sugar in a heavy stainless steel pan over medium-high heat. When the sugar is melted around the edges and starts to turn amber in places (about 2 minutes), stir the mixture gently and add another 2 tablespoons sugar to the pan.
Continue to add the rest of the 1/2 cup sugar, 2 tablespoons at a time, stirring frequently and allowing most of the sugar to melt before you add more. Watch carefully as the sugar darkens, stirring gently to help it melt evenly.
When the caramel becomes a dark mahogany color, remove the pan from the heat and immediately pour the cream slowly into the pan. (It will steam and bubble up, so wear oven mitts and be very careful to avoid splatters and steam burns.)
When the bubbling subsides, gently stir to blend the cream completely into the caramel. If you have lumps of hardened caramel in your pan, simply put the pan over low heat and stir until the caramel is melted.
Once the caramel is completely smooth, stir in the milk along with the salt and put the pan over medium-high heat. When the mixture approaches a bare simmer, reduce the heat to medium.
In a medium heatproof bowl, whisk the yolks just to break them up, then whisk in the remaining 1/4 cup sugar. Set aside.
Carefully scoop out about 1/2 cup of the hot cream mixture and, whisking the eggs constantly, add the cream to the bowl with the egg yolks. Repeat, adding another 1/2 cup of the hot cream to the bowl with the yolks. Returning to the pan of cream on the stove, use a heatproof spatula to stir the cream as you slowly pour the egg and cream mixture from the bowl back into the pan.
Continue to cook the mixture carefully over medium heat, stirring constantly, until the mixture is thickened and coats the back of a spatula – about 1 to 2 minutes longer.
Strain the base through a fine-mesh strainer and into a clean container. Set the container into an ice bath, wash your spatula, and use it to stir the base occasionally until it is cool. Then cover base with plastic wrap and refrigerate for at least 2 hours or overnight.
Freeze the Ice Cream: When the base is completely chilled, freeze in your ice cream machine according to the manufacturer's instructions. While the ice cream is churning, put the container you'll use to store the ice cream into the freezer. Enjoy right away, or for a firmer ice cream, freeze for at least 4 hours.
Nutrition Information:
Yield:
8
Serving Size:
1
Amount Per Serving:
Calories:

313
Total Fat:

23g
Saturated Fat:

13g
Trans Fat:

1g
Unsaturated Fat:

8g
Cholesterol:

200mg
Sodium:

70mg
Carbohydrates:

22g
Fiber:

0g
Sugar:

22g
Protein:

7g
Categories
This post may contain affiliate links. Read my disclosure policy.