Seattle As Seen Through An iPhone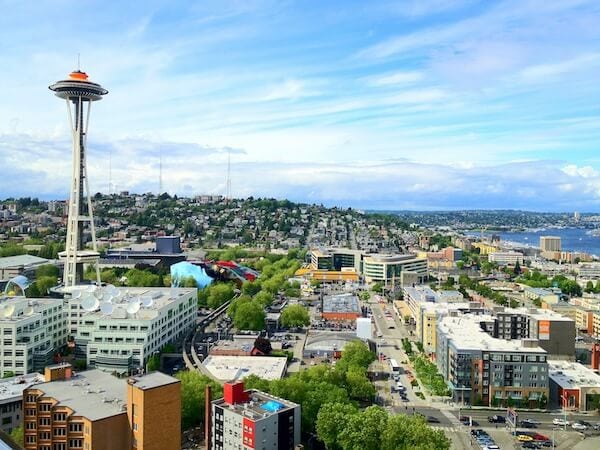 I just got home from waking up to this magical view each morning…and I already miss it. Of course I missed my 4 legged babies and Jorge, but if I could manage to just scoop up my life and drop it in Seattle — I totally would.
I get so many emails from people about cameras, lenses, and editing software. While I do shoot most of the photos for this blog with a Nikon D80, I wanted to show that you can get great photos with any camera…even a camera phone!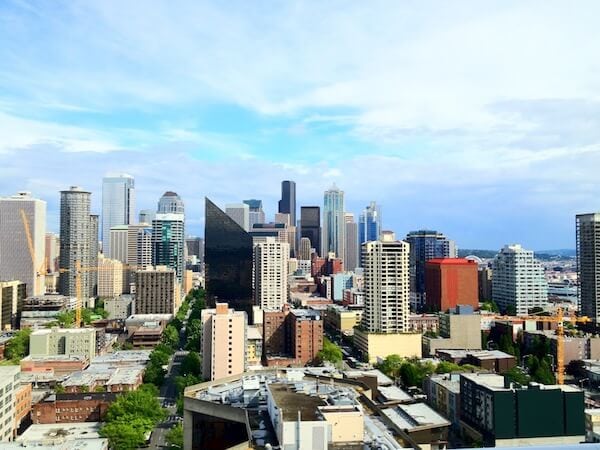 Every single photo in this post was shot on an iPhone. Every.Single.One. You don't have to have a fancy camera or spend a lot of money to take fun photos!! You just have to learn to maximize the camera you have.
These photos were all edited in Filterstorm ($3.99 in app store), Instagram (free), or both. The collages were all put together in PicFrame ($.99 cents).  After I left Seattle, I learned about the amazing photo taking app Pro HDR ($1.99). It takes really cool shots, but none of these photos in this post were actually taken with it.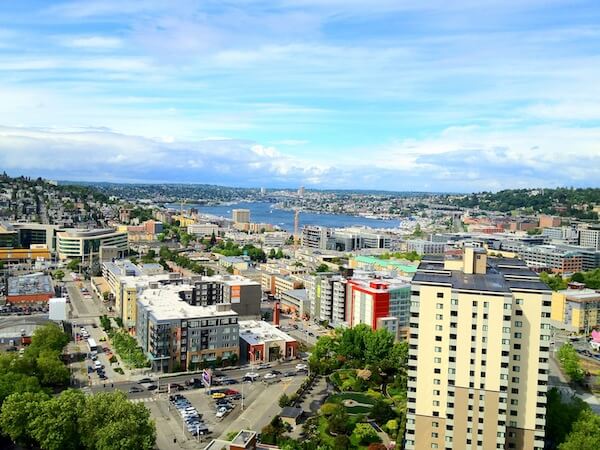 I  got to spend 4 glorious days in Seattle and it just wasn't enough. I was there for the BlogHer Food Conference and was lucky enough to have some time to explore this gorgeous city. The weather was a little rainy, but nothing like I expected! It was a gorgeous crisp 70 – 80 degrees during the day, which was perfect walking weather.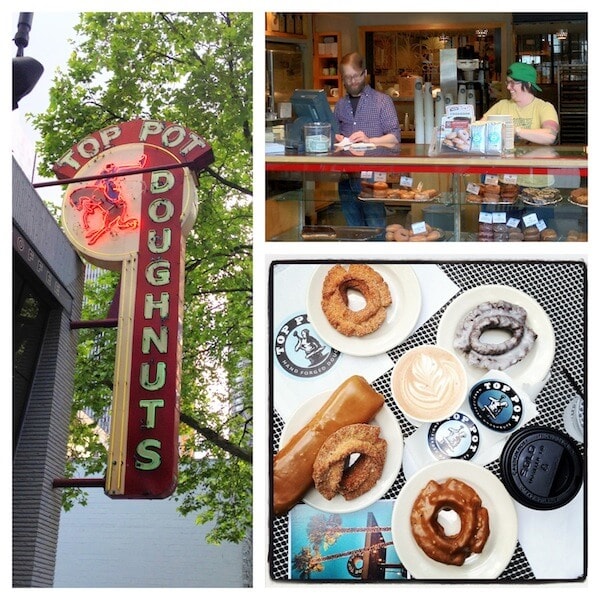 One of my first stops was to Top Pot Doughnuts. I went with Lauren (of Lauren's Latest), Tina (of My Life As A Mrs), and Shari (of Tickled Red). Thankfully with that many ladies, we were able to try a good selection of donuts. While the maple was delicious, I can say without a doubt, you must try their Old Fashioned!  Oh and the Chocolate Ovaltine Latte was pretty dang amazing.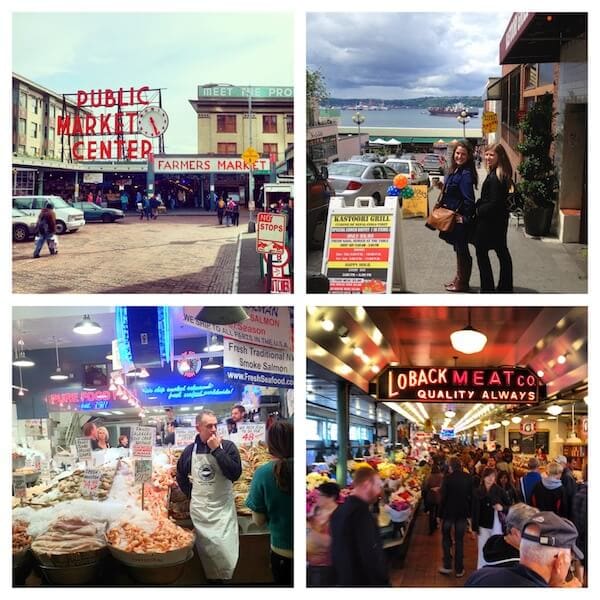 Of course, we also hit up Pike Place Market! I was shocked how busy it was on a Thursday afternoon. There were people everywhere…shopping, eating and posing for photos. I loved seeing all the fresh fruits, flowers and seafood that was available for such low prices. If I lived in Seattle, Jorge and I sure would be eating a lot more fish!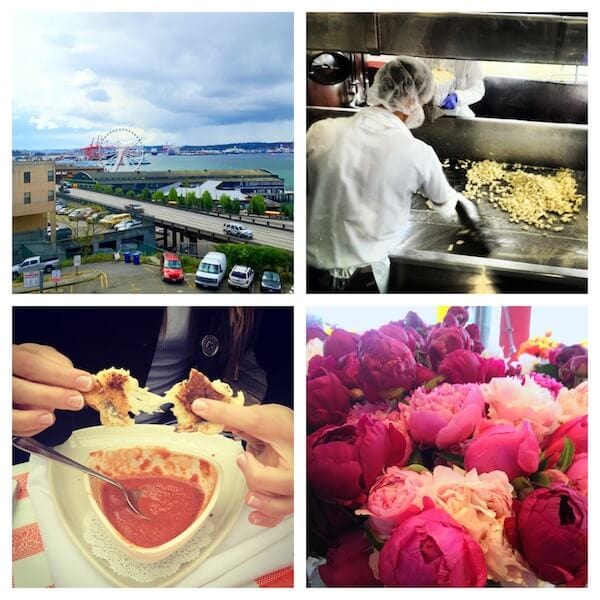 Top Left: One thing I couldn't believe, were the views from the market. If you walked to the back wall of the market, you were always guaranteed a beautiful view of the water.
Top Right: One of my favorite stops we made was to Beecher's Handmade Cheese. They had giant troughs of cheese (seriously – troughs!) and were handing out samples left and right. It's a must see!
Bottom Left: For lunch we went to a Seattle classic, The Pink Door. Their menu was amazing, but we all ordered the same thing…a buttery grilled cheese made with Beecher's Cheese and their rustic tomato soup. It was the perfect lunch with the rain and colder weather.
Bottom Right: One thing that blew my mind — the flowers! Almost half of the top floor of the Pikes Place Market is dedicated to flowers. They had giant bouquets of flowers with Poppies and big colorful Peonies for $10. I could NOT believe it. In Florida, we would pay 6 times that amount and the flowers would not be as pretty. I said countless times that I wish I could buy them all and carry them home.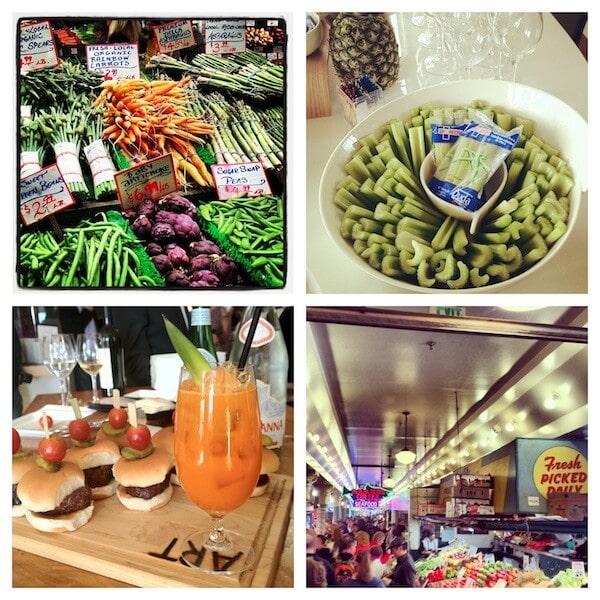 Top Left: A quick shot at one of the vegetable stands at Pike Place Market. The amount of fresh, affordable, organic produce was mind blowing.
Top Right: At one of the late night parties we had some fresh celery from Duda Farm Fresh Foods and had a dipping party. I just love their individual packed vegetables!
Bottom Left: The sliders and Carrot Juice cocktails at the Four Seasons were amazing. The Carrot Juice drinks had carrot juice (well, obviously), ginger ale, cardamom …and something else. I am dying to try to recreate the recipe…maybe I can sweet talk it out of them. 😉
Bottom Right: One last view of Pikes Place Market.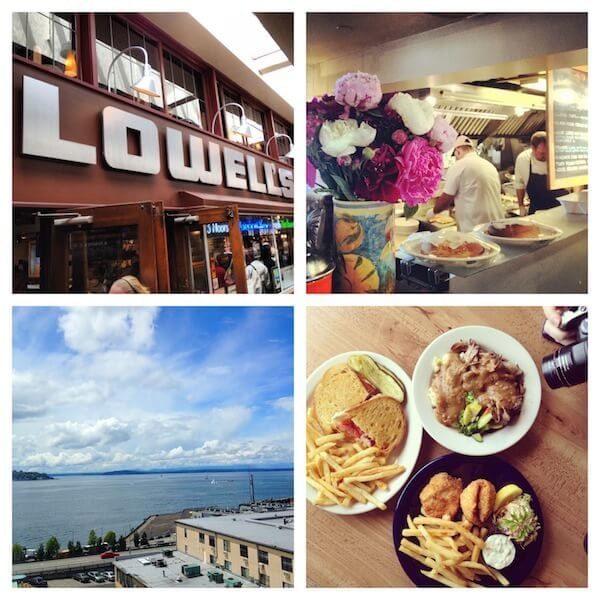 During one of the breaks from the conference, a group of us hit up Lowell's in Pikes Place Market. Lowell's is a classic eatery (it's been around since the 50's!) and is one of the "must do's". They have an awesome fresh menu that changes throughout the day and has everything from fresh halibut to pork carnitas. It was so good that every plate was licked clean when we left!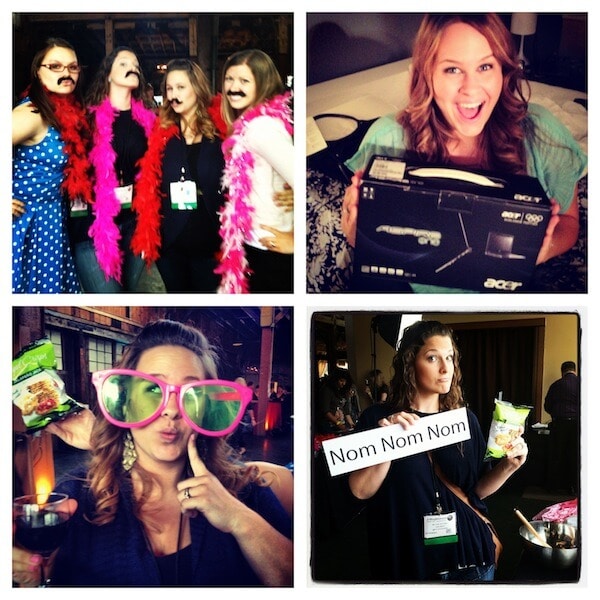 Of course I wasn't always stuffing my face…I also really enjoyed party hopping around the city.
In the top left photo, you can see Megan, Tina, Me and Lauren having a blast at the photo booth that Blogher set up. Mustaches are all the rage! And over in the top right photo you can see me and my new Acer laptop! Microsoft was at one of the parties being thrown and I won the new laptop!! I can not wait to try out One Note. Seriously, it will change your life.
Then in the bottom two photos, you can see Tina and I being dorks with our Pretzel Crisps®. I have been working with Pretzel Crisps® for a couple weeks now and I just can't begin to tell you how great they are!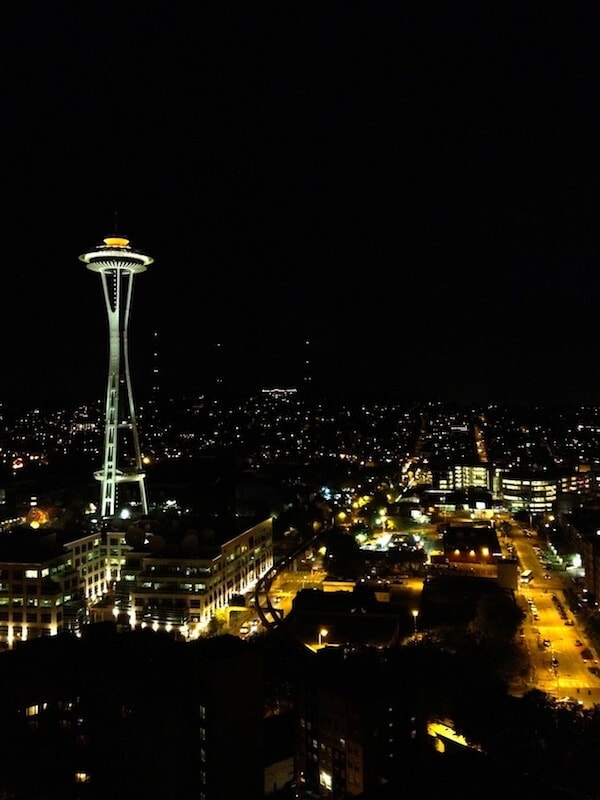 Leaving Seattle wasn't easy, but I know I will make the cross country trip again one day!