Mango Coconut Sherbet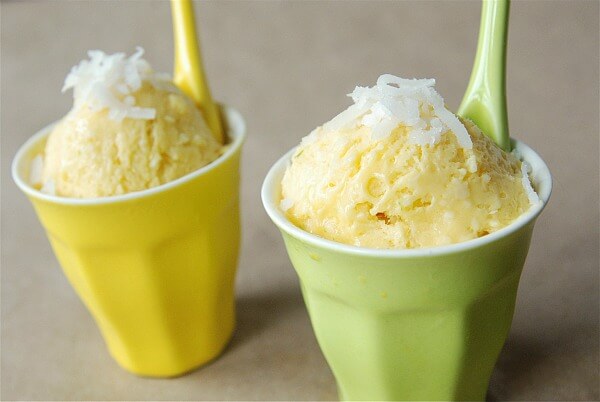 Can you tell it's hot in Florida? The last two things I have shared with you are ice cream related. Me and my lady bits just can not take this heat anymore. I feel like I need to go to that weird ice machine with the creeper penguins on it, you know the one where you can buy ice by the bucket-full, and fill up my tub…and sit in it. Yesterday I walked outside and some kids were frying eggs on the concrete. And the egg was actually sizzling! That is proof that I am incapable of turning on my oven or stove…or even walking the dog. I am currently trying to convince him to use the litter box with the cats. So until this heat wears off, or I go into cupcake withdrawal which is wayyy more likely to happen, I am not turning on my oven.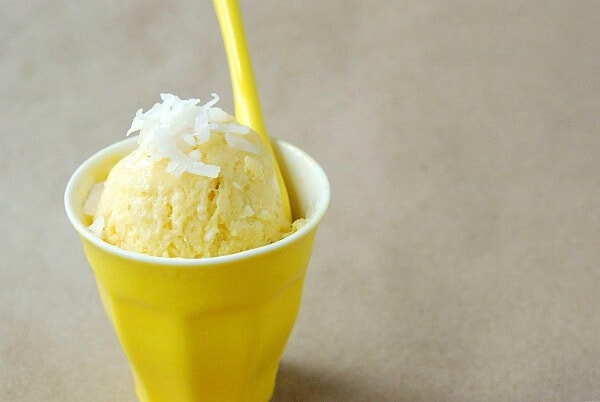 This Mango-Coconut Sherbet is awesome for many reasons. First of all, no heat required. Second, you dump everything in your food processor, transfer it to ice cream maker, and viola. Sherbet. Oh and third, it's vegan, gluten free, and ass friendly. What the hell more could you want? Besides a million dollars or to be able to rock a string bikini like your 17 again…but I digress, this sherbet is amazing and easy. The mango flavor is strong and gives the sherbet a beautiful color. The coconut flavor is not very pronounced but gives it a wonderful creaminess.  In short, next time Mangos are on sale, grab 3 of them and get to blending.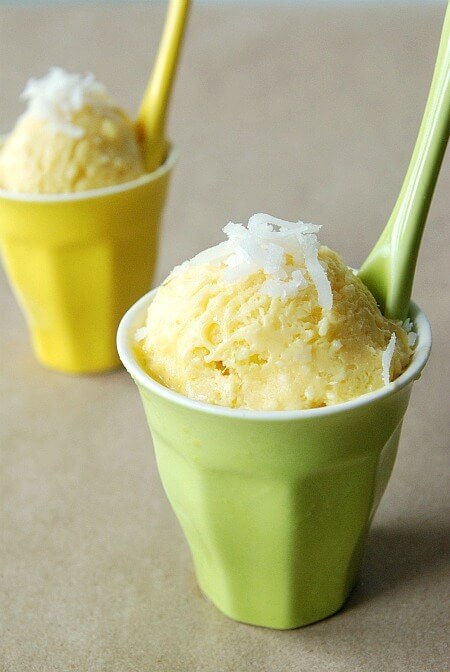 Mango-Coconut Sherbet
Recipe Note: The riper the Mango, the better the sherbet. If your mango is not very ripe, make sure and increase the sugar to 3/4 cup.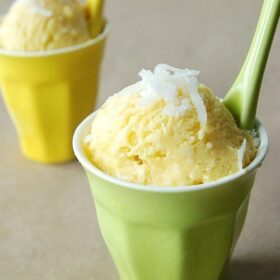 Ingredients:
2 cups cubed peeled ripe mango, about 3 medium mangos
1/2 cup granulated sugar
1 tablespoon fresh lime juice
Zest of 1 lime
1 (13.5-ounce) can light coconut milk
1/4 cup unsweetened flaked coconut, toasted
Directions:
Combine cubed mango, sugar, 1 tablespoon lime juice, lime zest and coconut milk in food processor. Process until mixture is smooth, scraping sides as necessary.
Pour mixture into the freezer can of an ice-cream freezer, and freeze according to manufacturer's instructions to soft-serve consistency.
Spoon sherbet into a freezer-safe container; cover and freeze 2 hours or until firm. Sprinkle each serving with coconut.