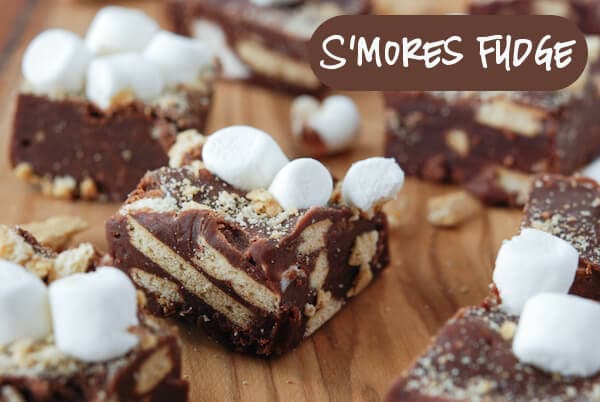 I am so ready for Fall that I can't even stand it anymore. I have gone into full denial mode and have cranked down my AC and started wearing my boots and sweaters in the house. I am pretty sure the fedex guy tells all his friends about this insane girl he delivers too, but I am way too committed to back down now.
In the past week, I have bought a scarf at World Market, ordered a new pair of boots and bought a pair of tights to go with my short dresses. I have eaten soup for lunch almost every day…and I went ahead and colored my hair a warmer autumn color. And yesterday I made fudge.
Fudge to me means Fall. It means cool weather and brisk afternoon walks in the leave strewn streets. It reminds me of the holidays and giving out gifts of homemade candies to the neighbors and friends. …obviously I have a serious case of Fall Fever. It's bad, really bad.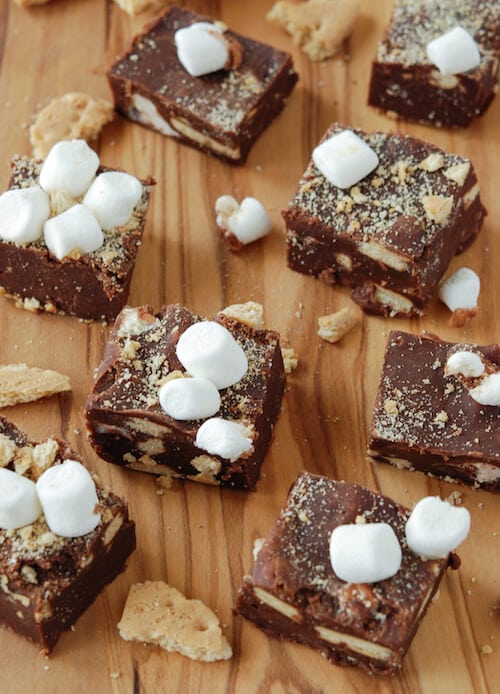 While I may consider fudge to be a Fall favorite, this S'mores Fudge could not be any more perfect for Labor Day Weekend. It is a great make ahead dessert that combines all of my favorite flavors of Summer. It takes under 15 minutes of actual work from you and will impress your guests who don't know how easy it really was….that's a win-win in my book! 😉
Yield: 16 pieces of fudge
S'mores Fudge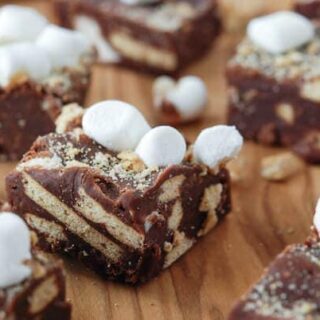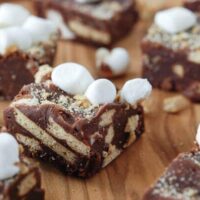 S'mores Fudge is a fun twist on a campfire favorite. You don't need summer for this dessert though--chocolate fudge topped with mini marshmallows can be made year-round!
Total Time
2 hours
15 minutes
Ingredients
1 (7 ounce) jar marshmallow creme
1 1/2 cups white sugar
2/3 cup evaporated milk
1/4 cup butter
1/4 teaspoon salt
2 cups milk chocolate chips
1 cup semisweet chocolate chips
1 teaspoon vanilla extract
6 graham crackers, chopped (plus a few crushed for top)
1 cup mini marshmallows
Instructions
Line an 8×8 inch pan with parchment paper. Set aside.
In a large saucepan over medium heat, combine marshmallow cream, sugar, evaporated milk, butter and salt. Bring to a full boil, and cook for 5 minutes, stirring constantly.
Remove from heat and pour in semisweet chocolate chips and milk chocolate chips. Stir until chocolate is melted and mixture is smooth. Remove from heat, stir in vanilla. Gently fold in graham crackers and pour into prepared pan.
Top with mini marshmallows and some crushed graham cracker. Chill in refrigerator for 2 hours, or until firm.
Want to Save This Recipe?
This post may contain affiliate links. Read my disclosure policy.