This easy S'mores Snack Mix is a chocolate lover's dream. All you need is cereal, mini marshmallows, and some chocolate to drizzle on top! Perfect for parties, gifting, and easy snacking!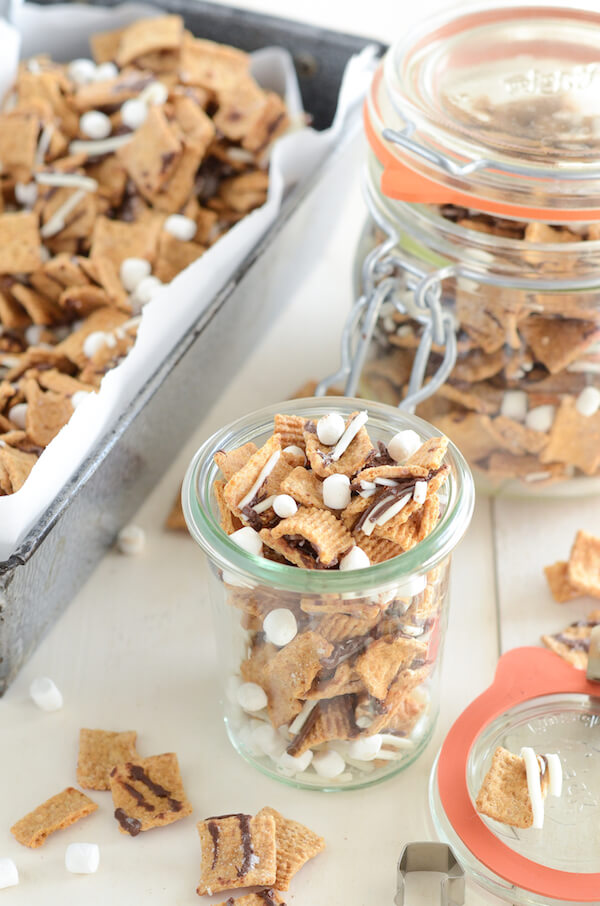 Earlier this week one of my favorite blogging friends Lauren came down to stay with us for a few days. She had been on a trip in the Florida panhandle, so she hopped on a plane for a quick visit (since we were on the same coast for once)!
We had so much fun cooking together, catching up and eating everything under the sun. If you follow me on instagram, I'm sure you saw more sweets in 2 days than you thought possible. Plus it was her first time getting to meet Ellie & Lyla!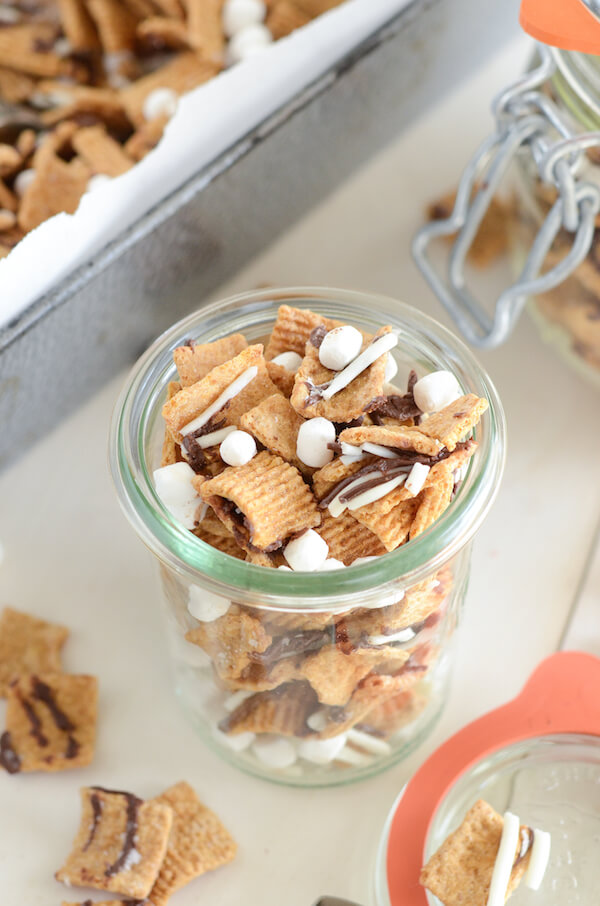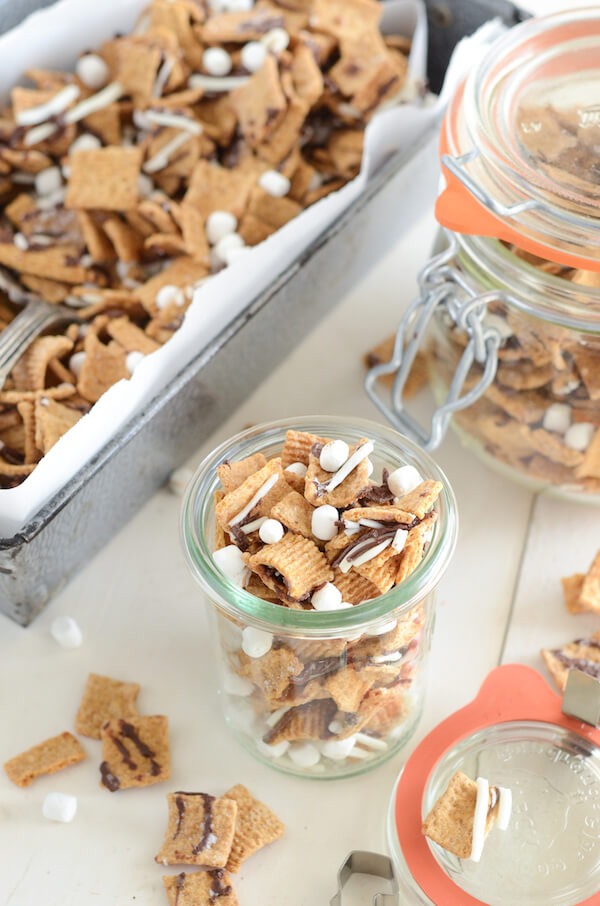 When Lauren landed from her flight she was munching on a bag of s'mores snack mix she had picked up at the airport. We both couldn't stop eating it and decided we had to make it ourselves. Then on Monday we grabbed lunch at Ciccio Cali's and discovered a giant s'mores cookie that we all were in love with (the babies too!).
It was destined to be a s'mores filled two days and we came home to recreate both treats. :-) It took us a couple of tries on the cookies (recipe here!) and we ended up having to use an ingredient we both very rarely bake with to achieve the texture we wanted. However, we got lucky and nailed the S'mores Snack Mix on our first try.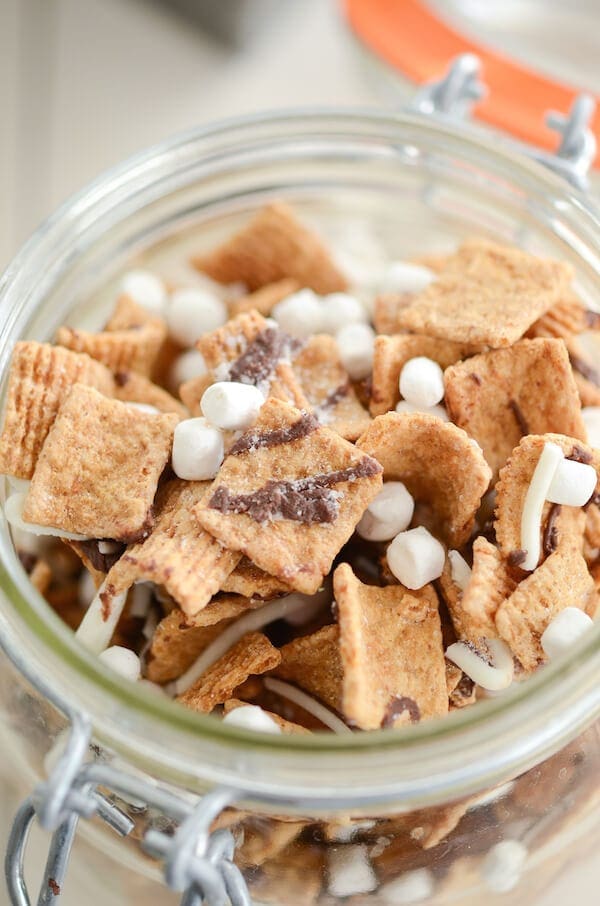 This recipe makes a large quantity and we munched on it for a couple days — plus I had enough to share with my neighbor. She sent me a picture after I sent her home with a to-go bag showing she couldn't stay out of it either! It's so addicting!
I plan on adding this recipe to the treats I make and give out to friends & neighbors during the holidays. I think it would be perfect in one of those adorable Christmas tins and who wouldn't want s'mores snack mix??
recipe note: this recipe uses mallow bits. They are different from regular marshmallows and are like the tiny marshmallows that come in hot chocolate. I found them at Target.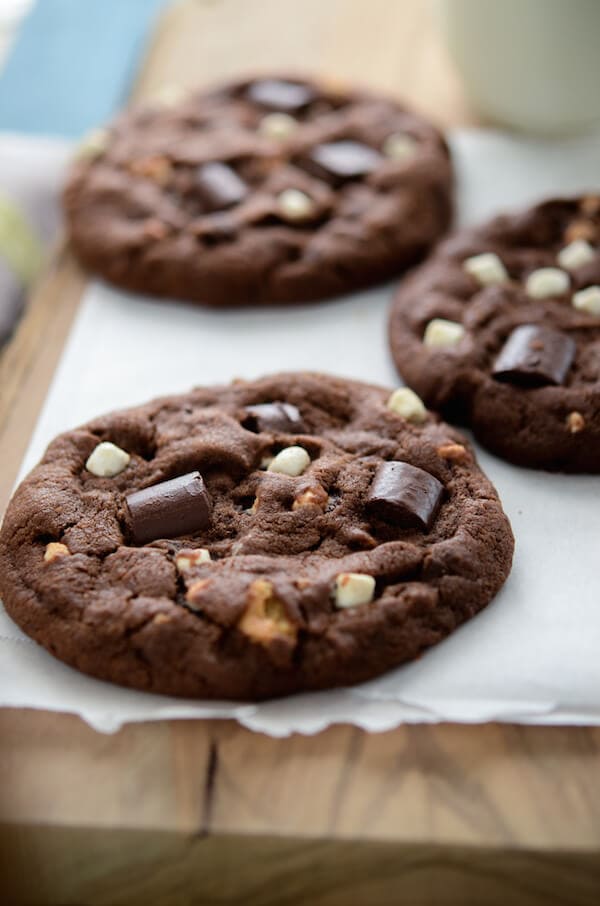 Make sure and head over to Lauren's site to grab the awesome recipe for these soft Double Chocolate S'mores Cookies! We put a lot of work into this recipe and I know you are going to love them!
S'mores Snack Mix
This S'mores Snack Mix is a chocolate lover's dream. All you need is cereal, mini marshmallows, and some chocolate to drizzle on top!
Ingredients
1

16 oz box Golden Grahams cereal

1

cup

semi-sweet chocolate chips

½

cup

white chocolate chips

1

3 oz container of Mallow Bits
Instructions
Line two baking sheets with parchment paper and spread the golden grahams in even layers.

Melt semi-sweet chocolate chips and drizzle them evenly all over both trays of golden grahams. You can do this with a spoon, a piping bag or in a ziplock baggie with a tiny corner cut off. I like to do it with the ziplock baggie because it's the easiest to control and has zero clean-up.

Repeat the same step with the white chocolate chips. Let chocolate harden completely (to speed up this process you can place the trays in the fridge).

Break up the cereal & chocolate mixture into a large bowl. Toss in the mallow bits and serve immediately! You can also store this in an airtight container for up to a week.
Nutrition
Serving:
1
,
Calories:
358
kcal
,
Carbohydrates:
49
g
,
Protein:
4
g
,
Fat:
20
g
,
Saturated Fat:
12
g
,
Polyunsaturated Fat:
7
g
,
Cholesterol:
4
mg
,
Sodium:
85
mg
,
Fiber:
3
g
,
Sugar:
40
g
This post may contain affiliate links. Read my disclosure policy.