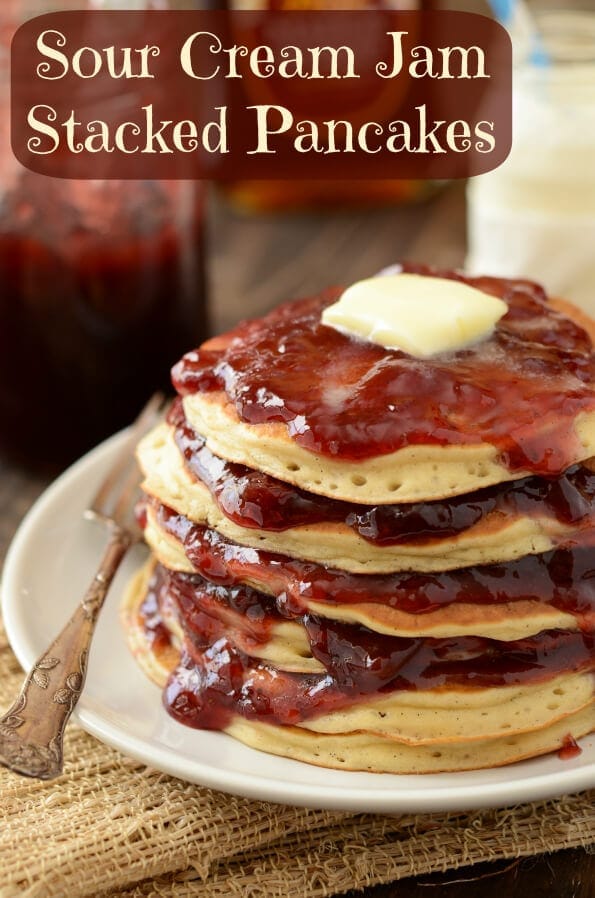 I know, I know. All you can probably think about is Thanksgiving. But hello, you still have to eat breakfast! I have always been one of those must have breakfast type people. If I don't eat within an hour after waking up, I go into super cranky mode. It doesn't have to be a full out breakfast — I can totally get down with some toaster strudel — but I have to have something in my stomach.
So even though you are going to be feasting on 324023 different types of casserole, a giant turkey and a bajillion pies…I still think you should have breakfast. Or to be specific, I think you should have Sour Cream Jam Stacked Pancakes. Imagine stuffing them with Pumpkin Butter or Cranberry Jam! Yum!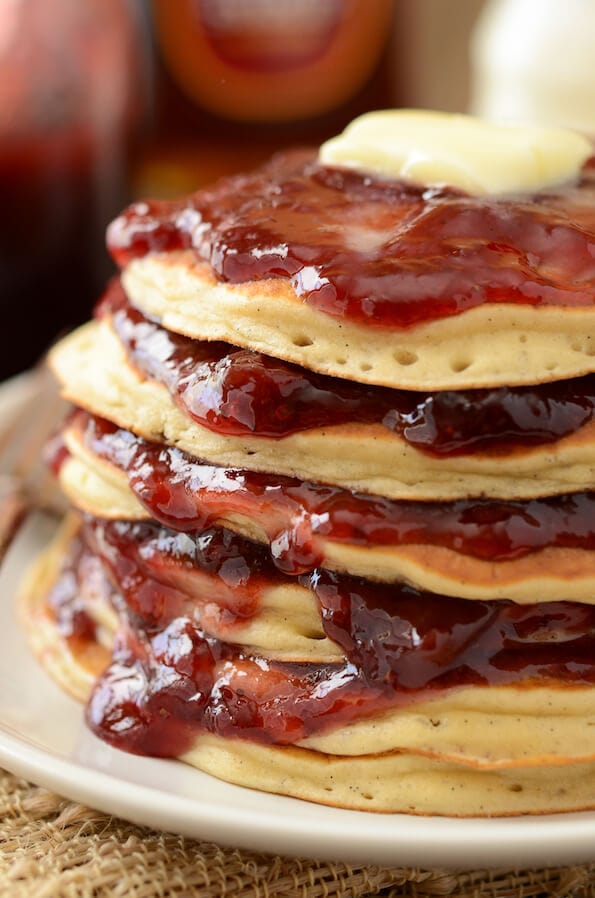 The idea for stacking my pancakes with jam came to me after I finished licking my plate clean from a warm batch of Stuffed French Toast from our local breakfast diner. I thought if Jam tasted that good stuffed in some French Toast…it would taste even better sandwiched between some pancakes. Thankfully, I was right. 😉
Even if you aren't ok with stacking your pancakes with a layer of jam, you should try the Sour Cream Pancakes. They have a slightly tangy quality, but remain sweet and a perfect mixture of dense and airy. I promise, you won't even know they use Sour Cream!
Yield: 14-16 pancakes
Sour Cream Jam Stacked Pancakes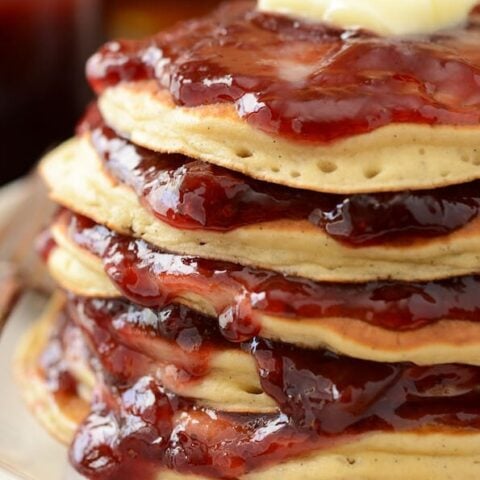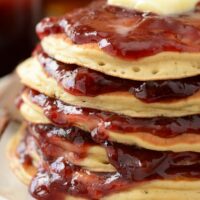 Sour Cream Jam Stacked Pancakes are the best way to start off your weekend. The only thing better than a stack of fluffy pancakes is a stack of fluffy pancakes with layers of sweet jam in between them!
Ingredients
2 cups flour
1 tablespoon baking soda
1/2 tsp salt
2 large eggs
1/4 cup sugar
1 cup sour cream
1 tablespoon vanilla bean paste (or vanilla extract)
1 cup milk
1 heaping cup jam
Instructions
Preheat oven to 200 degrees.
In a small bowl, mix together flour, baking soda and salt. Set aside.
In a large bowl, whisk together eggs and sugar. Add sour cream and vanilla bean paste/extract. Add flour mixture, alternating with milk, and whisk until smooth.
Heat a non-stick skillet to medium heat. Using a 1/4 cup scoop, pour batter on to skillet. Once you start to see little bubbles form, flip and continue to cook until pancake is browned on each side.
Place pancake on an oven safe dish and place in oven to keep warm. Continue until you have used all pancake batter.
To assemble: Place 1 pancake on a plate. Spread a thick layer of Jam on top and then top with another pancake. Continue this process until you have as high of a stack as you like! Serve immediately!
Nutrition Information:
Yield:
14
Serving Size:
1
Amount Per Serving:
Calories:

196
Total Fat:

4g
Saturated Fat:

2g
Trans Fat:

0g
Unsaturated Fat:

1g
Cholesterol:

38mg
Sodium:

385mg
Carbohydrates:

35g
Fiber:

1g
Sugar:

15g
Protein:

4g
Want to Save This Recipe?
This post may contain affiliate links. Read my disclosure policy.