Stovetop Mac and Cheese
How rich do you have to be to buy a pair of $300 amazing Tom Ford sunglasses and not care? Because that is how rich I have decided I need to be. I bought the $10 knockoff pair on Amazon and am trying to trick myself…but I am still convinced that the $300 pair must feel 290 times better, make my cheekbones look super glamours, and make me look prettier than 10 pink unicorns. I mean, for $300 it better do all of that and more.
This is the same reasoning I use with my Mac and Cheese. I want it to be better than the little blue box. Yes it costs like 5 times as much to make, but considering the blue box is around a dollar – it's not that big of a price jump. But the extra $5 dollars must mean it's also 5 times better! Not only do I want it to taste better, I also want it to not come with a package of powdered orange cheese. I also want to be able to make it with whatever cheese I have on hand, in one pot and in under 15 minutes. I know, you don't have to tell me, I'm demanding.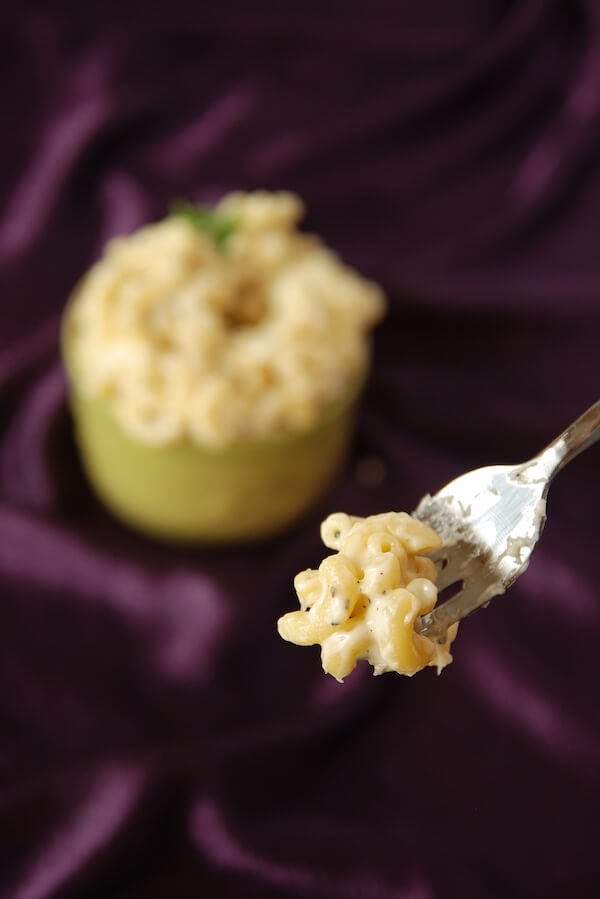 But in spite of all my demands, Tada! Stovetop Mac and Cheese! This seriously takes 15 minutes, tops. It's made with all regular, real ingredients. You can change up the cheese to fit your mood and add in your favorite fancy mix-ins. Plus, it really is made all in one pot. It's a dream come true to any lazy Mac and Cheese lovers out there! Plus, it's totally sexy looking right?
Quick note, yes this recipe calls for two cloves of raw garlic mixed in. No, I promise, it doesn't taste like raw garlic. However, it does add a delicious garlic flavor that you will love. If you are a loser and do not like garlic, just leave it out! 
Stovetop Mac and Cheese
Recipe Note: Use any 12 oz of cheese you have and enjoy! For the traditional mac and cheese, use a half and half combination of Mild & Sharp (yellow) Cheddar Cheese.
Ingredients:
2 cups elbow noodles (about 12 oz)
8 oz Cabot Private Stock Cheddar Cheese, shredded
4 oz Cabot Seriously Sharp, shredded
2 tablespoons sour cream
2 tablespoons butter, chopped
1 oz cream cheese, chopped
2 garlic cloves, minced
salt and freshly ground pepper, to taste
Directions:
In a large pot over high heat, bring salted water to a boil. Add elbow noodles; cook according to package.
Drain noodles, lower heat to medium-low, and return cooked noodles to pot. Immediately stir in both cheeses, sour cream, butter, cream cheese, garlic, salt and freshly ground pepper. Continue stirring until completely melted and serve immediately.
Mix In Ideas: crumbled bacon, sundried tomatoes, caramelized onions, fresh basil, minced porcini mushrooms or like at my favorite restaurant...topped with pulled pork!
**this post is not sponsored, I just love me some Cabot cheese**