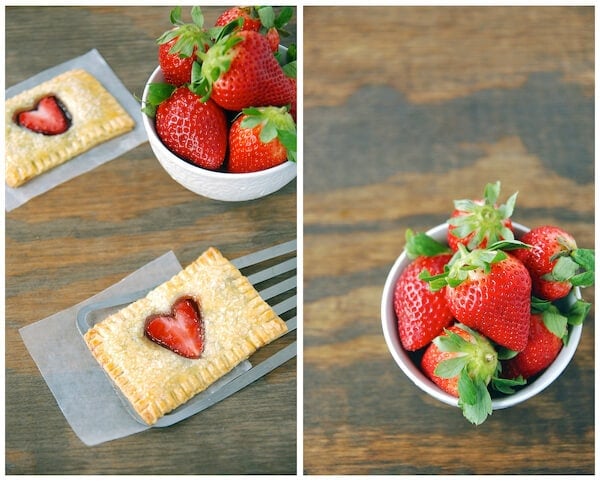 In almost 24 hours I am going to be on live television. Seriously.
I have no idea what I am going to wear or say….and I'm pretty sure the producer over at Good Morning Jacksonville has no idea what she has gotten herself into. Sure, I'm great on the blog…but give me a big camera sending out a live feed, a sharp knife and my foot in mouth tendencies… well I am sure it's going to go splendidly. I'm just kidding of course, I am sure it is going to go great! Show time is at 8:50 a.m. and I have planned to start off my morning with a mimosa and a xanax to get things good and rolling by the time I go on. 😀
While I may not have it all figured out just yet, I have decided that I will talk like Julia Child and only refer to myself in third person. Oh, and I have decided I am going to make Valentine's Day treats. Considering VDay is on Tuesday, it seemed only fitting. So for the first segment (Saturday, 8:50 am, GMJ- be there) I am going to make these Strawberry Nutella Poptarts! Aren't they adorable? And you will never guess how easy they are….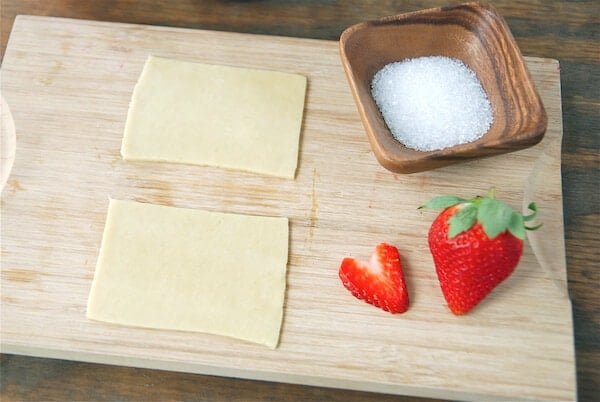 First, take some store bought pie dough. Sure you could make your own, if you wanna be an over achiever or whatever.
Roll out the pie dough till it's pretty thin. Then cut it into 2.5 x 3.5 inch rectangles.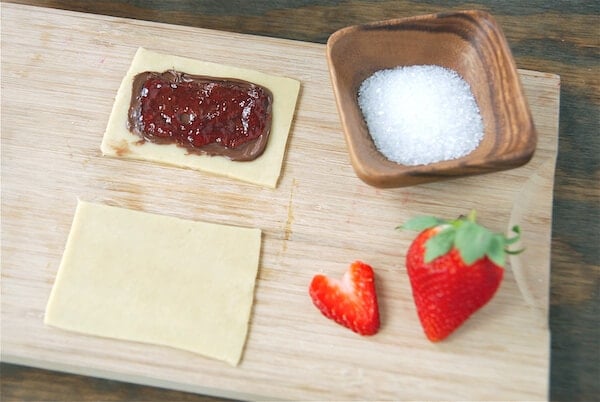 On one pie dough rectangle, spread a layer of Nutella. Then spread a layer of Strawberry Jelly.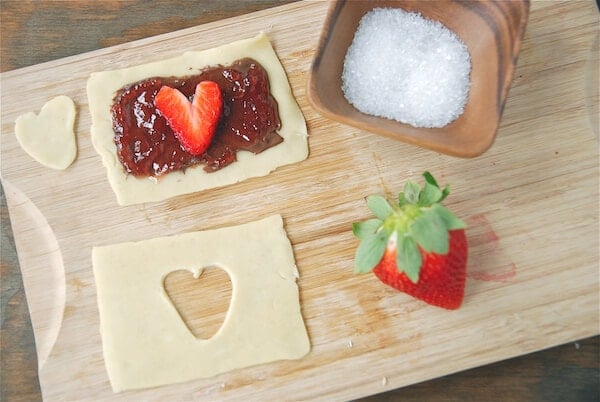 Cut a strawberry slice into the shape of a heart (slice a strawberry lengthwise into slices and then curve out the stop with a paring knife to create the heart shape).
Using the strawberry heart as a pattern, cut out a heart shaped hole in the second piece of dough.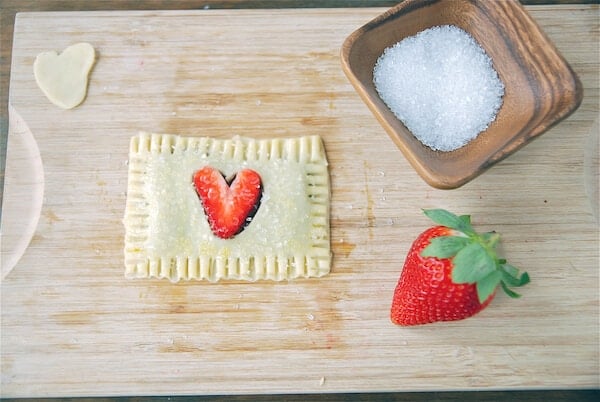 Place the strawberry in the center of the nutella/strawberry jam mixture. Top with the second piece of dough with the heart shaped whole.
Using a fork, seal the edges. Brush the pie dough with an egg wash (1 egg yolk + a splash of quality H2O –any Waterboy fans??) and then sprinkle the top with a heavy dose of coarse sugar.
Bake at 350°F for 12-14 minutes, or until golden brown. Let cool 5 minutes and serve!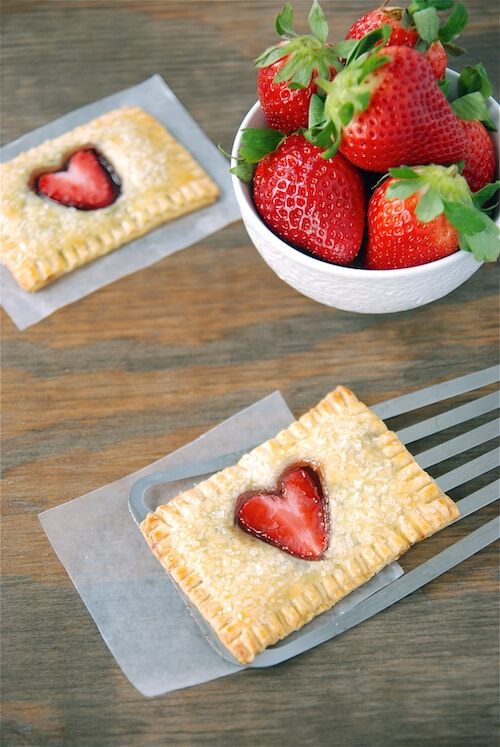 So now that you already know what I am going to make, are you still going to come watch me make a fool of myself? If they don't throw me out after the first segment (at 8:50 a.m.), I will be making Red Velvet Cupcakes at 9:50 a.m. So if any of you are in Jacksonville, or the surrounding areas, make sure and DVR me (we both know you won't be up that early on a Saturday).
If you aren't, don't worry! There will be clips posted online…and I promise to share them as long as you promise to laugh with me –not at me– when I drop everything, cut off a finger and get bleeped out on live tv.
Yield: 6 poptarts
Strawberry Nutella Poptarts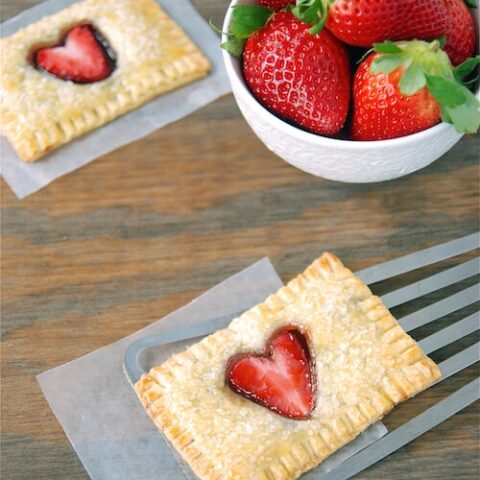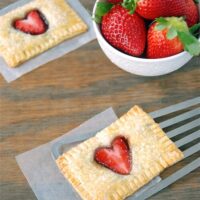 Strawberry Nutella Poptarts are a sweet snack or breakfast that would be perfect for Valentine's Day. Give these homemade pastries filled with nutella and fresh strawberries a try--especially if you've got kiddos!
Ingredients
1 egg yolk
1 teaspoon water
1 package refrigerated pie crust
6 heaping teaspoons Nutella
6 heaping teaspoons strawberry jelly
2 large strawberries, sliced lengthwise and carved into hearts
coarse sugar (or granulated sugar)
Instructions
Preheat oven to 350°F and cover a cookie sheet with parchment paper or a silpat mat.
In a small bowl, whisk together egg yolk and 1 teaspoon water. Set aside.
Roll out pie crust till it's pretty thin (about 1/16th of an inch thick). Cut into 2.5 inch x 3.5 inch rectangles, re-rolling the dough as needed. You should end up with 12 rectangles.
Take 6 of the rectangles and cut out a heart in the center, using the strawberries carved into hearts as a guide. Set aside.
On each of the 6 remaining rectangles, spread 1 heaping teaspoon of Nutella, leaving a 1/2 inch border around the edges. Then top the Nutella with a layer of strawberry jam, again making sure to leave a 1/2 inch border.
Place a strawberry carved heart on top of the strawberry jam layer, in the center of the rectangle. Top with the pie dough with the heart carved out of the center.
Seal the edges with the prongs of a fork and brush with egg wash mixture. Sprinkle heavily with coarse sugar.
Bake for 12-14 minutes, or until golden brown. Transfer to a cooling rack. Let cool for 5 minutes and then serve!
TNCB
Notes
These Strawberry Nutella Poptarts are a snap to put together and would make the perfect Valentine's Day breakfast in bed for the kiddos…or your lover!
Nutrition Information:
Yield:
6
Serving Size:
1
Amount Per Serving:
Calories:

182
Total Fat:

10g
Saturated Fat:

4g
Trans Fat:

0g
Unsaturated Fat:

5g
Cholesterol:

31mg
Sodium:

125mg
Carbohydrates:

22g
Fiber:

1g
Sugar:

7g
Protein:

2g
Want to Save This Recipe?
This post may contain affiliate links. Read my disclosure policy.