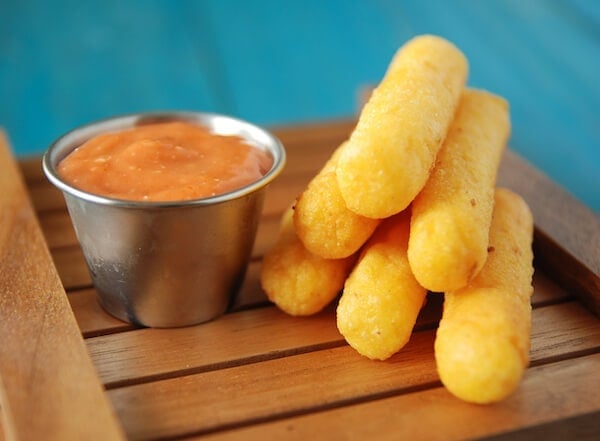 Jorge is Puerto Rican, but I am a white girl from Texas. I wish I was well versed and skilled in Puerto Rican recipes…however I am way more likely to whip up a combination of Southern & Tex-Mex foods. Ever since I wrote about going to Puerto Rico, I get tons of emails from readers asking for easy Puerto Rican recipes. In the past, I have shared a few recipes here and there…but only one (Pan Fried Plantains) was a true Puerto Rican dish.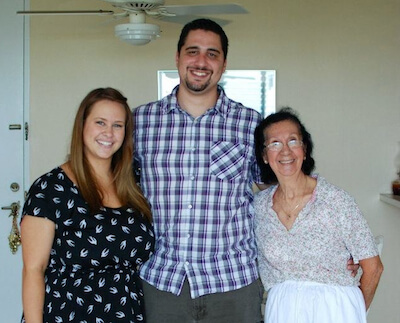 The last time Jorge & I headed down to PR, our first stop was to visit his adorable Abuela, Esther. She is a wonderful cook and is always whipping up something delicious! This trip our plates were filled with pork, rice & beans, Surullitos and Guava Pudding Cake.
I am not going to lie, the Guava Pudding Cake was too die for…but these little fried cornmeal sticks won my heart! Something about the slightly sweet flavors and garlic-y ketchup had me swooning. I knew I had to make them for a fun treat once we got back home to Florida.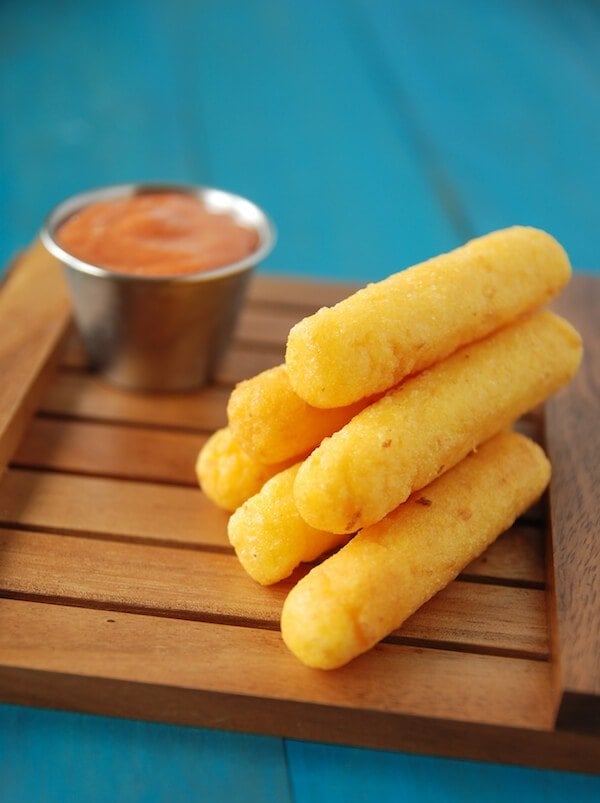 The flavors of these little fried darlings is hard to describe… It is kind of like Polenta, but better (back off Italians!). The outside is beautifully crispy, while the inside stays soft and moist -for lack of a better word. While they make take a few minutes to roll each one, they are actually very easy to make. Plus I am sure kids would really enjoy helping with the rolling part…if you can find a few to help!
Yield: 20 Sticks
Surullitos (Cheese Corn Sticks)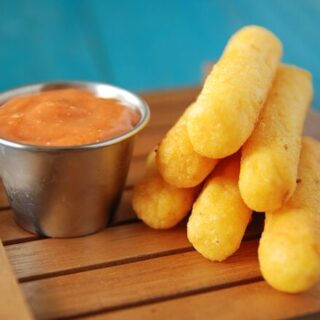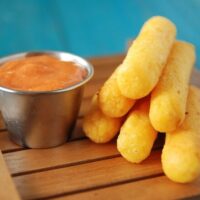 Surullitos are fried cheese corn sticks that you need in your life ASAP. Serve them as an appetizer with a garlic-ketchup mixture or your favorite dipping sauce!
Ingredients
2 cups of water
1/2 teaspoon salt
1/4 cup sugar
1 1/2 cup of extremely fine cornmeal
4 oz Edam or Gouda cheese, shredded
2 cups vegetable oil
3 tablespoons ketchup
1 tablespoon mayo
1 garlic clove, minced
Instructions
In a medium saucepan, bring water to a boil. Remove from heat and stir in salt, sugar and cornmeal. Return to heat and cook for 2 to 3 minutes, stirring constantly, until the dough does not stick to the pot.
Remove from heat and stir in cheese. Let sit for 5 minutes -or until you are able to handle the heat- and roll 1 tablespoon balls of dough into cigar shapes.
In a large deep skillet, heat vegetable oil to 375 degrees. Cook Surullitos 4-6 at a time, making sure not to crowd the pan, until lightly golden brown. Drain on a paper towel lined plate and serve immeidately.
Sauce: Mix together ketchup, mayo and garlic. Serve with fresh hot Surullitos.
Nutrition Information:
Yield:
10
Serving Size:
1
Amount Per Serving:
Calories:

515
Total Fat:

49g
Saturated Fat:

6g
Trans Fat:

1g
Unsaturated Fat:

41g
Cholesterol:

13mg
Sodium:

275mg
Carbohydrates:

16g
Fiber:

1g
Sugar:

6g
Protein:

5g
Want to Save This Recipe?
This post may contain affiliate links. Read my disclosure policy.