Sweet Potato Rice Pudding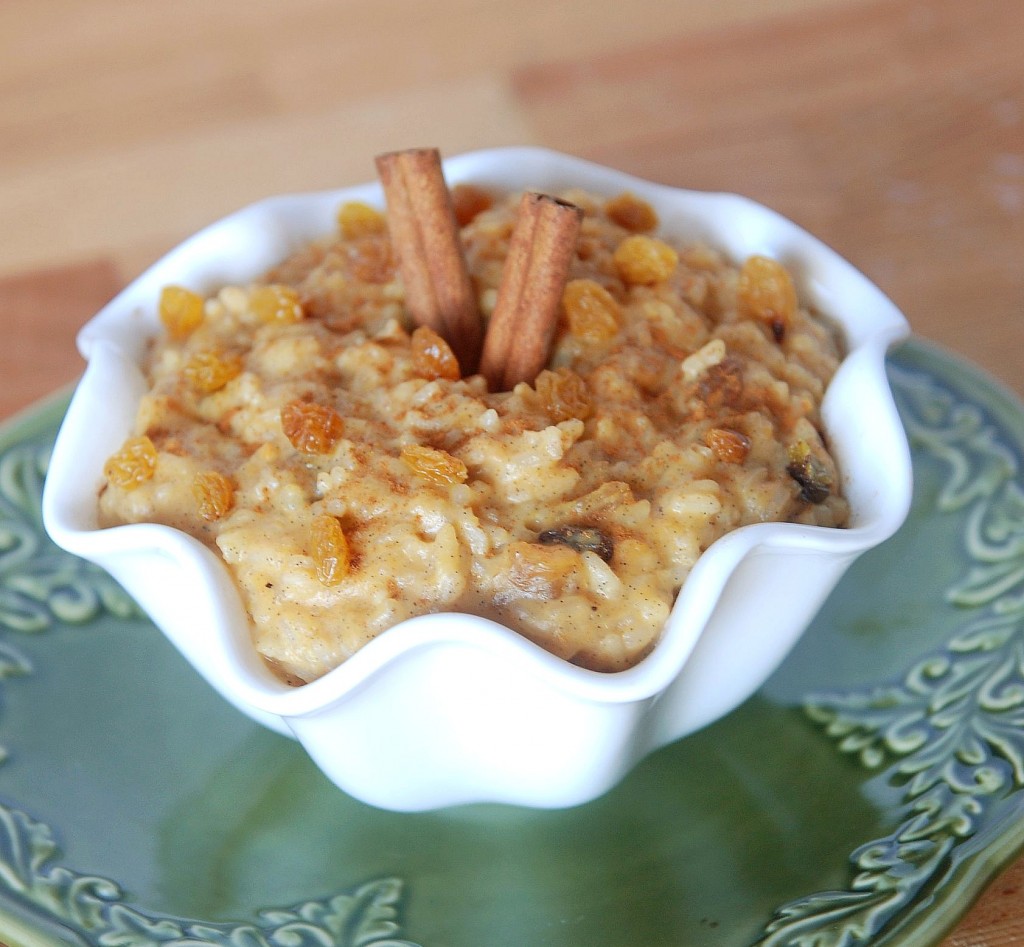 Growing up my Granny used to make my cousin and I a big batch of goop to play with every week. Most people probably have no idea what goop is…but it is something kind of like Play-doh but with a more plastic-y, jello-y feel to it.
She always made it lime green and it would entertain us for hours. It was from a recipe from the newspaper that she found…and it was made with normal things you would have in your kitchen. It was perfectly safe for us to eat and we did so often.
We would always immediately regret eating the goop…because it tasted even worse than Play-doh…but it was so worth seeing my cousin make a disgusted face every time she ate it.
Being the inventive child I was, I was always finding new ways to convince my cousin to eat the goop. One time we used the rack inside the refrigerator to make lines on it so it looked like a steak.
Once we even used my grandfathers shotgun shells to make it look like a pizza (I'm from Texas, so shut up). And occasionally we would just feed some to Annie the dog.
This Thanksgiving when my Mom sent me home with 3 bazillion tons of sweet potato casserole I had to become inventive. There are only so many times I can eat sweet potato casserole. For starters, the first time I reheated it, I ate off ALL the marshmallows (stop making that face, you know it's the best part).
So the next time, I added some marshmallows I had in the pantry already and again I ate all the marshmallows. Then I ate a little for breakfast.
And today I made a pot of Granny's Gumbo for Jorge and decided to make rice pudding with the left over rice. And then it popped in my head…Sweet Potato Rice Pudding! Why not right?
I googled, and found out that apparently I am not as inventive as I thought…and someone else had already done this. But either way, it is delicious, ass friendly, and it means I didn't throw away ANY of the Thanksgiving leftovers!
Sweet Potato Rice Pudding
Ingredients:
1 cups water
1/2 cup short grain white rice (or brown)
pinch of salt
2 cups 2% milk
1 tbsp honey
1 tbsp maple syrup
1 tbsp vanilla bean paste
1/2 tbsp cinnamon
a pinch of nutmeg
a pinch of ginger
a pinch of garam masala
1/2 cup golden raisins
1 cup sweet potato puree (or mashed sweet potatoes)
Directions:
Combine water, rice, and salt in a medium-sized, heavy-bottomed pot. Bring to a boil, stir once, and cover with a tight fitting lid. Reduce heat to low and simmer for about 20 minutes, or until water is absorbed. The rice will be slightly undercooked, but will continue to cook in the next step. Remove rice from pot and place in a bowl, set aside.
Combine milk, honey, maple syrup, vanilla bean paste, and spices to the same pot. Bring to a very low boil over medium heat, whisking often so the milk doesn't scorch. Lower heat to medium-low.
Whisk in the cooked rice, sweet potato puree, and raisins. Cook over medium-low heat, stirring frequently. Simmer and occasionally stir until milk cooks down and the rice is creamy, about 20 minutes. Towards the end of cooking, you will need to closely watch the rice pudding to make sure it does not burn.
Transfer rice pudding to a large bowl and allow to cool, pudding will thicken during this step. To speed up the process you can refrigerate utnil well-chilled.
Serve warm or cold, with an extra dollop of sweet potato puree and a dusting of cinnamon if desired.