Texas Pecan Roca is a sweet toffee candy recipe, made with pecans and Hershey Kisses. If you're an almond roca fan, you'll love this Texas-style pecan roca too!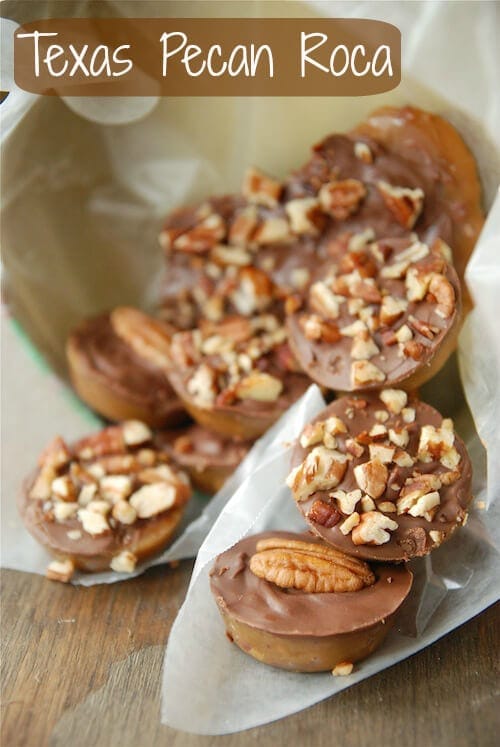 When I moved to Florida, from Texas, there were many things I noticed that were different. I instantly missed Mexican food. I was horrified that people considered Taco Bell, Tijuana Flats and Chipotle to be the best "Mexican" food. I was surprised to look around and see more cars than trucks on the roads. And I was downright appalled when people told me that Pulled Pork was the best BBQ ever…I mean, where's the brisket?!?! How can pork that has been shredded to death and covered in a sticky, thick, sweet BBQ sauce ever compare to the slow smoked brisket?? It can't. It just can't.
But something I never realized was missing? Pecan Trees. Sure we can buy pecans at the grocery store…but they are in the baking aisle prepackaged from who knows where. You never see them in big barrels, still in the shell, being sold by the pound. You never accidentally find them, with your bare feet, while walking around your neighbors yard. And you sure don't see them being sold on the side of the road by some old guy in overalls.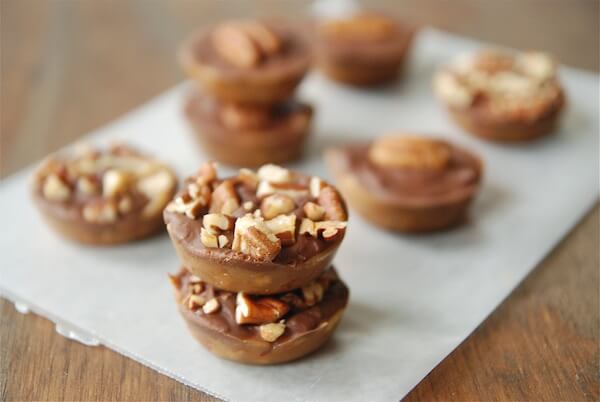 So when I happened to walk into Winn Dixie last week and saw a big display saying "Texas Pecans", I bought the last two bags. After eating half of the first bag, I used the rest to make Texas Pecan Roca Candy. It's like Almond Roca…but Texan. And with pecans, because they are better. :-D
Since I have mental issues, I wanted them to be individual and better than traditional Almond Roca bark. Most homemade Almond Roca is made in a giant sheet and then broken into bark. Which is great for Almond Roca, but this was Texas Pecan Roca…and it deserved a little more attention.

Sorry for the crappy iPhone photos — y'all know I suck at the step by step photos!! But I wanted to prove how easy it is to make your roca into individual candies!
You cook up the toffee. Mix in the toasted pecans. Pour it into greased mini muffin tins. Top it with a Hershey Kiss. Swirl the chocolate. Top it with some extra chopped pecans. And then let it cool.
It's really that easy.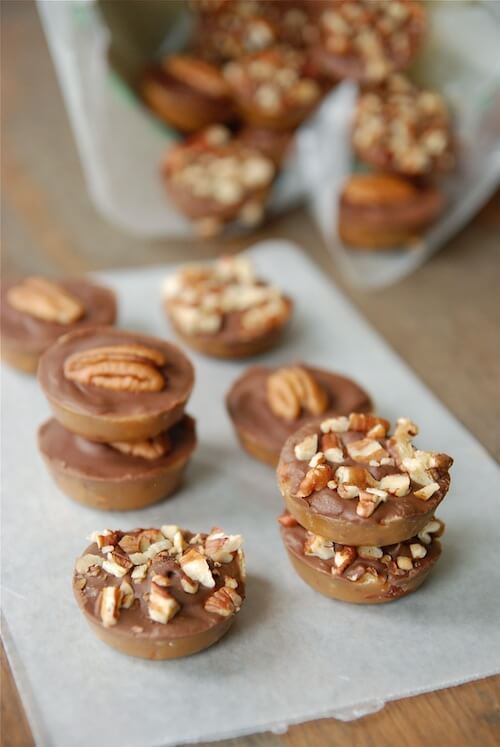 Yield: 36 pieces
Texas Pecan Roca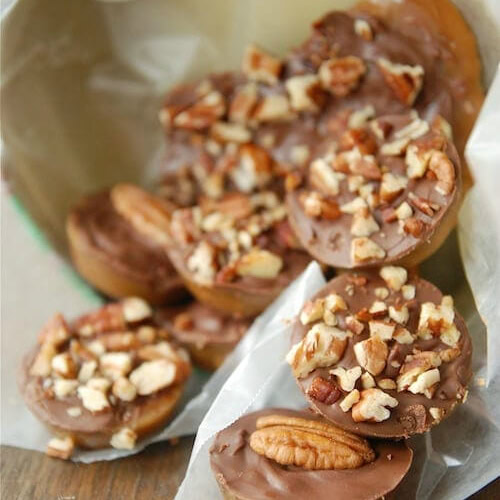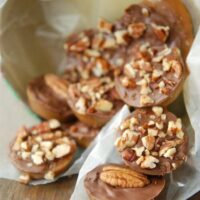 Texas Pecan Roca is a sweet toffee candy recipe, made with pecans and Hershey Kisses. If you're an almond roca fan, you'll love this Texas-style pecan roca too!
Ingredients
2 sticks (1/2 pound) butter
1 cup granulated sugar
1/4 cup water
1 tablespoon molasses
1 1/2 cup chopped toasted pecans, divided
36 Hershey Kisses, unwrapped
Instructions
Grease metal mini muffin baking tins with a non-stick spray. Set aside.
In a non-stick medium saucepan, mix together butter, sugar, water, and molasses and bring mixture to a slow boil using a wooden or silicone spoon. Do not use a whisk, over stirring will ruin the toffee and make it seperate. Attach candy thermometer and continue cooking until the thermometer reaches 295 degrees, stirring occasionally to prevent burning/sticking. Slow and steady will win this race. I kept my stove at medium-low heat, with a steady slow boil, and it took me 20 minutes. If you try turning up the heat, to speed it up, it will burn before it reaches the correct temperature. So be patient, it's worth the wait.
As soon as you reach 295 degrees, remove pan from heat and set on a hot pad. Stir in 1 cup of the pecans. Using a metal spoon, work quickly and carefully to fill each mini muffin tin 1/2 way full.
Once all tins are full, place one kiss on top of each candy. Wait a few minutes to let the heat melt the chocolate, and then using a mini spatula, or your finger, swirl melted chocolate to edges of candy. Sprinkle the remaining pecans along the tops of each and gently press into melted chocolate.
Let candies cool/harden overnight, or speed up the cooling time by popping them in the fridge. Use a toothpick to help pop the candies out of the tins. Store in an airtight container for up to a week.
Nutrition Information:
Yield:
36
Serving Size:
1
Amount Per Serving:
Calories:

75
Total Fat:

4g
Saturated Fat:

1g
Trans Fat:

0g
Unsaturated Fat:

3g
Cholesterol:

1mg
Sodium:

4mg
Carbohydrates:

9g
Fiber:

1g
Sugar:

9g
Protein:

1g
This post may contain affiliate links. Read my disclosure policy.