Thai Chicken Pizza
Jorge left Sunday for a two week work trip to South Carolina. That means I spent all day doing girly things like watching One Tree Hill again for the 2342039 time (all the seasons are on Netflix streaming!), I painted my nails, took the dog for a long walk and made food that he wouldn't like.
When we go for Thai food (which if I had my way and my jeans would still fit, would be twice a week), I get the Chicken PraRam. It's some kind of chicken, broccoli, peanut butter, basil, red curry, coconut concoction…and it is hands down one of the best things I have ever put in my mouth. Ever.
Jorge turns his nose up at it every.single.time. Instead he gets some gross seafood thing that smells like feet. So while he was gone, I couldn't wait to recreate this Thai Chicken Pizza — from A Bitchin' Kitchen — that is loaded with peanut buttery goodness!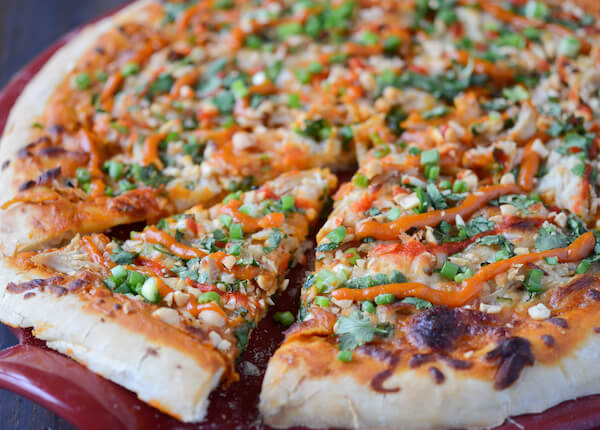 I used store bought peanut satay sauce, but added some extra peanut butter and sriracha to it. It wasn't that good to start off with, but once I fixed it up a little – it was spoon licking good. 🙂 I also shredded some leftover chicken to help use up leftovers and make the pizza that much easier!
It was just as delicious as I had hoped, possibly better! But then again, I was already obsessed with this combo of flavors way before I discovered the idea of making it into a pizza!
Thai Chicken Pizza
recipe note: because I don't like to just snack on peanuts…I bought one of those small .50 cent bags of peanuts at the checkout to top this pizza with!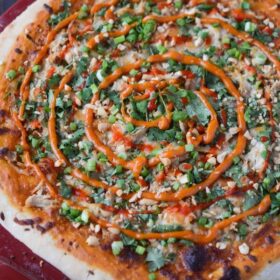 Ingredients:
1 Pillsbury thin crust pizza dough
2/3 cup peanut satay sauce
3 tablespoons peanut butter
1 heaping tablespoon Sriracha (or more if you like it super spicy)
1 1/2 cup cooked, shredded chicken
1 cup shredded mozzarella cheese
Sliced green onions
Coarsely chopped cilantro
Chopped Peanuts
Directions:
Preheat oven to 450°F. Adjust oven rack to the lowest position.
In a small bowl, whisk together peanut sauce, peanut butter and Sriracha. Set aside.
Working on a floured work surface, roll out dough until thin and shaped like your pizza baking stone/sheet (either square or circular).
Spread the peanut sauce mixture, leaving a 1-inch edge. (You will have more peanut sauce mixture than you need, save the remainder to drizzle on top of the pizza once it has come out of the oven.) Sprinkle the shredded chicken on top, followed by the mozzarella cheese.
Bake for 15-17 minutes, until cheese is melted and the crust is golden brown. Top with green onions, cilantro, and chopped peanuts. Drizzle any leftover peanut sauce on top and serve immediately!