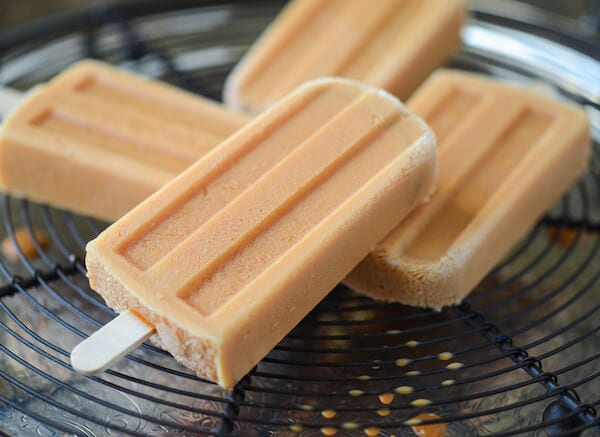 Jorge and I are huge Thai Food fans. Until I met Jorge, I had actually never had Thai food. I wasn't opposed to it by any means, it just wasn't something I had ever eaten before. In my defense, Jorge and I met when I was 19…my food choices weren't much broader than your standard teenager fare.
I remember the first time I went to a Thai restaurant with him. The menu was so big and I didn't know what half of the things on the menu were. We sat down and I scoured over the menu. We ordered drinks and he asked for a Thai Tea. I figured it was a hot tea (which is soooo not my thing), so I went for the safe option of diet coke.
A few seconds later, the waitress returned with my diet coke and a neon orange iced drink for Jorge. He laughed at the face I was making and told me to just try it. After one highly sugared – neon orange sip, I was hooked. It is now one of my absolute favorite things to have when we go for Thai. Don't tell Jorge, but I actually sometimes just ask to go have for the Thai Tea alone… 😉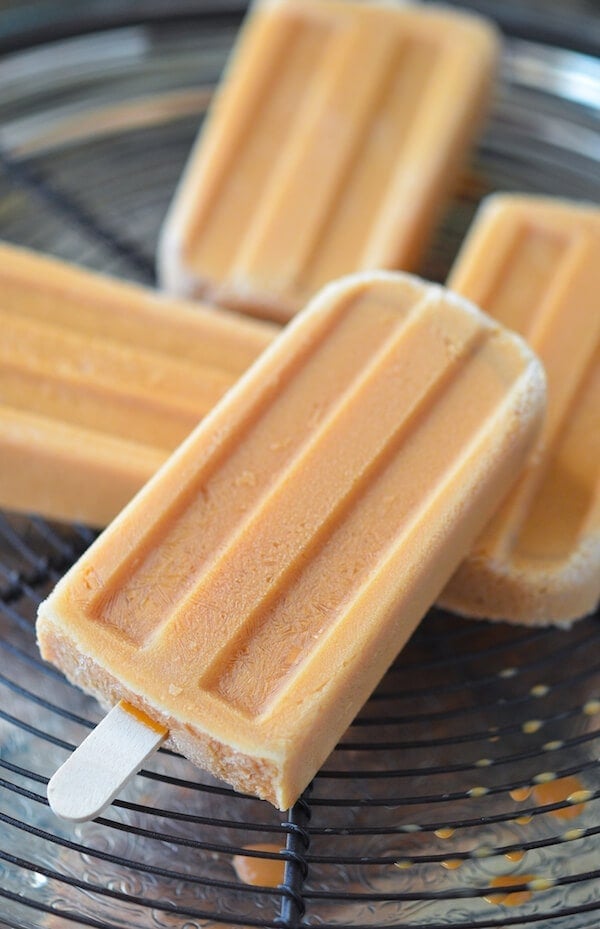 So when I saw the adorable bow tie wearing Alton Brown on GMA a couple weeks ago making Thai Tea Popsicles, I knew I was done for. I HAD to have them! The only special thing I had to pick up from the store was a package of Black Tea and the next day I had these babies in the freezer.
The heat has been brutal these last few weeks in Tampa and I have really enjoyed reaching in the freezer and pulling out one of these flavorful ice pops. I love them so much, next time I am going to make a double batch!
This is a new popsicle mold from what I have used in the past. When we moved I lost my original one…and I'm sorta glad I did, because I really love my new one (<- amazon affiliate link, FYI). It was more than I usually spend ($22), but so worth it!!
Yield: 8 Popsicles
Thai Tea Ice Pops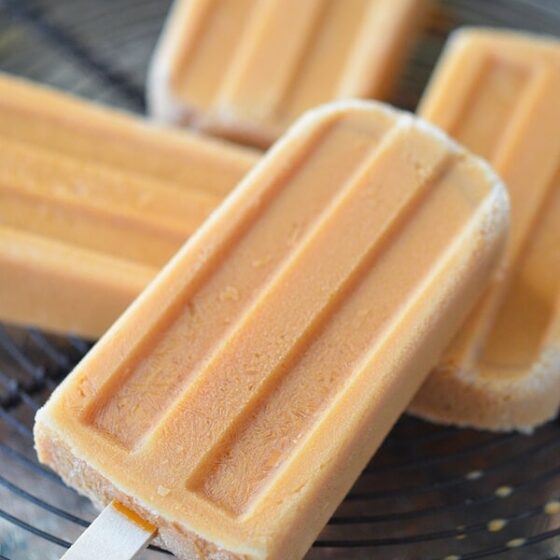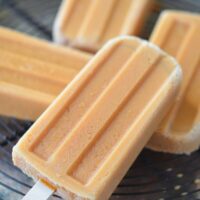 Thai Tea Ice Pops are just the sweet, refreshing treat that you need on a hot day. If you're an iced tea lover, you will not be disappointed with these popsicles!
Total Time
12 hours
30 minutes
Ingredients
4 cups water
8 black tea bags
1 (14 ounce) can sweetened condensed milk
1/2 teaspoon vanilla extract
1/2 teaspoon salt
1/4 teaspoon ground cinnamon
1/8 teaspoon ground clove
Instructions
Bring the water to a boil then cool for 10 minutes. Add the tea bags and steep for 15 minutes. Remove the tea bags and pour the tea into a large pitcher.
Add the sweetened condensed milk, vanilla extract, salt, cinnamon and clove. Stir until well combined. Refrigerate the mixture for 8 hours (or overnight).
Divide the chilled mixture between popsicle molds and freeze until firm, approximately 4 hours, depending on the size of the molds.
Notes
recipe adapted from Alton Brown on Good Morning America
Nutrition Information:
Yield:
8
Serving Size:
1
Amount Per Serving:
Calories:

18
Total Fat:

0g
Saturated Fat:

0g
Trans Fat:

0g
Unsaturated Fat:

0g
Cholesterol:

2mg
Sodium:

143mg
Carbohydrates:

3g
Fiber:

0g
Sugar:

3g
Protein:

0g
Want to Save This Recipe?
This post may contain affiliate links. Read my disclosure policy.