"The Roots" Balsamic Roasted Root Vegetables
One of my favorite restaurants in Tampa, Ella's Folk Art Cafe, serves a dish called "The Roots". Every time we get the chance to go there, I have a hard time forcing myself to order anything else. The description on their website goes like this:
The Roots Grilled Sweet Potato and Grilled Feta over Parsnip Puree and Herb Vinaigrette. Served with a Root Vegetable Chip & Pecan Salad and drizzled with Balsamic Reduction.
It sounds like heaven right? The sweet and savory flavors in combination with the hearty root vegetables make for a delicious dinner… Plus, it's the perfect entree to order when I plan on stealing bites from everyone else's dinner. 🙂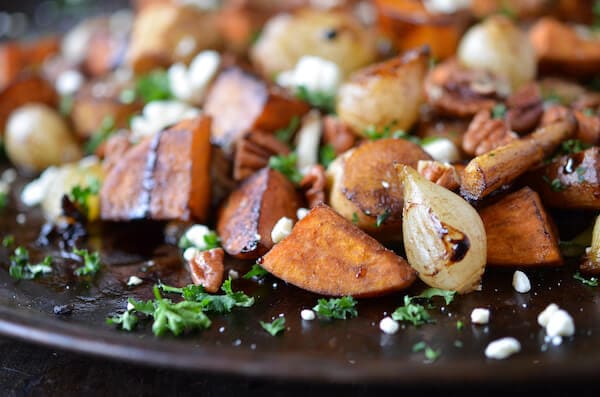 Last month. my girl Megan over at Country Cleaver, made some Balsamic Roasted Root Vegetables. Immediately my mind went to the last time I had "The Roots" at Ellas (before Christmas!) and I new it was time I try to recreate it in my own kitchen.
Megan used cabbage and as hard as I may try, I just can't get on the cabbage band wagon…plus she kept it healthy with no extra toppings. Ella's version is a little more involved with parsnip puree and has a bunch more steps for things like a vinaigrette, but I wanted to keep it simple enough that I could have it for week night dinners.
Once it was all put together, I didn't miss anything with this rendition versus the one at Ella's! I am so happy with how this turned out that I might actually be able to start ordering different things at Ella's…well, maybe. 😉
"The Roots" Balsamic Roasted Root Vegetables
Recipe Note: I am getting a lot of questions about Balsamic Glaze. Balsamic Glaze can be purchased at most grocery stores right next to the Balsamic Vinegar. I buy mine at Publix for like $7, but if you can't find it, Amazon sells it by the 2 pack.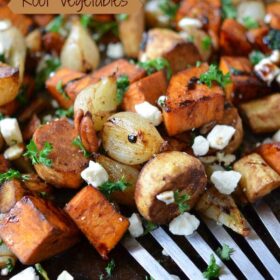 Ingredients:
10 oz Pearl Onions
2 medium sweet potatoes, peeled and diced in 2 inch chunks
3 parsnips, peeled and diced in 2 inch chunks
1/4 cup olive oil (or butter, melted)
1/4 cup balsamic vinegar
1 tablespoon balsamic glaze
big pinch of kosher salt & fresh ground pepper
chopped pecans
crumbled feta
parsley, minced
balsamic glaze, for drizzling
Directions:
Preheat oven to 400°F. Grease a baking pan, set aside.
To quickly peel Pearl Onions: Bring a small pot of water to boil. Drop in pearl onions and let boil for 3 minutes. Transfer onions to cool water immediately. Using a sharp knife, cut off root end of onion and squeeze the other side. Onion will pop out.
Place onions, sweet potatoes and parsnips in a large bowl. In a small bowl, whisk together olive oil, balsamic vinegar, balsamic glaze, salt and pepper. Pour balsamic mixture over veggies and toss to coat.
Transfer veggies to prepared baking pan and spread in an even layer. Roast veggies, stirring every 15 minutes, until tender. About 30 minutes.
Top veggies with pecans, feta, parsley and a drizzle of balsamic glaze. Serve immediately.