Happy Friday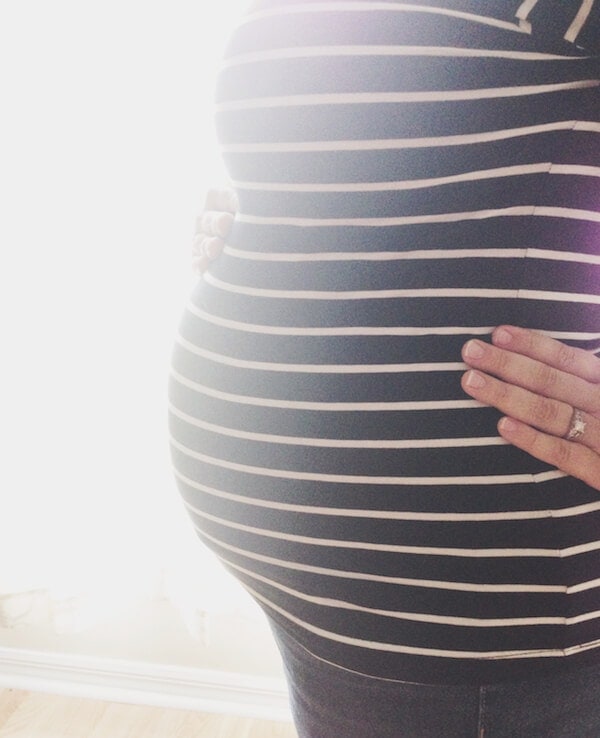 (Yes, I totally need a manicure. Desperately. Can we pretend you don't see that?)
1. I am officially halfway through my pregnancy! I feel like someone should be throwing a parade in my honor, but so far my street has remained confetti free. We had our anatomy ultrasound and are thrilled that everything checks out A-OK. My main concern was that no boy parts had shown up (I have bought too many girl clothes to go back now). But hearing that their hearts, brains and all other organs looked perfect was exciting too!
2. However, I am STILL not really feeling any movements. I'm a little over 20 weeks, with twins…I should be feeling stuff by now! The doctor and tech told me that I should be feeling them move any day now, but because I have front facing placentas (I know, such a gross word.) it might take a little longer. Joy. So far I feel like I am growing a beach ball — not two adorable babies.
3. We got some bad news and our closing has been pushed out on our house. It's so frustrating knowing it's there, it's ready, we are ready…yet it's going to be a few more weeks before we move in. I know a few weeks isn't that long, but it feels like years when we are living in our rental house. I'm ready to pack it all up and move our growing circus down to the new house. Now!
4. On top of everything else, I am also suffering through a lovely case of Bronchitis. I have had a cough for over a month now, but it recently went from bad to worse. The doctor finally heard the wheezing in my lungs and prescribed a load of baby approved drugs. It has made me want to do nothing except lay on my couch and stream netflix all day. Anybody wanna come over and veg out with me??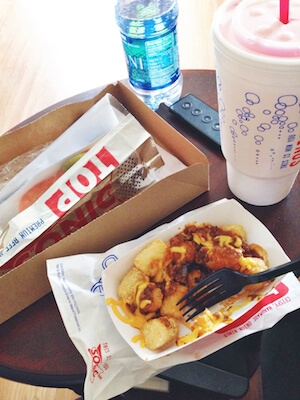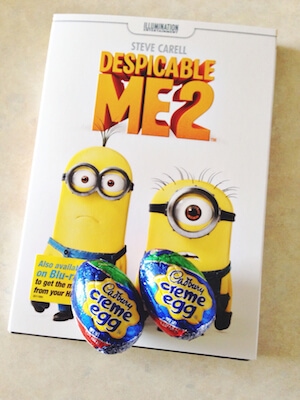 5. The above two photographs show what my Easter involved this year. Jorge had to catch a flight super early on Sunday morning for work. My parents were down in Boca Raton visiting my sister for her birthday. I wasn't able to go because we were supposed to be moving…ugh. So I spent the day at home, in my PJs watching movies and eating.
6. I know a lot of food bloggers are amazing and never eat fast food. They are all, ooohhh make it yourself — always. Or there are the ones who don't eat anything processed…ever. I don't pretend to be that girl. So above, check out my chili cheese tots, chicago dog and cherry limeade. It was a delicious Easter meal for one. 😉
7. Confession: I don't watch cooking shows. It's just not really my thing? However, I have started watching Cutthroat Kitchen with Alton Brown. Have you guys seen this?? It's completely ridiculous — which is exactly why I like watching it. He tortures these poor chefs and makes them do outrageous things like cook on an upside down frying pan…or takes away all their kitchen tools and makes them make tools out of foil. I laugh every week at the genius ways he tortures them.
8. Over the last few weeks, my face has been incredibly dry. It's not dry here in Florida, and it's definitely not cold, so I am blaming the babies. I have started lathering myself up at night with Benefit's Total Moisture* cream. My grandmother turned me on to it and I am so thankful! It has re-moisturized my skin and made it like new again. It's not greasy, but is still heavy enough to get the job done. Plus, my skin has been sensitive lately and it has not made me break out. Total win-win. FYI – that first link is to the tiny size tub in case you want to try it. The big tub (which has lasted me 5 months) is about $50 and I buy it at Ulta or Sephora. However, if you are like me and like to try it before you commit the big bucks, that amazon deal is worth it.
*that is an amazon affiliate link. Just FYI!